Session Girl Jessy Jamessy, Exotic Memories, French West Indies
She may have been one of the most beautiful Assistant District Attorney's that ever existed on television and of all of them the least likely to have a good time.
Abigail "Abbie" Carmichael is a fictional character on the TV drama Law & Order created by René Balcer and portrayed by model/actress Angie Harmon. The character was regularly featured from 1998 to 2001. She appeared in 78 episodes (72 episodes in Law & Order, and 6 episodes in Law & Order: Special Victims Unit).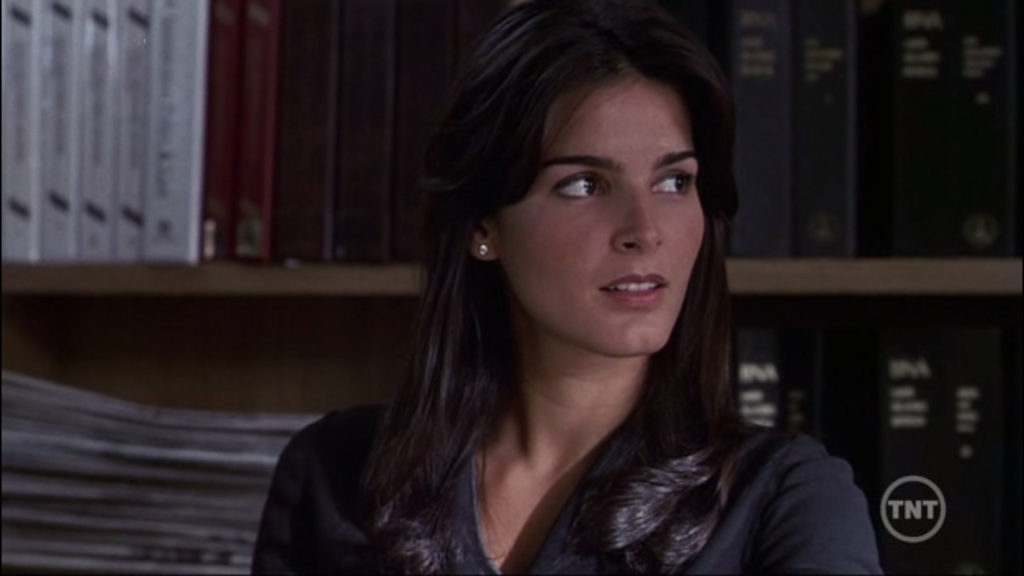 Abbie Carmichael is introduced in the episode "Cherished", having transferred from the Narcotics Bureau to replace Jamie Ross (Carey Lowell) as Jack McCoy's (Sam Waterston) assistant in the New York County DA's office.
Now at least Jamie was married so perhaps for a moment before she became an ex, hopefully her and her husband had a little fun. We do remember one episode where Jamie opened her blouse just a wee bit to satisfy the lust of an inmate in return for some vital information.
Now that was fun.
In Abby's case the series reveals that she is from Dallas and attended the University of Texas, where she was on the track team.
Now that doesn't sound like a whole lot of fun. We're huffing and puffing already.
Ms. Carmichael is characterized as a staunch political conservative: She is pro-life, opposes gun control, favors the death penalty, and has no faith in criminal rehabilitation programs.
We loved watching Abby but her character sure emphasized to us why we love the Session Girl world so much.
At least there you get to have some fun and depending upon where you travel, maybe the locale adds tremendously to the fun as well.
Have you ever been to the French West Indies?
The term French West Indies or French Antilles refers to the seven territories currently under French sovereignty in the Antilles islands of the Caribbean.
The French West Indies consists of the large islands of Guadeloupe and Martinique, both French overseas departments.
The world travelers at Lonely Planet share, "Guadeloupe's two main islands look like the wings of a butterfly and are joined together by just a couple of bridges and a mangrove swamp. Grande-Terre, the eastern of the two islands, has a string of beach towns that offer visitors marvelous stretches of sand to laze on and plenty of activities.
These are some of the most evocative and untouched destinations in the French Antilles, and shouldn't be missed."
Sounds wonderful. Sounds like fun.
Would you like to have even more fun?
A gorgeous Session Girl who resides there and is willing to travel is Jessy Jamessy.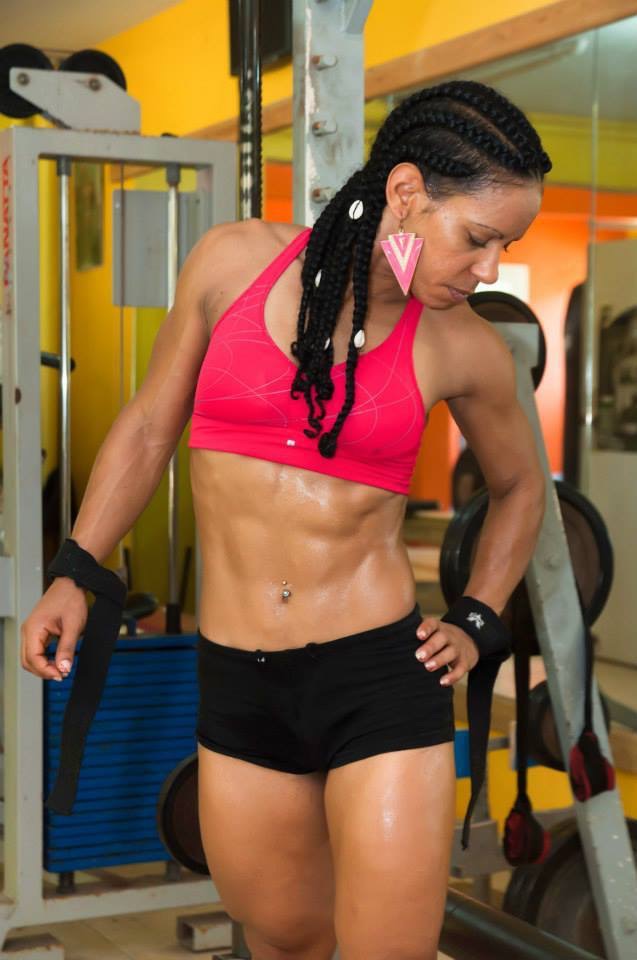 You should meet her. She is super strong and sexy and promises a good time.
At her WB270.com profile she smiles, "I'm a pro bodybuilder (physique division), ex Muay Thai practitioner and still in love with fight items."
She expands upon her attributes at Session Girls. "I am a Caribbean professional bodybuilder (Women's Physique) and amateur wrestler.
I did 3 years Thai boxing, 1 year Capoeira, 6 month Brazilian Jujitsu before starting body building. I propose arm wrestling, wrestling, boxing, belly punching, posing, muscle worship, private webcam etc.
Drop me a message for more information. I travel often, you can always email me if you have a destination in mind (put the city in the title)."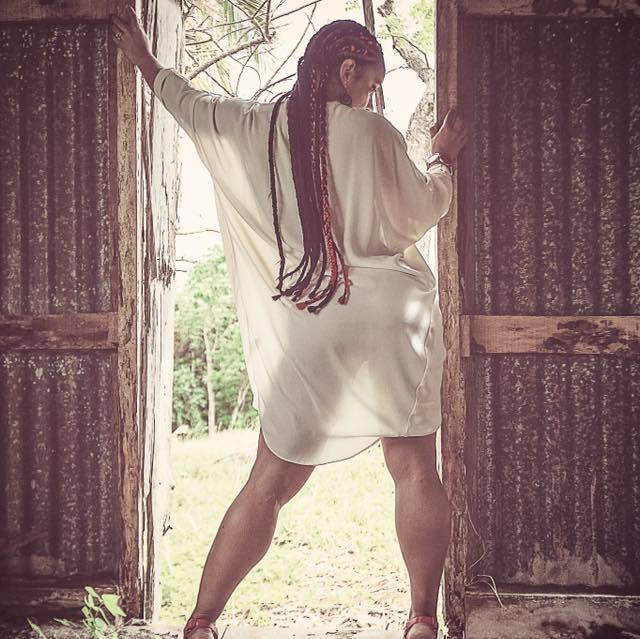 Here is a review by a very satisfied customer. "I had the chance to meet Jessy when she was touring recently and it was more than worth the time and money.
Not only does she know exactly what she is doing in the range of combat sports she says she is proficient in, but she is both playful and happy to help give some gentle instructions and advice on how to improve one's technique.
In the session we did both boxing and wrestling and it is hard for me to say which she was better in!
Whatever the case I highly, highly recommend her to anyone else looking to session. She is fun, honest and helpful."
And another.
"An unforgettable encounter and an hour of happiness. One of the best among my many sessions. Do not hesitate to meet this nice and pretty young lady."
Okay sounds like fun. We're sure convinced. Here is Jessy's email: jessyjamessy@gmail.com
Well there is nothing like listening to the tale of someone who has experienced something wonderful and wants to share.
We have a visiting female writer who has experienced the French West Indies and has some fun suggestions on why you should go and where. Please enjoy.
The Island of Beautiful Waters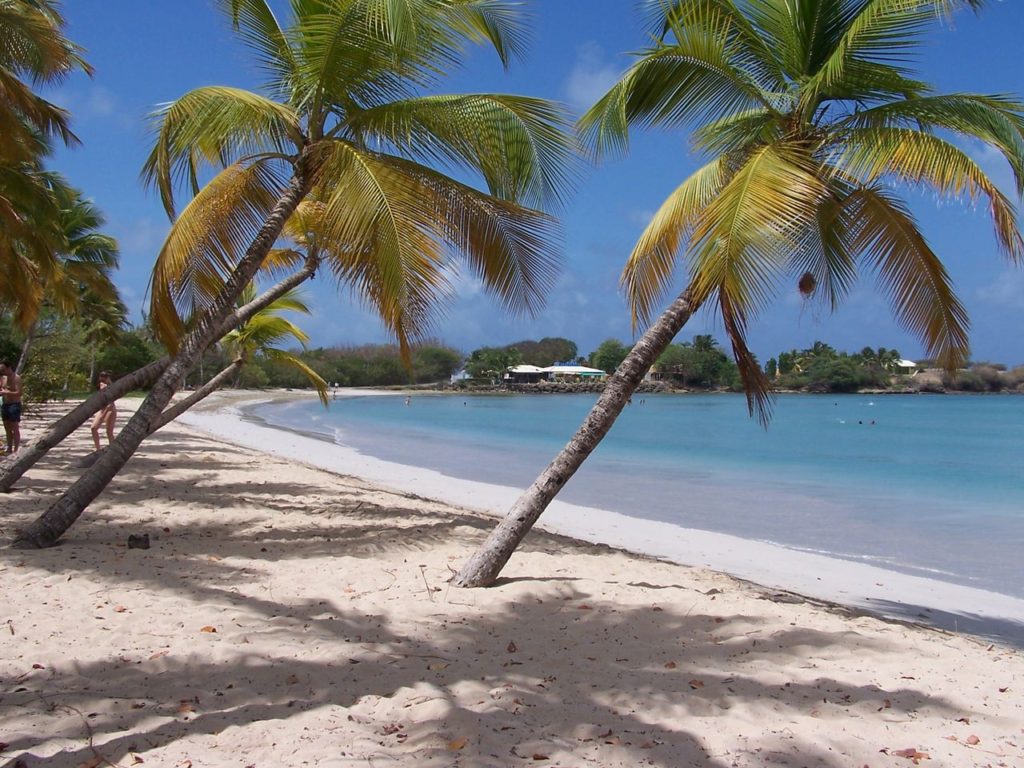 Guadeloupe, known as "the island of beautiful waters", has the most unique shape of any island in the Caribbean chain. The butterfly shape evolved from the geographical movement of two separate islands, which pushed them together, with only a narrow river dividing them. Instead of one island, they could be considered as two since there are quite different.
Located in the French West Indies, Guadeloupe has three sets of offshore islands, which offers visitors an opportunity to island hop. Aside from the opportunity to visit several islands for the price on one, Guadeloupe offers first class beach resorts, some of the Caribbean's best outdoor markets, French and Creole cuisine, rain forests, volcano's, numerous waterfalls, a variety of beaches, and a variety of exotic flowers and plants.
That's more than enough for one vacation, but more the adventurous can easily continue their travel by catamaran or ferry to the neighboring islands of French Martinique, Dominica and St. Lucia.
The culture of the island is definitely French, however most locals speak Creole and French. Overall the culture of France, Africa, West Indian and Hindu makes a fascinating mix.
The people of Guadeloupe believe strongly in their form of culture, and many would like to be independent from France. However, financial support from France provides the island with a high standard of living, so the push for independence remains more talk than action.
Basse Terre is the larger of the two, with a rugged coastline, mountainous terrain and an active volcano. The west coast rich highlands offer a panoramic view of lush rainforests, banana plantations, and a waterfall at every turn. As you enter the rainforest, your visual senses are overwhelmed by the fusion of colors, the shapes of orchids, flowering trees with baskets of exotic flowers, and the ever present dwarf palms. Odd clanking sounds ring out through the forest, and I was surprised to find the strange noise was being made by the huge Hercules beetles. I never saw them, nor did I have any desire to after hearing their metal like sound.
After leaving the rainforest I traveled to La Soufriere, an active volcano which hovers 4,800 feet, and has steam constantly spurting from its top. As I looked at my map, it appeared that the Trans coastal Highway was the best route to the volcano, however one of the locals directed me on a southern route.
As I drove around endless fields of banana, coffee and cocoa plantations, I wished I had paid the local for his advice. The guide books state that the views of the volcano are often clouded, but on this day the sky was crystal clear. Its times like this that I wished I had brought along a traveling companion to take the wheel, so I could fully take in the beauty of La Soufriere. Upon arrival I was not prepared for the rumble from this huge volcano, or the taste of Sulphur in the air, or the heat from the ground. I was so uncomfortable I could not stay longer, and hurriedly took my photographs of this magnificent landmark, and then headed out for my favorite spot, the beach.
After arriving at the beach, I was not pleased with the course brown sand on this side of the island – I prefer my beach sand to be soft, and white or pink in color. After meeting several visitors on the beach, I was told that my preferred beach sand was farther east. Before leaving I took the opportunity to take a dip in the blue Caribbean water to get the Sulphur smell off my body, and have some of the best Creole stuffed crabs I've ever had in my life at a small beach bar. Now, I was fully ready for my trek east.
Grande Terre, the smaller of the two island masses is on the eastern coast and considered the low lands. I was delighted to see beautiful white sand beaches, along with clear water, and pristine coral reefs. This side of the island is an oasis for tropical birds such as pelicans, egrets, doves and sandpipers. While the western coast is home to lush rainforests, the eastern coast has countless rows of sugar cane fields and mangroves.
As I drive towards Pointe-a-Pitre, the metropolitan area, I was a little taken back by the lack of Caribbean charm of the city. Aside from the French architecture, this area is more like suburban America with high rises, shopping centers and freeways.
I'd heard about the open air markets in travel literature, so I had to make a visit. Oh, such a variety of fresh vegetables and fruits to rival the best of American produce. The women vendors have brightly colored head wraps, they love to wrangle over prices, and they give the liveliest descriptions you've ever heard about their wares.
One hour later, I left loaded down with fresh French bread, butter and lots of vegetables and fruits. Whenever I get back to Guadeloupe, I will definitely visit the market, but overall the city is too commercial, very noisy and the traffic reminded me too much of the U.S., so after loading up the car, I headed out in search of the perfect white sand beach.
Heading east from Pointe-a-Pitre, there are 20 miles of the most exquisite beaches any soft, white sand beach lover could hope to find. The farther you drive from the capital city, the beaches become less crowded.
I finally settled on the small town of Gosier which has the perfect soft, white sand beaches, lots of little bars, shops and cafes, bread and breakfast inns, along with big hotels.
Gosier is on the coast, and the rises into the hills where you can view the out islands of Marie-Galante and Les Saintes. While the thought occurred to visit these islands, I instinctively knew that my short time on Guadeloupe would be spent right there in Gosier on the beach. After three wonderful days, I headed back to the beautiful island of St Lucia, where my island hopping trip had started.
Too many islands, too little time.
Linda Thompkins is a Caribbean Travel Consultant, and owner of Travel 2 the Caribbean online agency. The agencies motto is "Know Before You Go"
Visit Travel 2 the Caribbean's site at: [http://www.travel2thecaribbean.com]
~ ~ ~
https://en.wikipedia.org/wiki/Abbie_Carmichael
https://en.wikipedia.org/wiki/Guadeloupe
https://www.lonelyplanet.com/guadeloupe
https://www.wb270.com/ind/jessyJ.htm 
https://www.sessiongirls.com/jessy/reviews
https://EzineArticles.com/expert/Linda_Thompkins/6346
http://EzineArticles.com/286368