Growth Of Amateur Female Wrestling Is Intense And Inspiring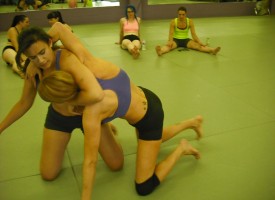 Short on developed skills and long on inexperience, when a female wants to get involved in the wrestling industry, even at the amateur level, it helps if she has a positive attitude and exudes enthusiasm.
In today's world she has a lot of company.
The growth in the amateur female wrestling arena is surging and among many, two organizations really stand out that provide females with a great opportunity to grapple.
Those two groups would be Grapplers Quest and Naga.
Time for a meet and greet with Grapplers Quest.
Grapplers Quest is an organization mainly concerned with the promotion of grappling (submission wrestling) and Brazilian Jiu-Jitsu tournaments. Founded in 1998 by Brian Cimins, Grapplers Quest hosts competitions of various division, age, and weight classes.
Grapplers Quest has been host to many high-level competitors in mixed martial arts, such as Matt Hughes, Frankie Edgar, Ben Henderson, Kenny Florian, Diego Sanchez, Joe Stevenson, BJ Penn, and Brandon Vera
Grapplers Quest, as part of the Grapplers Company, Inc., was founded by Mr. Cimins for his Senior Marketing and Public Relations Thesis at the Richard Stockton College of New Jersey in 1996.
The first Grapplers Quest was held on April 24, 1999 at Montclair High School in Montclair, New Jersey.
The organization has also branched out to form partnerships with the Ultimate Fighting Championship and the non-profit AutismRadio.org, among others.
Since their inception Grapplers Quest has led the way in signing up amateur girls to wrestle. Here is their message at grapplersquest.com. "Founded in 1998, Grapplers Quest organizes the World's largest ground fighting tournaments and expos, produces television content for Television, iTunes and DVDs, manufactures and distributes fightwear and athletic apparel and sponsored by OnTheMat, Lucky Gi, Super Body Care, EZ FLEX SPORT MATS, Family Meditation."
Now that is quite a menu.
We have searched YouTube and viewed many great amateur female grappling matches of girls who are not household names but clearly are very good wrestlers.
This amateur female wrestling vibe is catching but it is not new.
Most of us in the industry remember Virago of San Francisco during their competitive reign. The top stars that come to mind are Grace, Yana, River, Amy O and a newer girl named Lonnie who Femcompetitor Magazine featured in an article when she traveled to Europe to take on DWW's Luzia the Great.
Trivia question?
Do you guys remember Stephanie?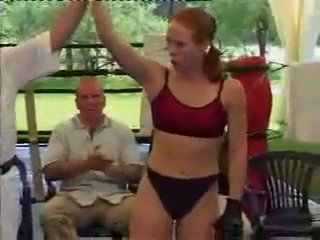 Talk about enthusiasm and a can do attitude.
She traveled to Europe too and met DWW's Svetlana, a very tough Black Sea Amazon fighter.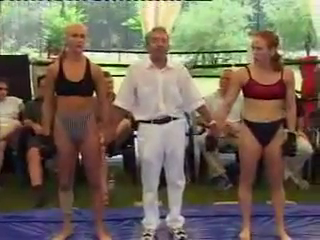 So you see, the girl next door, like Stephanie, who beginning as an amateur, fights and wrestles, thus started this growing trend years ago.
In that tough fight with Svetlana, the match had to be stopped because Stephanie sustained a cut over her eye but until then, it was one back and forth battle where Stephanie was often in control of the match.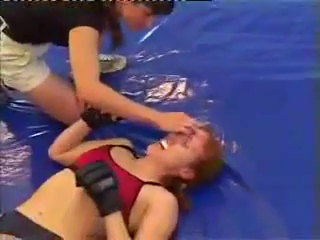 Another group that has paved the way for amateur girls to compete is Naga.
The North American Grappling Association (NAGA) is an organization started in 1995 that holds Submission Grappling and Brazilian Jiu-Jitsu tournaments throughout North America and Europe.
NAGA is the largest submission grappling association in the world with over 200,000 participants world-wide, including some of the top submission grapplers and MMA fighters in the world.
NAGA grappling tournaments consist of gi and no-gi divisions. No-Gi competitors compete under rules drafted by NAGA. Gi competitors compete under standardized Brazilian Jiu-Jitsu rules. NAGA also promotes MMA events which they term Reality Fighting.
Very intriguing. Please tell us more. At nagafighter.com they add, "NAGA has had the pleasure of having the best fighters in the world compete on our mats and in our ring. Some were already established, some were climbing their way to the top, and some were just starting out. But in the end, they all achieved a level that the thousands who grapple in NAGA and who fight in Reality Fighting want to be at."
If you watch the girls compete in these tournaments, they are both determined and tough.
"Attitude and enthusiasm play a big part in my life. I get excited about the things that inspire me. I also believe in laughing and having a good time."… Dwayne Johnson
In our industry we also have two Session Girls who have competed in Naga. Not only are they tough and talented, they are beautiful as well.
Please meet Sahara of England. We have and loved the experience.
At her WB270.com profile Sahara has a very nice resume. "Training in BJJ /no gi grappling/MMA. Have over 2 years' experience in Brazilian Jiu jitsu and no gi grappling and some wrestling experience.
I am a blue belt in BJJ.  Have competed at local competitions and international including Naga in Paris (2013) and the Ibbjf Europeans in Lisbon in January the year (2014). I have won a few medals including a few golds/silvers and bronze."
This beauty's Naga and MMA experience is very impressive.
Sahara was also an actress who appeared in HBO's Game of Thrones.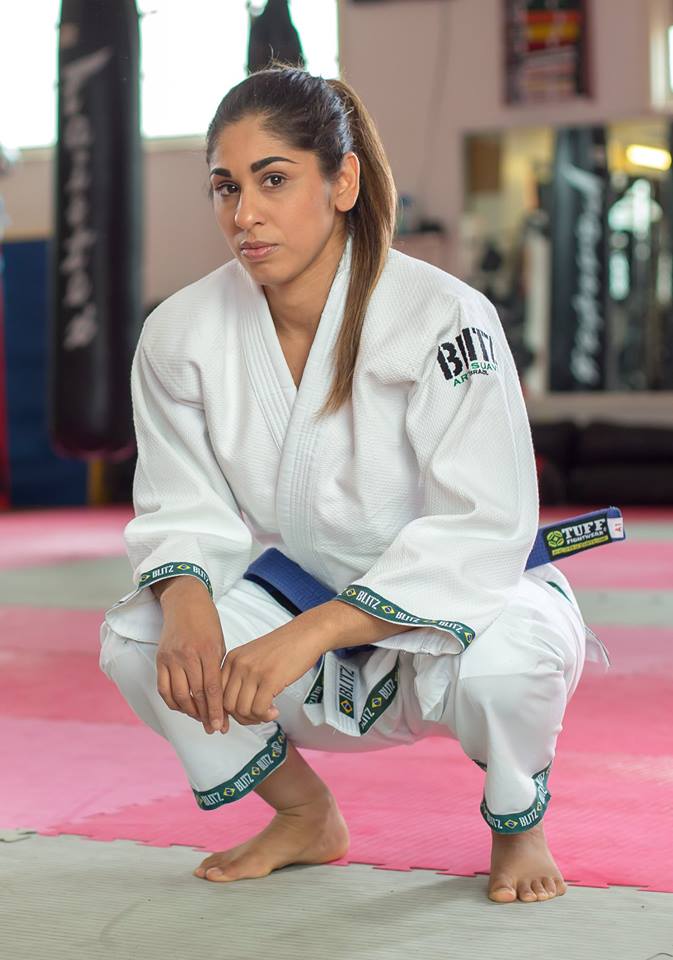 If you would like to have a memorable session with her, the email is Saharaknite@hotmail.com
Not far behind the surge in amateur female grappling is arm wrestling.
Remember the video days when we used to watch the DWW girls engage in some arm wrestling before or after a match. In so many ways those Danube girls were ahead of their time.
Arm wrestling for women is catching on as well.
According to wgntv.com, "It was only four years ago that the World Arm Wrestling League came to be. Before that, arm wrestling matches were kind of a basement bar sport, with an underground following.
WAL has dozens of female competitors muscling their way to the top. Some are kindergarten teachers, other mothers. All of them tough as nails when they approach the table."
Don't you just love the new world of civilized amateur female combat?
From grappling to arm wrestling, everything is trending upwards.
It's not just about experience and skills. A positive attitude and enthusiasm goes a long way.
The team at everydaygiving.com expresses it so well. "Just think, by being enthusiastic you are inspiring others. Not only are you reaping the benefits of being enthusiastic, but those that are catching it from you are also reaping those same benefits, and so do those they touch, and so on."
You know what?
Amateur female wrestling has greatly inspired us.
~ ~ ~


OPENING PHOTO fciwomenswrestling.com, grapplingstars.com femcompertitor.com, nogibear.com photo credit
https://www.wb270.com/eur/saharaK.htm
http://wgntv.com/2018/04/26/more-women-entering-the-arm-wrestling-ring/
http://www.grapplersquest.com/
https://en.wikipedia.org/wiki/Grapplers_Quest
http://nagafighter.com/index.php?module=homepage
https://www.brainyquote.com/topics/enthusiasm 
https://www.forbes.com/sites/bobcook/2016/05/22/mom-vs-mom-wrestling-a-fundraiser-that-teaches-parents-what-their-kids-go-through/#26a6fca208fc
https://www.battlecreekenquirer.com/story/sports/2015/05/06/broderick-mom-vs-mom-wrestling-everyone-wins/70899470/
http://www.herald-dispatch.com/sports/past-winfield-wrestling-moms-to-wrestle-current-moms-for-event/article_90199f25-174f-59c4-99d8-d428e4f9af1f.html
http://www.everydaygiving.com/enthusiasm.htm