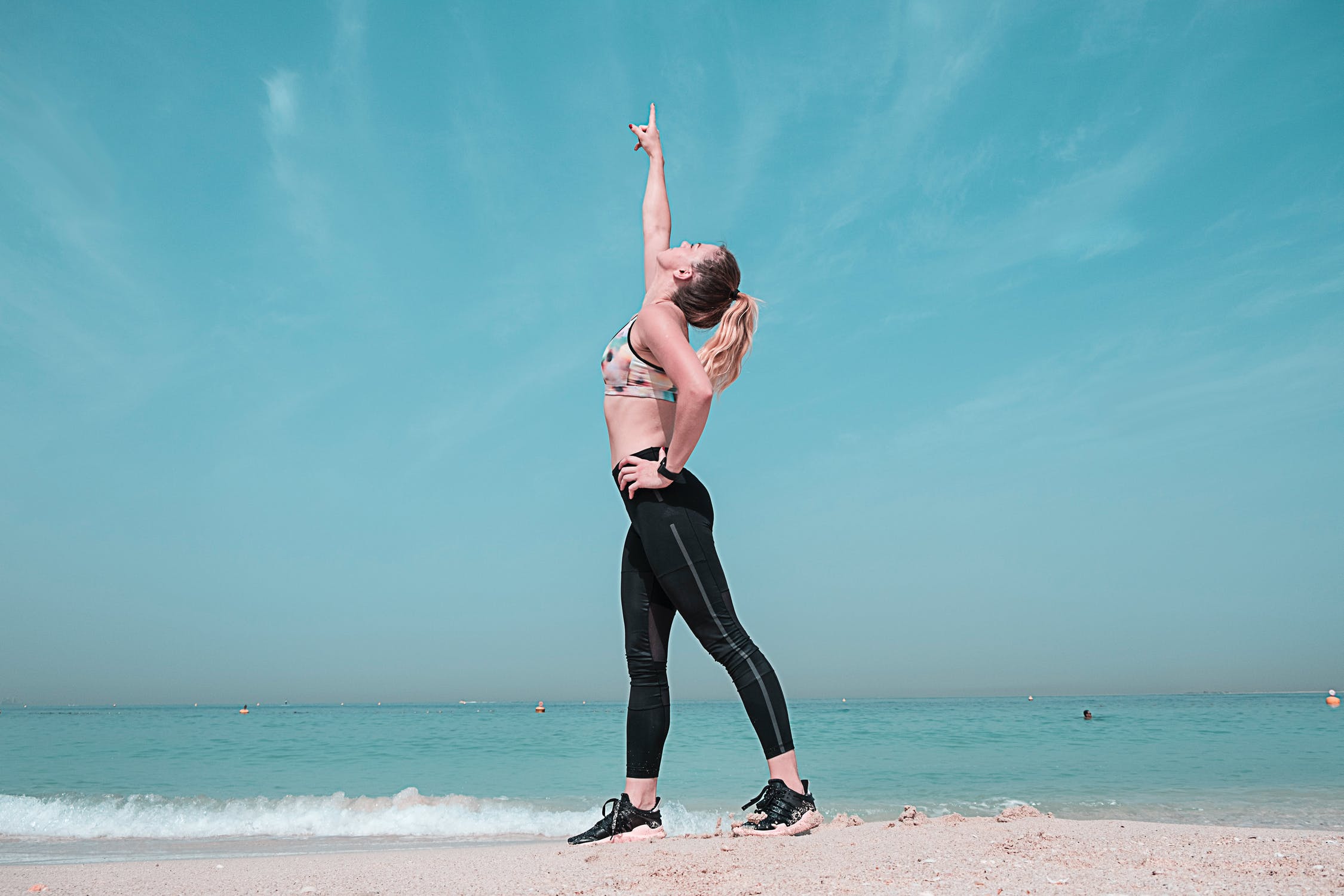 In the old known world, the Greeks believed that Amethyst was incredibly powerful and that it would protect them against the effects of intoxication.  In fact, the word Amethyst comes from the Greek word "amethystos," meaning sober. Wine was often served in Amethyst goblets in the belief that this would prevent overindulgence.
Let's speed dial up to modern times.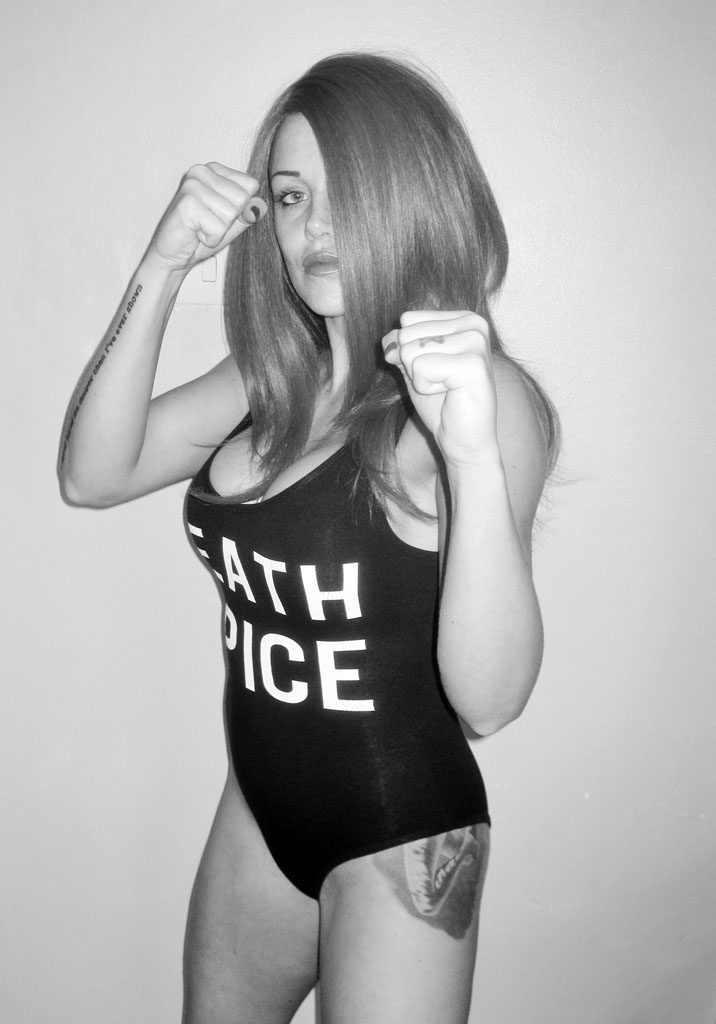 fciwomenswrestling.com article, wb270 photo
In the United Kingdom Amethyst is a beautiful young grappler who loves to dye her hair purple and her wrestling is as silky smooth as wine.
"A sweetheart is a bottle of wine, a wife is a wine bottle."…..Charles Baudelaire
This wine colored beauty has come a long way from her rough childhood and early scrappy wrestling days where she was a cat fighter.
Having said that, many view her as new to the scene.
Fortunately she is beginning to amp things up and have been wrestling more and has quite a bit more wrestling scheduled in Europe during 2016.
She has achieved great results against long time female British submission wrestlers like Kelly at a British wrestling company. In her match against Kelly, she lets us know that she is in control. Our wine colored princess smiles, "A nice leg hook to control my opponent, roll her, flip her and then make her tap with a nice hard scissors hold."
"Music is the wine which inspires one to new generative processes, and I am Bacchus who presses out this glorious wine for mankind and makes them spiritually drunken."…. Ludwig van Beethoven
Her passionate and intense style can be intimidating for both women and men.
https://www.youtube.com/watch?v=cYkBd-JkfTs
If you love to wrestle women in a dignified environment, Amethyst seems to be the girl for you.
Here are a couple of her videos on online where she finds herself on the mats with a man and really takes it to him. As one online reviewer exclaimed, "OMG, she is so quick and strong!!"
As of this writing you can sneak a peek at her at:
https://www.youtube.com/watch?v=y–RnzAgX2Y and https://www.youtube.com/watch?v=hBbr4a1mK2w
The latter is a collage of her wrestling both men and women in the United Kingdom.
At her Twitter account she describes herself as shy and feisty.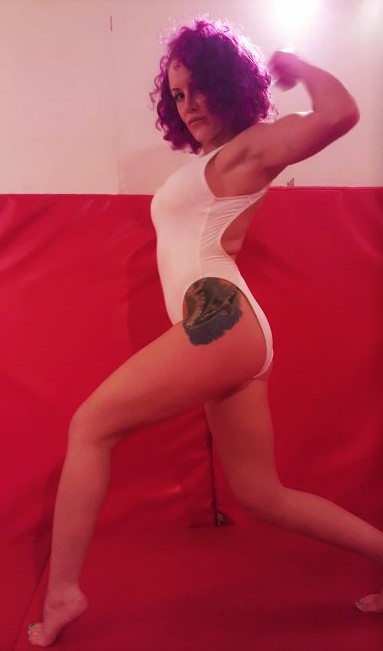 fciwomenswrestling.com article, wb270 photo
On the mats it's another matter.
At her about page, speaking in the third person, she describes herself once again. "Brutality is rather erotic when it comes in the form of a pretty, 5'4. Feisty, busty, innocent doll-face. Ultraviolence on the mind since the age of 12 (she grew up on Russ Meyer's films, not My Little Pony).
Reaching purple belt in Karate as a child.
On the leg press she lifts 180kg and feels the power of those thighs during her favorite submission moves. Above mixed wrestling, she loves to box; you'll find her at her local boxing gym or sparring in the park with her trainer, weekly.
Currently training in BJJ and freestyle wrestling; getting physical has always been a vital outlet. Now, she dishes out all she's had to learn, and loving every minute."
Amethyst also enjoys lady pro wrestling, pin wrestling, judo, Brazilian Jiu-Jitsu, feats of strength, lift and carry, arm wrestling, in the gym training and even still……cat fighting.
She is staying true to her namesake.
The authoritative and enjoyable site gemstone.org educates, "Its color is as unique as it is seductive, though in fact this gemstone of all gemstones is said to protect its wearer against seduction.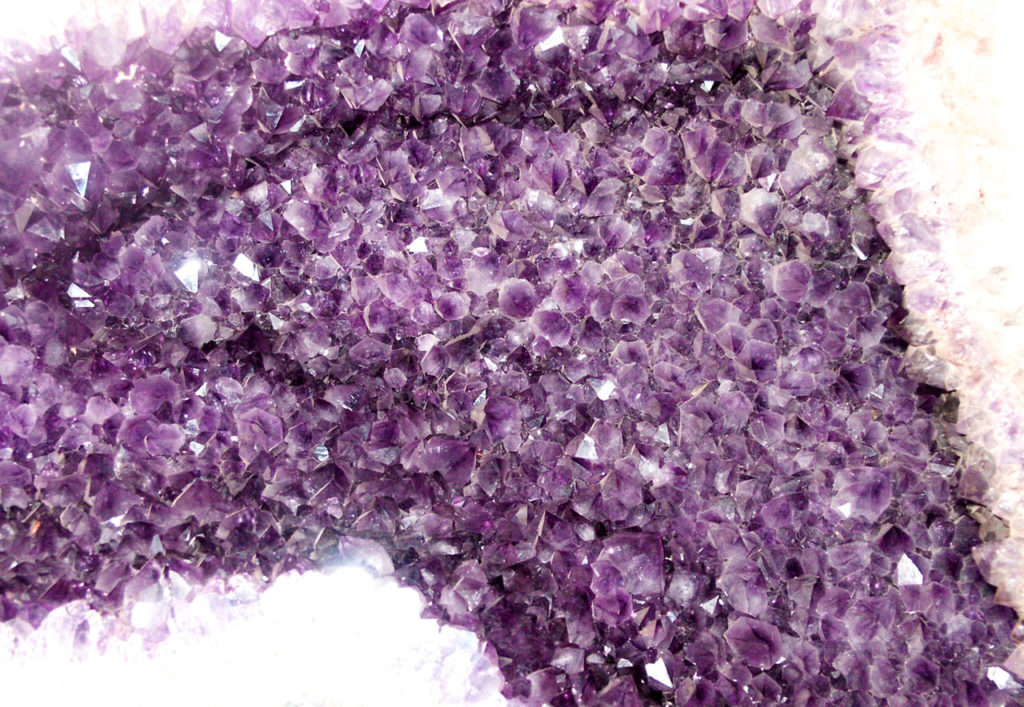 fciwomenswrestling.com article, wikimedia photo
A large number of further miraculous powers are attributed to the amethyst in all sorts of cultures. It was said to protect crops against tempests and locusts, bring good fortune in war and in the hunt, drive out evil spirits and inspire the intellect. A little study of the works of Pliny will reveal that this gemstone, if worn round the neck on a cord made from dog's hair, affords protection against snakebite. Later, Hieronymus even reported that eagles placed an amethyst in their nest in order to protect their young from the selfsame danger."
Another rock solid site crystalvaults.com weighs in, "Purple Amethyst has been highly esteemed throughout the ages for its stunning beauty and legendary powers to stimulate, and soothe, the mind and emotions. It is a semi-precious stone in today's classifications, but to the ancients it was a "Gem of Fire," a Precious Stone worth, at times in history, as much as a Diamond. It has always been associated with February, the month the Romans dedicated to Neptune, their water-god, and is the traditional birthstone of that month. It is the stone of St. Valentine and faithful love, and signifies ecclesiastical dignity as the Bishop's Stone. It carries the energy of fire and passion, creativity and spirituality, yet bears the logic of temperance and sobriety.
Throughout history the special virtue of Amethyst has been that of preventing drunkenness and overindulgence. Ancient Greeks and Romans routinely studded their goblets with Amethyst believing wine drunk from an Amethyst cup was powerless to intoxicate, and a stone worn on the body, especially at the navel, had a sobering effect, not only for inebriation but in over-zealousness in passion. Catholic bishops also wore Amethyst in a ring to protect from mystical intoxication. Kissing the ring kept others from similar mystical intoxication and kept them grounded in spiritual thought."
Watching Amethyst wrestle can be a spiritual experience.
"Wine comes in at the mouth and love comes in at the eye; That's all we shall know for truth before we grow old and die."….William Butler Yeats

At FCI Women's Wrestling, the more we see Amethyst, the more we like her. She is a fresh infusion into a growing market of highly skilled and well trained female submission wrestlers. Like most of her contemporaries she no doubt provides great session because she travels the world and spreads her purple magic wherever she goes.
Though under the radar, she's been around for a while and given her tenacity, should be around for quite some time.
The future looks bright as the UK Princess begins her purple reign.
~ ~ ~
Sources: brainyquote.com, Wikipedia, fciwomenswrestling2.com, FCI Elite Competitor, photos thank you Wikimedia Commons.
http://www.gemstone.org/index.php?option=com_content&view=article&id=98:sapphire&catid=1:gem-by-gem&Itemid=14
http://www.crystalvaults.com/crystal-encyclopedia/amethyst