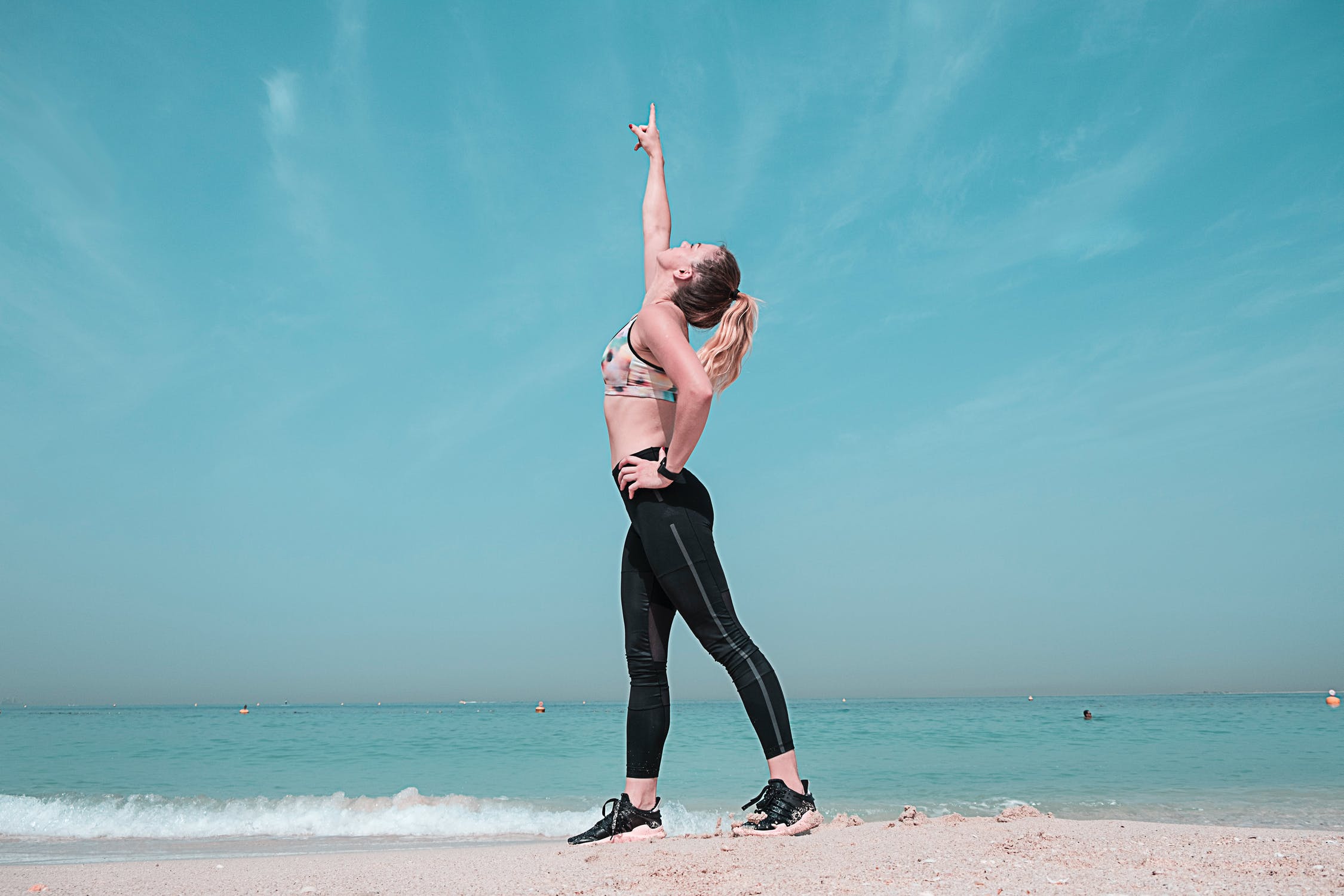 Vaulting across the ring in a world where there are numerous young beautiful blonde acrobatic wrestlers can make you stand out.
Doing back flips with the precision of a cheerleader can make you really stand out.
That is what makes the gorgeous Indie Wrestler Penelope Ford outstanding.
She used to be a cheerleader and it shows.
In watching her videos we love watching her do her forward flips as she crashes into her opponents.
Entertaining in the ring since 2014, Penelope has the fans eating out of her hands.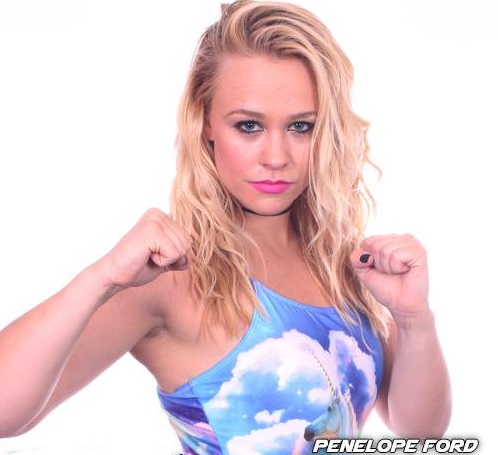 fciwomenswrestling.com article, Pro Wrestling Wiki photo credit
Here is one review found at the industry great Cagematch.com, "I would agree it would be refreshing to see Ford gain more wins than losses. Because of her willingness to endure the string of losses in her rookie years at this point it may go a long ways towards her improving her standing in future bookings where she may start receiving a winning push in her matches. Good size and degree of athleticism. Impressed with efforts shown in technical wrestling. Can only improve as time goes on."
Yes we agree.
In Penelope's video matches that we have viewed, while we wouldn't describe her as a Jobber, she does seem to end up on the losing end quite often.
At least for now.
Still she perseveres.
It's a cheerleader thing.
She has wrestled some of the best including Jordynne Grace where their match is described at clickwrestle.com
"Two WSU newcomers with vastly different styles go head-to-head when Jordynne Grace and Penelope Ford face off. Jordynne, who is hot off her victorious WSU debut, has a strength and stature that make her the obvious favorite to win. However, the power of the underdog is always at play in WSU, and few have been better primed for an upset win than Penelope is here. Can she beat the odds?"
Okay, we want to examine Penelope's cheerleading background a little more.
Cheerleading Has Come a Long Way
Since its origination at the University of Minnesota in 1889 cheerleading has drastically evolved. Where once cheerleading was considered only a hobby, it is now considered a sport and many people choose to dedicate their lives to it. With cheerleading's history cheerleaders have many expectations to live up to. Cheerleading is a sport that must stay in tune with the changes in trends and style. From changing the music of their routine to the most popular song of the time, and even changing their cheer wear to fit popular trends; cheerleading changes a lot on a regular basis.
Currently appropriate cheer wear can be separated into three categories; uniforms, shoes, and accessories. While the style of all of these things can change from squad to squad, the same basic design and purpose applies to all squads. Cheerleading uniforms are essential for expressing team spirit and providing an overall consistency throughout the entire squad. Shoes assist cheerleaders in executing the perfect moves while providing them support and comfort. Lastly cheerleading accessories can make or break a uniform and a performance; they are key components to creating the perfect uniform.
Cheerleading uniforms have two different components; the top and the bottom. For each there are many different styles that are popular and in style. Cheer tops are commonly called shells; there is an array of different shells available to cheer squads of any age. Shells can have no sleeves or even sleeves that extend to the wrist. In addition shells can show the midriff of the cheerleader or they can be designed to cover the midriff. Often times older cheerleaders choose to wear midriff shells while younger cheerleaders choose to wear longer shells. The other component of cheerleading uniforms is the bottoms. The most popular form of cheerleading bottoms are skirts, however there are many other options as well. Many male cheerleaders choose to wear cheer pants or cheer shorts. Additionally many female cheerleaders choose to wear cheer pants or shorts in appropriate situations. Regardless of the type of cheer wear that is chosen for the cheer squad, colors and designs can be chosen to represent the school or area the squad is from. It is common for squads to include the initials of their school or even their schools mascot on their uniform with the colors of their school.
Cheer shoes are not commonly thought of as important items of cheer wear, however they are essential to cheerleaders safety and performance. All cheerleaders perform extensive routines that often times require complex movements and precise accuracy. Because they are doing all of this on their feet it is important that they have the best support possible. Cheer shoes are designed to provide support and comfort for the cheerleaders during their performance. Often times they have special insertions or features that are designed specifically for cheerleading. High arches, padded heels, and insole supports are just a few examples of common features in cheer shoes. Additionally many types of cheer shoes are designed to enhance performance. Cheerleaders are often doing flips and jumps that require them to land safely and securely on their feet. Cheer shoes often times have enhanced grip and traction on their soles to enable cheerleaders to perform advanced moves.
The last components of a perfect set of cheer wear are cheer accessories. Accessories complete every cheer uniform and can even bring excitement to a performance. There are two types of cheerleading accessories; mandatory and non-mandatory accessories. Mandatory accessories are used routinely by all cheerleaders for performances. The most common mandatory accessory is a pom-pom. It is unlikely that you will ever come across a cheerleading squad that does not have pom-poms. Other mandatory accessories include spankies, tights, and even shoes. Many cheerleading squads also choose to utilize non mandatory items to create a complete uniformity to their attire. Hair ties and bows, megaphones and even cheer props are great examples of commonly used non mandatory cheer accessories.
Jennifer R. Scott has been writing for over ten years on a broad range of topics. She has a background that includes such diverse areas as environmentalism, cooking, animal care, and technology. If you would like more information on cheering, please visit dance wear [http://www.Atlantic-Cheer-N-Dance.com/], a site that is all about cheerleading.
~ ~ ~
https://ezinearticles.com/?Cheerleading-Has-Come-a-Long-Way&id=4104416
Article Source: https://EzineArticles.com/expert/Jennifer_R_Scott/366697
Article Source: http://EzineArticles.com/4104416
https://www.instagram.com/the_penelopeford/?hl=en
http://northstarz.ca/tag/penelope-ford/
http://www.clickwrestle.com/pro/91301/jordynne-grace-vs-penelope-ford 
http://www.onlineworldofwrestling.com/bios/p/penelope-ford/
https://www.cagematch.net/?id=2&nr=17027