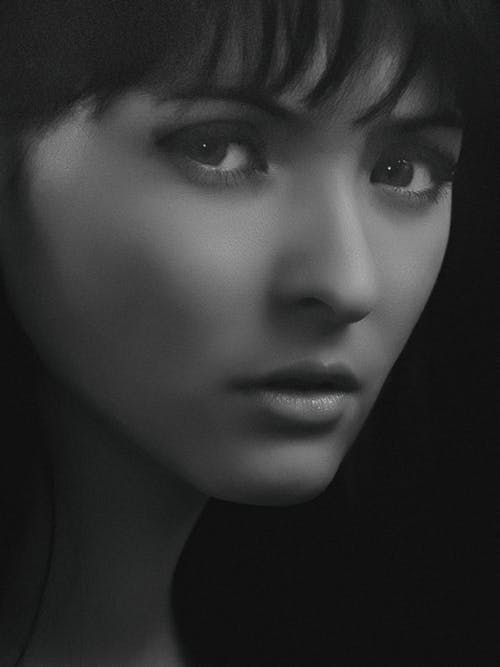 Some women during wrestling matches have their thinking cap on, their aggression in high gear and their conditioning as an asset. Florida wrestler Mikaela's game has all of those components aligned with one more major ingredient that she described herself in her interview with FCI Women's Wrestling.
"My adrenaline was pumping."
Mikaela is a beautiful, nicely tanned; perfectly muscled young beauty who is a girl of action.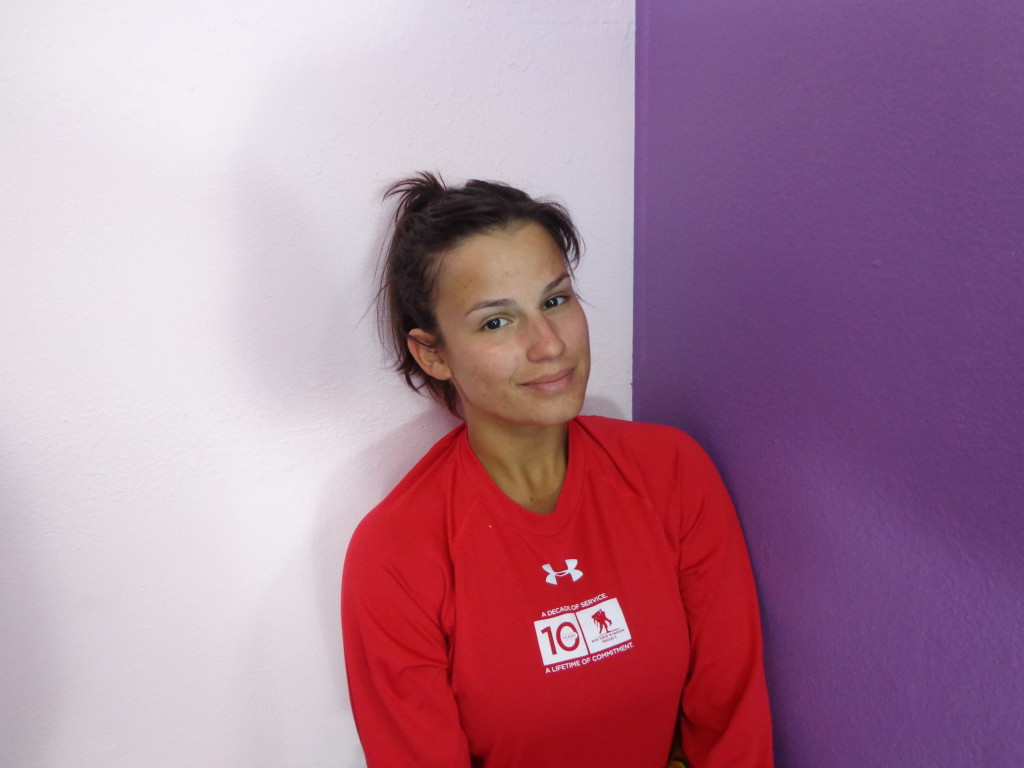 Constant.
Some company should create in action comic book character in her name. It most likely would be a best seller.
The nice information site wisegeek.com explains, "Adrenaline is a hormone produced by the adrenal glands during high stress or exciting situations. This powerful hormone is part of the human body's acute stress response system, also called the "fight or flight" response. It works by stimulating the heart rate, contracting blood vessels, and dilating air passages, all of which work to increase blood flow to the muscles and oxygen to the lungs. Additionally, it is used as a medical treatment for some potentially life-threatening conditions including anaphylactic shock. In the US, the medical community largely refers to this hormone as epinephrine, although the two terms may be used interchangeably."
With Mikaela, during her matches she is never in flight.
She's always in Fight Mode.
Her matches often end early. Someone couldn't finish. That happened when she faced industry top stars, Shauna Ryanne and super star Jolene. The contests were so intense that health issues dictated truncation.
Interestingly away from the mats Mikaela is very soft spoken and very unobtrusive. She blends in with the crowd effortlessly and rarely speaks.
Against lesser skilled opponents as a beautiful fresh faced brunette named Sarah found out, Mikaela can be destructive. That was a match that probably should have been called early. Poor Sarah found herself in one excruciating body scissors after another.
Femwin Event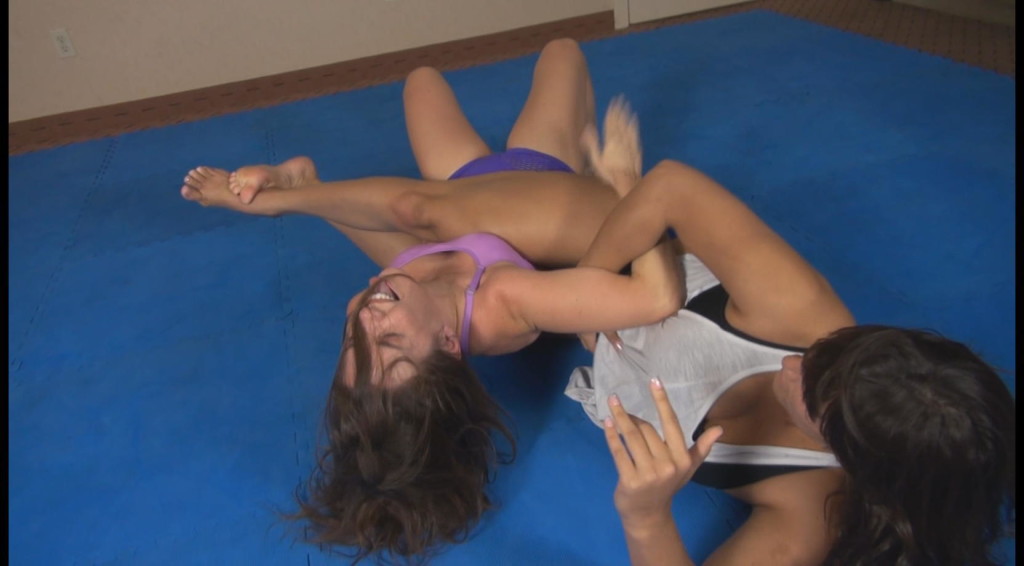 She completely dominated another Las Vegas beauty named Diana and that match was so one sided that you can guess what happened.
It was called early.
Oh Mikaela. What a wonderful gift she is to the women's submission wrestling world. We should not be surprised. It's in her name. Her name means Gift from God.
The expansive naming site sheknows.com is in the know. "People with this name have a deep inner need for quiet, and a desire to understand and analyze the world they live in, and to learn the deeper truths.
People with this name are excellent at analyzing, understanding, and learning. They tend to be mystics, philosophers, scholars, and teachers. Because they live so much in the mind, they tend to be quiet and introspective, and are usually introverts. When presented with issues, they will see the larger picture. Their solitary thoughtfulness and analysis of people and world events may make them seem aloof, and sometimes even melancholy."
This seems to describe Mikaela to perfection as she quietly sits in between matches.
According to Mikaela's profile at the women's wrestlers list, she hails from Tampa Bay although in an article at Femcompetitor Magazine, she has spent extensive time in Miami as well.
Mikaela, Femwin Wrestler, A Beautiful Quiet Before The Storm femcompetitor.com/?p=4531
Let's travel to this Florida paradisiac region.
The city of Tampa, situated on an inlet reaching far into the west coast of Florida, is the economic center of western Florida. The city center is an area of high-rise office blocks, but Tampa also has historic old quarters such as Ybor City and Old Hyde Park.
Tampa is a city in and the county seat of Hillsborough County, Florida, United States. It is located on the west coast of Florida on Tampa Bay, near the Gulf of Mexico, and is part of the Tampa Bay Metropolitan Area. The city had a population of 346,037 in 2011.
Today, Tampa is part of the metropolitan area most commonly referred to as the Tampa Bay Area. For U.S. Census purposes, Tampa is part of the Tampa-St. Petersburg-Clearwater, Florida Metropolitan Statistical Area. The four-county area is composed of roughly 2.9 million residents, making it the second largest metropolitan statistical area (MSA) in the state, and the fourth largest in the Southeastern United States, behind Miami, Washington, D.C. and Atlanta.
Tampa was ranked as the 5th best outdoor city by Forbes in 2008. Tampa also ranks as the fifth most popular American city, based on where people want to live, according to a 2009 Pew Research Center study. A 2004 survey by the NYU newspaper Washington Square News ranked Tampa as a top city for "twenty-somethings."
Ah, filled with super sexy, tanned twenty somethings. That describes Mikaela.
The enjoyable media source USA Today speaks to the night life in Tampa. "Looking for a place to dance the night away? Tampa has more than a few great options to choose from. Whether you're looking for your favorite DJ, fabulous light shows, or value for your dollar, there is a Club for you. Through extensive on-site research, 10 Best has found the top hot spots so you don't waste your vacation time worrying about where to go.
When Ybor City reinvented itself in the 90's, it primarily became known for its nightlife, particularly its dance clubs. Everyone looking to party in Tampa, from professionals to college kids, went to Ybor on weekend nights. That scene is still going strong, even though the clubs might have changed hands, changed genres, or changed buildings. Currently the hottest ticket in town is the CZAR in the Ritz weekend dance parties."
Sounds like fun. Almost as much fun as watching Mikaela wrestle.
Having witnessed some of her matches live it can be said that Mikaela gives it everything she's got. There is nothing left on the mats when it's over. This thoughtful young woman is someone to continue to follow. She's immensely talented, in fantastic shape, is street wise, savvy, professional and above all……….
She is a girl of action.
~ ~ ~
Sources: brainyquote.com, Wikipedia, fciwomenswrestling.com, fciwomenswrestling2.com, FCI Elite Competitor, femcompetitor.com, WB270.com, photos thank you Wikimedia Commons.
http://www.wisegeek.com/what-is-adrenaline.htm
http://www.10best.com/destinations/florida/tampa/nightlife/dance-clubs/