Female Wrestlers: 12 Ways to Relieve Neck Pain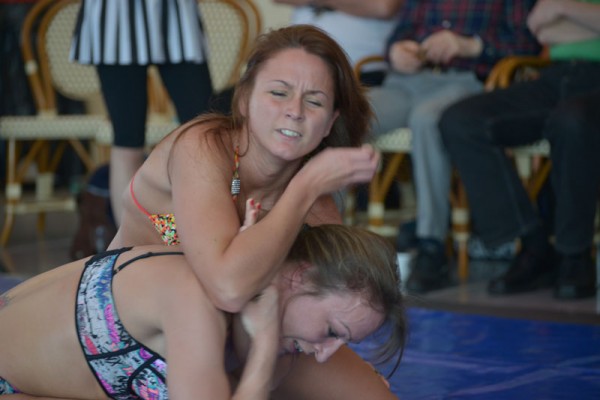 Word has it, from reliable sources, most neck sprain symptoms decrease after 4 to 6 weeks.
We don't know about you but that seems like a long time.
In our competitive female grappling industry, neck strains abound.
A German Maiden that we have come to love is Riona. She has a great sense of humor.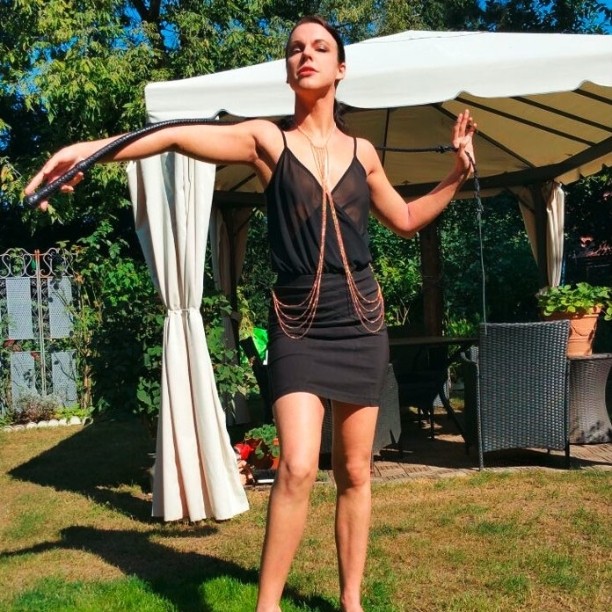 While purchasing and watching her matches at the great Femwrestle events in Troisdorf, we couldn't help but notice how her opponents figured out that the point of attack in wrestling Riona is to always go for the neck.
http://wrestling-movies.com/index.php?shop=17
Time after time it worked to perfection.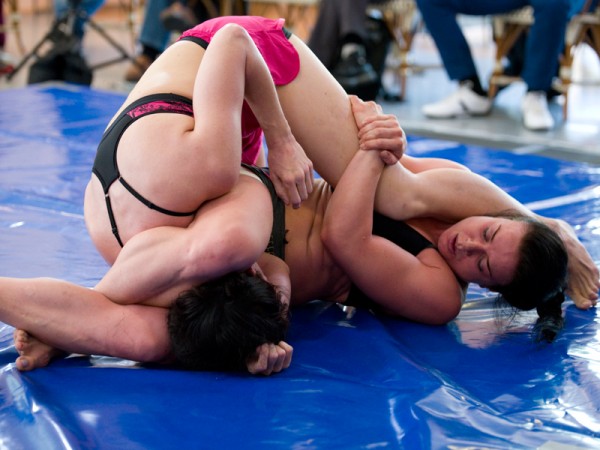 Given how often her neck was clasped, choked and pounded, Riona must have suffered through a lot of neck pain.
Another couple of matches that we enjoyed watching up close was the gorgeous newbie Eden vs our industry cute girl in Samantha Grace and Dylan vs Dana in a titanic struggle.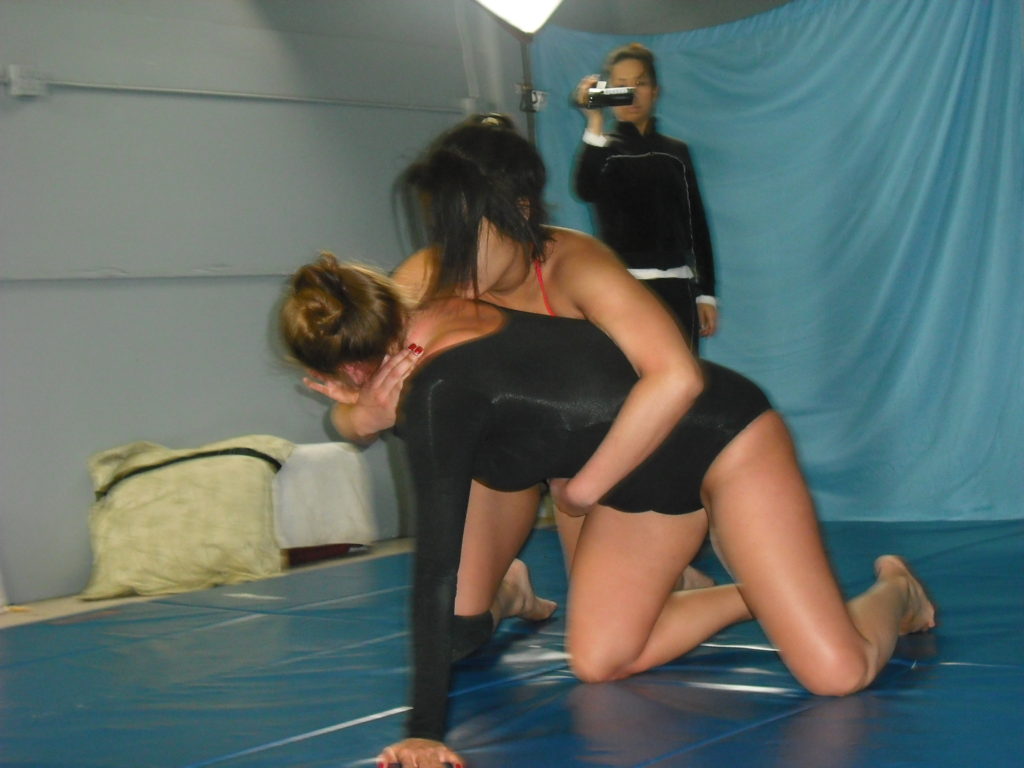 Both matches involved strong applications of neck attacks and choke holds.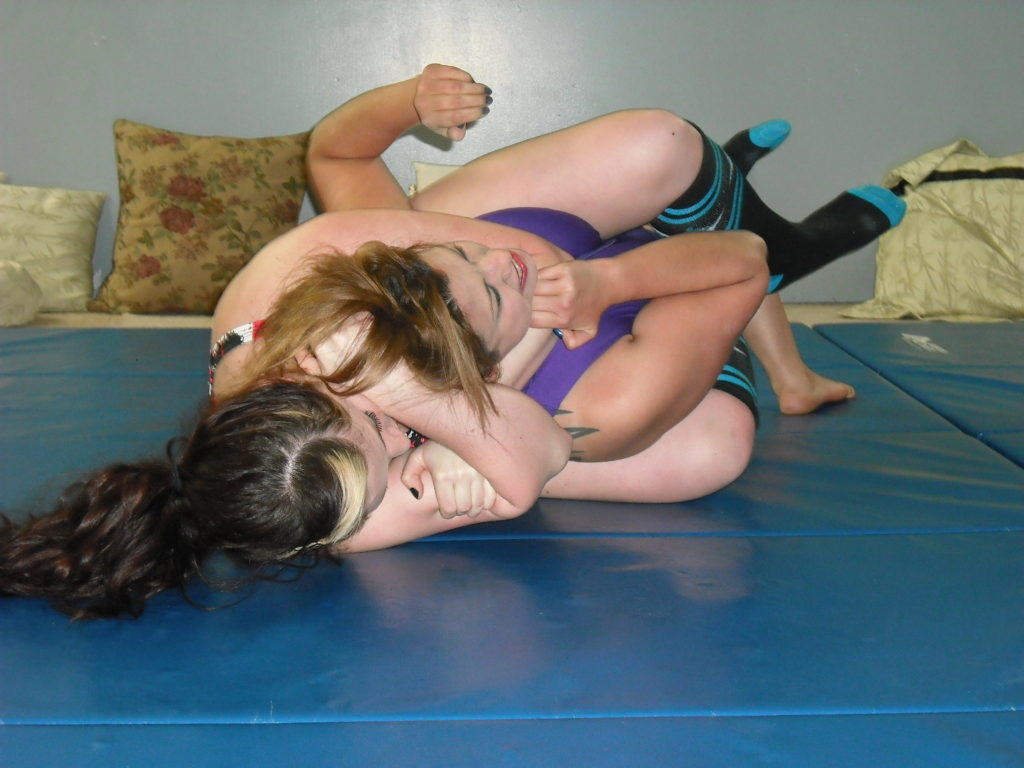 Does anyone have some ice?
Fortunately in our everyday lives we don't have fellow friends, family members or co-workers going for our necks.
Well maybe in the last case they go for our throats. Mostly that happens behind our backs and we just don't know it.
But let's just say for a myriad of reasons you are suffering from neck pain.
What suggestions might help provide you with comfort?
Let's turn our attention to a visiting writer Ms. Judy A Daus.
Judy has been a Certified Registered Nurse Anesthetist (CRNA) for over 35 years specializing in pain management. She has been an owner of a Physical Therapy Center that was one of the first centers in the Cleveland, OH area to incorporate alternative therapies with conventional physical therapy modalities for pain management. Judy has used stress management techniques in her practice and understands how everyday life can influence people's health and well-being.


12 Ways to Relieve Neck Pain
By Judy A Daus
One of the most common reasons that people had when they visited our physical therapy center was to find relieve for neck pain, headaches and shoulder pain. It had to be determined what area did the pain first occur and then the usual questions of what their activities were during the day.
The most common activity was one that most of the people had was that they worked at a desk in front of a computer most of the day. Most of their symptoms started with neck pain and then progressed to shoulders and many times headache and eye pain followed.
Sitting in an office chair for prolonged hours can lead to low back pain or even aggravate an existing neck pain condition. So, if you are spending long hours at the office, chances are you are at high risk of developing back or neck pain, that is if you are not already suffering from it.
Neck pain is usually a result of a strain or spasm in the muscles of the neck, which also includes pain in the shoulder area.
The primary cause for back pain is poor posture and slouching posture in particular can lead to shoulder and neck pain. This causes the spinal structures to get damaged as a result of incorrect posture and can inevitably lead to chronic pain problems.
These are a few of the common activities that can lead to muscle pain and the neck pain that accompanies it:
Sleeping on a pillow that does not support the neck properly.
Improper positioning of the computer monitor
Working too long in front of the computer without a break
Sitting hunchback while working at your desk
Stress
Injuries to the neck.
The question is then, how can one prevent neck pain in the future and help relieve the neck pain now?
Using good posture while walking, sitting, and sleeping. Avoid slouching.
Exercise the neck muscles by using stretching exercises geared towards the neck. These can be done right at your desk.
It is very important to choose the right office chair for back and neck pain relief and truly productive working hours.
Avoid sitting for long periods of time without getting up or changing positions.
Adjust the computer monitor so that the top of the computer screen is at eye level so that your head is not bent forward for long periods of time.
This one of the best ideas that I started using years ago when I started spending more time with computer work. Use a document holder that attaches to the side of the computer screen or sits at the side on your work area. Instead of looking down at the paper, neck strain will be less because you are looking in a neutral position.
Type without having to look at the keyboard to decrease neck strains.
Getting a headpiece, or a speakerphone, will also decrease neck pain for those who spend more than a half hour at time on the phone.
When driving in one's car, consider sitting the seat straight up and down. Have the seat adjusted so your knees are slightly bent and you are not stretching your legs to reach the pedals or your arms to reach the steering wheel.
Evaluate the pillow you are using and look into one that allows your neck to stay in a neutral position while sleeping.
Try a neck support. The support will make you keep your neck in alignment and your eyes will do their job without you straining your neck.
If stress is the cause for the pain, consider relaxation exercises.
Neck pain alone is a struggle. If combined with head, shoulder and upper back pain, it is miserable. And various uncertainties related to this pain may continue to haunt you for a long time. To ensure good back health, it is imperative to incorporate movement into your daily schedule. Sitting on a chair for hours on end, even if it is ergonomically sound, is not the best idea. A quick stretch or a walk around the office every hour or so will help keep the back as healthy as possible.
If you have any numbness in your hands or arms, you should see a physician regarding these symptoms because it is not normal and could be a sign of nerve compression.
Judy A Daus CRNA, has been a Nurse Anesthetist for over 35 years specializing in pain management. She owned a stress and pain management center for 10 years that was one of the first centers in the Cleveland, OH area to utilize physical therapy in combination with holistic modalities such as mass therapy, yoga and meditation.
~ ~ ~
https://ezinearticles.com/?12-Ways-to-Relieve-Neck-Pain&id=4786634
Article Source: https://EzineArticles.com/expert/Judy_A_Daus/381729
Article Source: http://EzineArticles.com/4786634