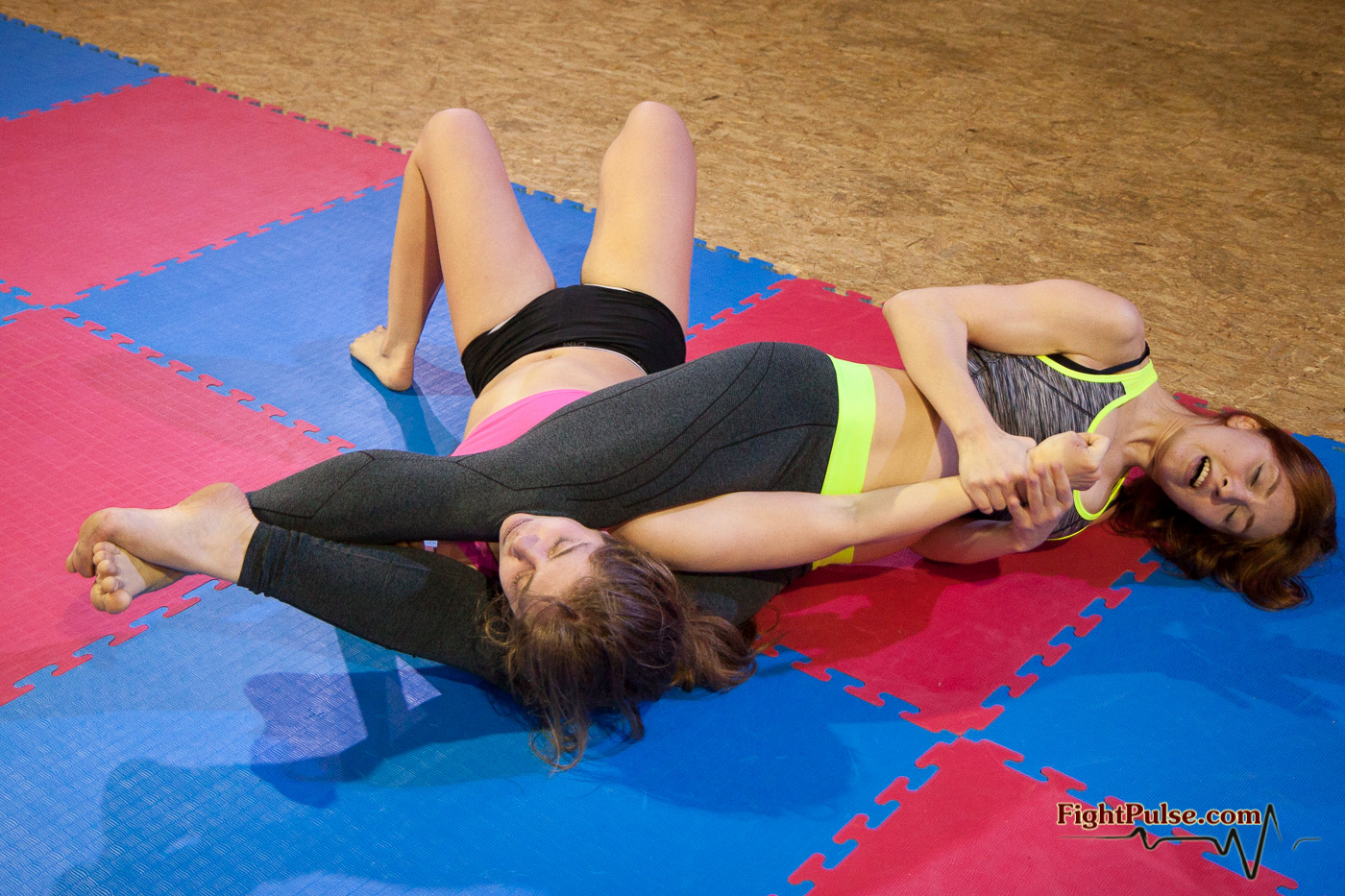 All roses don't have to be red to be beautiful, they just need to find a wonderful place to bloom.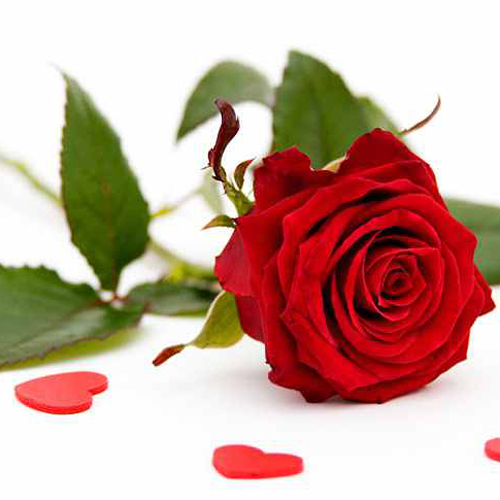 fciwomenswrestling.com article, wikimedia photo
Great female submission wrestling has blossomed in the Czech Republic, especially at the home of the great video producer, Fight Pulse.
It's a wonderful place for wrestling to bloom.
In our dinner and a movie series, our travels take us to The Golden Well Hotel. Magnificent with beautiful romantic walkways and rooms with a magical view.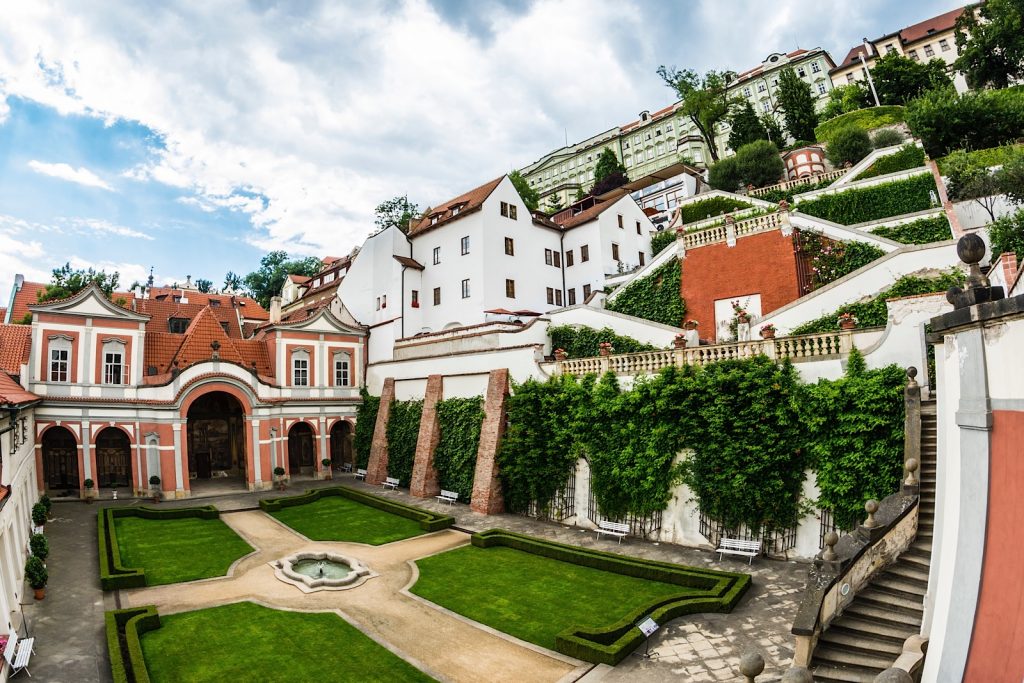 fciwomenswrestling.com article, goldenwell.cz
Let's meet them.
The Golden Well Hotel is a boutique Prague hotel enjoying one of the best locations in the city. The Golden Well Hotel offers an exquisite choice of luxury Prague accommodation with 17 rooms and 2 suites, each reflective of the building's rich heritage, providing our guests with incomparable views, luxury accommodation, exceptional service and world-class amenities.
One of the highlights of this hotel is its fine dining at Terasa U Zlate studne, a restaurant featuring two outside and one inside terraces with breathtaking views of "the city of one hundred spires," Prague. Last but not least, our historic Prague hotel showcases various original paintings of Prague and original art, including statues and antique objects, not only in the rooms but also in shared spaces.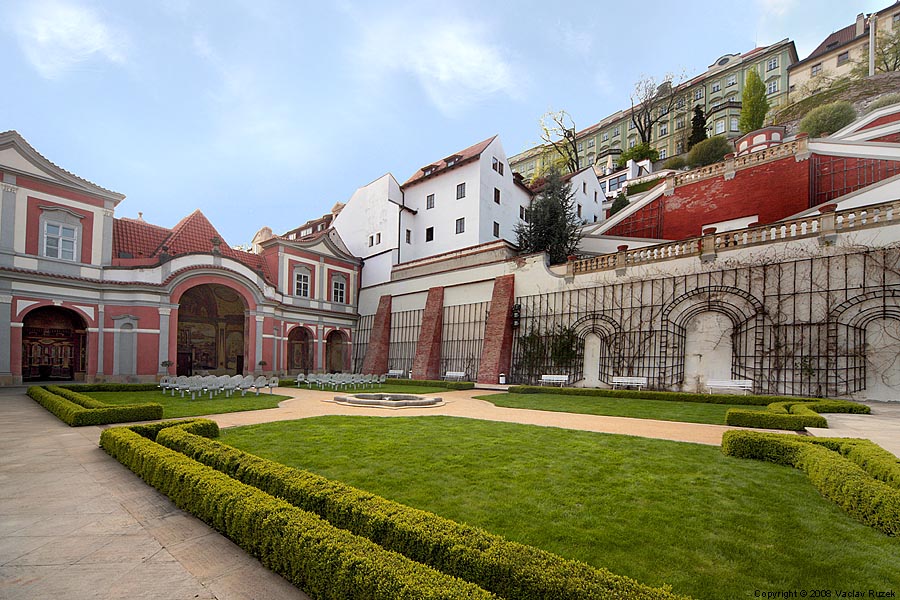 fciwomenswrestling.com article, wikimedia photo
The Golden Well luxury Prague Hotel is centrally located just below the walls of Prague Castle and surrounded by the Castle rose gardens in the quaint Mala Strana or the "Lesser Town" of Prague. Next to Prague Castle and the Czech Parliament, we are just a short walk away from some of Prague's most impressive sights, including the Charles Bridge, the Royal Gardens, St. Nicholas Church and Old Town Square. Guests of The Golden Well Hotel have the privilege from Spring through Autumn of using the Emperor's private entrance, leading directly to the Prague Castle gardens.
If you are looking for somewhere truly special to celebrate your anniversary, wedding in Prague or just a romantic getaway, the Golden Well Hotel is happy to make your experience unforgettable.
Wander up the cobbled, traffic-free streets to The Golden Well boutique Prague hotel in the shadow of Prague Castle, and uncover one of the city's finest boutique hotels, but also one of its best kept secrets."
Doesn't it sound like a wonderful place for love, romance and wonderful memories to bloom?
We sure enjoyed it.
Now it's time for the movie and appropriately it contains the name of a Rose.
FW-39: Akela vs Pink Rose
Release date: May 28, 2016
In her second match for Fight Pulse, Pink Rose is pitted against our #2-ranked lightweight, Akela.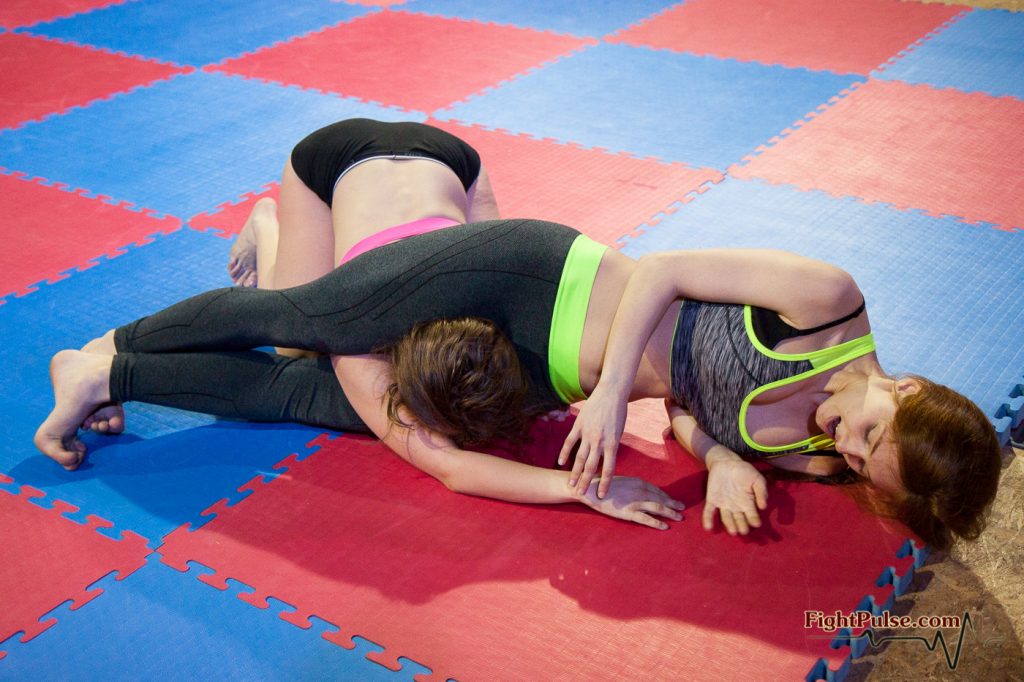 fciwomenswrestling.com article, Fight Pulse photo credit
Use of body scissors to attain submissions was prohibited in this match due to one of the wrestlers having gone through major body scissor-punishment in her previous match.
Pink Rose is improving with each match, but Akela is on a whole other level. While Pink Rose puts up a great fight, Akela dominates the match.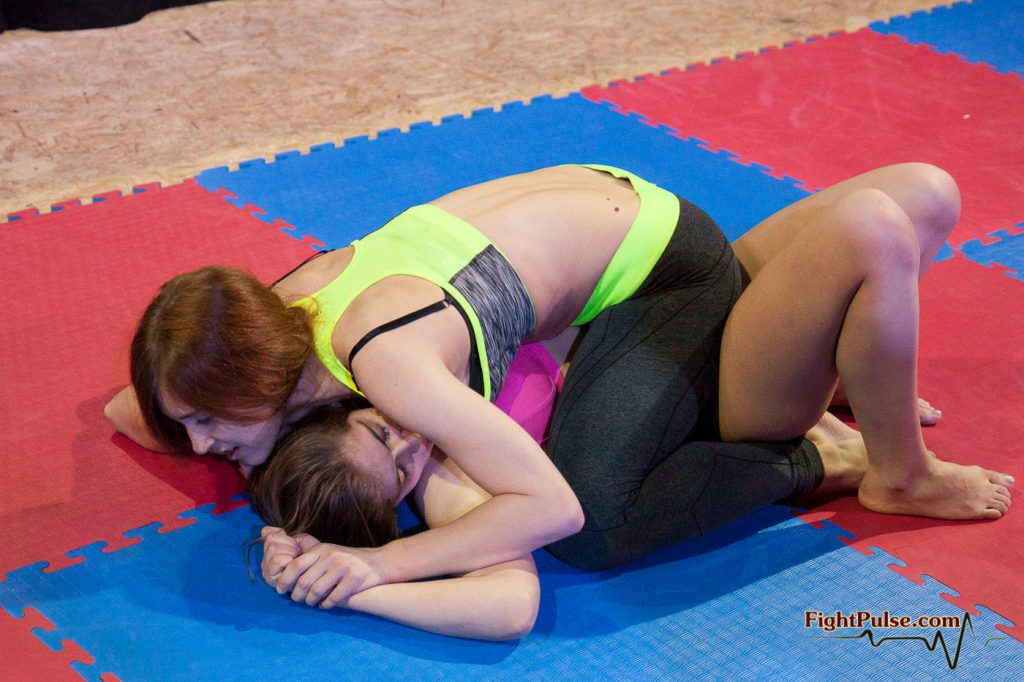 fciwomenswrestling.com article, Fight Pulse photo credit
However, the domination doesn't come easy.
Pink Rose's performance is one of the best we have seen from a newcomer going against an experienced wrestler, fighting in each round to escape the holds and pins that Akela puts her in. Pink Rose's flexibility causes issues for Akela, as she has trouble keeping Pink Rose's body in control. FW-39 displays Pink Rose's flexibility much more than her first match, since she is twisting and turning her body to escape Akela's immobilization techniques.
Overall, FW-39 is a very one-sided match, with Akela dominating the entire match, despite a great effort by the newcomer.
https://www.fightpulse.com/female-wrestling/fw-39-akela-vs-pink-rose/
FW-42: Akela vs Pink Rose 2
Release date: July 15, 2016
In this competitive female wrestling match, Pink Rose gets a chance to avenge her loss to Akela in FW-39. The match is held under the usual Fight Pulse ruleset, with no additional limitations, as opposed to FW-39 being a no-body scissors match.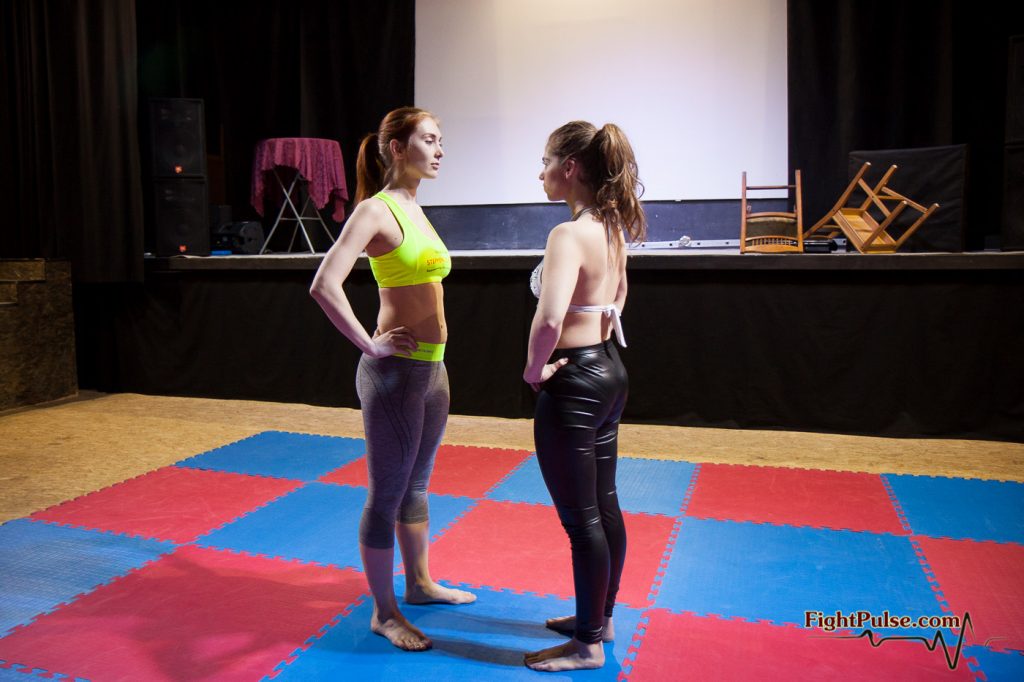 fciwomenswrestling.com article, Fight Pulse photo credit
Having had more matches and more training, Pink Rose goes into this match as a better wrestler than she was during their first encounter. Her confidence level is high, and you can see as soon as the match starts, that this is going to be a tough fight for both wrestlers, as Pink Rose gets Akela in a hold quite fast. But can Pink Rose turn the tables around on Akela this time? Are her improvements big enough for the outcome to change significantly? If you would like to stay unaware of the outcome of the match, please, don't read the description any further.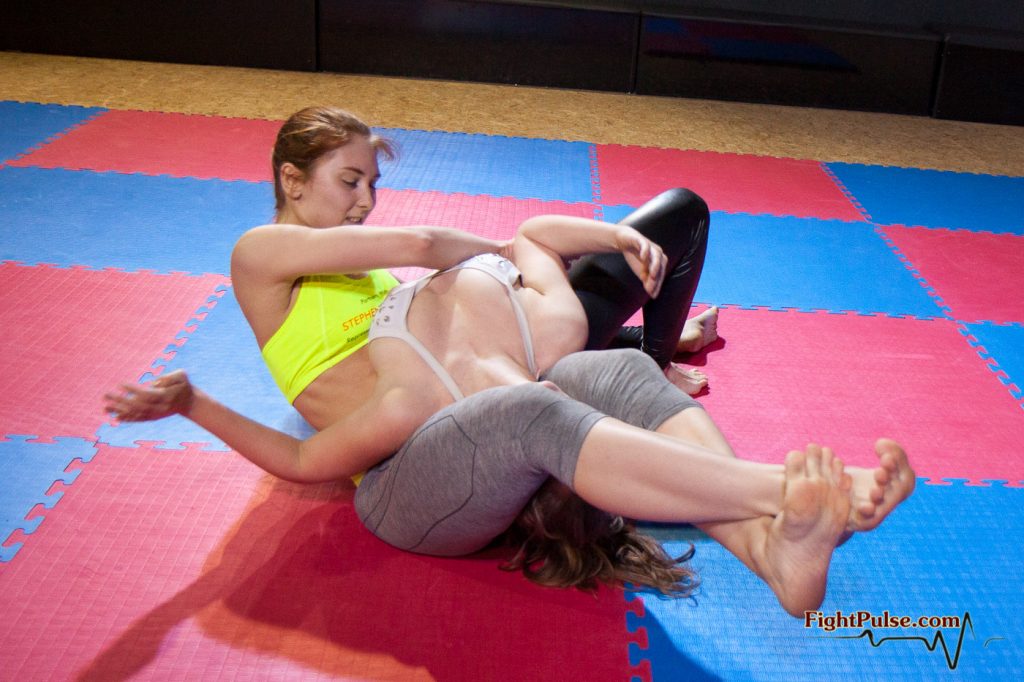 fciwomenswrestling.com article, Fight Pulse photo credit
There's a reason Akela is the top contender for the lightweight title. She is strong, technical, agile, hard to dislodge once she is on top, and arguably possesses the strongest scissors among Fight Pulse wrestlers, as you can see from her H2H encounters. It turns out that it takes much more than Pink Rose has to offer to beat Akela. While Pink Rose puts up a better fight than in FW-39 and has her moments, partly thanks to her incredible flexibility, she eventually ends up either on her back with Akela firmly straddling her chest, or with her head or body trapped between Akela's legs. Needless to say, when the latter happens, it's only a matter of seconds before a submission comes. Pink Rose makes Akela work much harder, both sides putting out 100% effort in each position and hold.
If you enjoy real female wrestling with a decisive winner, you will love this title. FW-42 is definitely one of our best competitive F/F titles, featuring beautiful tight pins and devastating head and body scissors.
https://www.fightpulse.com/female-wrestling/fw-42-akela-vs-pink-rose-2/
~ ~ ~
Sources: brainyquote.com, Wikipedia, fciwomenswrestling2.com, FCI Elite Competitor, photos thank you Wikimedia Commons.
http://www.goldenwell.cz/dining-en.html
http://www.goldenwell.cz/default-en.html