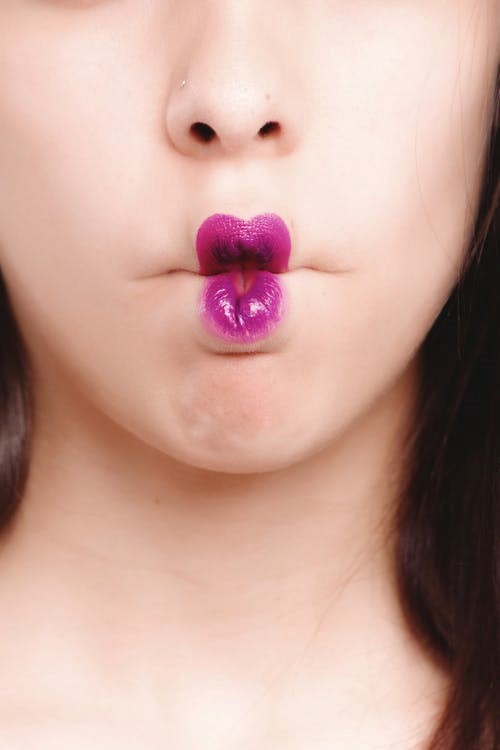 FULL OF YOUTH

AND COLORFUL SEX

APPEAL

, NEKO REALLY STOOD OUT!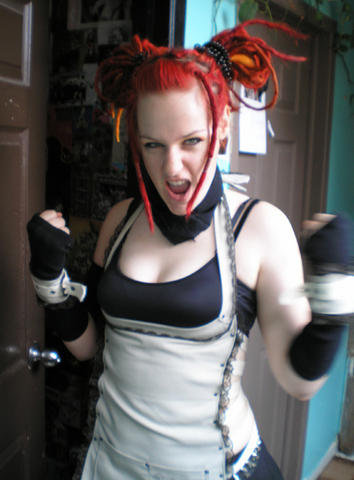 Gabrielle Bonheur Chanel was a French fashion designer and founder of the Chanel brand. She is the only fashion designer listed on Time magazine's list of the 100 most influential people of the 20th century.
She astonished with her trademark suits and little black dresses, fashion designer Coco Chanel created timeless designs that will be popular forever.
She also was quoted as expressing something that made me think of the exciting but short lived career of the Canadian wrestling beauty Neko. Ms. Chanel stated, "In order to be irreplaceable one must always be different."
With her energetic skillful wrestling approach coupled with hair styles that made a powerful fashion statement, in a good way Neko was different. Cookie cutter personalities need not apply.
Her career began with the world renowned London Wrestling Studio. Here is what the promotion had to say about her. "Neko challenges the mighty Dragon to a submissions only wrestling match. This is Neko's first ever competitive wrestling match against another woman. We must give her kudos for choosing Dragon as her first opponent!"
Clearly Neko was a fast learner. I would follow her career and watch her jet into the land of the Goddesses of Fighting Style in Europe. Except for a grueling match with the blonde maiden Tina, Neko seemed to dominate. Very impressive.
I would later meet and have a nice conversation with Neko at Jackpin's 2008 Women's Wrestling Convention at the Marriott Hotel in sunny San Diego. Her eyes were bright and danced with anticipation.
She had a private match against Devon where she had a chance to strut her stuff and then it was time to climb into the center ring to take on icons Christie Ricci from the lady pro wrestling world and submission wrestling super star Liz Lightspeed. Neko gave them both all they could handle.
Apparently the word was out that Neko was a force to be reckoned with and requests were coming in for her to travel and face some of the top names in the industry. Here was a request from Sybil Star's blog site.
"My fans and friends know that I love to fight competitively. Unfortunately, it is expensive to arrange competitive matches because you must generally pay the competitive participants more money than their usual rate for a scripted video, and you must also pay a good cameraman who can properly film this type of match.
According to our polling you do want to see me (and some of my other session wrestler friends) in legitimate non-scripted competitive matches. Therefore, I am seeking help from my fans for Sponsorships to defray the costs of producing these competitive videos. Once we have enough sponsorship money for a particular match, we would film it soon thereafter.
One of the first matches for whom we seek sponsorship pits Jenn v. Neko in a competitive submissions catfight match."
Neko was in demand!
What village helped form this sexy dark haired northern princess? When the Canadian wrestling star Mutiny acted as referee during Neko's match in Europe she announced that Neko is from Toronto.
Let's briefly travel there to see what helped influence Neko's brilliant creativity.
A Canadian newspaper thestar.com reports, "New data from the 2011 National Household Survey highlight the changes unfolding in Canadian society. Canada has 200 ethnic groups and 100 religions."
Wikipedia adds, "Toronto is one of the world's most diverse cities by percentage of non-native-born residents, with about 49% of the population born outside Canada."
The world traveler Wikipedia also educates. "Toronto is the most populous city in Canada and the provincial capital of Ontario. It is located in Southern Ontario on the northwestern shore of Lake Ontario.
The history of Toronto began in the late 18th century when the British Crown purchased its land from the Mississaugas of the New Credit.
According to the 2011 Census, the city has 2.6 million residents, making it the fifth-most populous city in North America. However, in 2012, the municipal government published a population estimate of 2,791,140, which led to media reports claiming Toronto as the fourth most populous city in North America and the most populous Great Lakes city, surpassing Chicago.
As Canada's commercial capital, it is home to the Toronto Stock Exchange and the headquarters of Canada's five largest banks. Leading economic sectors in the city include finance, business services, telecommunications, aerospace, transportation, media, arts, publishing, software production, medical research, education, tourism, and engineering. Toronto is considered an alpha world city by the Globalization and World Cities Research Network and is placed among the Global Leaders in the Index. The city is also consistently rated as one of the world's most liveable cities by the Economist Intelligence Unit and the Mercer Quality of Living Survey."
That lays a solid foundation. Where are some creative places to go visit while we're there?
The writer at the fun travel site virtualtourist.com shares, "In the many years I have spent wandering around Toronto there is one sport in particular that I never grow bored of and is unique to Toronto, and that is Kensington Market. It is a square block of funkified old houses turned into vintage shops, bars, vegan restaurants, and food markets. All manner of artists, punks and freaks seem to spend time wandering here. You can find all different mixes of cultures sitting next to each other; A Jamaican store right next to a Chinese store next to an east Indian shop etc. I have even seen a coffee shop (Kensingtons) that was featured on the popular TV show: Restaurant Make-Over."
He continues, "The Bata Shoe museum fascinated me when I went there on a school field trip last year. It was so interesting to see all the different shoes commonly used in different cultures for weddings, not only today but historically as well.
Then there was this one room where you get to go in and look at shoes that belonged to all different kinds of celebrities. You can't actually tough them but they're right inside the glass: shoes from Lucille Ball, Anthony Hopkins, Britney Spears, Eminem, Marilyn Monroe, etc."
Thank you much. Let's try one more source.
Do you have a sweet tooth? The interesting travel site nileguide.com shows if you visit Toronto, you've come to the right place. "This is definitely the sweetest tour in Toronto. The Redpath Sugar Museum takes a look at the Canadian sugar industry and where it all began, and what the Redpath family had to do with it. the building itself is a former sugar bag storage house which also features an on-site theatre which, aside from the tour, gives guests a view of Raising Cane, a film about sugar and the industry. But the sweetest part is that admission is absolutely free!"
We saw at least twenty other places off the beaten trail that we'd love to beat a path to but in the interest of time we have to go.
It was nice revisiting Neko's bright and fanciful memory. In the short time she was here she gave us so much that were unique to appreciate and enjoy.
As Ms. Coco Chanel indicated, when a person like Neko is so creative and different, she may be inactive or she may be retired. Maybe. One thing is for certain.
She can never be replaced.
~ ~ ~
Some may find other women's wrestling sites erotic in nature. If you are offended by depictions of women wrestling in erotic situations, please exercise caution in visiting women's wrestling sites.
Femcompetitor.com subscribes to fciwomenswrestling.com news source. No affiliation.
Sources: brainyquote.com, Wikipedia, biography.com, londonwrestlingstudio.co.uk, thestar.com,   fciwomenswrestling.com, fciwomenswrestling2.com, FCI Elite Competitor, Sybil Starr Productions, where.ca/ontario/toronto, virtualtourist.com, femcompetitor.com, photos thank you Wikimedia Commons.