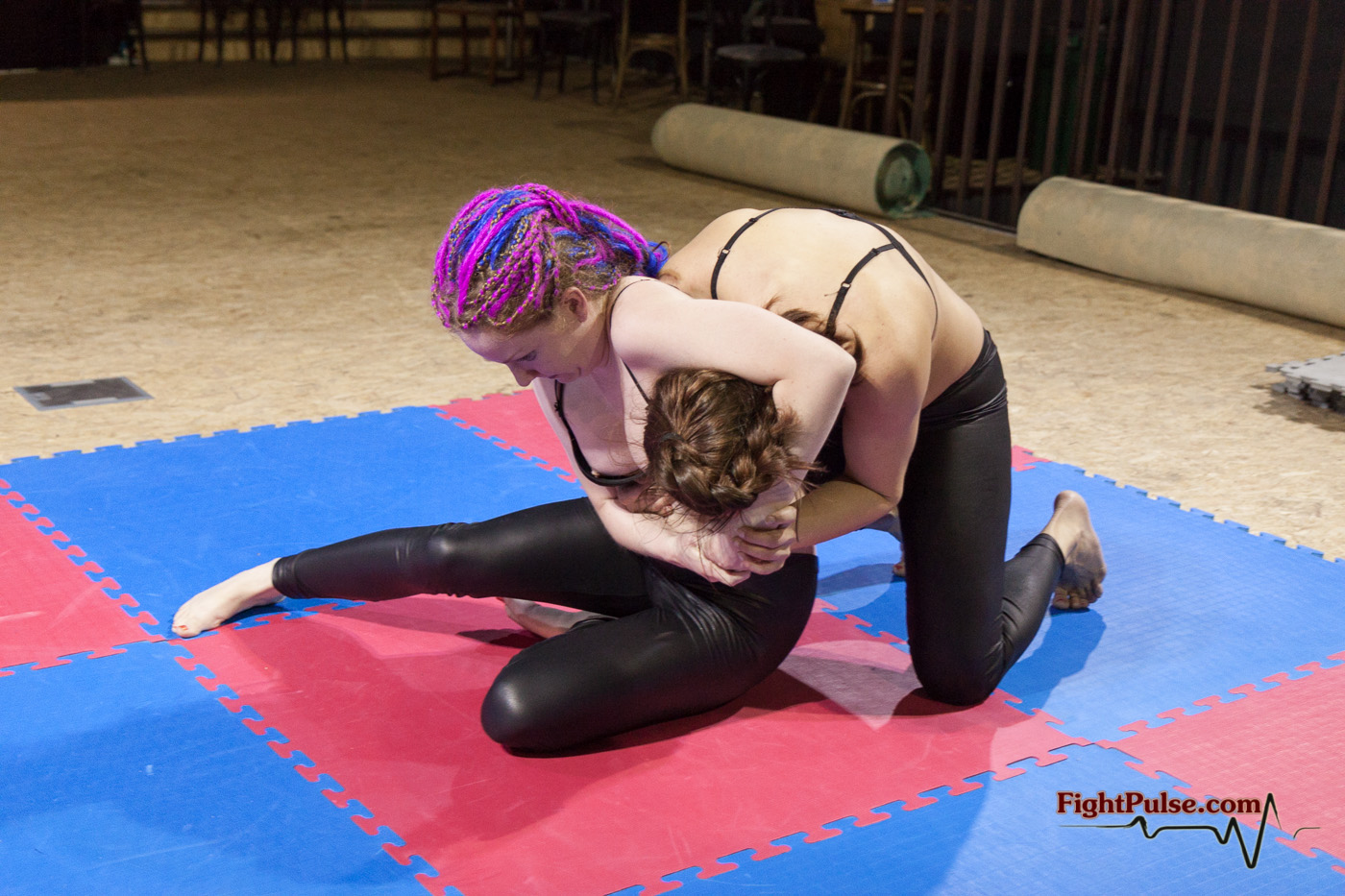 If variety is the spice of life, then having things customized brings all of the spices together with a sweet aroma.
In our dinner or lunch and a female vs female wrestling movie series we have another customized match for you.
Before we watch it, let's eat first.
Our specialty restaurant of the day in the Czech Republic where the great video producer Fight Pulse thrives is appropriately named Indian Jewel.
We will now explore why they are so special. At their enticing site indianjewel.cz they provide us with their fine reputation.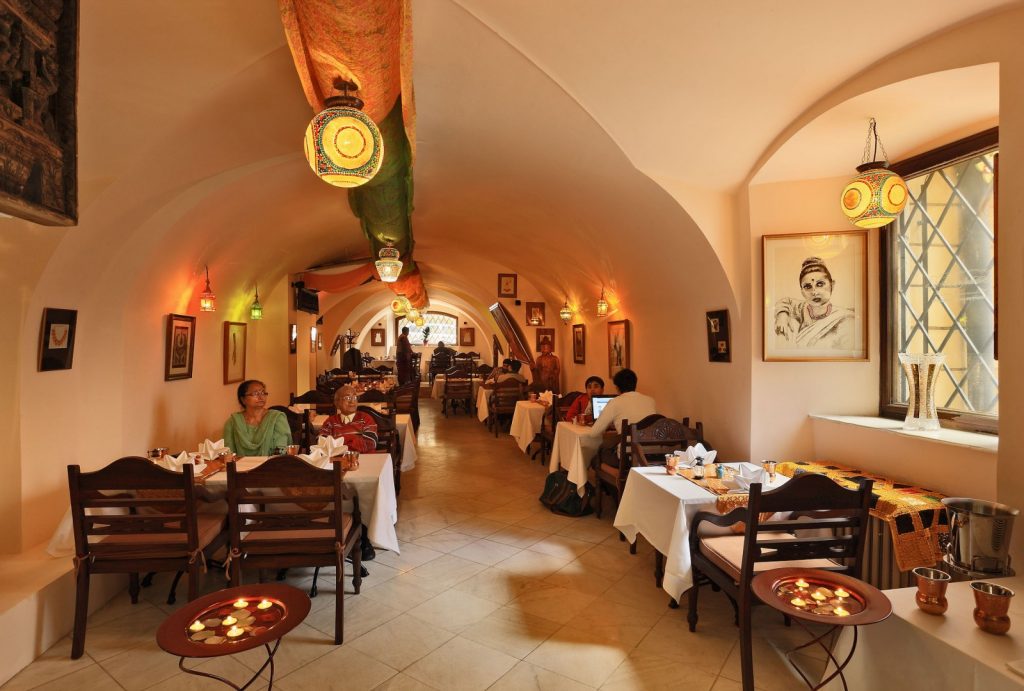 fciwomenswrestling.com article, restu-cz photo credit
"The Indian Jewel, voted as one of the best Indian restaurants in Prague and located in the heart of Prague's Old Town, makes an honest effort to create an amalgamation of some of the finest gems of Indian cuisine.
India is a land of diverse cultures and traditions with a limitless variety of culinary excellence. Many Kings and Mughal Emperors have already savored the nostalgic tastes of the delicacies which were previously, zealously guarded secrets, passed on from generation to generation of royalty. Now, it is your turn to appreciate these creations and we hope that it will both excite the adventurous and satisfy the traditional palate!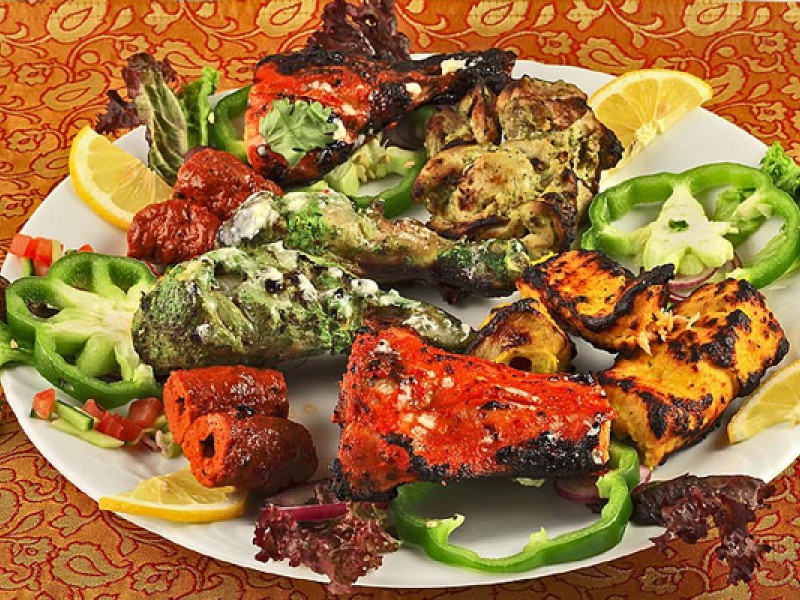 fciwomenswrestling.com article, prague-me-cz photo
The word 'spice' does not mean hot in Indian food but, instead, the thousands of herbs and spices, which have interesting medicinal qualities, enhance the food created by our chefs. Our menu ranges from light lentil soups, through breezy salads, succulent kebabs and freshly baked naans, to paranthas from our tandoor (clay oven). Our restaurant would not be complete without the real gems of Indian cuisine: our mouth-watering Indian curries. Ranging from the delicacies of the peppery south, up to the platters from the divine north, these dishes will not only seduce you with their aroma but entangle your tongue in a never before experienced passion.
About Us
The Indian Jewel has now been established to provide the culinary excellence of traditional Indian food that Prague has long desired. The central location of the restaurant will make it easily accessible for you. It is located in behind Týn Church on Ungelt Square, where the Czech architectural beauty of the whole area is apparent and it is supposed to be one of the oldest parts of Prague.
The staff has been handpicked by our Director, who has experience in the restaurant industry for over 30 years.
With our staff's careers at their peaks, we hope to provide you with the most exceptional experience that sways you from the heart of Prague to the heart of Indian cuisine and culture. To authenticate the Indian Jewel, we have adorned the walls of the restaurant with tantalizing damsels wearing elegant Indian jewelry. Entrepreneurs of art will be left gazing through tradition, at the special ordered jewelry that is hand carved into white marble. If all this doesn't tickle your senses, you also have the pleasure of seeing religious, hand-made woodwork depicting the ancient temple figures that will be a memoir of your culinary passage to India!"
Very interesting. That doesn't just sound like dining, which is great, but a full dining experience, which is even better.
They receive wonderful reviews. Here are two.
From Big Apple Curry
…Every guide book that recommended the Indian Jewel was right — it was one of the best meals I had in Prague. Even though the Biryani was the most expensive entree I ordered in Prague, the meal was still affordable overall and well worth it (eating in Prague is generally quite affordable). If you're travelling to Prague (which I recommend, it's stunning!), love Indian food, and want to take a break from Czech cuisine, definitely go to the Indian Jewel — it won't disappoint….
From Greenwich Curry Club
Few curry houses in the world can offer diners such a beautiful walk to their spice fix as the Indian Jewel. Although the actual restaurant entrance is low key, to get there you have to walk through the famed Staroměstské náměstí (Old Town Square) towards the fairy tale Tyn Church with its twin Gothic towers and cluster of spires.
We are convinced that Indian Jewel is a fantastic place to add spice to your dining experience.
Now for the custom movie.
FW-24: Laila vs Revana (pindown until submission)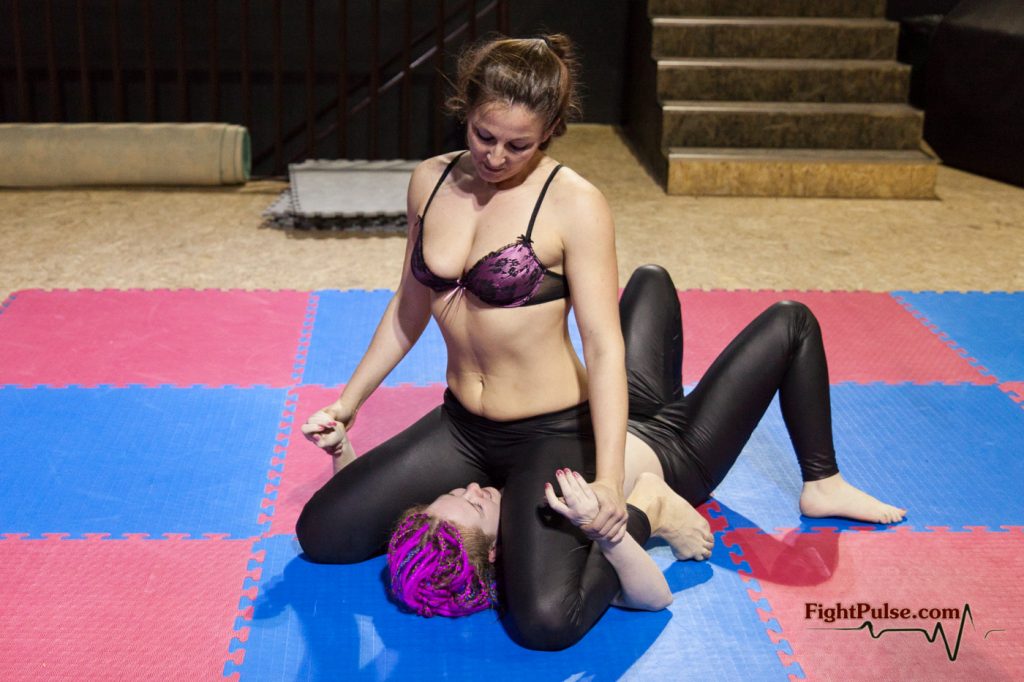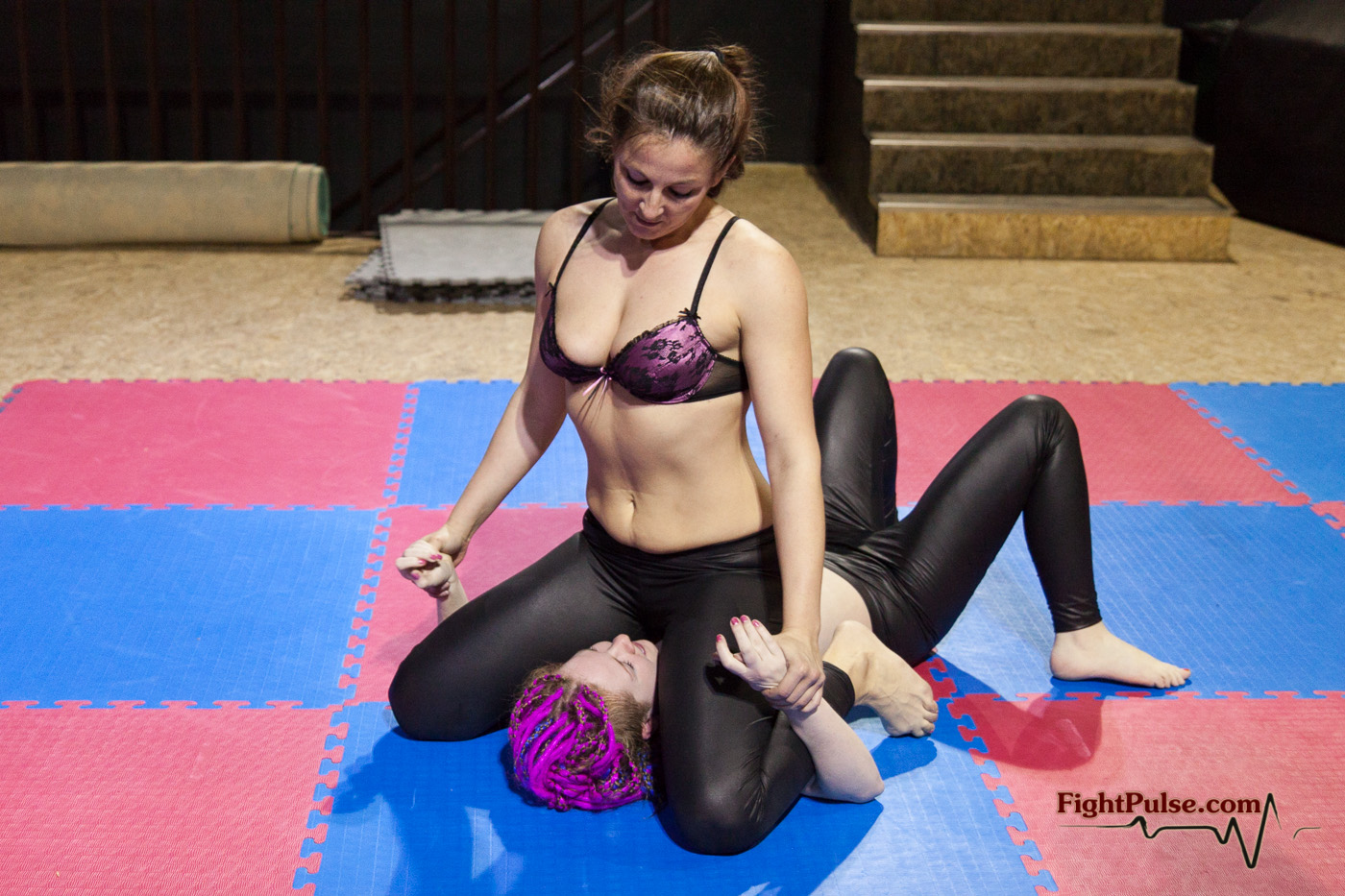 fciwomenswrestling.com article, Fight Pulse photo credit
FW-24 is a competitive female wrestling match between Revana (5′ 5″, 121 lb.) and Laila (5′ 9″, 159 lb.) in a new experimental STYLE – pindown until submission. The only way to score a point under these rules is by making the opponent submit from being pinned down. The submission has to be uttered. More precisely, the pinnee (let's make that a word), has to utter the words "I submit" in order to finish the round. The submission from a pin can come in many ways – from being smothered by the weight, being choked via neck straddling, from pain in the biceps from the pressure of knees / shins, from overstretched legs in a grapevine pin, or from pain in the jaw from the pressure applied with the pubic bone while in a tight schoolgirl pin.
fciwomenswrestling.com article, Fight Pulse photo credit
The interesting style and format of this match was suggested by one of our fans, and we decided to give it a go. The wrestlers are wearing wet-look leggings and bras. The video starts with a lengthy interview where both competitors comment on schoolgirl pin technique and discuss the new rules. This is followed by a short arm-wrestling segment, which is followed by the actual match. Since this is an experimental concept, we decided to pick the opponents with a significant size / skill gap between them in order to observe how a more or less one-sided match will go and which pins will result in submissions. In this match most of the submissions come from the pressure applied by the pinner with her pubic bone on the jaw of the victim. This, along with Laila's rough technique, made FW-24 the most painful match Revana had ever had at Fight Pulse. Laila is relentless in her attacks, and pins Revana down round after round, straddling her face, sometimes even taking her knees off the mats in order to put her full weight on Revana's jaw. Revana's expression is one of desperation and pain, especially towards the second half of the match. She fights back like never before, only to get straddled and made to say "I submit", sometimes incoherently, due to her jaw being shut by Laila's weight.
https://www.fightpulse.com/female-wrestling/fw-24-laila-vs-revana-pindown-until-submission/
~ ~ ~
Sources: brainyquote.com, Wikipedia, fciwomenswrestling2.com, FCI Elite Competitor, photos thank you Wikimedia Commons.