Violin music played with rising emotions and passion can motivate the human soul to higher aspirations and activities.
In our dinner and a movie (FvF) series, listening to Mozart elevates all of those activities to a grandly higher plateau.
According to biography.com and a reminder to us all since at least in our lives most of us have been moved by his timeless music, here is what they share. "Born on January 27, 1756, in Salzburg, Austria, Wolfgang Amadeus Mozart was a musician capable of playing multiple instruments who started playing in public at the age of 6. Over the years, Mozart aligned himself with a variety of European venues and patrons, composing hundreds of works that included sonatas, symphonies, masses, concertos and operas, marked by vivid emotion and sophisticated textures."
As we continue to electronically stroll around Prague, like children marching to the Pied Piper, we have gleefully followed the enchanting music to Mozart Café.
fciwomenswrestling.com article, cafemozart.cz  photo
Ah, the tone softens.
The tune relaxes.
Good. Now we can hear them speak. At cafemozart.cz smile and beckon us inside. "The Café and Restaurant Mozart offers a romantic environment for a coffee and a cake, or for lunch or dinner, and a pleasant environment for a working breakfast. Our Old Town Square Café is also ready to organize weddings, corporate events and family celebrations; we also offer catering and hold regular musical concerts, both classical and jazz.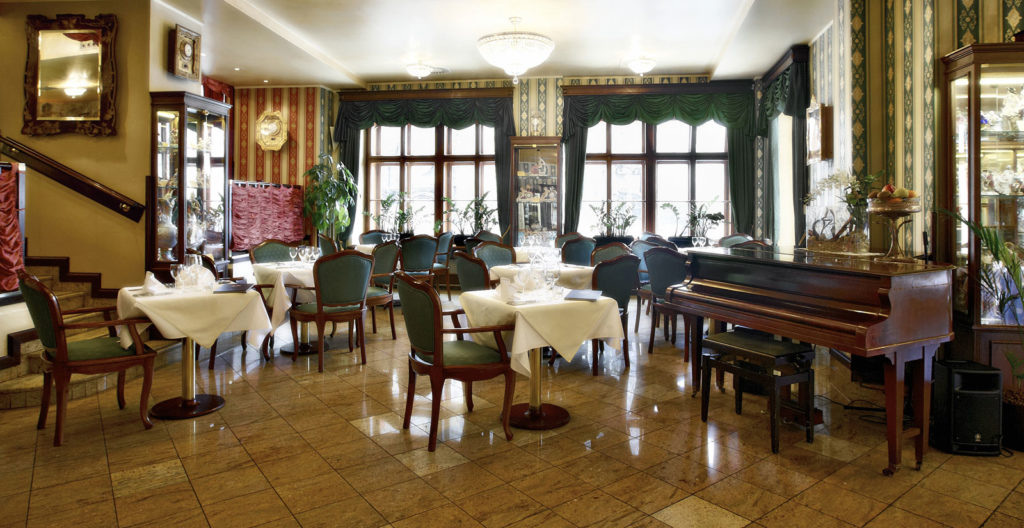 fciwomenswrestling.com article, cafemozart.cz  photo
Café Mozart is located on the first floor and offers a unique atmosphere because of both its unparalleled view of the Astronomical Clock and its exhibition of Meissen porcelain. The Café Mozart area is divided into two parts, with a total capacity of eighty seats. Here you will find an excellent breakfast and we will prepare for you an excellent coffee or chocolate and offer you ice-cream or a sundae, homemade cakes, pastries and other specialties."
Sounds wonderful and enticing.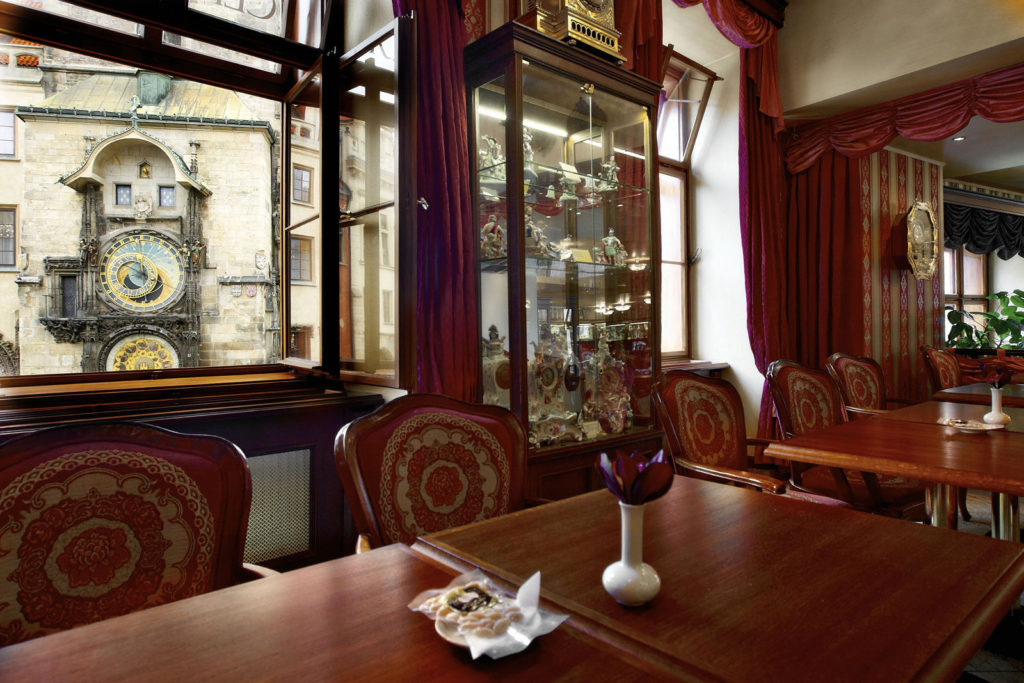 fciwomenswrestling.com article, cafemozart.cz  photo
Now for some reviews at the fantastic global travel site tripadvisor.com. As the customers gently sway their heads from side to side they smile, "Strategically located in front of the astronomical clock, the Cafe Mozart is a lovely place to dine with outstanding decor. Dinner was nice, nothing too complicated or elaborate, but the nicest part of it all was the view to the square, the clock and that we attended there a concert dedicated to Mozart´s pieces."
Very sweet.
Now for another one. "Cafe Mozart is the best place to watch the Astronomical clock doing its thing. There is a direct view of the clock from this cafe! Eat cake (which is really good) while others jostle for position downstairs to get a peek at the clock. Good tea too!"
Hmm. What is this Astronomical clock that everyone seems to be so enamored with?
I think we are going to need a tour guide and we have just found the perfect one at czechtourism.com. They point upward and explain, "Every hour, hundreds of tourists from all over the world with cameras at the ready gather in front of the Old Town Hall to enjoy a fascinating mechanical performance which in the Middle Ages was considered one of the wonders of the world. The Prague Astronomical Clock, which for 600 years has been one of the greatest treasures of the city, still amazes people with its procession of Apostles, moving statues and visualization of time like no other instrument in the world."
Well I feel very satisfied and well fed.
Time for the female grappling video and what a fight it is.
It's a big one.
Now from the female wrestling video industry leader, Fight Pulse.
FW-37: Amethyst Hammerfist vs Sky Storm
fciwomenswrestling.com article, fightpulse.com photo
Release date: May 21, 2016
Dear Subscribers, some of you already know that two of the named ladies will visit Fight Pulse in May. We are now ready to provide more information about their visit.
Amethyst Hammerfist from UK and Sky Storm from USA are both new to the scene and both took it by storm on two separate continents in a very short period of time. We have been in communication with both of the wrestlers and they will make their first appearance at Fight Pulse on 14-15/May weekend. Amethyst is a feisty and passionate competitive wrestler who is not afraid of a challenge. Sky Storm is a former Olympic gymnast, very strong, flexible, and just as competitive. We are extremely excited to work with the two warriors soon.
During the two-day shoot we will film minimum 10 videos, 8 of which will feature our guests. Minimum 5 of these will be competitive matches, most being mixed wrestling encounters (full list of planned videos can be provided upon request closer to the date). The main event will be the first match of day 2 – Amethyst Hammerfist vs Sky Storm in a competitive pins & submissions match under Fight Pulse rules (no joint locks or arm chokes).
Sky Storm
Sky Storm is a session wrestler from USA with background in gymnastics and acrobatics, as well as various martial arts, with whom we had the pleasure to work during her visit to Fight Pulse in May, 2016. Let her size not deceive you – she is very tough and extremely competitive.
The wait is over! Because of the buzz that this encounter has caused and multiple requests from our customers we decided to make an unscheduled release. We present to you, dear Subscribers and Visitors, Amethyst Hammerfist vs Sky Storm!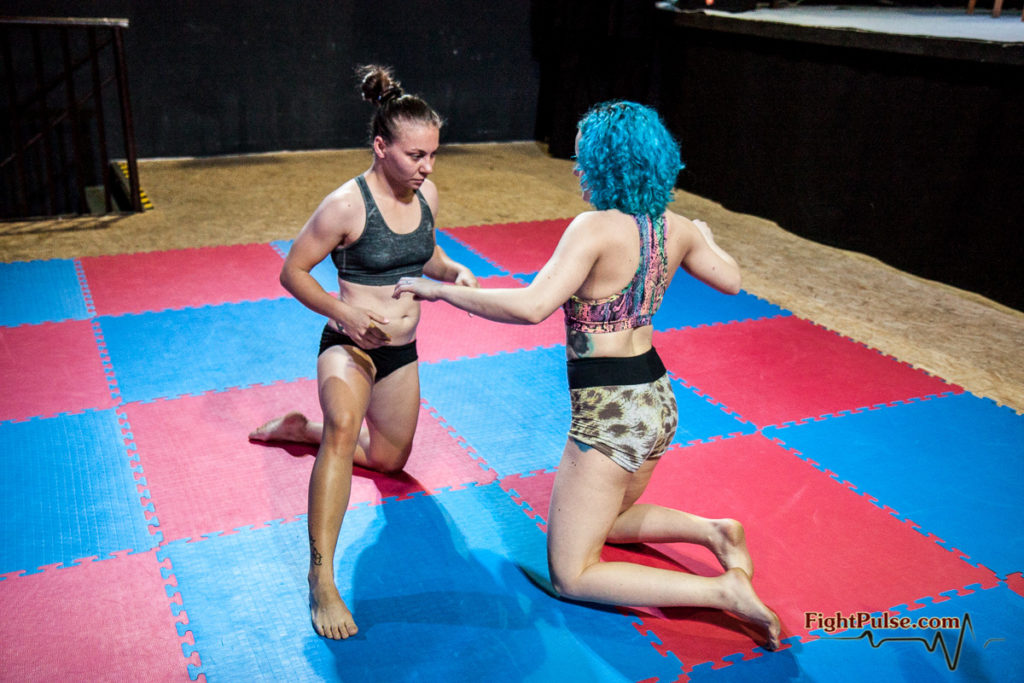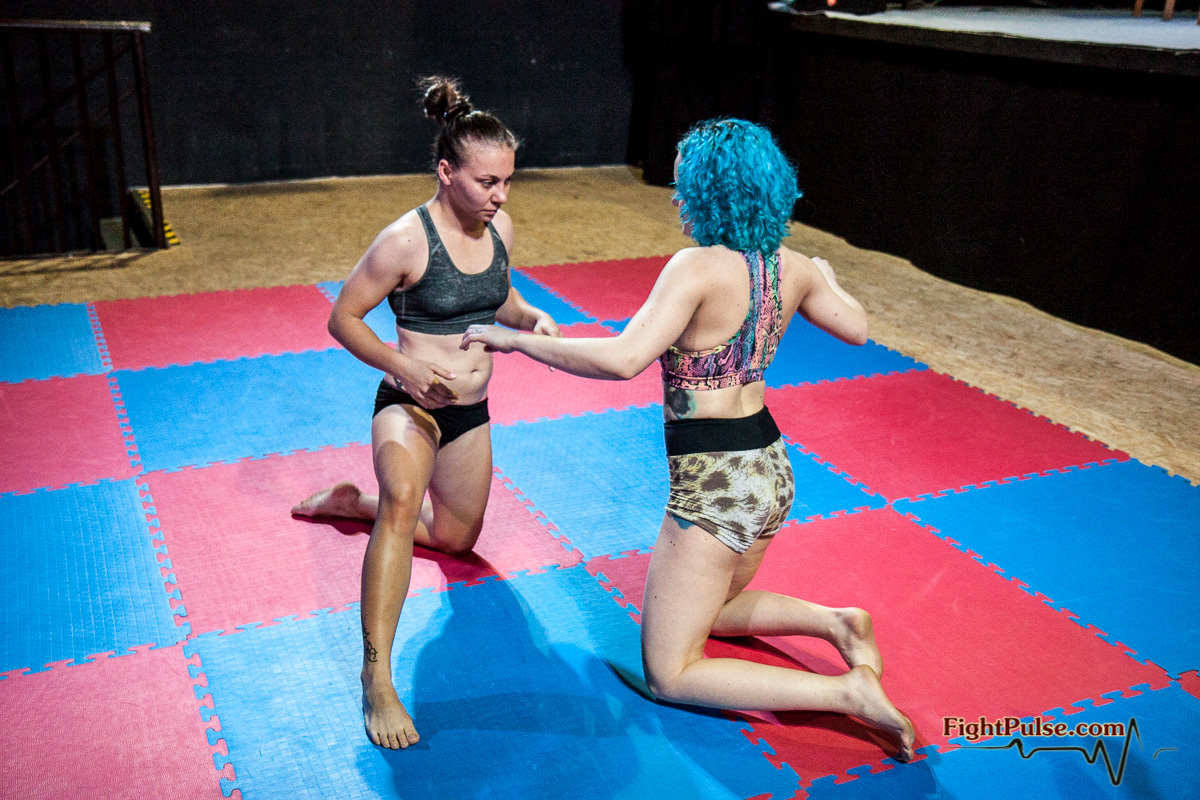 This match is easily one of our most promoted encounters. If you are not following us at the forum or on social networks, you might have missed out on a lot. Here's how you can catch up. While our subscribers have known for several months that the two ladies would visit Fight Pulse in May, the announcement of this match was made in the following blog post: Incoming – Amethyst Hammerfist and Sky Storm.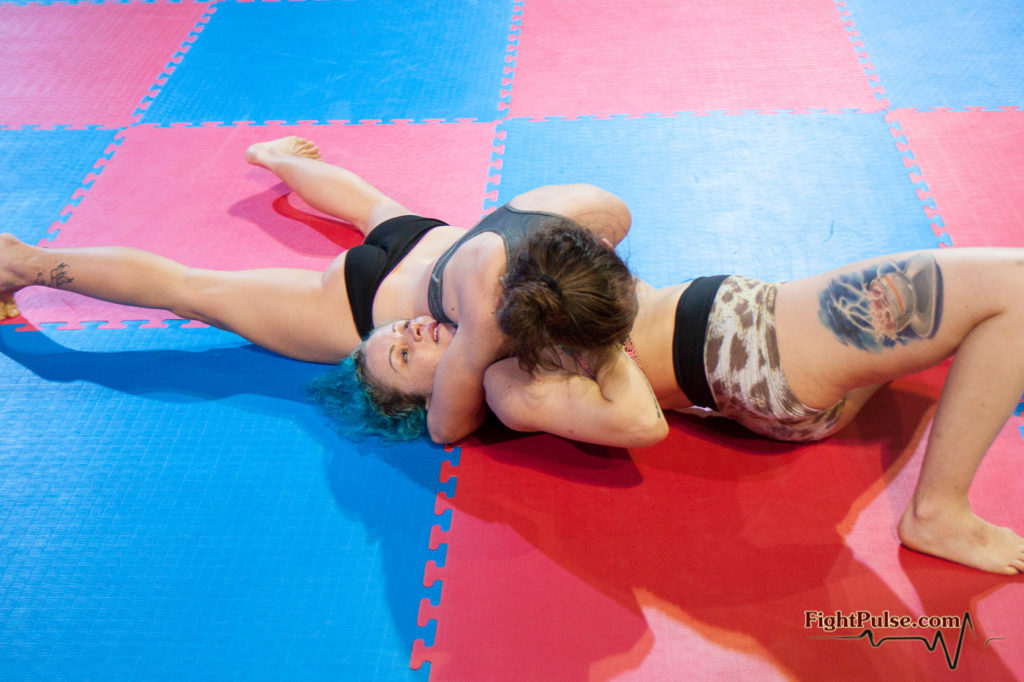 fciwomenswrestling.com article, fightpulse.com photo
This was followed by a Twitter feud (!) between the two competitors which you can read here: Twitter – Ame vs Sky. And then there was the poll at the mixed wrestling forum, results of which irritated Amethyst, to say the least, as she revealed on her Twitter, as well as in the pre-shoot interview.
Finally, we made a blog post today, as is now customary, about the two wrestlers' visit to Fight Pulse, which included extensive video interviews with Amethyst and Sky where they discuss this match, and a final stare down: Amethyst and Sky were here!
~ ~ ~
Sources: brainyquote.com, Wikipedia, fciwomenswrestling2.com, FCI Elite Competitor, photos thank you Wikimedia Commons.
https://www.fightpulse.com/female-wrestling/fw-37-amethyst-hammerfist-vs-sky-storm/ 
https://www.fightpulse.com/blog/incoming-amethyst-hammerfist-and-sky-storm/
http://www.cafemozart.cz/about_coffee_house.htm 
https://www.tripadvisor.com/Restaurant_Review-g274707-d2622098-Reviews-Cafe_Mozart-Prague_Bohemia.html
http://www.czechtourism.com/c/prague-astronomical-clock/
http://www.biography.com/people/wolfgang-mozart-9417115