UFC Star Mackenzie Dern, Dynamic Ability, Puzzling Strategy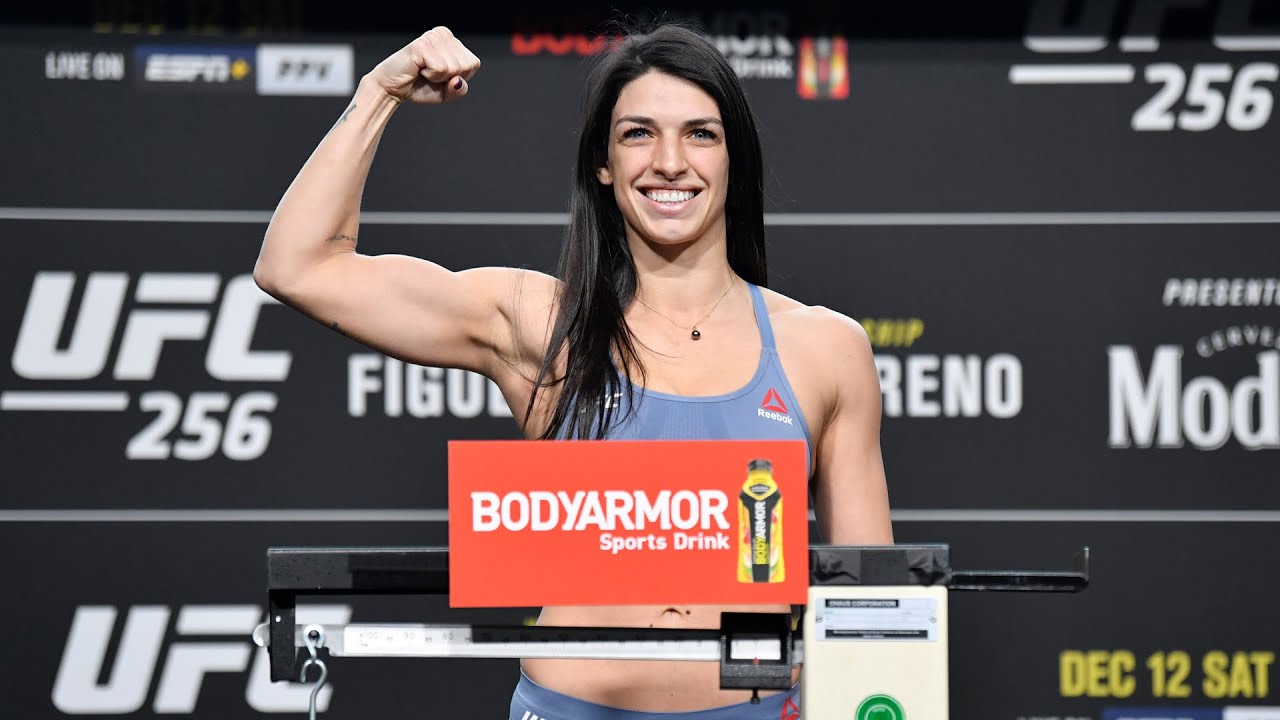 December 27, 2021,
She's not thinking of you, but you are of her. Constantly.
She doesn't know that you exist, but you are well aware she does.
Being objective in writing about a sports star or Hollywood luminary is much easier if you have no emotional attachment involved.
Writing about a celebrity in either field that you are mesmerized by greatly limits your objectivity.
It is hard to be objective in writing about the MMA star Mackenzie Dern.
First of all, she is incredibly good looking with punches filled with charisma, which impels you to want to know all about her.
Even when she is not meeting her own expectations.
Possibly the UFC's either.
Maybe not your own as well.
Losing to Marina Rodriguez, at least for us, raised questions about strategy. Not only during the fight but in terms of Dern's career.
The first thing we noticed during the fight introduction was how thin Mackenzie looked. We are used to seeing her at a heavier weight. A thinner fighter speaks to being adept at fighting on her feet. A heavier fighter will tend to want to take you down to the mats and use that weight and muscle to her advantage.
Mackenzie is not known for being the elite at boxing.
Marina is.
Before this big fight, we didn't know much about Marina. Now we do.
Marina Rodriguez is a Brazilian mixed martial artist (MMA).
She currently competes in the Strawweight division in the Ultimate Fighting Championship (UFC).
As of October 25, 2021, she is #3 UFC women's strawweight rankings and as of November 23, 2021, she is #9 in UFC women's pound-for-pound rankings.
In her youth, Marina played football, volleyball, basketball, and handball.
Growing tired of the lack of physical exercise in her job as a graphic designer, she started looking for a way to lose some gained weight.
Then, she found her now coach, Marcio Malko.
Eventually, she joined a muay Thai class in 2013 and soon thereafter started taking amateur bouts.
Ms. Rodriguez started her professional MMA career in 2015 and fought primarily in Brazil and amassed a record of 9–0 before competing in Dana White's Contender Series Brazil.
Rodriguez appeared in Dana White's Tuesday Night Contender Series (DWTNCS) Dana White's Contender Series Brazil 2 web-series program on August 11, 2018, facing Maria de Oliveira Neta.
She won the fight via technical knockout in the first round.
TKO. Sounds like Maria got caught in Marina's strike zone. Six of her 15 wins are by knockout.
Her recent defeat of Mackenzie earned her the Fight of the Night award.
That was a great feat.
FCI wrote about Mackenzie three years ago and look at her then accomplishments.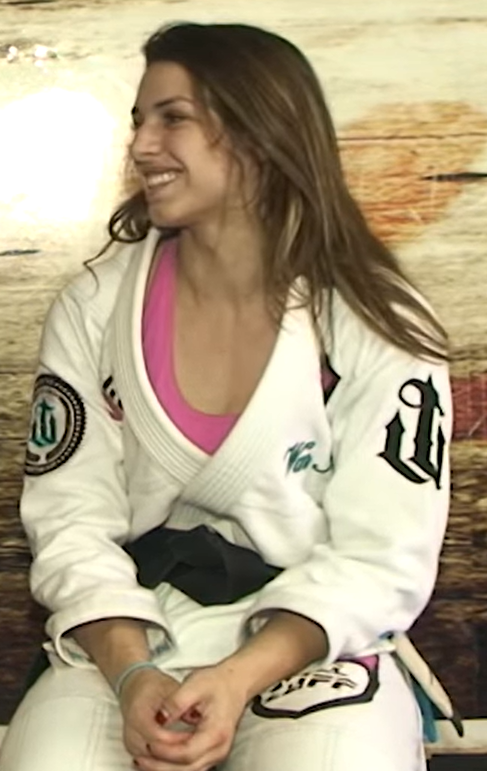 Here are some of her vast accomplishments as a Black Belt:
First Female to ever fight in Metamoris Invitational Draw
World Bronze Medalist 2013 IBJJF
Dallas Open Absolute Champion 2013 IBJJF
Dallas Open Champion 2013 IBJJF
Las Vegas Open Absolute Champion 2013 IBJJF
Las Vegas Open Champion 2013 IBJF
Abu Dhabi World Pro Silver Medalist 2013 WPJJF
Pan American Absoluto Bronze Medalist 2013
Pan American Silver Medalist 2013 IBJJF
Abu Dhabi Pro San Antonio Trial Champion 2013 IBJJF
European Champion 2013 IBJJF
Copa Podio Couples Fight Champion 2013 CP (Copa Podio)
Long beach Fall Open Champion 2012 IBJJF
Admittedly and understandably Mackenzie took some time off to have her child. Even if she decided to retire, her fans no doubt would respect her choice.
She decided to return.
Now we are a little confused about her strategic choices.
Mackenzie is thinking about it as well.
This post fight quote was captured grapplinginsider.com, "I think that's the most that me and my team were so frustrated about. Not because of the loss but just how much I've been getting better in the gym and I wasn't able to show how much I had gotten better in my fight with Marina.
I wasn't really pushing forward as much as I usually push forward. It's scary for a jiu-jitsu fighter to be in the hitting zone, the zone where you can get punched in the face, it's scary. So to be able to break that zone, which is what we need to take it to the ground and get close enough, you need to trust your hands… I feel like my hands are what I really trust in and what I really believe in that will help me get the fight to the ground… My striking is what's helping me be more confident and get more submissions."
By all accounts that we read, Mackenzie was actually the aggressor in the fight. So if your strength is the ground game and you are aware that your striking (boxing) is a work in progress, in a fight of this magnitude, why not keep it on the ground, especially since Marina did not want to be there?
No doubt easier said than done.
Was Mackenzie really ready for this fight?
The well-respected team at mmajunkie.usatoday.com shares another quote, "I think if I would've won this fight with Marina, I think they would've thrown me in to fight for the title," Dern told MMA Junkie Radio. "I think it was really important this loss, because I don't think I was ready. At the time, I thought I was ready. But once I realized I lost, it's OK. This loss was at a good moment. Maybe I would've gone to the title and got my butt kicked."
Okay. Understood. We thought she was going to win.
Yes, you can learn much from a loss but better if you can learn from winning.
If only she could have kept Marina on the ground.
So, she admits that she is not ready for a title fight.
Her striking absolutely needs to improve.
Some have wondered about her weight class choices.
Mackenzie's current UFC record is 11-2. That is still in title fight territory. As she admits, there is still work to do.
There always is. For everyone.
The key seems to be making the right choice what to focus on since her next big fight will most likely be in the spring of 2022.
We suggest striking.
Questions abound.
The sports and news leaders at espn.com make a very good point. "She has shown a great deal of maturity and discipline in recent years, after early struggles with things like work ethic and weight management. She has set her goals high."
From our view?
The work ethic is there.
The execution of strategy needs to greatly improve.
~ ~ ~
OPENING PHOTO femcompetitor.com, fciwomenswrestling.com grapplingstrs.com article UFC-photo-credit-Youtube-Screenshot-Editorial-use

https://en.wikipedia.org/wiki/Marina_Rodriguez_(fighter)
https://grapplinginsider.com/mackenzie-dern-recaps-recent-loss-i-learned-so-much/
https://mmajunkie.usatoday.com/2021/12/ufc-news-mackenzie-dern-explains-marina-rodriguez-loss-really-important
https://www.espn.com/mma/story/_/id/32346274/can-mackenzie-dern-continue-path-ufc-title-marina-rodriguez
https://www.fcielitecompetitor.com/
https://fciwomenswrestling.com/