Biking for twenty miles from one city to another on a tree covered bike trail tells a story every mile along the way. Similar to extensive life experiences, as you travel one direction, many travel in the opposite direction, others speed by and pass you up, some stop along the way; permanently, others take a break and resume course.
Along the way you revisit history.
There are clearings where the young fell in love; other grassy spots where children were made under the moonlight by the water and various sandy spots where lovers waded into the water and created lasting memories.
The sights at times are breath taking as you experience both the quiet beauty and power of nature co-existing in slow motion.
There are so many entry ways along the mighty Danube River where the DWW girls competed that remind you of the cycles of life.
Kati N. had her wrestling life cycle and in her time made her mark and created a strong impression.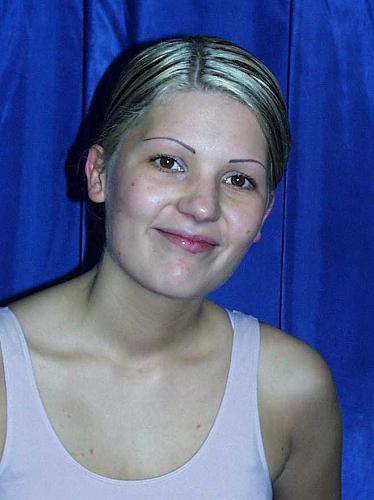 Her resume includes struggles against Moni, Aniko, Jana N, Anna L, Ildiko K, Julija, Lucy H, Timea S, Kati K, Anna L, Antscha and Edina to name some.
Praise and fan reviews tell their story as well.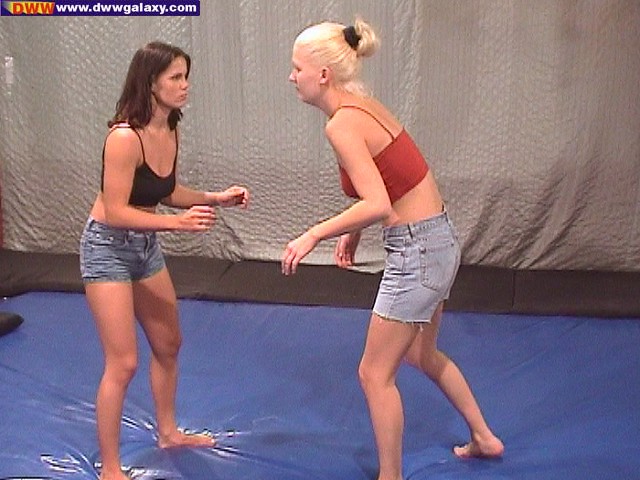 "Jana and Kati are similarly built, slim but strong young women. If you like watching two slim but determined women in an international wrestling match then you'll love this oil wrestling match, too. It's a real test of strength on the mats where both women are trying very hard in this live event from our summer event 2002; and there are many submissions!"
Against the respected Lucy H. there was great anticipation for the action. "This is an international wrestling match from a small event from 2002. Lucy H. was a beginner at that time but she was heavier than blonde Kati. However, Kati was more skilled and experienced. Will weight become decisive here? This is a great international battle on the mat."
The news of Kati traveled far and wide when she met the legendary and current super star Antscha. "This match is short but intense. A wrestling match with some great submissions originally produced for a TV report that was broadcasted in German TV in 2004."
Kati was in exceptional shape and listed body building and exercise as some of her many hobbies.
Given its deep, rich history, biking along the mighty Danube no doubt told many stories along the way.
Perhaps we can get on our bikes, strap on our safety helmets, bring plenty of water and some snacks in a small back pack and create memories.
A wonderful travel site danube.travel is going to point us in the right direction. "Hiking along the Danube gives the unique opportunity to discover not only landscapes that change from region to region, but also a variety of ethnicities and traditions.
Hiking offers vary from one day trips, to cross border guided hiking tours, and can be also combined with other activities, such as biking or bird watching. From the wooded mountain range of the Black Forest, Alpine Foothills and Pannonian basin, to the craggy gorge of the Iron Gate and Danube Plain – different hiking trails are established for different types of hikers.
The most important hiking trail in Germany is "Hiking without luggage along the Danube", from Donaueschingen to Passau."
Very nice. Some would like to hike along the way but I think we should continue riding.
The respected site europebicycletouring.com provides us with some helpful tips and an important warning. "The Danube River (Donau in German) flows from its source (at Donaueschingen) in the Black Forest of Germany, to the Black Sea— 2900 kilometers (1,700 miles) downstream. Serbia and Romania are not considered safe for western bikers, on and off the road, and are not discussed here. In Germany and in Hungary, many bikers do safely follow the Danube. However, by far the most popular section for biking is in Austria, between Passau, Germany (on the Austrian border) and Vienna—a total distance of 340 kilometers (~200 miles).
This bike tour's rightful popularity arises from a great concentration of diverse views, and from tourist sites that bring new variety on each day of a ride. Additionally, one rides upon wide bike paths (or very minor roads) apart from traffic, usually right alongside the river.
(Whereas, riding along the Danube in Germany often entails roads, and in Hungary, on roads and on highways.)
As a plus, in the case of bad weather, river steamers provide a painless way to continue a journey. Finally, there are scarcely any hills and little chance of high winds. Bicycling road signs, pointing to the main routes, to variants, to nearby sights, and to hotels, usually clearly indicate the route.
Thus, the Danube bike route is excellent for families with children, and does in fact attract many families. One caveat: In order to reach hotels in some towns, one must ride for short distances on city or town streets — or walk on their sidewalks."
That's wonderful to know and if you are ready to sit down, take a break and have a snack on this sunny day, I'm with you.
Let's talk about Kati while we eat.
Women's wrestling is clearly for any girl that wants to give it a try. It's an area of life where a girl doesn't have to be a huge star but as long as she gives it her best, years later we are still talking about her. Kati seemed to fall into that category as explained by a fan and reviewer. "Kati is a very attractive girl. She always wrestles hard but seems to have a hard time as she is a little weak and submits rather easily. I looked forward to seeing her wrestle the novices."
We'll today we rode the bike trails that connected us from one life passage to another. Kati also loved dancing to Trance music. Tomorrow would you like to hit a few night spots? This part of Europe has pulsating dance clubs. I'm up for it if you are.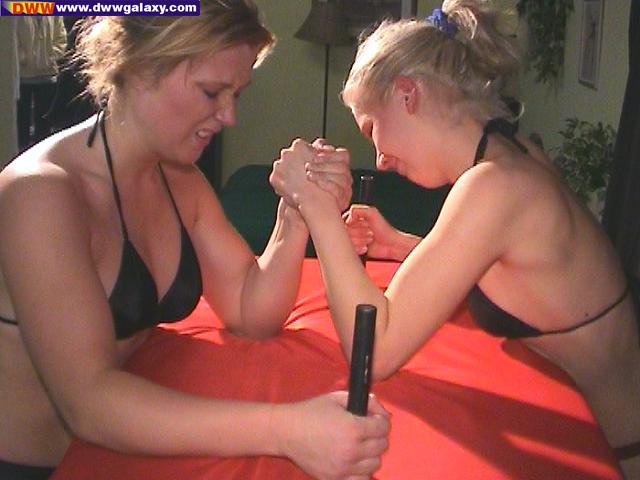 As we peddle back towards our original destination the echoes of the past softly sing in our ears and over the clearing where the water meets a slow rise, I see if only for a moment, the image of Kati softly glowing in the breeze and just as quickly as she came………….
She's gone.
~ ~ ~
Some may find other women's wrestling sites erotic in nature. If you are offended by depictions of women wrestling in erotic situations, please exercise caution in visiting women's wrestling sites.
Femcompetitor.com subscribes to fciwomenswrestling.com news source, no affiliation.
Sources: brainyquote.com, Wikipedia, fciwomenswrestling.com, fciwomenswrestling2.com, FCI Elite Competitor, femcompetitor.com, WB270.com, dwwgalaxy.com, photos thank you Wikimedia Commons.
http://www.danube.travel/main-menu/activities/hiking-around-the-river.7.html
http://www.deutsche-donau.com/Activities/Hiking
http://europebicycletouring.com/european_trips/Danube/Danube.htmhttp://europebicycletouring.com/european_trips/Danube/Danube.htm