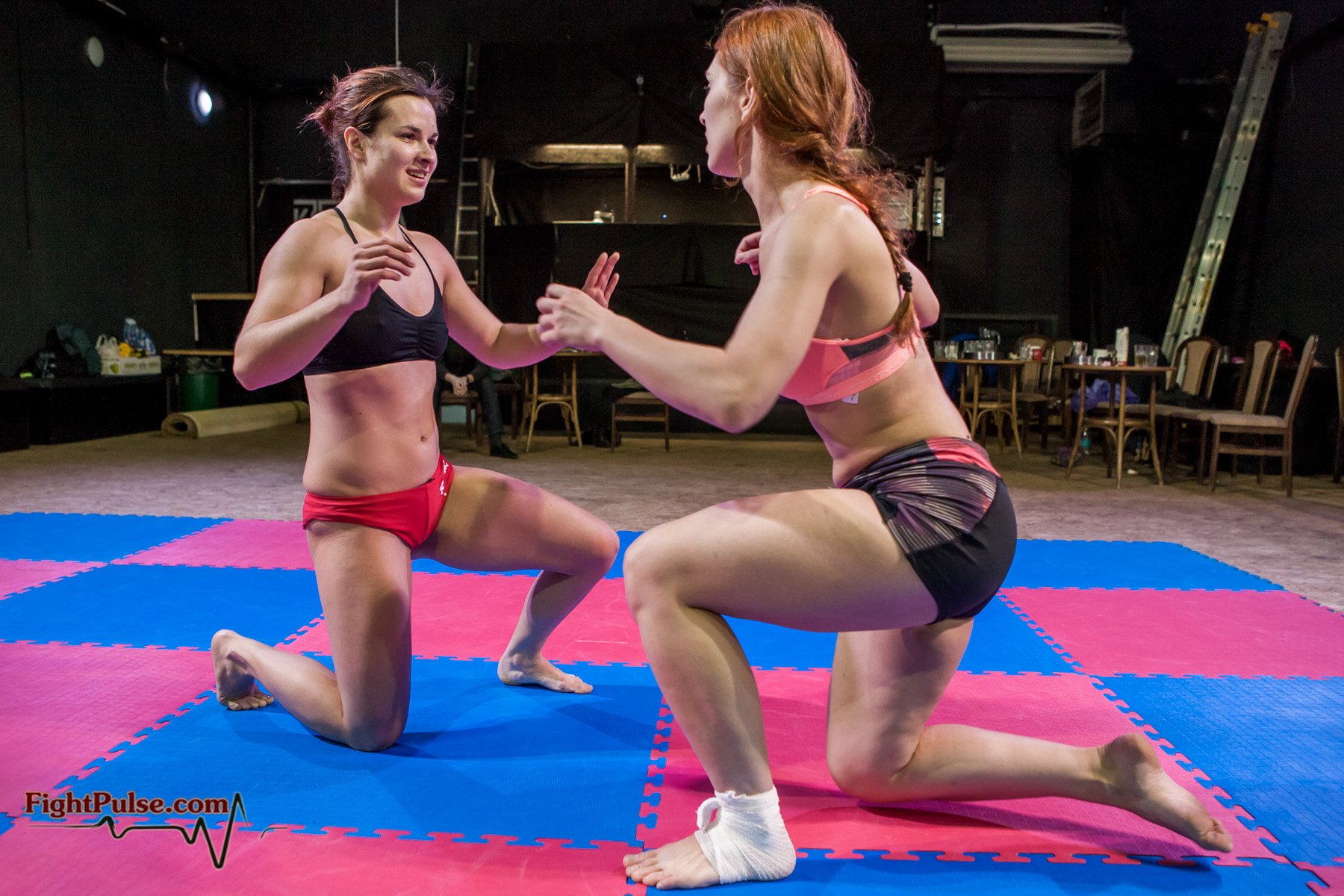 Rare is the occurrence of an exceptional fully competitive female vs female grappling tournament.
One such tournament currently exists in the scenic Czech Republic and we are following it closely.
The great Fight Pulse 2016 Light Weight Event has progressed and as of November 16, 2016, here is the latest update.
FW-55: Akela vs Mia (semi-final #2)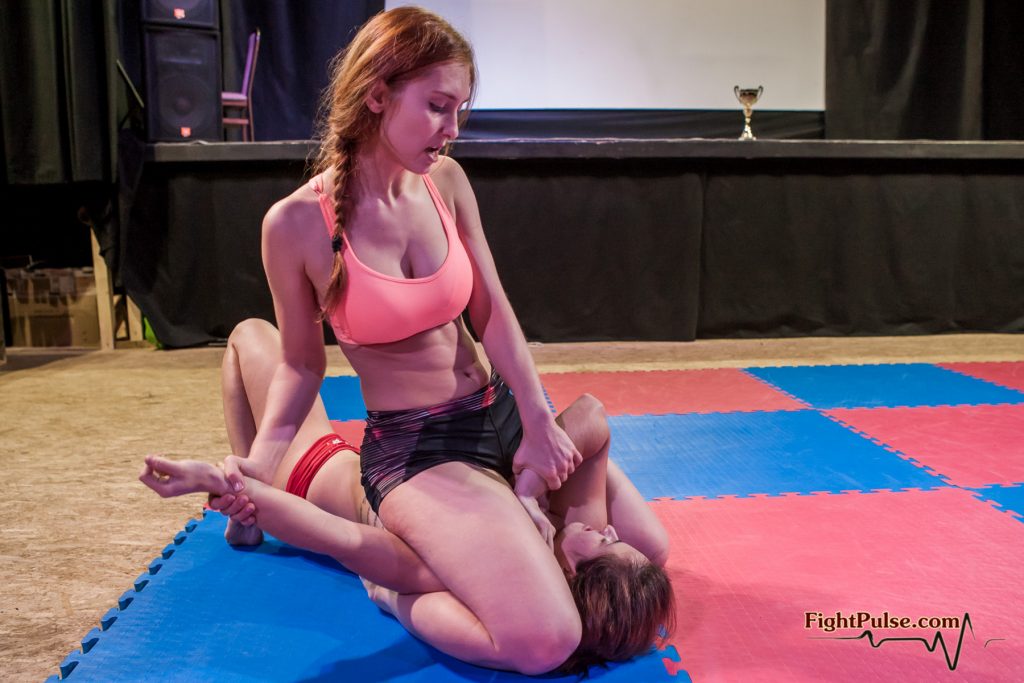 fciwomenswrestling.com article, Fight Pulse photo credit
Release date: November 15, 2016
"The second semi-final of the 2016 Fight Pulse lightweight championship pits the fan favorite, Akela (stats), against our promising newcomer, Mia (stats).
Warning: spoilers follow concerning previous matches of the tournament.
If you would like to learn more about this championship, please read our announcement post and first release, which includes detailed information about the outline of the tournament and more. Below are all the existing releases and information related to this tournament:
– announcement post and details of the tournament
– FW-52: Katniss vs Giselle (quarter final #1)
– FW-53: Pink Rose vs Mia (quarter final #2)
– FW-54: Jane vs Giselle (semi-final #1)
Mia was certainly the dark horse of this tournament, having had no competitive wrestling matches prior to its start, but only up to her convincing victory over the very determined Pink Rose in the second quarter-final match, FW-53. She has now earned other competitors' respect, and rightly so. Mia is a very strong and athletic young woman with a lot of experience in various sports, and is determined to succeed.
But her current opponent is very different from her first rival. Akela has extensive wrestling experience, fighting on Fight Pulse mats for almost 2 years now. She is one of our top lightweights, whose only loss came in a very close match against Zoe in the title fight of last year's championship. Moreover, Akela has the size advantage with almost 20 lbs. (9 kg) over Mia.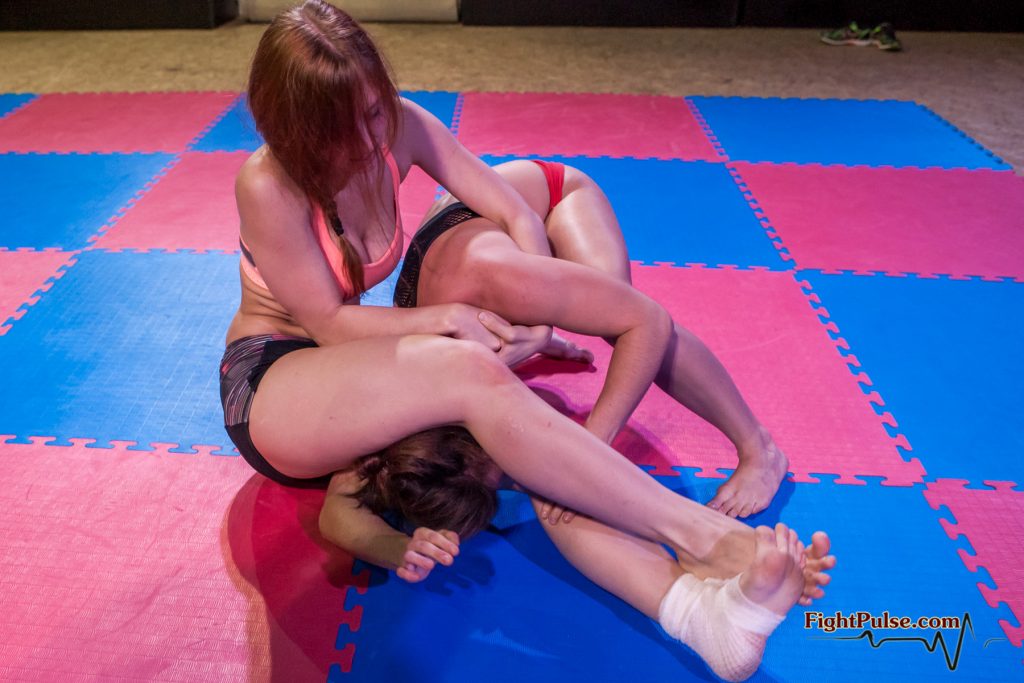 fciwomenswrestling.com article, Fight Pulse photo credit
However, Akela is not feeling well today, as she has made it known in the introductory interview of the tournament. Will it affect the outcome of the match? Will Mia be able to surprise everybody again?
Akela's fans will be delighted to find her using her amazing pinning talent to score in this match, as well as using her big powerful thighs to achieve almost an instant submission.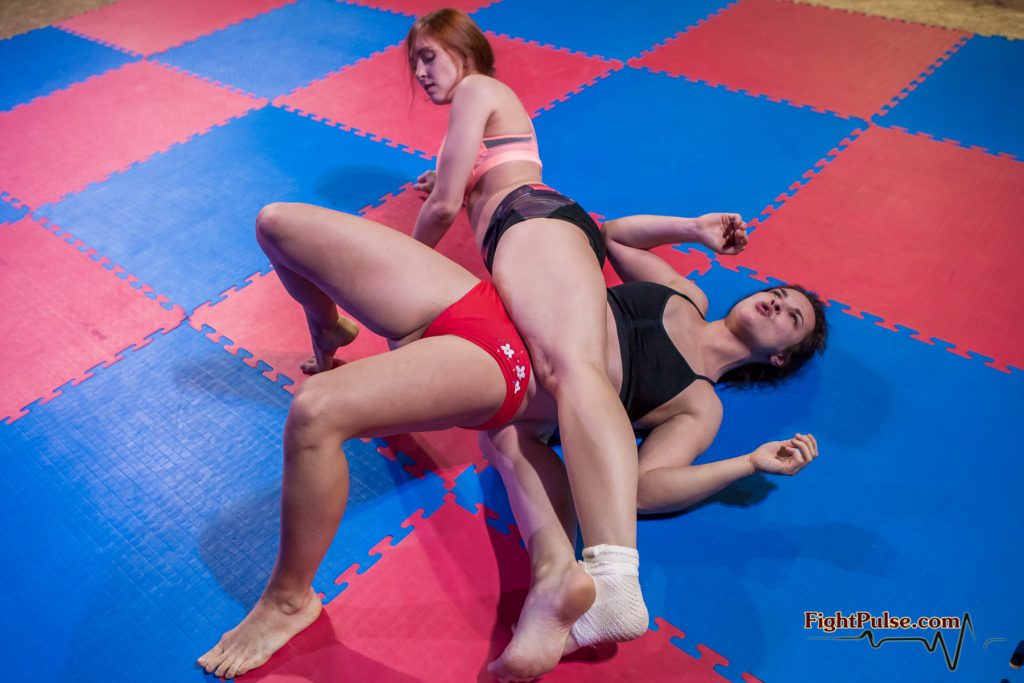 fciwomenswrestling.com article, Fight Pulse photo credit
Here's the tournament bracket before this match: semi-final tournament bracket. The winner of FW-55 will fight for the title, and the loser will fight for third place against Giselle.
It's time to find out our second finalist, Jane's opponent in the title match!"
https://www.fightpulse.com/female-wrestling/fw-55-akela-vs-mia-semi-final-2/
Sounds very exciting.
At our cooperative site, http://femcompetitor.com/ like many sporting publications, they can't resist making predictions, thus before the tournament began in earnest, here is Fem Competitor Magazine's prediction on how things would unfold.
"Battle is the most magnificent competition in which a human being can indulge. It brings out all that is best; it removes all that is base. All men are afraid in battle. The coward is the one who lets his fear overcome his sense of duty. Duty is the essence of manhood."… George S. Patton
"FEMCOMPETITOR MAGAZINE TOURNAMENT PREDICTION
Can anyone defeat the triplets?
Jerry Jones, the owner of the Dallas Cowboys NFL football team often affectionately referred to three players on his Super Bowl teams, Emmitt Smith, Troy Aikman and Michael Irvin as the "Triplets".
At Fight Pulse, the upper echelon of these fighting Light Weight over achievers is Zoe, Akela and Jane.
As we have purchased and reviewed many of their matches Zoe is obviously the front runner but the only loose stone in her castle wall is that she has only wrestled four times and while her undefeated record is impressive, it's not bullet proof.
The most intriguing matchup if they meet will be Akela vs Jane. The winner of this match has a great chance to upset Zoe.
Here was their previous match description.
"Akela and Jane are both top contenders for the lightweight title, both having only one loss on their record, to the current champion. Akela and Jane have fought before, in FW-27, and that match is to this day is one of the most aggressive, fast-paced encounters we have ever filmed. Because they both have dominant personalities in life, are extremely competitive, always on the offensive, and almost equally skilled, their rivalry is developing into a captivating story. We have received numerous requests to hold a rematch between the two, and it will happen in the second half of 2016, possibly in the upcoming lightweight championship."
At Fem Competitor, our analysis shows that only one of these three fighters will break through and win the championship.
Why?
The other girls do not have their weight advantage, skill level nor confidence.
Diana and Akela is the key match because if Diana can upset Akela, this should be Zoe's to win.
If Akela takes care of business, as she should, then she should pull off the upset and defeat Zoe.
The reasoning behind that is because as of this writing, Akela has 9 matches under her belt. Zoe still comes in at only four.
We purchased their match in the first Fight Pulse Light Weight championships and if you watched that match, given that Zoe is 4-0, obviously she won but its how she won that lends us to believe that the experience that Akela has gained puts her in the driver's seat.
That match literally came down to the end where Akela could have submitted her but time ran out. It's a great match, you should purchase it. It will make your viewing of the second tournament with more knowing and fresh eyes.
https://www.fightpulse.com/head-to-head/hh-03-akela-vs-zoe/
Femcompetitor Magazine's pre-match prediction:
Zoe will meet Akela in the championship round and Akela will defeat her."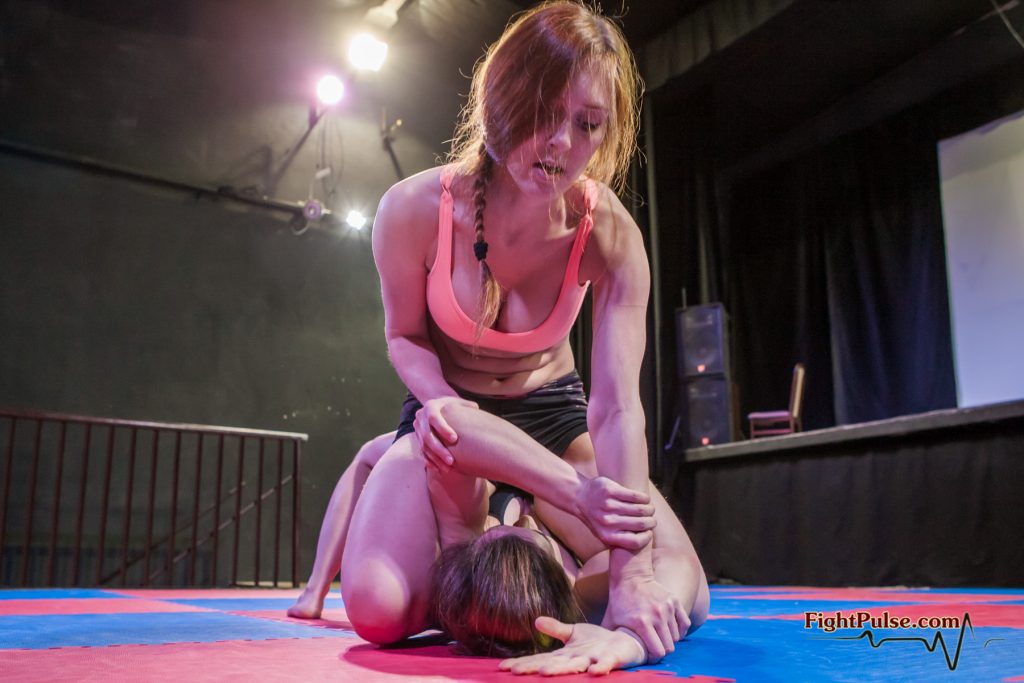 fciwomenswrestling.com article, Fight Pulse photo credit
Thank you Femcompetitor.
As we know, after the article was written and the predictions were in, unfortunately Zoe was unable to participate in the tournament. Thus their prediction of Akela being the eventual champion still seems to be the inevitable conclusion but as they say, that's why they play the games because life is full of surprises.
You can purchase these exciting matches and follow this intense competition to its conclusion.
We'll keep you updated.
~ ~ ~
Source http://femcompetitor.com/