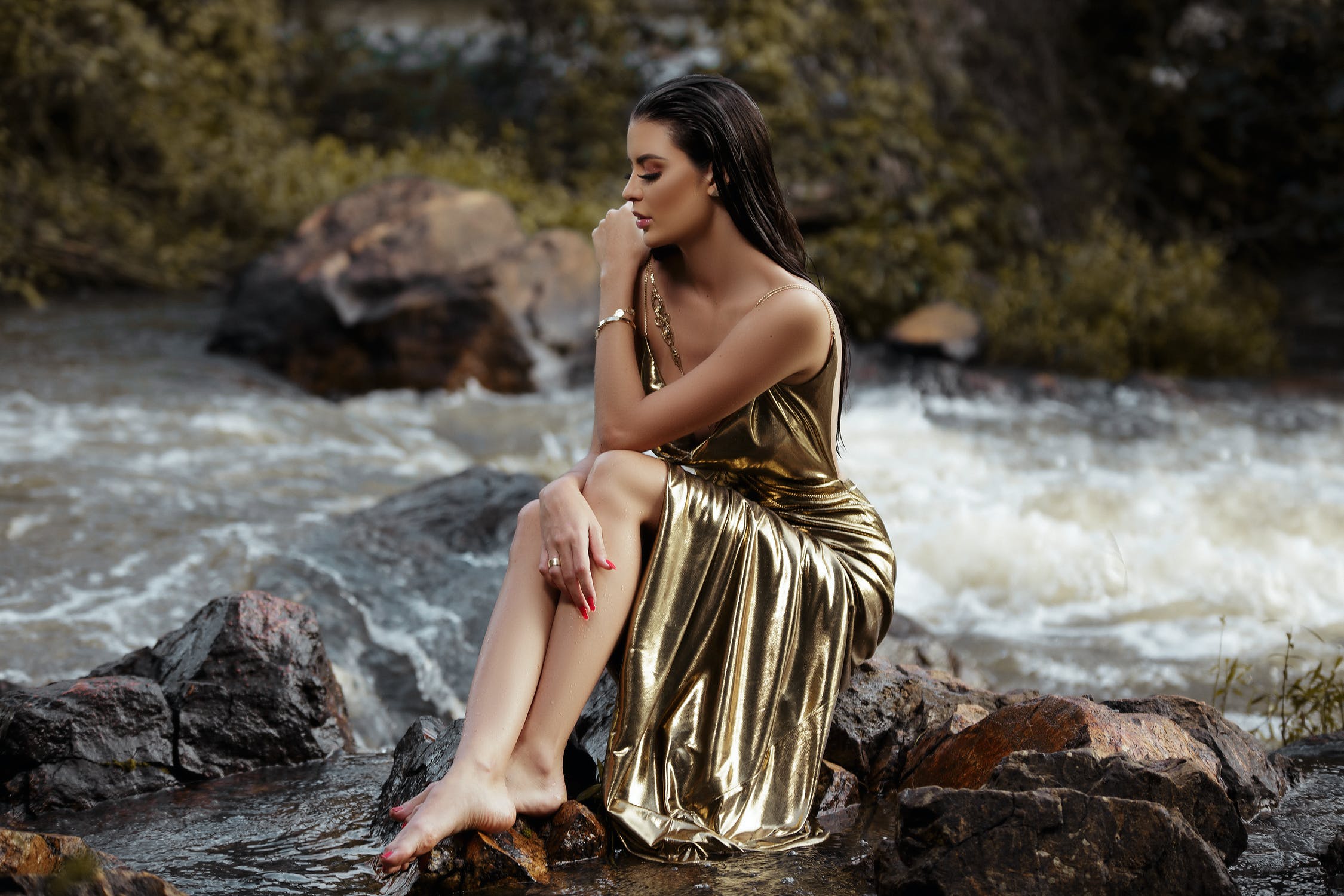 Geeta and Babita Phogat have represented Haryana India with pride.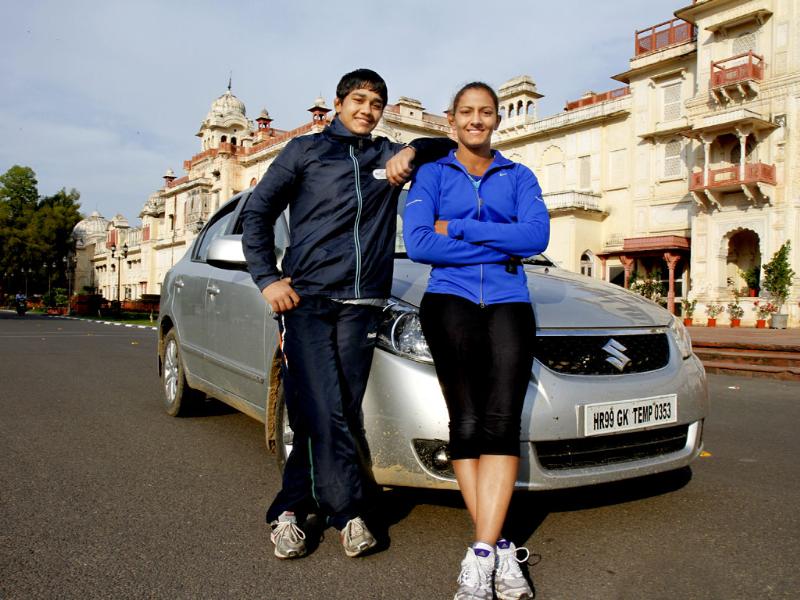 The Phogat sisters, who won wrestling gold medals in the 2014 Commonwealth Games, were honoured by the Maruti Suzuki Kamgar Union (MSKU).
Babita and Vinesh, along with their elder sister Geeta, who missed the Games due to an injury, were felicitated outside the MSKU office at the car manufacturing giant's Gurgaon plant. The trio were awarded Rs.11,000 each.
Haryana is a state in India that came into existence on 1 November 1966 as a newly created state carved out of the Punjab state on the basis of language. It has been a part of the Kuru region in North India. The name Haryana is found mentioned in the 12th century AD by the Apabhramsha writer Vibudh Shridhar (VS 1189–1230). It is bordered by Punjab and Himachal Pradesh to the north, and by Rajasthan to the west and south. The river Yamuna defines its eastern border with Uttarakhand and Uttar Pradesh. Haryana also surrounds the country's capital Delhi on three sides, forming the northern, western and southern borders of Delhi. Consequently, a large area of south Haryana is included in the National Capital Region for purposes of planning for development state according to Wikipedia.
Haryana is one of the wealthier states of India and had the second highest per capita income in the country. Haryana is also one of the most economically developed regions in South Asia and its agricultural and manufacturing industry has experienced sustained growth since 1970s. Haryana is India's largest manufacturer of passenger cars, two-wheelers, and tractors. Since 2000, the state has emerged as the largest recipient of investment per capita in India.
Geeta Phogat is a female wrestler from India who won India's first ever gold medal in women's wrestling in the 55 kg freestyle category at the 2010 Commonwealth Games. She hails from a Hindu Jat family of Bhiwani in Haryana. She had earlier won gold in the 2009 Commonwealth Wrestling Championship. Her father Mahavir Singh, a former wrestler himself, is also her coach. She qualified for the 2012 London Olympics but could not win a medal. She was trained by O.P. Yadav at Patiala.
She is the first-ever Indian woman wrestler to have qualified for the Olympics. Phogat won a gold medal in the Wrestling FILA Asian Olympic Qualification Tournament that concluded at Almaty, Kazakhstan in April 2012. She has undergone rigorous training at the Netaji Subhas National Institute of Sports, (NSNIS), Patiala, under the guidance of chief coach O.P. Yadav and foreign expert Ryan Dobo. She has numerous other international medals to her credit, including three consecutive medals in the Asian Cadet Championships in 2003, 2004 and 2005.
Babita has clinched the Bronze medal in 51 Kg category after defeating Zamira Rakhmanova from Russia in the repechage round. Although she lost to Jessica Anne Marrie Macdonald Bondy from Canada in the semi-final round, she clinched the medal after defeating Zamira Rakhmanova from Russia in the repechage round.
According to sports.ndtv.com Geeta and Babita were once subjected to criticism in their village Balali in Haryana's Bhiwani district for having chosen a sport dominated by males. But today, the Phogat sisters are celebrated in their village.
The great information site sunday-guardian.com adds, ""Things have changed a lot in our village; people are sending their girls to take part in sporting activities. The doors had been already opened by Geeta and Babita for girls to come and join," said Vinesh the youngest of the Phogat sisters.
Both Babita and Vinesh credit their success to elder sister Geeta who helped them in their training despite being injured. Geeta discussed the tactical flaws which Louisa Porogovska of England had in her strategy, which enabled Babita to beat the latter. "Geeta fought her once and understood her tactics. It was because of her help that I could win the match," said Babita. Vinesh showered Babita with praises. She said that Babita took care of whatever she needed. "She is elder to me and therefore it's her duty to guide me and provide me with whatever I need or else I will complain about her to our family," said Vinesh in a jovial tone.
Babita who is the more experienced of the two has seen Vinesh develop as a wrestler. "We both are training partners and get support from each other. It's great to have a training partner who is also your friend. We get to share things with each other," said Babita. On being asked, who would fare better if Babita and Geeta compete against each other, Babita after a short pause responded, "If there's a match between both of us then I'll win it."
These sisters women were born in the village of Balali, home to a community of 2,000. They started wrestling when Geeta was 10, and by the time she was 12, they were travelling to neighboring villages to "get all dirty with boys", expressed by The Times of India. More often than not, they won.
The rise of the Phogat sisters is all the more remarkable when you consider the repressive gender politics of northern India. Statistically, Haryana is one of the country's more affluent states, because of its proximity to Delhi. Yet it is also home to some of the country's most primitive communities. Female infanticide is so common that, on average, there are just 86 women for every 100 men. In most villages, arranged marriages are the only marriages and women who step outside the system often pay with their lives.
In a February 25, 2013 article for the huffingtonpost.com, Namrata Poddar writes not many in the UK, for instance, would realize that 2.8million girls in India have gone missing in the last 20 years.
Whereas in 1991, there were 947 girls for every 1000 boys, last year that number had fallen to 914. The cause is simple – sex selective abortions, and the murder of infants. As an UN report showed last year, India is the most dangerous place in the world to be born a girl. From 2000-2010, there were 56 deaths among boys aged one-five for every 100 among girls.
Four years ago, the Phogat sisters left Balali for the brighter lights of Patiala, a city of two million that stands 100 miles further north in the Punjab. The attraction was the national sports campus, which hosts India's boxing, fencing and weightlifting teams, as well as a dozen wrestlers. This proved to be a very good move.
There is hope that things will continue to improve.
~ ~ ~
huffingtonpost.co.uk/namrata-poddar/female-infanticide-indias-unspoken-evil_b_2740032.html, sports.ndtv.com, www.hindustantimes.com/Punjab/Chandigarh/Hooda-, sunday-guardian.com zeenews.india.com/sports/london-olympics-2012, Wikipedia, www.deccanherald.com, www.telegraph.co.uk/sport/olympics, photos credited courtesy Wikimedia Commons.