Stream Italian Female Wrestling, Enjoy Italy Virus Free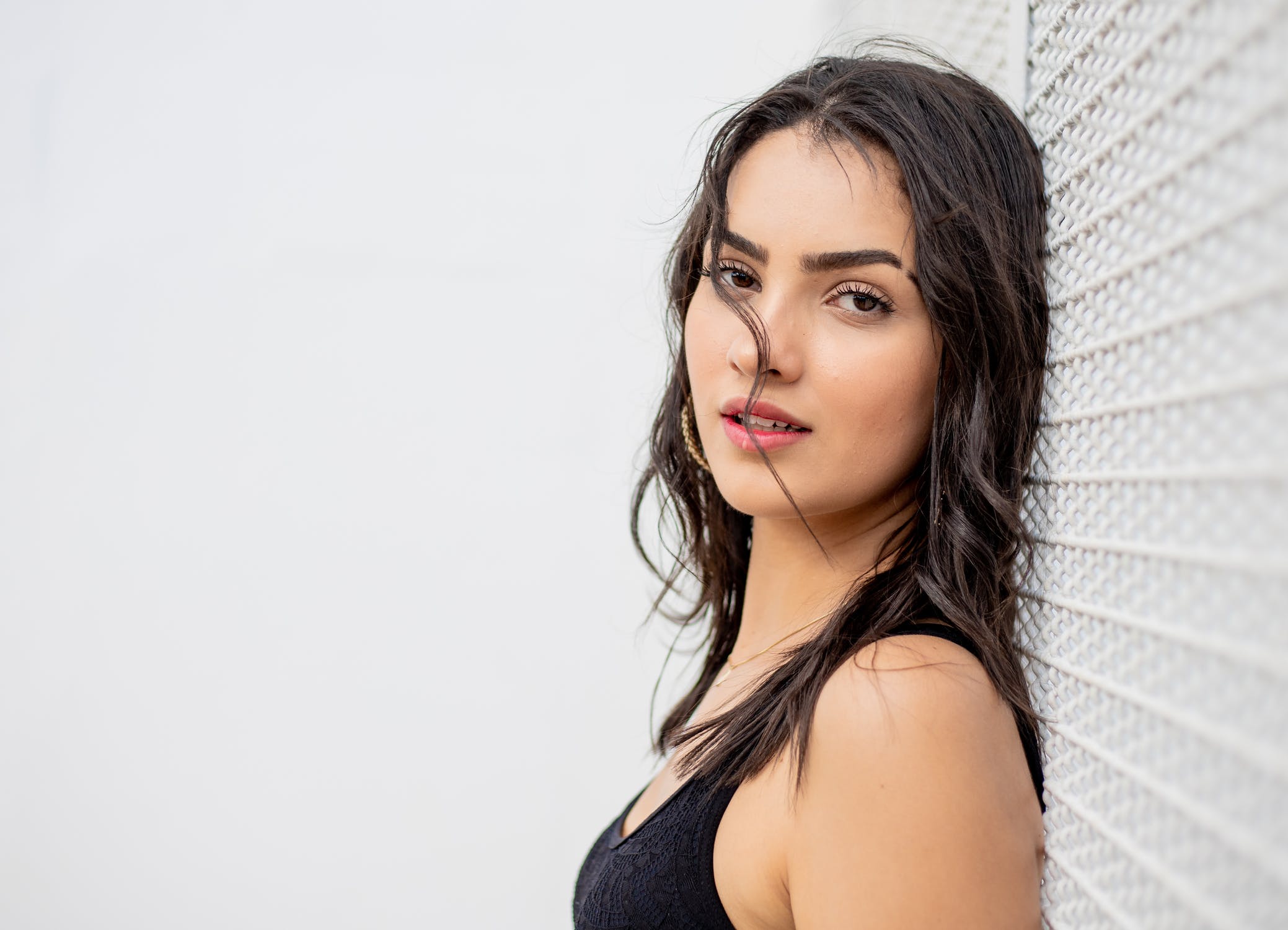 June 11, 2020,
At times you need to take things slow.
Especially during pandemic times.
Italy is finally re-opening. Carefully.
Speaking of Italy's flagship enterprise Ferrari automobile, as announced on May 5, 2020, at telegraph.co.uk, "But after lying idle for nearly two months, they have now reopened and have resumed full production of the Monza SP2, which costs a cool €1.5 million, as well as the similarly sinuous 812 GTS Spider and the F8 Tributo."
When the coronavirus began to spread in earnest, early in 2020, Italy was one of the countries hit the hardest.
Italy recorded more than 235,000 positive coronavirus cases and more than 34,000 deaths.
Like tens of thousands of other enterprises in Italy, its factories in Maranello and Modena had to be shut down.
Fortunately there is good news.
More than 168,000 people have recovered, while currently 32,872 remained positive.
On June 10, 2020, according to Fox News, "The northern Italy region hardest hit by the coronavirus pandemic seems well on the path to so-called "herd immunity" after more than half of its residents tested positive for COVID-19 antibodies."
A new study, conducted by Italy's National Institute of Statistics (ISTAT), suggests that the province may be heading toward "herd immunity."
Herd immunity is the result of enough individuals becoming resistant to disease from previous exposure or via vaccination, Reuters reported.
John Hopkins Bloomberg School of Public Health educates, "When most of a population is immune to an infectious disease, this provides indirect protection—or herd immunity (also called herd protection)—to those who are not immune to the disease.
For example, if 80% of a population is immune to a virus, four out of every five people who encounter someone with the disease won't get sick (and won't spread the disease any further). In this way, the spread of infectious diseases is kept under control. Depending how contagious an infection is, usually 70% to 90% of a population needs immunity to achieve herd immunity."
Sometimes it truly is good to be a part of the herd.
So good to hear that Italy is slowly on the mend as our hearts in the competitive female submission wrestling world goes out to them.
As we slowly dip our toes back into Italy's female wrestling waters, a little bit of history helps remind us how we arrived to her lady grappling shores.
Diletta Giampiccolo, born July 27, 1974 in Catania, is a retired amateur Italian freestyle wrestler, who competed in the women's lightweight category.
Considered one of Europe's top female freestyle wrestlers in her decade, Ms. Giampiccolo has claimed two gold medals at the Mediterranean Games (2001 and 2005), scored a silver in the 62-kg division at the 2001 World Wrestling Championships in Sofia, Bulgaria, and also finished tenth at the 2004 Summer Olympics, representing her nation Italy.
Throughout her sporting career, Ms. Giampiccolo trained full-time for Polisportiva Mandraccio Wrestling Club in Genoa, under her personal coach Lucio Caneva.
She reached sporting headlines at the 2001 Mediterranean Games in Tunis, Tunisia, where she picked up the gold medal in the women's 62 kg class. Two months later, she captured the silver in the same class at the World Championships in Martigny, France, losing out to China's Meng Lili by a 3–0 verdict.
Her sporting success continued to flourish at the next two World Championships.
She laid a powerful foundation for Italian female wrestling.
In the lady pro world, Debrah Ann Miceli, famously known as Madusa, is an Italian American monster truck driver and former professional wrestler.
We loved watching her compete and entertain primarily during the 1980s.
As of 2015, she has been the commissioner of the Japanese promotion World Wonder Ring Stardom.
In professional wrestling Miceli was also known by the ring name Alundra Blayze, which she used while in the WWF/WWE. Outside of the WWF, she wrestled under her professional name of Madusa, which was shortened from "Made in the USA".
Interesting. Didn't know where that name came from. Now we do.
Her early career was spent in the American Wrestling Association, where she once held the AWA World Women's Championship. In 1988, she was the first woman to be awarded Pro Wrestling Illustrated's Rookie of the Year. The following year, she signed a contract with All Japan Women's Pro-Wrestling, making her the first foreign wrestler to do so.
As we move up the timeline, if you desire some great Italian female wrestling that you can stream from the comfort of your home, The Italian Female Wrestling Company is one to get excited about.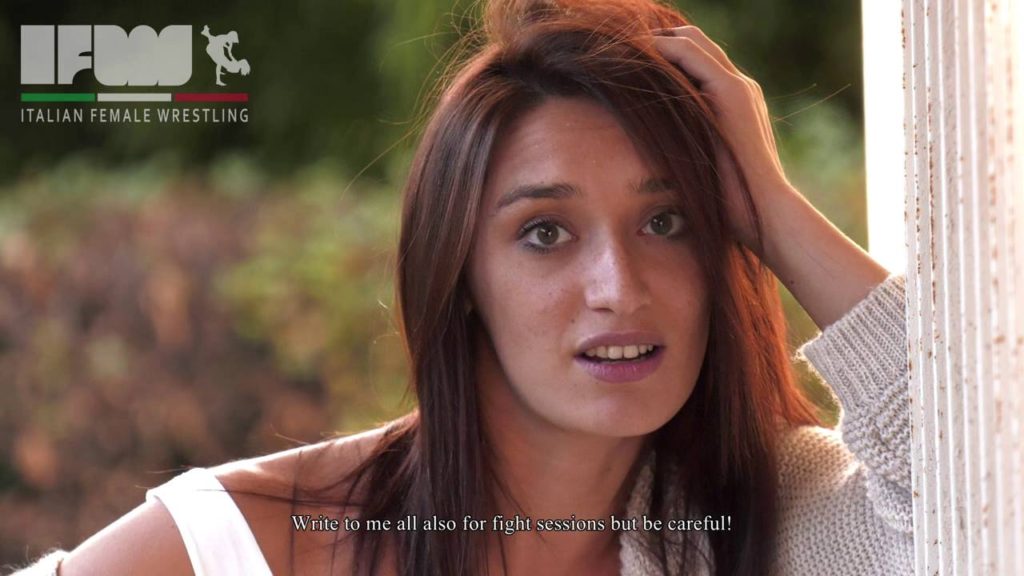 The owner introduces himself, "I am Davide, the founder, and owner of IFW, an Italian female / mixed wrestling and catfight video producer.
My deep passion for video making has always led me towards those who appreciate the total quality of my works. This idea reflects in IFW production, how the girls are trained, how they are committed and truly involved in what they do. This is what our fans see in IFW today, this is what makes us stand out from the crowd.
Things looked a bit different back in August 2012, when Davide, a professional video maker, met 4 girls who accepted to learn how to wrestle and took some wrestling classes in the gym.
Of those girls, one was Robi, a high school girl attending the last year: she was very thin, always smiling, and looked too fragile and sweet to be a real wrestler. Another one was Andrea, she was skinny too, pale in her face and living on a crazy sleeping schedule; still, she looked determined since the first training.
We were all sure that it would have ended up in nothing, but these girls started to grow a passion for wrestling, and they soon realized how much they loved to be in front of a camera."
We love what they are doing in front of the camera as well.
The company has a wide variety of beautiful fighters, mostly stealth in form, and from time to time they invite in some hired guns to spice things up.
Currently for about $28.00 (American Dollars), you can stream their entire collection which is substantial.
One of our favorite girls to watch compete is Bianca, who is also a gorgeous Session Girl.
Here are two reviews on her found at her WB270.com profile.
"This fighter is a delicious mixture of feminine beauty and wild fighting fury. You will be welcomed by a sweet polite smile into a comfortable clean wrestling venue, but as soon as the fight starts you will be overwhelmed by her strength and stamina. It is hard to find such a skilled and trained sparring partner with so much genuine pleasure of making you suffer into submission. She is really eager to win and make you surrender to her force. We had a hard sweaty grappling fight with any kind of hold including chokes, joint locks and scissors. Although quite experienced and in shape, I was submitted twice. Overall. I had a great fighting experience with an extraordinarily fascinating young woman. I hope I will be able to fight her again for a rematch soon."
And another.
"This morning I have made 1 hours session with Bianca. A beautiful experience. Bianca is simply a very intelligent woman with a big athletic training and a skilled knowledge of fight. But above all a great empatia which allows to her to create a perfect session climax. We have made a judo Vs bjj fight. And everyone has learnt some new skills. I suggest to everyone to try an experience with Bianca surely none can forget a fight with her."
Bravo.
We're glad that Italy is slowly re-opening. Hopefully tourists will begin to stream there again.
As for us, for now, we'll stay at home and stream the Italian Female Wrestling clubs competitive female submission wrestling matches and events.
These beautiful girl's wrestling is far and above the herd.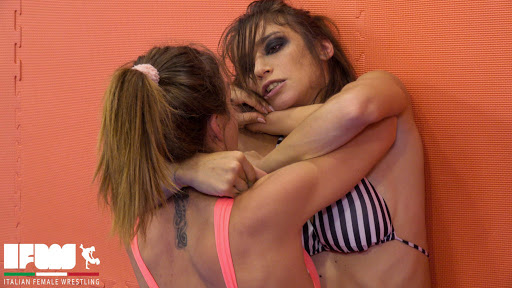 ~ ~ ~
OPENING PHOTO: fciwomenswrestling.com, grapplingstars.com femcompetitor.com fci women sports, photo via Pinterest 
https://www.foxnews.com/world/bergamo-italy-herd-immunity-coronavirus-antibodies
https://www.jhsph.edu/covid-19/articles/achieving-herd-immunity-with-covid19.html
https://en.wikipedia.org/wiki/Diletta_Giampiccolo 
https://www.telegraph.co.uk/news/2020/05/17/ferrari-reopens-rigorous-safety-protocols-italian-industry-gets/
https://en.wikipedia.org/wiki/Madusa
https://italianfemalewrestling.com/
https://www.wb270.com/eur/bianca.htm
https://fciwomenswrestling.com/
https://www.fcielitecompetitor.com/