Bikini Sales, Popular Even During Pandemic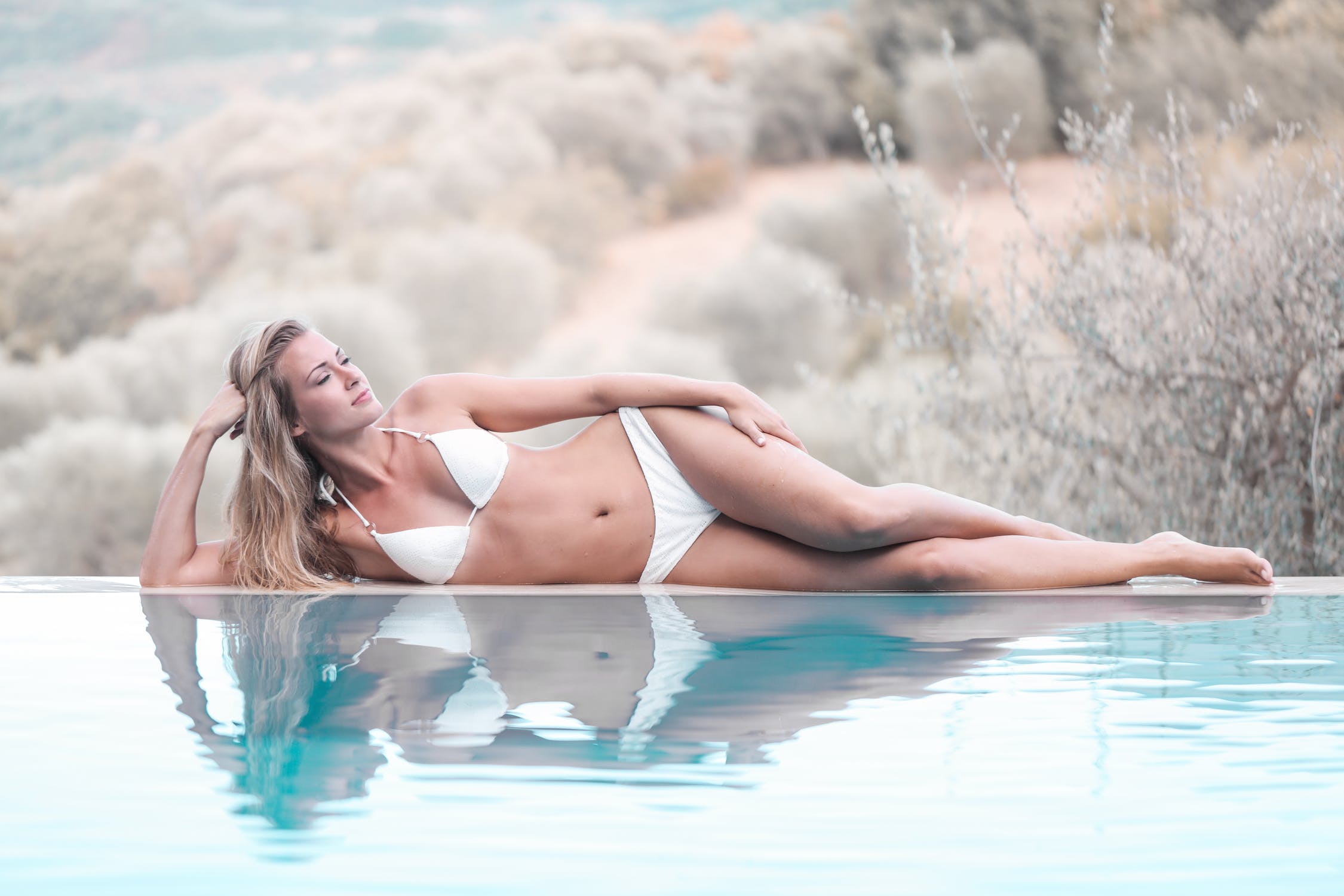 June 7, 2020,
Normalcy is what most of us seek as long as it doesn't include the words, the new normal.
The new normal is almost always worse than the previous normal.
Which was worse than the previously previous normal.
There are many super sexy aspects to the month of June. Ah summertime.
Normally it is bikini time too.
We love June and bikinis. It's normal.
Can it be that in the new normal bikini world, it doesn't always include the words pandemic or virus?
We certainly hope so. Especially now that certain beaches are re-opening.
Like the historic Santa Cruz Beach and Boardwalk, opening June 6, 2020.
At ksbw.com they report, "Boardwalk spokesman Kris Reyes said the boardwalk will be open in a "limited manner with select restaurants and select retail for guests to walk around, shop, eat, and sit much like they would on the Santa Cruz Wharf."
Sounds like bikini paradise.
Many industries have suffered through the global pandemic shutdown but the bikini industry seems to have survived fairly well. No surprise there. Still, it would be great to have a popular celebrity promote its use.
Even greater would be someone from our female grappling world to gorgeously place it on display.
Rachael Ostovich is an American mixed martial artist who competes in the Flyweight division of UFC.
She launched her career off to a great start.
Rachael began her amateur MMA career in 2010. Over the next three years she amassed an undefeated amateur MMA record of 6-0. In that tough MMA world, what an incredible initial record.
In August 2017, it was announced that Rachael would be one of the fighters featured on The Ultimate Fighter 26, where the process to crown the UFC's inaugural 125-pound women's champion will take place.
In the opening round, Rachael defeated Melinda Fábián by rear-naked choke submission. In the quarterfinals, she faced Barb Honchak and lost the bout via unanimous decision.
She's human after all.
Her new bikini shoot is outer worldly.
The New York Post sure thinks so. They share, "Just call Rachael Ostovich the Quaranteen Queen. Over the weekend, the 29-year-old UFC fighter posed in a pink bikini top with a black sarong on the cover of the fictitious "Quaranteen" publication, playing off Seventeen magazine's layout."
She looks so wonderful.
We are so glad the beaches are opening up again while the weather is still warm and the gorgeous girls are trying to stay cool.
Despite the pandemic, some aspects of culture and pleasure will always be popular and we are so glad of that.
Bikini Empire is proof.
Check out their sales.
Bikini Empire's Online Sales Surge 1500% Following Launch of Empowerment Luxury 2020 Spring/Summer Collection
Company's "BE Confident, BE Authentic" Campaign Expands on Success of Introduction to NEW Line of Eclectic, Vintage "Deserted Island" Themed Bikinis
VANCOUVER, British Columbia, May 27, 2020 /PRNewswire/ — Bikini Empire (BE), a Canadian luxury swimwear line, today announced that its recently launched "Deserted Island" collection, it's most successful campaign to date since 2014, resulted in more than a 1500 percent increase in sales since announcing the Spring/Summer 2020 collection in early April. As a result, BE cofounders and owners Monica and Kelsey Rush announced the expansion of their e-commerce operations worldwide focused on a marketing campaign entitled "BE Confident, BE Authentic."
In addition to its explosive growth, BE's multi-platform data analytics validates significant interest in the brand and its operational mission to position to fill an untapped bikini niche:
Comparative Analysis of Consumer Interest in Bikini Empire from April 2019 – April 2020
⇒  130% Increase in Sales
⇒  95% Increase in Users on Website
⇒  97% in New Users
⇒  543% Increase in Referrals from Social Media
"The launch of our Springer/Summer 2020 luxury swimwear line received overwhelming response," said Monica and Kelsey. "The spike in sales is the result of numerous factors including a growing trend of women searching for swimwear that empowers them rather than making them feel like they are aligning with a trend – which may not fit their personality."
One of BE's more prolific key influencers, Charlotte Elizabeth @CharlotteCurveModel, a high-profile social media figure with 1.5 million followers on Facebook attributes some of her success to the BE mission and brand: "Be Confident, Be Authentic."
"I love how the Bikini Empire brand embraces body positivity. Their swimwear uplifts women and encourages them to love and accept their bodies just as they are, which is a complete deviation from how current swimwear is being marketed," said Charlotte. "To my followers: Bikini Empire is unique and encourages us to embrace our differences. What really matters is how you feel on the inside because it will come alive on the outside. Wear Bikini Empire: apple, pear, hourglass – it doesn't matter… "Be Confident, Be Authentic."
"Our mission is simple: we want to motivate all women to move past the preconceptions and stereotypes that exist around swimwear," said Monica and Kelsey. "Our "Be Confident, Be Authentic" campaign is designed with a specific purpose in mind: our BE brand is an extension of a woman's inner-self and, in addition to feeling empowered knowing they are supporting the improvement of the environment and ethical business practices, wearing Bikini Empire will make them feel comfortable, sexy and original."
Bikini Empire and Social and Environmental Sustainability
A growing awareness about the impacts of fast fashion, and the textile industry has led many consumers to be more interested in how their garments are made. We believe strongly in creating swimwear that is in line with our environmental and social values. We chose to manufacture our swimwear in Bali, due to their dedication to fair business practices, high wages, outstanding working conditions, and environmental sustainability. Their vision supports zero waste to oceans, sustainable businesses for coastal communities, and women's business education and development.
For more information about Bikini Empire's latest line of luxury swimwear on its website and social media visit:
Bikini Empire
Shop the Deserted Collection
Lookbooks
Sustainability
COVID-19 Support
In the Media
Charlotte Curve Model
Facebook
Instagram
Pinterest
YouTube
Media Contact and Key Influencer Contact:
Dan Springer
Bikini Empire
Communications Director
240551@email4pr.com
Tel. 858-790-9551 (US) – Available via Zoom, Google Hangouts and WhatsApp
SOURCE Bikini Empire
Related Links
OPENING PHOTO fciwomenswrestling.com, grapplingstars.com femcompetitor.com fci women sports, Empire-Bikini-pinterest
https://www.ksbw.com/article/santa-cruz-beach-boardwalk-to-partially-reopen-saturday/32786805#
https://en.wikipedia.org/wiki/Rachael_Ostovich
https://nypost.com/2020/06/03/ufc-star-rachael-ostovich-poses-in-a-bikini-top-for-quaranteen/  
https://www.prnewswire.com/news-releases/bikini-empires-online-sales-surge-1500-following-launch-of-empowerment-luxury-2020-springsummer-collection-301066081.html
https://fciwomenswrestling.com/
https://www.fcielitecompetitor.com/