Erotic Curvy Girl Matches We Purchased At Doommaidens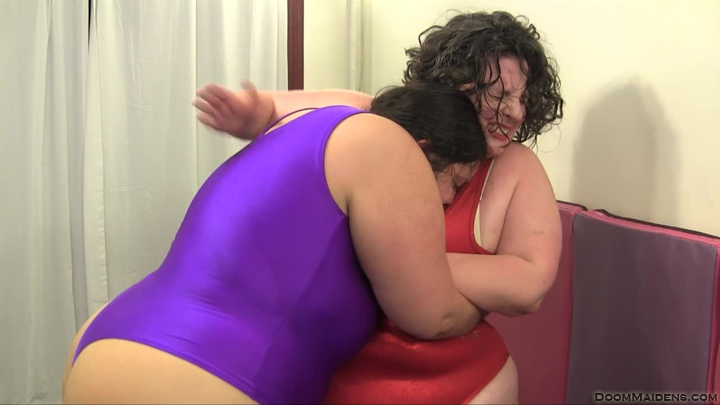 May 31, 2020,
She's breaking our hearts and forcing our tongues to wag.
Walking down a crowded city street, sauntering through the mall or grabbing a cup of coffee in those sensuous yoga pants, watching curving girls is addictive.
Sometimes we all need a curvy girl fix.
Good thing we have reality TV.
The reality television shows Curvy Girls is an all-access pass inside the glamorous world of professional modeling by shining the spotlight on four full-figured beauties who won't let anything get in the way of their success. Their passion and pride fuel their drive, but secret battles with insecurity and rocky relationships threaten to singe their competitive
We absolutely loved the show.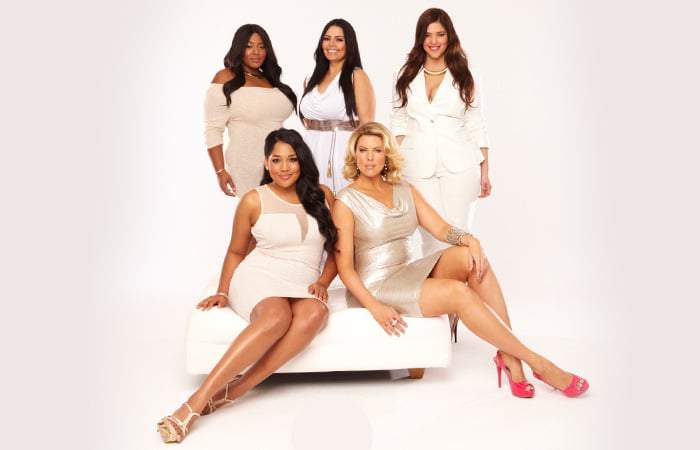 Not all fashion models fit the typical stereotype of being thin.
One aspect of modeling that often gets overlooked is plus-size modeling, an area of the industry that is put into the spotlight on "Curvy Girls." The docuseries follows a group of full-figured models determined to find success in their chosen profession. While they are driven by passion and pride, secret battles with insecurity and rocky relationships threaten to derail the women as they navigate through auditions and catty competition with their peers.
We also are crazy about gorgeous larges girls somewhere else.
The grappling mats.
Large girls wrestling. Shapely girls grappling. Curvy girls wrestling MMA style.
What could be better?
We can't think of many things. Maybe a few.
This is why we love watching Ursa Fierce at Doommaidens.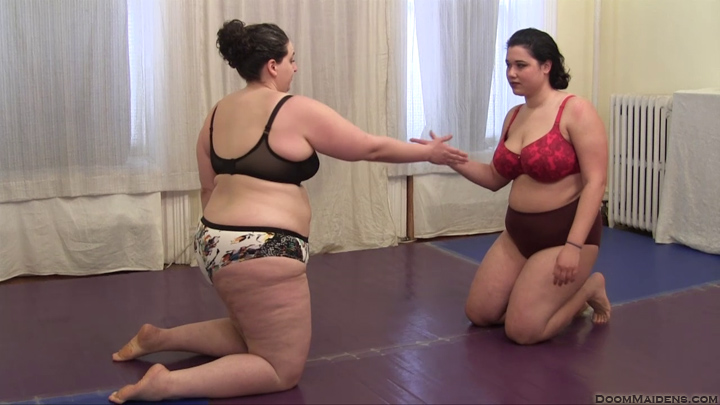 We've purchased many of her matches at Doommaidens and watched her grow from a newbie into a solid wrestling veteran.
It is one thing to read the producer's description of a wrestling match and try and write a review. It is another thing to purchase the match yourself and enjoy it in real video engagement.
When we saw that Ursa was going to face another scrappy girl in Katarina, we couldn't resist.
Here is the match description at Doommaidens.
"BBW wrestler Ursa Fierce takes on local newcomer Domina Katarina in a fully competitive submission wrestling bout! This is Katarina's first official competitive wrestling video match — a warm welcome to the rookie! (This won't be easy for her!). Two 10-minute rounds, most submissions wins, and Punishment Round for the loser.
Katarina is a dominatrix who started wrestling a few months ago and has been eager to do more. She has no formal training, but she is feisty, energetic, and enjoys a good tussle. She has a bubbly, fun-loving personality, and she's curious to test herself in this first competitive experience. Ursa has been wrestling for about 2 years, has several competitive matches under her belt, and comes in with a 65 lb. (29 kg) weight advantage for this fight. She's looking to put her weight to good use and to bring on the crushing pressure…
Ursa holds nothing back and gives Katarina a very difficult time, indeed! Katarina stays scrappy, keeps a positive attitude, and fights as best she can, but confident Ursa comes at her with a wide variety of pinning moves and submission holds: school girl pins, mounted pins, triangles and scissors, arm locks, neck squeezing, smothers, and more. Katarina reaches for any advantage she can get, but it's definitely an uphill battle for her. Welcome to the club, Katarina!"
We absolutely loved this match and Ursa dominates Katarina from start to finish in sexy competitive action.
Another large babe that we love at Doommaidens is Sweetie Dreams.
We've seen her wrestle since infancy too and she has progressed very nicely.
When she faces Lucrecia from Europe, we knew that she would be in tough.
We've watched Lucrecia grapple in Europe, specifically in the Czech Republic and TC Wrestling in England. She can be formidable, but beatable. Depending.
So when she takes on Sweetie Dreams, it is a dream come true. We sense that Lucrecia will be the favorite but we also know that Lucrecia is really on the friendly side and sometimes we would like to see more intensity.
Will she provide that here?
Now for the match description.
"Sweetie Dreams faces off against physically-imposing Czech domina Madame Lucrecia for this fully competitive heavy-weight wrestling match. Lucrecia is an Amazonian wrestler with 3 years of experience and an inclination for putting on the pinning pressure. Sweetie is still a relative newcomer on the scene, but she bravely steps up for the challenge. This match is for submissions and 10-count pins. Most submissions + pins wins. And the winner gets to deliver a Punishment Round of favorite holds to the loser.
It's a tough bout for Sweetie; Lucrecia not only has the experience advantage in her favor, but she has the size advantage as well. Lucrecia uses her weight well, punishing Sweetie with pins, body pressure, headlocks, and crushing holds. Sweetie tries her best to keep her bearings, wiggle free, and launch attacks where she can, but Lucrecia remains in control with almost-casual confidence."
One more.
Cat Wiley loves to trash talk and most of the time she can back it up.
She is one sexy, curvy babe. If you like to watch larger girls compete on the mats, you'll love Cat Wiley.
Kinzie Fire will need to put out a lot of flames if she has any chance against Cat Wiley. We really enjoyed this purchase.
Here is the match description.
"A clash we've been curious to see — Fierce newcomers Cat Wily and Kinzie Fire square off for a fully competitive submission wrestling match! Kinzie (170 lbs.) is a fearless and scrappy spitfire, taking on the bigger, stronger Cat (260 lbs.), who excels at throwing her weight around. Both ladies love a good rumble, and both enjoy trash talking and banter, so let's hit the mats and see what happens!
After opening comments and an arm-wrestling contest, Cat and Kinzie collide for their wrestling bout of three 6-minute rounds. Cat's been training hard, and her skill advantage soon becomes clear. Kinzie fights as best she can, but it's a seriously uphill battle against Cat's superior size and submission arsenal.
Cat does a fantastic job using body pressure to exhaust, distress, and smother her opponent, and Kinzie finds herself gasping and struggling desperately to resist Cat's control. All submissions are allowed. Attacks include breast smothers, body smothers, arm locks, hand smother, and pinning pressure. And to the winner goes a celebratory face sitting victory pose!"
Sounds powerful.
Yes, we all need our curvy girl fix sometimes.
When it comes to television, Curvy Girls is ideal.
When it comes to the grappling mats? Dommmaiden's shapely video store is waiting for you.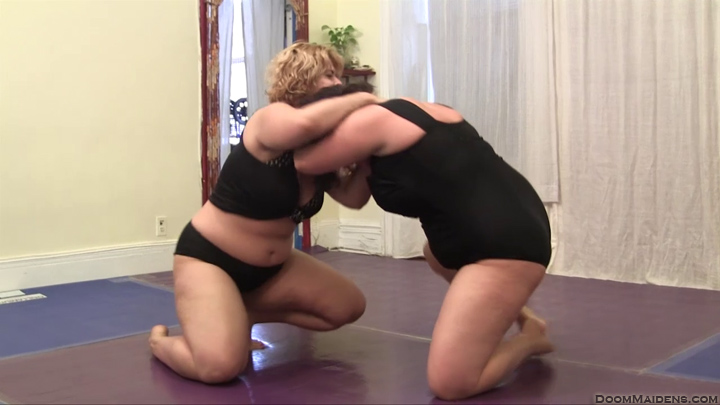 ~ ~ ~
OPENING PHOTO fciwomenswrestling.com, grapplingstars.com femcompetitor.com fci women sports, Doommaidens photo credit 
https://www.amazon.com/gp/video/detail/amzn1.dv.gti.80b247f0-8761-4b6a-60d7-1131995c77a0?ref_=imdbref_tt_wbr_pvs_piv&tag=imdbtag_tt_wbr_pvs_piv-20
https://fciwomenswrestling.com/
https://www.fcielitecompetitor.com/