Submission Room Women's Wrestling Videos, Fantastic Competitive Stranger Fights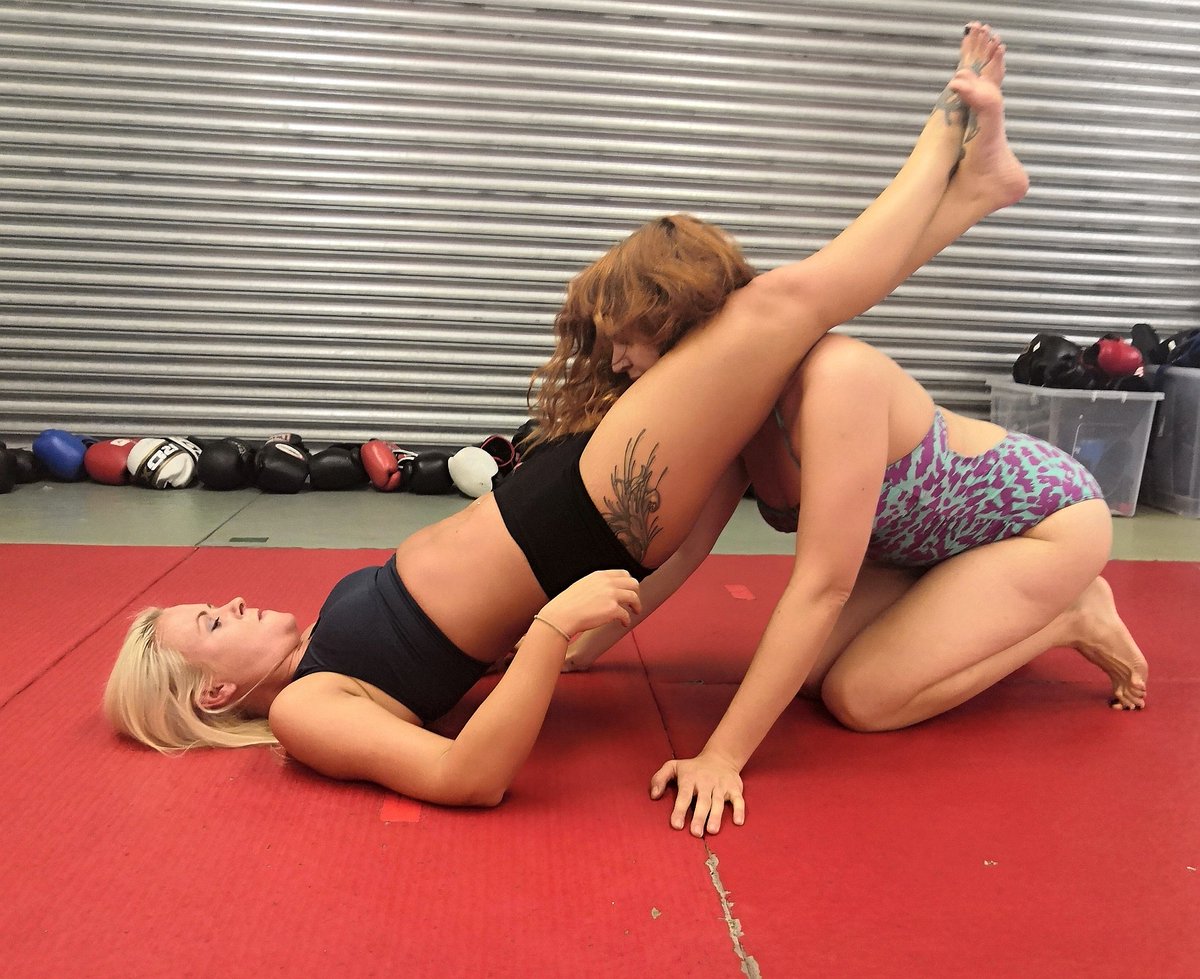 May 5, 2020,
Most of our lives can be broken down into three categories.
Parts that we would like to forget.
The myriads of mundane moments that make us just want to get through the day and remind us of how average we are.
Then there are the on fire memories where we are doing what we love, are exceptional at it and would love to write a book about it.
Now it is time for the percentages. Or do we dare attempt that placement? We certainly hope, say, 75% are not in the first two categories.
That's why we love watching fully competitive women's wrestling videos. Especially when they are going full tilt. All out. On fire memories.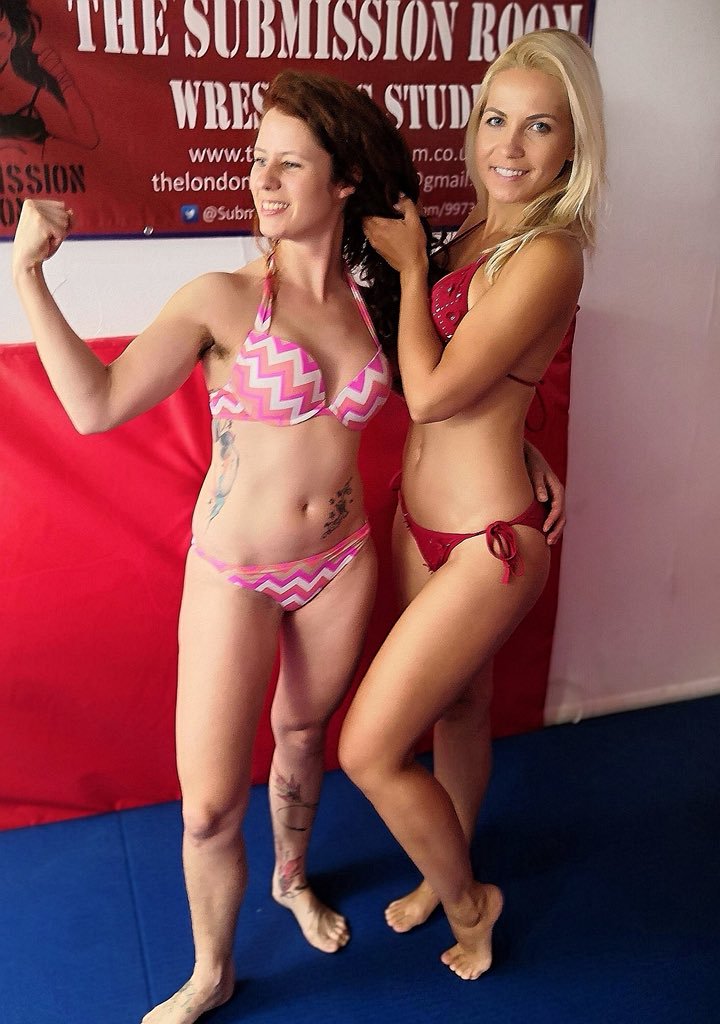 Those matches are the stuff fond long-term memories and dreams are made of.
Believe or not, they can be hard to find, but when you do, they are well worth the search.
That's why we love electronically visiting the Submission Room in London. They have so many competitive fighters to choose from. They also invite in warriors from different worlds which make for great stranger fights at their events.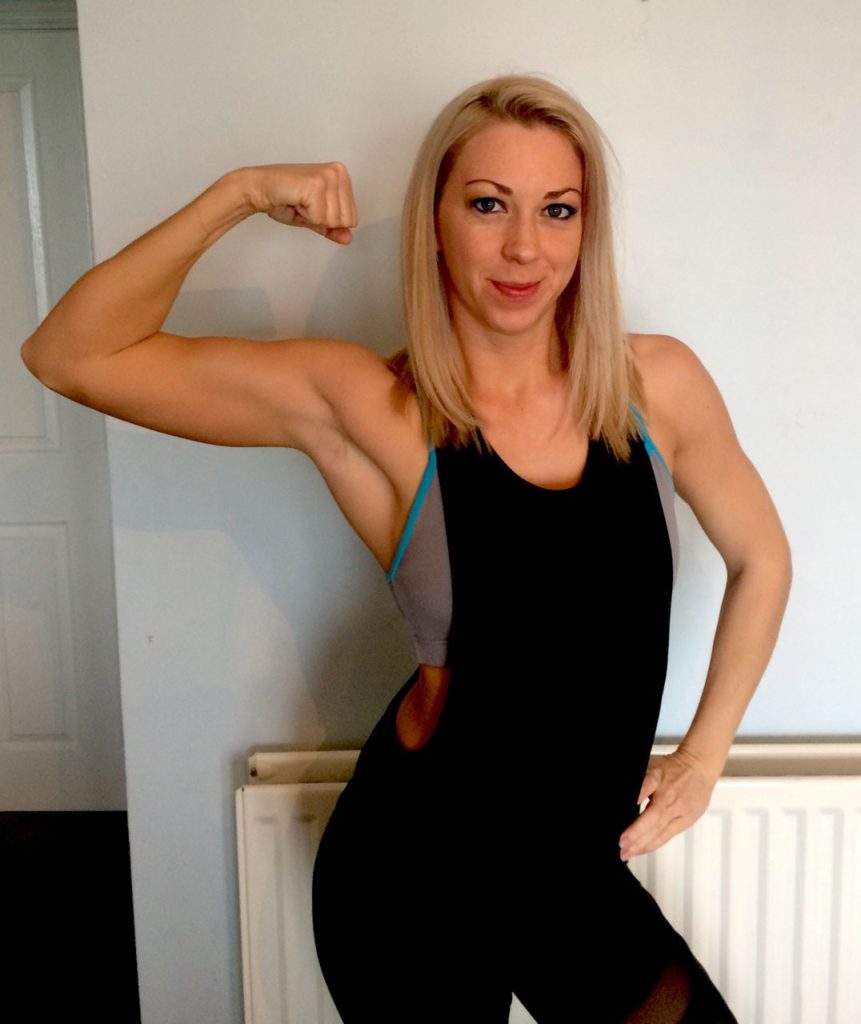 Fire cracker matches for certain.
Here are some of the matchups that caught our eye.
The gorgeous girls at Irish Max Academy can be both entertaining and formidable in the ring.
They share, "Welcome to Irish Max Academy – a competitive, semi competitive and fantasy wrestling academy in Ireland. Irish Max Academy are a team of friends who have come together to share their love for fem vs fem and mixed wrestling!
We offer competitive, semi competitive and fantasy sessions and also host fun events in Ireland. We have a permanent matted premises in County Louth which is available for sessions and for travelling wrestlers to hire. We also use this space to film custom clips and produce content for our established clip store.
We pride ourselves on being fit, captivating, friendly and fun. A delicious selection of the very best that the Island of Ireland has to offer!"
We would absolutely agree with that.
We all have our favorites and Siren Max is ours. She's a real spitfire. So as you can imagine when she visited a live event with Pippa and her warriors at the Submission Room in London, our eyes were wide open and our ears perked up.
In particular we love the visitors fighting at the events. Here are two of Siren's matches you should check out.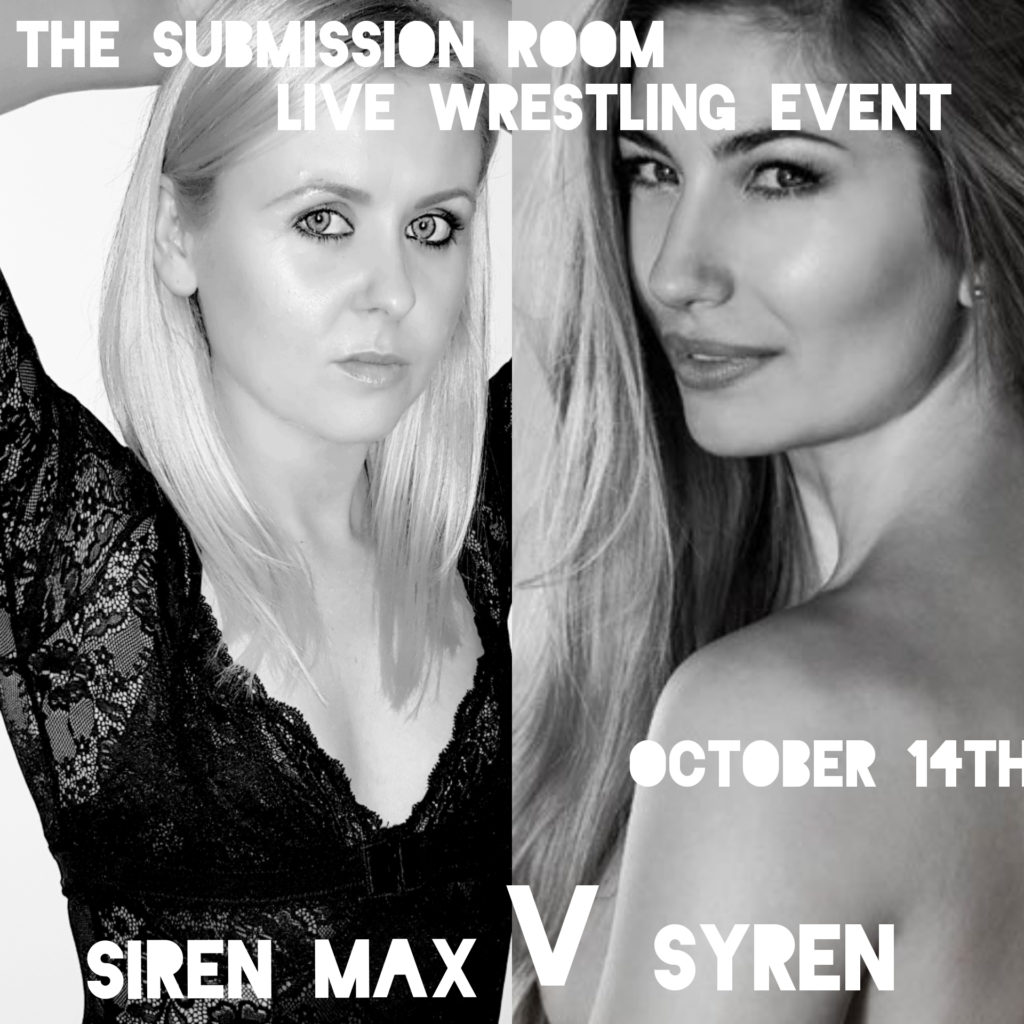 "Here is match #3 from the London Submission Room live event on 14th October and it's the battle of the Sirens as Siren Max from the Max Academy takes on Syren from the London Submission Room in a 15 minute pins and submissions competitive wrestling match.  Syren is way stronger than she looks and has improved dramatically since her debut live event match earlier this year. She has also been training hard on her wrestling technique and has a natural dominant streak about her which regularly helps her overcome her male opponents. But this time she's up against Siren Max from the Irish Max Academy. Siren Max has also improved considerably over the last 12 months and has been training hard with the other Max academy girls and working out at her local gym. Known for being feisty on the mats, Siren Max really does not want to lose in front of the live audience.
Pippa the Ripper gets the match underway and it's Syren who is fastest off the mark taking Siren Max by surprise and getting the first submission with a head scissors. But with Siren Max now on her guard, Syren is going to have to work much harder to get any more points… Or is she?
These two wonderful wrestlers might be small, but they're both strong and determined and ready to wrestle."
This one too.
"This is match #1 from the recent Submission Room Live event held on 14th October 2018.  This is the 12th live event and the matches just get better and better. Leggy Venus (at 6 ft tall she is one of the tallest wrestlers on the scene), takes on fiery Siren Max in a competitive wrestling match. Venus has a height and weight advantage but that can mean nothing against an experienced wrestler and Siren Max has been training hard and has improved dramatically over the last few months.  Both wrestlers use a combination of scissors and pins to subdue their opponent and there are points won on both sides in this 15 minute showdown. Will Venus's pins prove too much for Siren, or will Siren's hard work at the gym pay off? This was a great match to open the event but you will have to download to find out exactly what happens."
Sounds exciting and fully competitive. Love the stranger fights.
Another stranger fight that took place there was when London's Jade took on Czech Republic's Alkaia.
We knew Alkaia was a tough customer because we purchased her matches at the Femwrestle events in Troisdorf, Germany.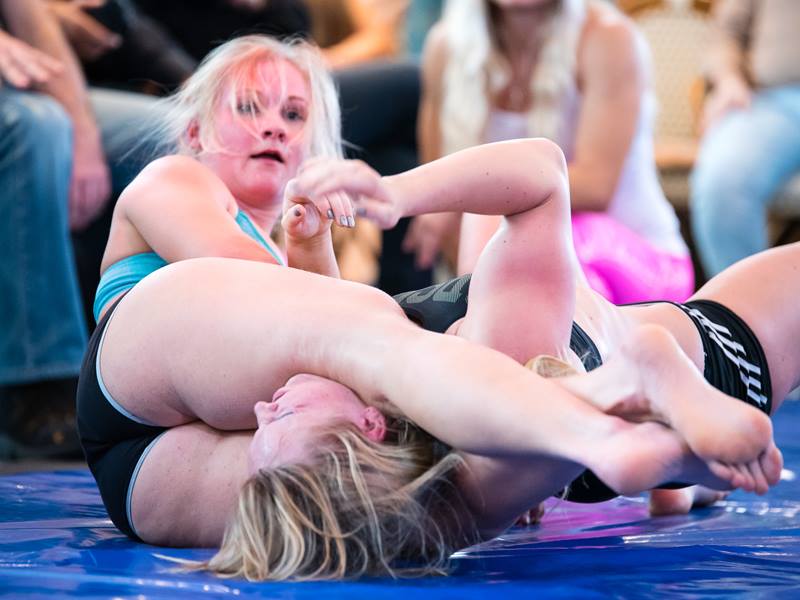 With Jade, she was more of an unknown. Though her match history is extensive, it has mostly been of the fantasy variety. Way mostly. We didn't know what to expect from her in a fully competitive match. We have seen her in a couple of fully competitive matches and she actually is pretty good.
Femcompetitor Magazine decided to write about this special fight between strangers.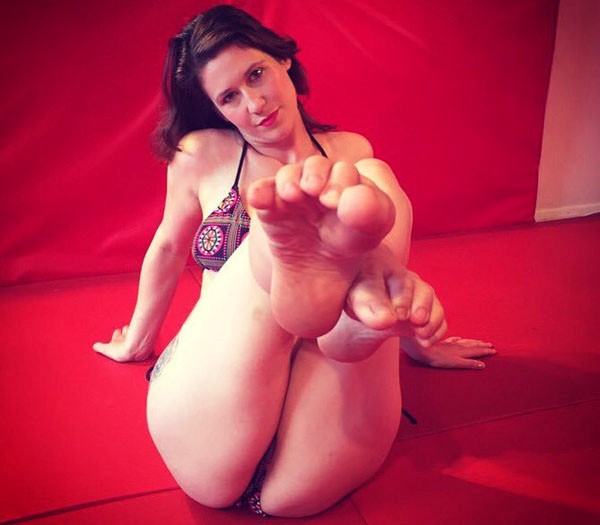 https://femcompetitor.com/jade-uk-vs-alkaia-czech-republic-event-wresting-instant-classic/
Here was their take on the match.
"There is great anticipation in the air as two beautiful girls are about to face one another from two very different and dynamic parts of the world.
Jade from England and Alkaia from the scenic Czech Republic.
Both women look gorgeous as Jade is sensuously clad in a burnt orange full bathing suit and Alkaia flexes her gorgeous female muscle in black briefs and a sexy sea blue sports bra.
As the two combatants kneel to the floor, they are cautioned by Pippa to stay in the middle of the mats as there is concrete surround the padded squared circle.
Potential ouch.
As they begin to engage, what is a little surprising is the Jade is the aggressor and doesn't appear to be intimidated at all. In fact during the early skirmishes she is the one positioned on top.
Soon Alkaia's higher skill level begins to take over and so does she as she finds herself on top of Jade in a sitting position, clasping the British girl's arms, ready to pull Jade to the side for a crunching body scissors or possible smother.
Fortunately for Jade, since this is in England, she is the home team so to speak, and the crowd begins to cheer for her, "Come on Jade".
Alkaia does indeed pull Jade forward for the side body scissors but can't quite close the deal.
Jade appears to be very determined and doesn't submit. This struggle ensues for some time before Alkaia mounts her from behind and up top.
What is intriguing is that as many times as we've watched Alkaia fight and even chronicled her matches, generally she is very astute at closing the deal but just can't seem to here."
We won't give the ending away but we did purchase the match and it is a great one. At FCI Women's Wrestling we don't like semi-competitive or fantasy matches.
Is that direct enough?
That being said, we really loved this fight between strangers.
If you like fully competitive fights, when you go to Pippa's site, type the word event into the search box. It should give you a sizable amount to choose from.
Pippa would like to close with a very special message for you.
Are you able to help The Submission Room's wrestlers during the COVID-19 breakout?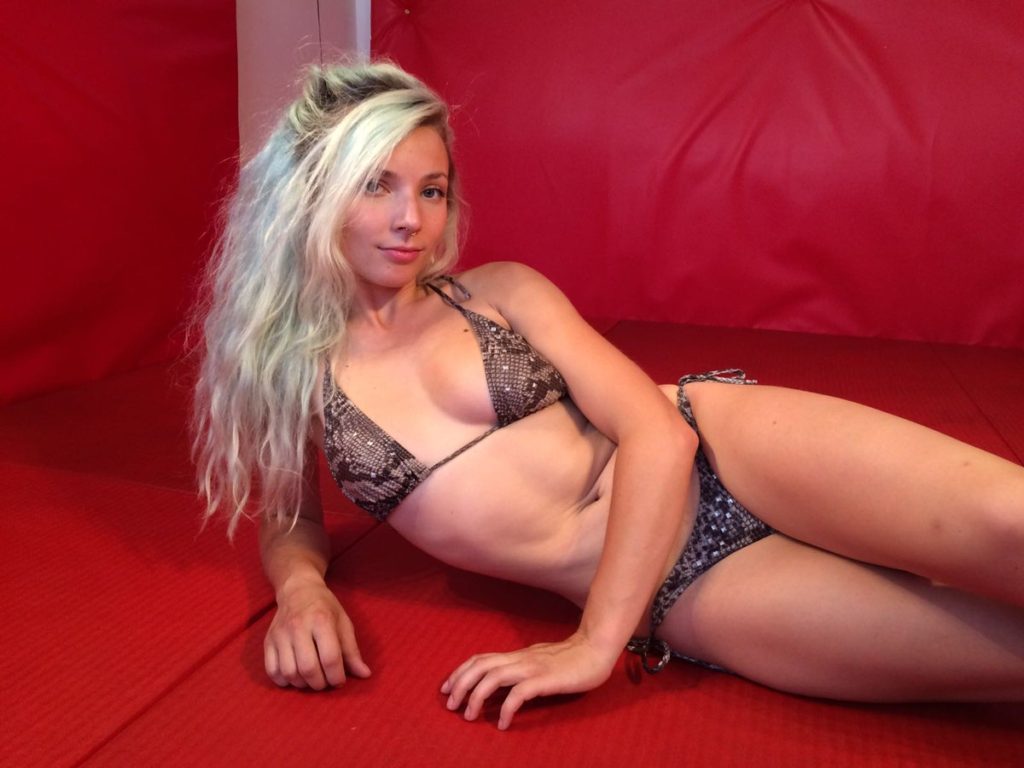 During the current COVID-19 outbreak there are no sessions happening at The Submission Room, which has meant a huge drop in income for myself and the wrestlers.
The situation is likely to continue for some time, of which is unknown, which creates fear and uncertainty for us all.
Wrestlers are some of those most affected because of not having a regular salary, relying on face to face sessions, and for some not having other forms of financial backup.
So I am looking into ways to help the wrestlers that need it the most through these difficult times. Thank you so much to those who have already reached out to me.
Here are some ways you can help, if you are able to:
Financial donations are hugely appreciated. If you would like to donate to the team, I will make sure it will go to the wrestlers who are struggling the most. There's a donations link at the bottom of this page. If there's someone specific you would like to support financially then I recommend contacting them directly, where possible. If you do not have their contact, then I can help with this.
Online sessions/chats. Many of the girls that promote themselves are now offering skype chats, online sessions, photoshoot sets, solo custom videos and access to their only fans pages. Please support them directly in these ways, if you can.
Pre paying for sessions. This would be ideal for any of you wonderful regular customers, that haven't been hit too badly during this pandemic. If you know you'll be having some sessions with your favourite session wrestlers at some point when it's safe to do so, if you can pay now, that will take the immediate financial pressure off some of the wrestlers. Please email me to arrange that thelondonsubmissionroom@gmail.com
Pre paying for custom videos. All this time during lockdown may give some of you some exciting custom video ideas. I love filming custom videos and I would be happy to quote and plan some scenes and be ready to film them when it's safe to do so. Again, the wrestlers would be really grateful to have a financial advance and some fun filming to look forward to. Please email me to arrange that thelondonsubmissionroom@gmail.com
Buying videos from my clipstore supports me. If you use this link to buy videos during April (there are only a few days left) then I get 100% of the commission from the clips sold. https://clips4sale.com/99739/the-

submission

–

room

/cid45c1df258b6147941bcc220800…
Click: Here is a quick and easy payment link to our online donations system
Thank you so much and stay safe.
Pippa the Ripper xx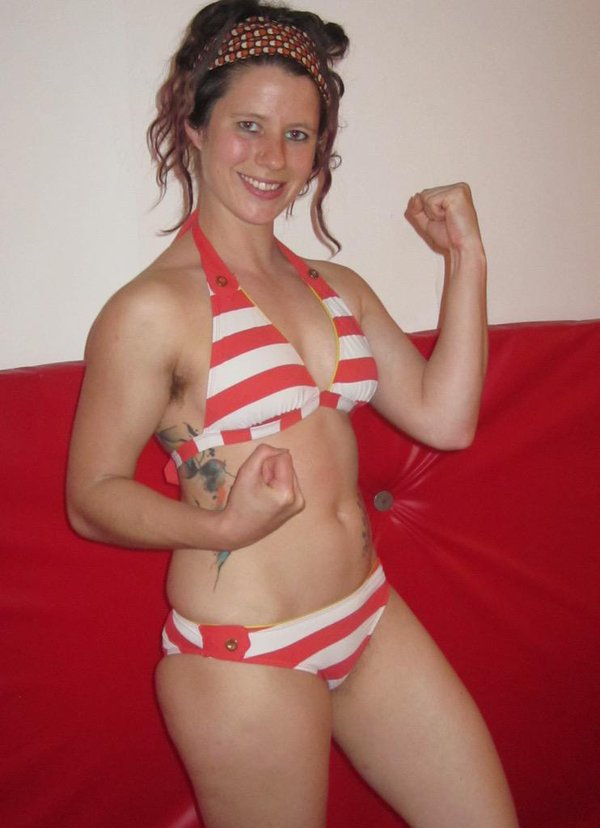 ~ ~ ~
OPENING PHOTO fciwomenswrestling.com femcompetitor.com grapplingstars.com, Pippa submission room photo credit 
https://fciwomenswrestling.com/
https://www.fcielitecompetitor.com/