Florida's Flamingo Women's Wrestling, Stay Home, Order Up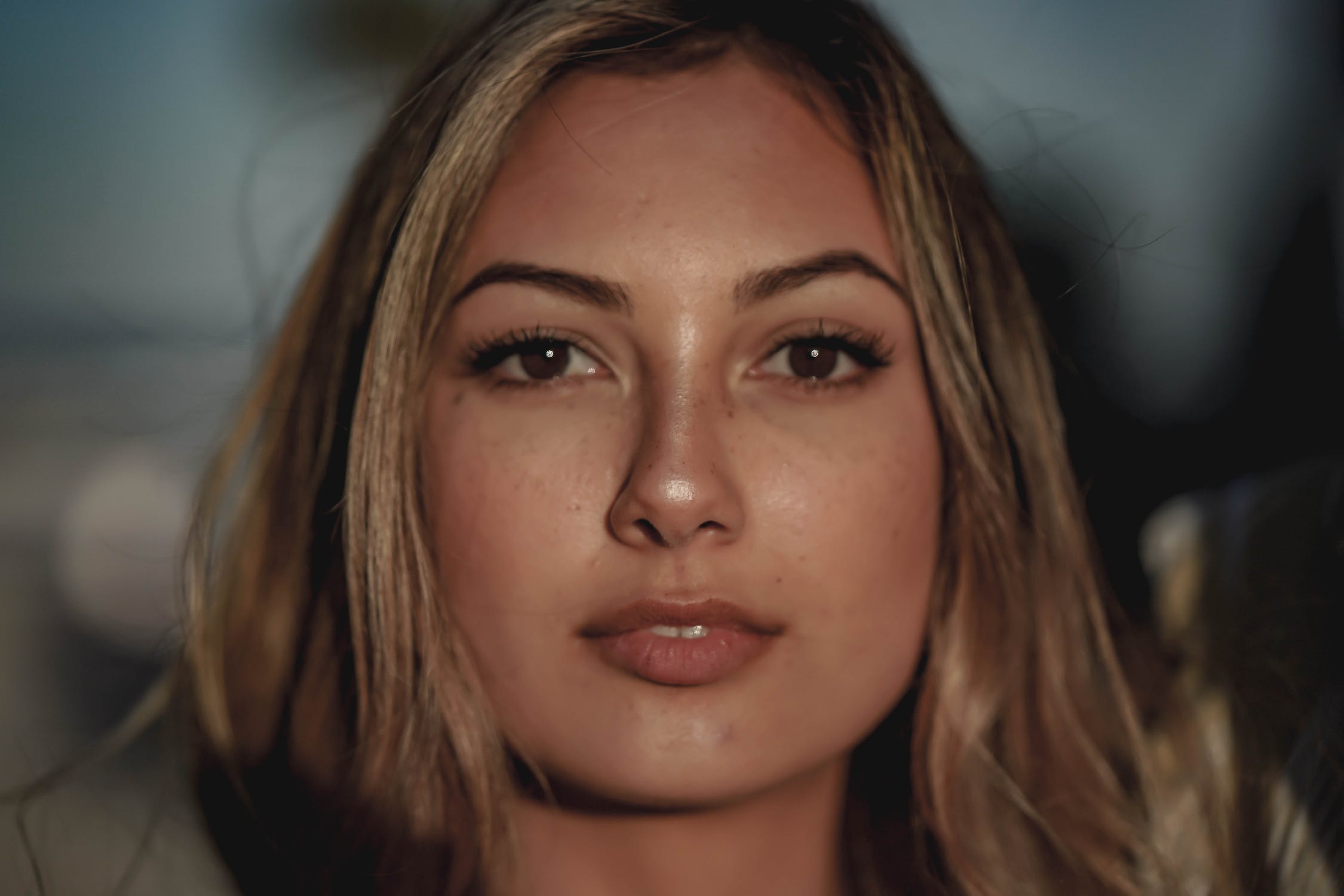 April 24, 2020,
Sometimes you have to learn to love what is available to you.
If you walk into the super market to purchase a specialty caramel toffee ice cream and they only have vanilla toffee, can you learn to love vanilla toffee?
Sure you can because it is either that option or no toffee option at all.
Due to the recent global pandemic, our options to watch intense sporting competitions are limited.
Very limited.
What are our options?
Watch major league sports reruns or nothing at all.
You can still eat some caramel toffee ice cream while you watch them but it is an all or nothing proposition.
We in the competitive female submission wrestling industry are a little more fortunate. We can always order some great wrestling matches online. In our case, even older matches are like brand new if you've never ordered from the company.
Have you ever ordered from Flamingo Wrestling in South Florida? We have. Especially in the snail mail days. Their matches were some of the best around. The camera work was clear and sharp and the wrestling was close up and competitive. Some of the top stars that we know today got their start there.
The snail mail days are virtually over but you can still see some great Flamingo matches at their online store. Since we virtually raided their entire inventory, we will suggest a few matches to get you started since we've seen and loved them already.
First the producer's description, then ours.
GINA VS JESSICA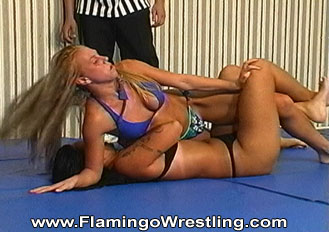 First there is Gina, 5'9″ & 161 lbs., a super hot babe with sexy jet black hair and a body that will make you quiver with excitement, that was draped in a sheer black dress. Her opponent was Jessica, 5'8″ & 143 lbs., a drop gorgeous blonde with blue eyes and a figure that is unbelievably hot which she displayed in short blue dress. Because this match was highly anticipated to be close, a professional referee was called in to enforce the rules and declare when a submission was obtained. The battle started fiercely, with both of these goddesses determined to win. The action was non-stop, as one would be on top and then the other with the referee keeping them within the confines of the ring. Both of these sexy fierce female warriors scored body scissors in the first 20 minutes of battle, but no submissions could be obtained. Around Twenty minutes into match, both warriors stripped out of their dresses, leaving Gina in an incredibly sexy black thong bikini and Jessica in a blue floral bikini. Slowly Jessica seemed to be getting top control and finally after several intense efforts, she secured a pair of lethal body scissors against Gina and earned a submission point. Shortly thereafter, Jessica got an unbelievably prolonged chest-head pin that lasted over 10 minutes. Nobody could believe how long Gina held on, but finally she had to give up another point. After this hard fought battle, some exciting post interviews were conducted by the referee outside of the ring that lets you get some insight into what these warriors were thinking during their battle. Truly any fan who loves to see hard fought girl versus girls matches, must add this video to their collection today."
Here we are fairly certain that Gina is our beloved Bori, the Hungarian wrestling star and great recruiter of Hungarian women's wrestling.
Jessica, from Boston, was the Blonde Goddess of Flamingo and virtually dominated all of her opponents except for Bori. This is truly an erotic firecracker match. This one goes back and forth with some great close up action.
If you want to see one gorgeous blonde completely dominate the other, the latter of whom did a little trash talking before getting a good feminine butt whipping, this next match is for you.
"Jessica, an amazingly hot blonde and an extremely skilled wrestler traps Michelle, another sexy blonde skilled wrestler, in a cross body pin, then into a grapevine. Michelle manages to free her legs, but Jessica still has her pinned to the mat and uses her chest to pin Michelle's head to the mat. What will happen next?"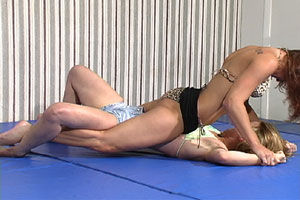 "In this action packed catfight, sexy and tough Lindsey Adams, 5'3″ & 113 pounds, goes up against beautiful blonde Tori Davis, 5'2″ & 110 pounds. These women are both sexy and rough and it shows. With Lindsey taking the lead she crushes Tori with some powerful body scissors and inflicts a painful grapevine. Tori is tough and the battle rages on. Check out this incredible clip of hot female wrestling and find out if Tori stages a comeback."
Lindsey, the dark brunette, was one of our favorites. She always put up a good fight and if another gorgeous girl was not careful, like our spunky Southern beauty here, you just might get your sweet Southern butt whipped. By the way, Tori changed from blue jean cut offs into a super sexy tight bikini when she began to make her comeback.
Who said that clothes don't make the woman?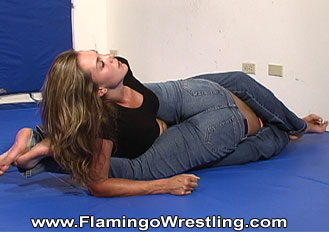 "Jennie is an incredibly hot blonde and at 5′ 6″ & 137 lbs., she is a little bigger than her opponent, Nikki, who stands 5′ 4″ and weighed in at 117 lbs. During this part of the match the action got fierce. With the action back and forth both women tried hard to get the submission. Finally a brutal pair of body scissors seemed to do the trick. Watch this clip right now to see who the winner of this fall was."
Oh the memories.
Jennie Vaughn was one of the more gorgeous, curvy feminine jobbers that we ever saw at Flamingo. Nikki, who we've later come to know as Sammie Squeeze from Oregon, is brand new here but gives Jennie a very good fight. Here, Jennie is curvy in all of the right places with some great leg struggle.
Of interest, Jennie would later participate in martial arts and became more stealth and meaner later in her career. Saw her at an event and she was feisty as they come. The Flamingo Jennie was long gone.
We would actually have a chance to hang out with Sammie at an event and boy does she look great in a full bathing suit live and in person. Fun personality too with a nice sense of humor. Our associate still laughs hysterically when he kept saying over and over, "Look at that" as Sammie stood there smiling in her bathing suit.
The next one is an absolute girl next door classic.
"Valerie, 5'5″ and 135 lbs., began the match clad in a sexy short leopard skin dress. Her opponent, Bridget, 5'4″, 122 lbs., was dressed in a sexy blue jean dress. The match began quick as the two fiery female warriors desperately sought to seek an advantage. It was a close match as those short skirts hiked up to reveal hot butt cheeks bouncing, prevented from being fully revealed only by skimpy thong bikinis. After a short time they yank off the dresses allowing you to get an awesome view of their hot bodies in just tiny bikinis. Their were tight chest sit pins and crunching body scissors. Yet even better is the ferocity with which these babes attacked one another. If you love seeing sexy female warriors exert themselves in an all out war then you must see this battle right now."
When we first watched this one we salivated. Both girls are clearly amateurs and Valerie in particular likes small bikinis that have her butter flowing everywhere. This was a great, close battle. Close up and very erotic.
Well, that is all for now.
Here is their link: https://www.clips4sale.com/studio/27824/wrestling-all-real-by-flamingo/
Just go to the top and place the girl's name that you love inside of the search box and her matches will come up.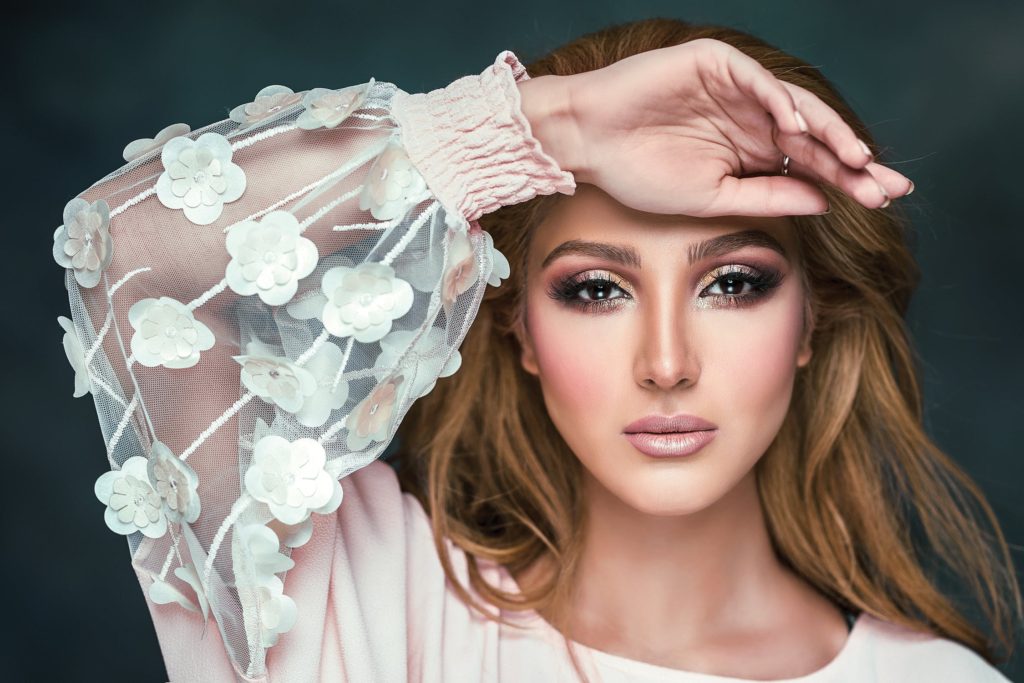 As of this writing, since we are all sheltering in, this should satisfy your competitive sports fix.
Flamingo Women's Wrestling always cured ours.
Caramel Brittle Toffee ice cream not necessary.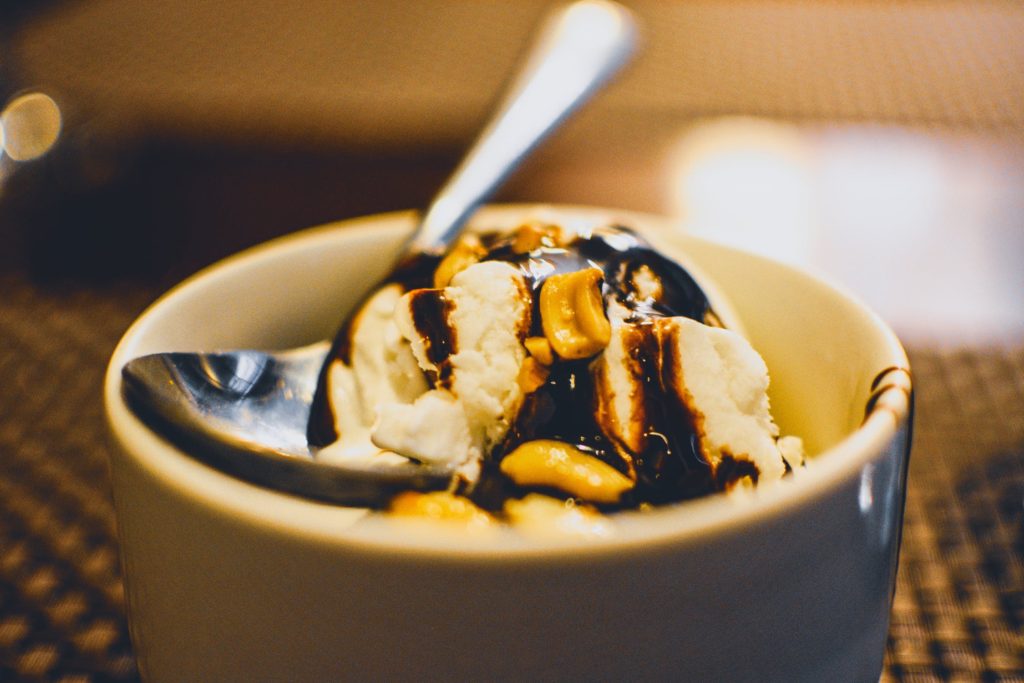 ~ ~ ~
OPENING PHOTO fciwomenswrestling.com femcompetitor.com grapplingstars.com, pexels.com Tim Savage photo 
https://fciwomenswrestling.com/
https://www.fcielitecompetitor.com/