Stay Home Meal, Women's Wrestling Movies, Alkaia Dazzles At Femwrestle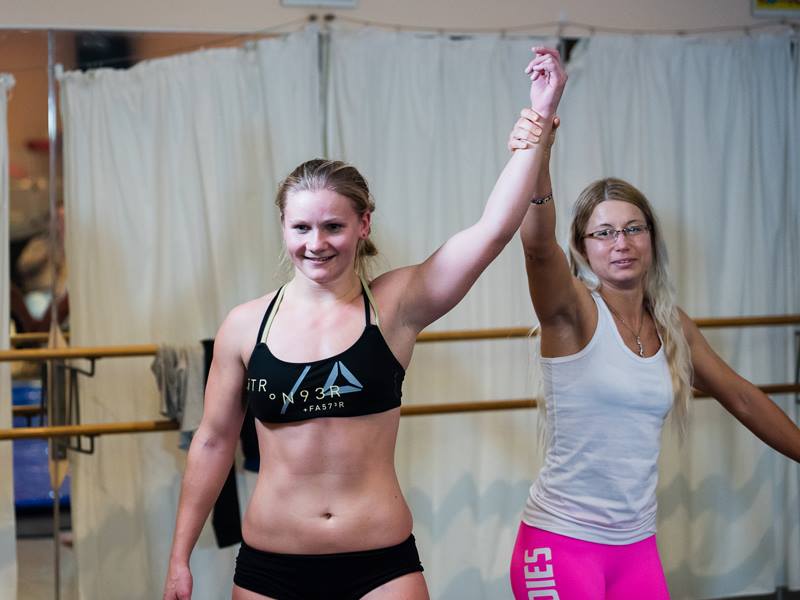 April 12, 2020,
What's on TV?
That used to be a prevalent question in households around the world when families made a decision to just stay home and relax around the house.
A purposeful decision.
A desired decision.
Now the question might be about what is streaming or what can I download.
When it comes to fully competitive female submission wrestling, we have a suggestion. There are myriads of quality wrestlers and offerings out there but for at least one day, you might whittle it down and pick just one.
We have.
We loved watching the Czech Republic's Alkaia compete at the great Femwrestle Events.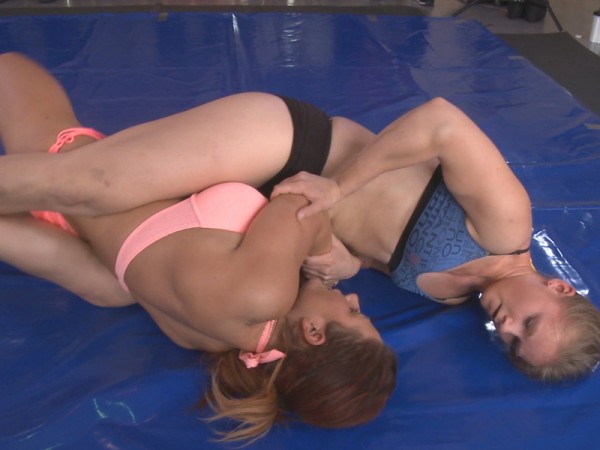 We purchased practically all of her videos there. Our associates at Femcompetitor Magazine wrote and gushed over her. 
Alkaia, Czech Wrestler, Warrior Princess, Big Stage Ready
One of our favorite matches was her battle against Hungary's Mara.
Here is the producer's description: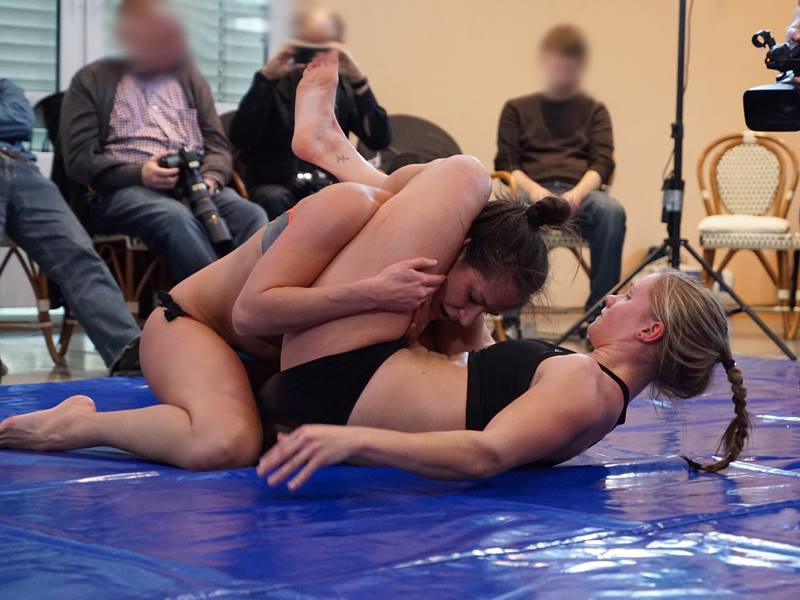 "Mara the Hungarian beauty girl which always smile vs a very muscular Alkaia from Czech. This match is real comp and full of action don't miss this fight you will love it."
We agree.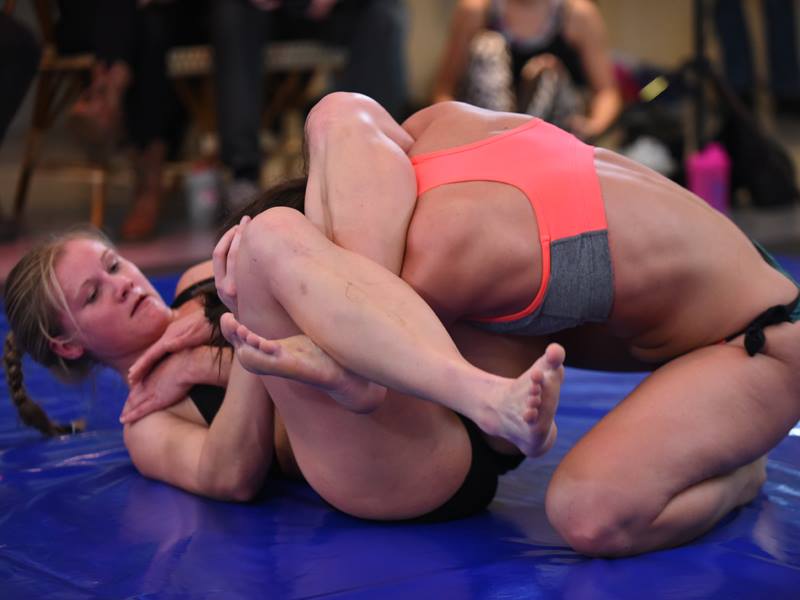 Femwrestle appears to altered their online store thus you can go to their page and find voluminous match descriptions here as of this April 12, 2020 writing.
To demonstrate her intensity of battle, Femcompetitor also wrote about Alkaia when she took on England's journey and extensive fantasy fighter in Jade at Pippa's Submission Room. Here is an excerpt:
First from the producer.
"This is Match #1 from the latest live (Christmas) event from the London Submission Room, held on December 9th 2017 and it kicks off with an amazing submissions-only match between guest wrestler Alkaia (from ALPHACATZ in Czech Republic), and one of the Submission Room's more experienced wrestlers, Jade.  One look at Alkaia and you can see she is solid muscle, and so it's clear that Jade is in for a tough match.  But Jade isn't going to be intimidated by the Czech and fans of Jade know she has won matches in the past against much larger wrestlers.
London Submission Room owner, Pippa the Ripper, introduces the two wrestlers and Jade and Alkaia get to their knees and start. This quickly turns into an intense match with both wrestlers having to draw on all of their experience. As you would expect from an experienced wrestler Jade's defense is good, making it difficult for Alkaia to lock on.
However, Alkaia is clearly the stronger and at one point, she shows just how strong she is by literally powering out of a head-lock that looked like it was going to be a certain point for Jade and with the point denied, it's Jade who now finds herself in Alkaia's clutches. It's about two-thirds through the match before the first submission is won, but the match is far from over. This was a great start to the Christmas live event."
Then from Femcompetitor Magazine.
"There is great anticipation in the air as two beautiful girls are about to face one another from two very different and dynamic parts of the world.
Jade from England and Alkaia from the scenic Czech Republic.
Both women look gorgeous as Jade is sensuously clad in a burnt orange full bathing suit and Alkaia flexes her gorgeous female muscle in black briefs and a sexy sea blue sports bra.
As the two combatants kneel to the floor, they are cautioned by Pippa to stay in the middle of the mats as there is concrete surround the padded squared circle.
Potential ouch.
As they begin to engage, what is a little surprising is the Jade is the aggressor and doesn't appear to be intimidated at all. In fact during the early skirmishes she is the one positioned on top.
Soon Alkaia's higher skill level begins to take over and so does she as she finds herself on top of Jade in a sitting position, clasping the British girl's arms, ready to pull Jade to the side for a crunching body scissors or possible smother.
Fortunately for Jade, since this is in England, she is the home team so to speak, and the crowd begins to cheer for her, "Come on Jade".
Alkaia does indeed pull Jade forward for the side body scissors but can't quite close the deal.
Jade appears to be very determined and doesn't submit. This struggle ensues for some time before Alkaia mounts her from behind and up top.
What is intriguing is that as many times as we've watched Alkaia fight and even chronicled her matches, generally she is very astute at closing the deal but just can't seem to here."
Very intriguing.
We could watch Alkaia all day. She has such a sweet personality and is incredibly shapely with gorgeous feminine muscle.
Enjoy.
So, what meal are we having with those movies? Mushroom soup, garlic bread, added super market mushrooms and thins slices of beef. We made it from a can.
Tastes wonderful.
While watching those Alkaia movies, you can try your own mushroom soup version. We have a visiting female writer with some suggestions.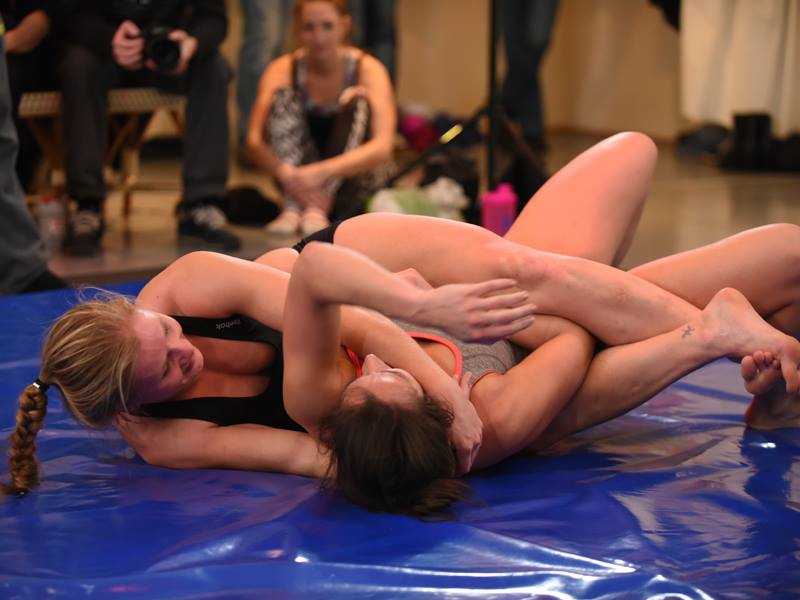 Yes, You Can Make Canned Soup Taste Like Homemade!
Minnesota has been in a deep freeze for months, with temperatures of 20 below zero and wind chills a startling 45-50 below. Though the evening television news is packed with stories about frozen pipes, the broadcasts haven't mentioned frost bite or frozen tummies. However, the newscasts urge parents to bundle up their children and protect their skin.
During weather like this parents tend to feed their children comfort food like soup. Sandwiches often accompany the soup of choice. I ate lots of soup when I was a child and still enjoy it.
An early riser (5 a.m. or even 4 a.m.) I'm ready for lunch around 10:15. The other day I longed for homemade soup, but didn't have time to start from scratch. So I opened a can of cream of chicken soup. Canned soup has several advantages. First, it's quick. Second, the manufacturer has spent years on product development. Third, the manufacturer strives for a consistent product.
A little of this, a little of that, and 15 minutes later, I had a satisfying lunch. You may enjoy these recipes, one for a creamy vegetable soup, and the other for fresh mushroom. Both may be doubled if you're feeding a large family. For a heartier dish, add cooked chicken to the first recipe. Then pass crackers or crusty bread.
Creamy Vegetable Soup
10 3/4 ounce can lower sodium cream of chicken soup
3 soup cans water
3 packets salt-free chicken soup base
1 package Trader Joe's frozen mixed vegetables (carrots, peas, cauliflower, corn in sauce)
1/4 cup orzo (rice-shaped pasta)
1 cup cooked chicken, cubed or shredded (optional)
In a soup kettle whisk together canned soup and water. Add remaining ingredients. Cover and simmer over medium heat until the vegetables and pasta are tender. Garnish with grated Parmesan cheese if you wish. Makes 6 servings.
Fresh Mushroom Soup with Dry Sherry
1 tablespoon butter
1 tablespoon olive oil
8-ounce package button mushrooms, cleaned and sliced (Use another variety of mushroom if you wish.)
10 3/4 ounce can lower sodium cream of mushroom soup
3 soup cans water
1/4 teaspoon dried thyme
2-3 tablespoons dry sherry
Put butter and oil in soup pan. Add sliced mushrooms and sauté over medium heat until they start to brown. Add soup base, water, and dried thyme. Cover and simmer over low heat for 15 minutes. Just before serving add sherry and cook one minute longer. Makes 6 servings.
Copyright 2014 by Harriet Hodgson
Harriet Hodgson has been a freelancer for 36+ years and is the author of 33 books. Her latest releases are "Help! I'm Raising My Grandkids," "Happy Again! Your New and Meaningful Life After Loss," and "Seed Time: Growing from Life's Disappointments, Losses, and Sorrows." Visit her website and learn more about this busy author.
OPENING PHOTO –
Article Source: https://EzineArticles.com/expert/Harriet_Hodgson/7963
Article Source: http://EzineArticles.com/8323913
https://www.facebook.com/pg/Fem-Wrestle-173368026353649/photos/?tab=album&album_id=192669997756785
https://ezinearticles.com/?Yes,-You-Can-Make-Canned-Soup-Taste-Like-Homemade!&id=8323913
https://fciwomenswrestling.com/
https://www.fcielitecompetitor.com/