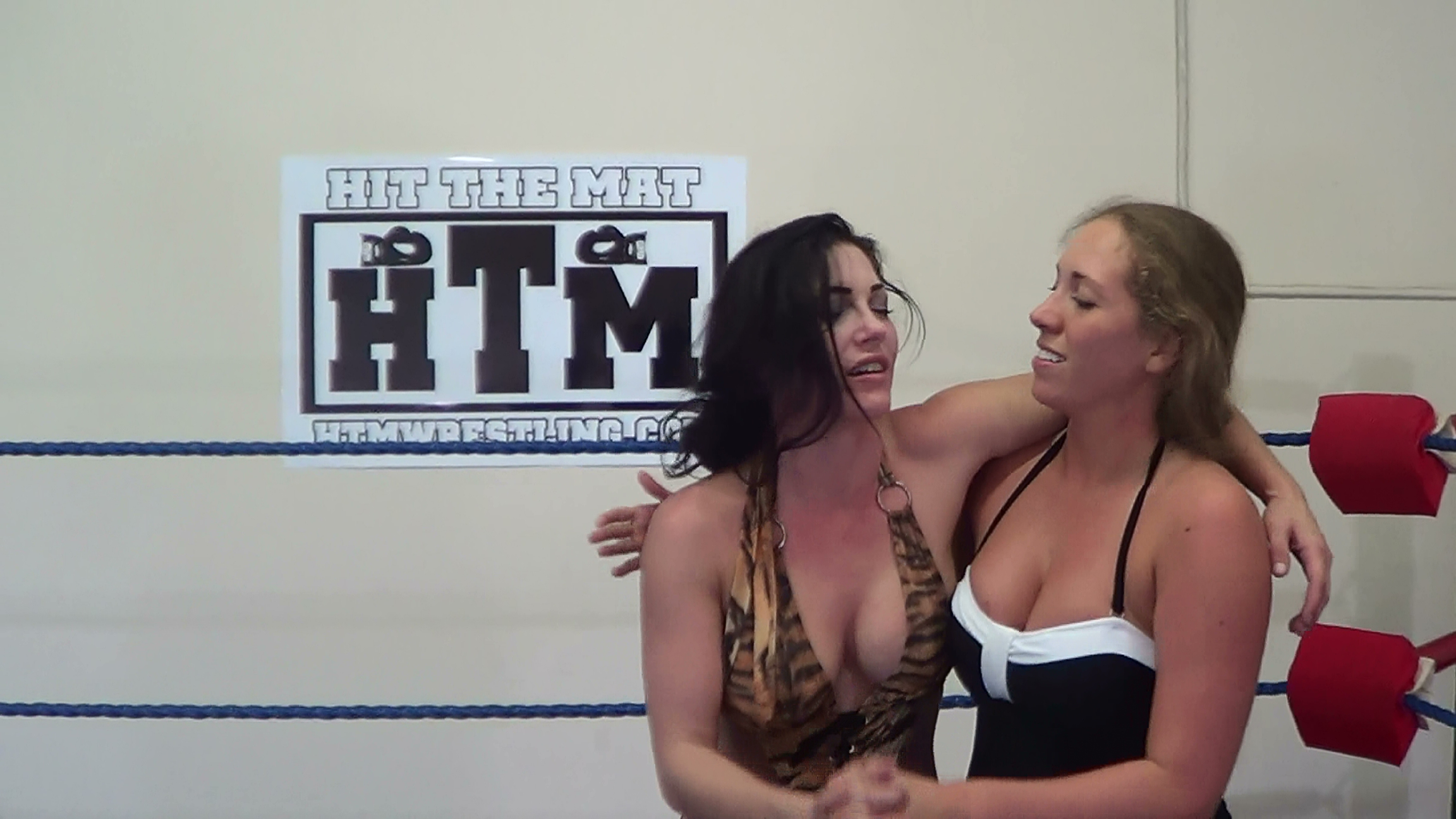 Kymberly is a very skilled and experienced submission wrestler with a great sense of humor.
I would like to make one thing perfectly clear, so please read this carefully.
Kymberly is a lot of fun!
Wikipedia shares a typical adult human skeleton consists of 206 bones.
I would also like to make something else perfectly clear.
Kymberly is not a typical adult.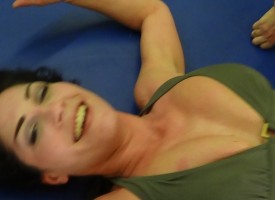 Of her 206 bones, none of them are serious. Can someone have over 200 funny bones? They are lovely bones. Kymberly is a lovely girl. If only we could get her to be a serious wrestler. She has the experience. My count is over 30 matches. I would like to say competitive matches because her number of semi-competitive and fantasy matches far exceed her fully competitive ones; but how can you call a match competitive if one female is being completely dominated by another? How many female submission wrestlers can say they have wrestled over 30 matches like Kimmy?
How many of those matches have the Kymster won?
Don't ask.
Jobber?
Kymberly's wrestling results practically invented the term.
When the people in white coats and magnifying glasses were writing the women's submission wrestling dictionary and they came to the word "Jobber", there is a detailed description and full page picture of Kymberly.
No, make that a wall sized portrait. Description on frame? "Ultimate Jobber".
Would you like some synonyms?
The epitome of a jobber. And the award for "The Greatest Jobber of All Time"; including lady ring pros, midgets – women of all heights, freestyle female wrestlers – Pee Wee, high school or college, submission wrestling females, first time only competitors qualify, Jujitsu, Judo, MMA, CNA, CPA, MBA, WNBA, AARP, and sibling living room wrestling (must be amateurs).
In a tie with Allison Royal (see fciwomenswrestling.com article Allison Royal – Unique), her enshrinement in the Beautiful Jobber Hall of Fame is chiseled in granite and permanently protected for future generations of beautiful girls who want to wrestle competitively, are under the illusion they might win, but then get dominated as usual; to cherish forever.
Just writing about Kymberly is making my sides split open with laughter. I'm going to try and write a serious piece.
Nah forget it. The Kymster wouldn't respect me in the morning or the afternoon either.
I call her Kymster because when I've researched her wrestling she's often describing her opponent in unusual wrestling terms like expressing the other girl is a real spider monkey. So you can imagine how I felt when I was informed I was going to cover a private wrestling shoot in Canoga Park located in southern California where Kymberly, the Mick Jagger of female wrestling, was going to compete….err, I mean get dominated.
The location was a quiet one and when the cars pulled up, typical So Cal lifestyle, Kym hops out of a sports car. She's absolutely gorgeous. Forgive me for saying this word in a Kymberly article….seriously, seriously a ravishing beauty. She radiates long wavy black hair, porcelain skin, model like facial features, sensational lips and a perky personality.
She's the girl you went to high school with, in terms of making a pass you were gutless, fell in love with her at a distance and hope to see at your high school reunion so you can get some closure.
In the women's submission wrestling world, we all love Kymberly.
I would get a shocker that day. Kymberly competed well and actually won a match. Straight up, straight on whipping. Well shiver me timbers. Life continues to surprise. She also came up with another unique term for one of her opponents describing her as a "New Fish".
A paid professional model, Kymberly is listed as hailing from Garden Grove, California.
According to Wikipedia, Garden Grove is a city located in northern Orange County, California. The population was 170,883 at the 2010 U.S. Census. State Route 22, also known as the Garden Grove Freeway, passes through the city in an east-west direction. Garden Grove has the second-largest Vietnamese American population (47,331 (2010)) and second highest concentration (27.7%) of any city in the nation.
Garden Grove was founded by Alonzo Cook in 1874. A school district and Methodist church were organized that year. It remained a small rural crossroads until the arrival of the railroad in 1905. The rail connection helped the town prosper with crops of orange, walnuts, chili peppers and later strawberries. In 1933, much of the town's central business district was destroyed by the Long Beach earthquake, and one person was killed at the high school. The post-World War II boom led to rapid development, and Garden Grove was incorporated as a city in 1956 with about 44,000 residents.
Some well-known celebrities that are Garden Grove natives include the Pittsburgh Steelers football star, Troy Polamalu; A-List actor and comedian Steve Martin and the popular singer Dave Mustaine of the rock band Megadeth to name a few.
According to her bio at her modeling site, here are a few details about Kymberly:
* I have Tattoos (7)
* I think I'm Very Funny (FCI…you are Kymberly)
* I enjoy hanging upside down
* I talk too much (FCI…not as much as Penny in San Francisco)
* I thrive on spontaneity
* I tend to not take myself so serious..try it (FCI…Not easy but we'll try)
* I Drive everywhere!
* I Curse Like a Truck driver… (potty Mouth)
* I am a Painter… (Expensive worthless school)
* I am Short, Soft, and Smarter than you think I am. (FCI…She bought a house we're told)
* I LOVE what I do, and will continue until I'm Old and Grey.
[pullquoteleft] You don't worry about being liked. You have to be yourself.
…………..Vince Vaughn[/pullquoteleft]
Of course everyone has more sides to their personality than meets the eye. Previous research indicates Kymberly bought a home and appeared in two films. Part of the reason Kym receives so much work is that she honors her agreements, shows up to her shoots, is extremely easy to work with, provides a positive good time for all and the camera absolutely loves her.
Seriously.
In our quest to eventually bring the women's freestyle wrestling world and the women's submission wrestling world together in fierce competition, at this point in time fciwomenswrestling.com is aggressively focusing on the female submission wrestling world. Our thinking is one of the mistakes a person or group of people can make during this unpredictable journey is to take life too seriously. We enjoy meeting luminaries like Kym because they can help all of us find balance.
So, one day if you count all of the bones in your body and they are not totaling 206, check and see which ones are missing. We can't speak for all the others but if one is your funny bone, together let's take a drive to southern California.
I think we all know who has it.
~ ~ ~
[alert_yellow] Sources: fciwomenswrestling.com, modelmayhem.com, Wikipedia, Garden Grove chamber of Commerce, Kym's still photos thanks to Facebook, wrestling photos copyright fciwomenswrestling.com. Garden Grove photos thanks to Wikipedia Commons.[/alert_yellow]