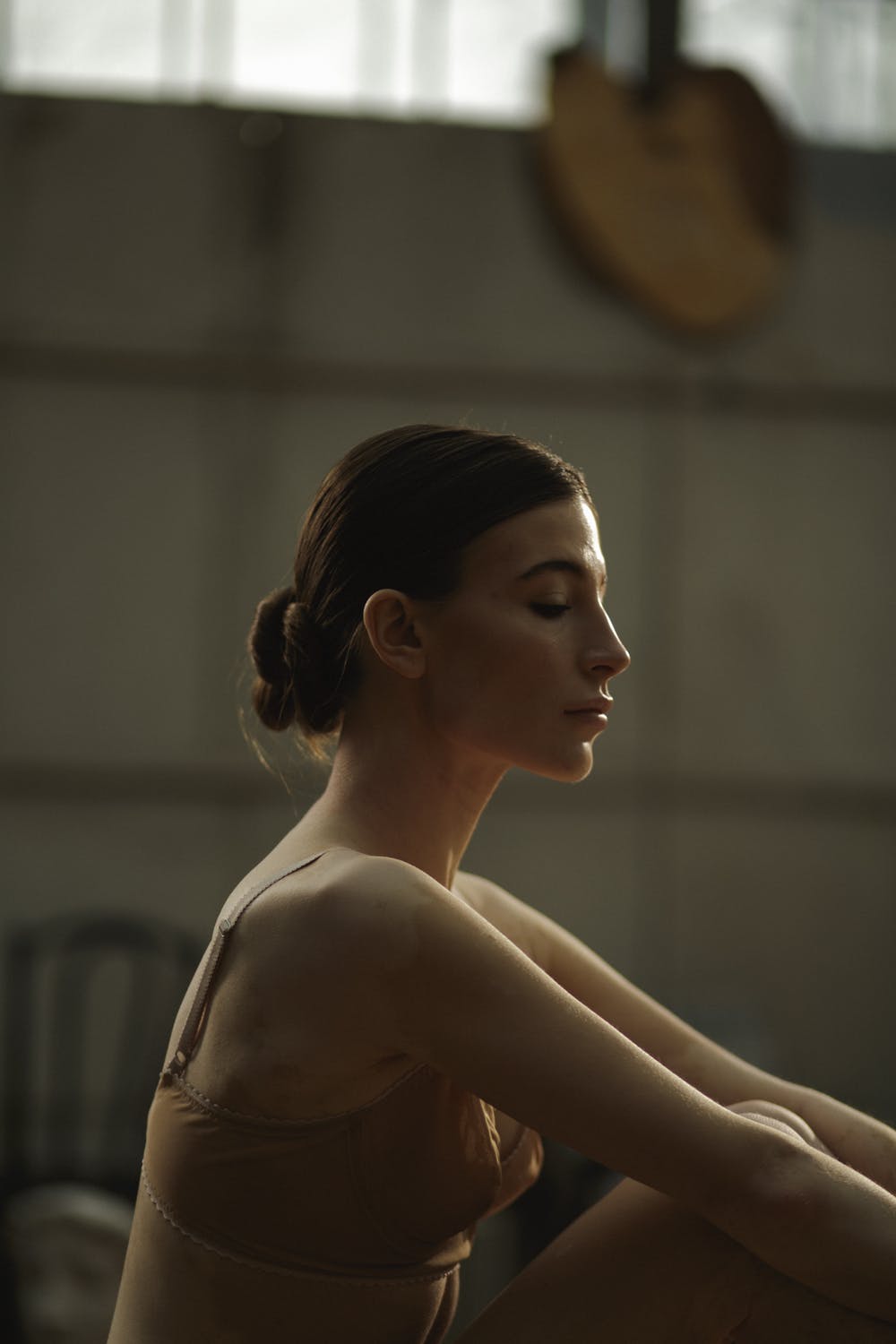 DWW's Kendra is the perfect example of if you at first don't succeed, try, try again.
Blessed with exotic beauty and a sweet feminine persona, Kendra stood out as a girl who was growing in skill on the wrestling mats and due to her unwillingness to quit, was respected by competitors, fans and reviewers alike.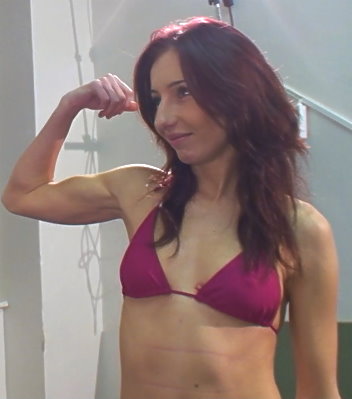 Her resume includes contesting Lucille, Anastasia, Leslie, Marketa, Paola, Mariella, Jana N and Lisa and others.
The reviews that speak to her energy are in. "This match is one of the traditional long sgpin matches with no counting but sgpins to a submission. We know that sgpin fans love these matches, particularly when there are long and dominating sgpins and a helpless but heavily struggling weaker women who doesn't accept to lose. This match falls exactly into this category. Leslie is strong and confident but Kendra just doesn't want to get humiliated. She fights back and even when close to tears she just doesn't want to admit of being the weaker woman and she gives Leslie and exciting match"
You can see based upon this review why it's easy to admire Kendra's spirit. Even in defeat she keeps fighting. Another reviewer enjoyed her wrestling as well.
"One of the enjoyable things about this match is that it involves two new faces. There is Paola, a 19-year old who is wrestling in her first match. Her opponent is Kendra. Although Kendra has much experience, this is also one of her first competitive wrestling matches. This match also lets you know that summer has arrived at DWW. Although wrestling on grass is very exciting, placing a mat in the middle of a beautiful, pastoral setting sends a very clear message: "We are here to wrestle"!!
The match begins with arm wrestling followed by a stare-down. Although this match is between wrestling novices, there were many aggressive takedowns, and several skill moves were displayed. Surprisingly, both wrestlers were very skilled at applying a grapevine hold. Fans of this hold will especially enjoy seeing not one, but two 10-second grapevine pins! That does not happen very often.
Those who enjoy watching a "turnabout" or "revenge" situation will especially enjoy watching how the body scissors is used. One wrestler who was forced to submit to a crushing body scissors came right back in the next fall and put the same hold on her opponent. The look on her face indicates that she enjoyed giving her opponent a "taste of her own medicine."
One sure sign that both wrestlers are novices is the fact that neither one has developed a high threshold for pain when they are put in a submission hold, nor have they learned countermoves for when they are put in a pinning situation. As a result this 20-minute match has 13 falls! That might be a record. Both women wrestled with enthusiasm and both were very intent on winning. Those facts made this a very enjoyable match."
Ah, he speaks of wrestling in the great outdoors and how he enjoyed the DWW girls wrestling on the grass and the beauty of summer.
Summer in Austria where the majority of DWW matches took place is a wonderful time. This park like country provides bountiful recreation from the mountains and rolling hills to one of my favorite summer getaways, the calm lake.
Kendra clearly loved competing outdoors so encouraged by her, let's travel there.
The very nice site austria.info provides us with a large beach towel and introduces us to some of the beautiful, serene bathing lakes in the region.
Mountain Beach

Gaschurn in Montafon offers its visitors a special attraction: two giant 7,000m² eco-pools at 800m above sea level. Absolutely no chemicals are used at the "Mountain Beach" to keep the water clean; this "task" is left to special plants and micro-organisms instead. Lilo rafting, diving platforms, a climbing wall, miniature gondola, water slide, Kneipp facilities, outdoor toys, a large sunbathing lawn, resting zone, beach volleyball, merry-go round and eateries complete the extensive facilities that await.
Further information: www.montafon.at 
Natural Bathing Lake Alvier

The Natural Bathing Lake Alvier is located in the charming landscape of the town Brand. The excellent water quality is achieved through a regeneration area with several thousand water plants that purify and filter the water.
Further Information: www.brandnertal.at
Lake Achensee
A natural lake created by glaciers with a surface area of 719 ha, activities at Lake Achensee include swimming, surfing, sailing, rowing, diving, fishing and cruises. There are two bathing areas – the North and the Schwarzenau. Here you will find kiosks, camping grounds with restaurants, pedal boat rental and accommodation across all categories. On top of this, there is an average water temperature of 19°C.
Bathing Lake Going
The 15,000m² Bathing Lake Going offers a wide variety of outdoor recreational activities. Fun is guaranteed shooting down the longest open-air water slide in Tirol (100m), plus there are tunnels and crossings, a water playscape, kids' park with pirate ship, sand pits and plenty more play facilities. The revamped shores and new walking and cycle paths blend perfectly with the beautiful surroundings. Other facilities include a 50,000m² sunbathing lawn, large playground, snack stand, hot showers and beach volleyball. The lake, which is fed by springs from the Wilder Kaiser Mountain Range, was named Tirol's most beautiful natural swimming lake by an international jury. In summer, families can enjoy 24°C warm water and the beach that has a separate area for children and non-swimmers.
Lake Plansee

Lake Plansee is Tirol's second largest lake and also one of its cleanest, with grade A quality water. It offers a bathing area, camping grounds, Hotel Forelle, Hotel Seespitz and boat rental. The average water temperature lies around 21°C.
Lake Thiersee

This is one of the cleanest lakes in the whole of Austria and, with water temperatures reaching 24°C, the Thiersee is also one of Tirol's warmest. Bathing areas, a beach café, kiosk, Hotel Charlotte, camping grounds, boat rental, beach volleyball, table tennis, a diving tower and Aqua-Jump await.
Thank you Kendra for inspiring a visit to another of Austria's outdoor marvels. So many memories can be made lying on the safety of the lake, out in the sun with a picnic basket and a towel along with family and wonderful friends.
Kendra is another example of why Female Competition International feels that everyday women should enjoy wrestling without having the pressure of being a top star. They still inspire us.
Sometimes being able to lie under the stars in the summer at a calm bathing lake is inspiration enough.
~ ~ ~
http://www.austria.info/uk/nature-recreation/bathing-lakes-in-carinthia-1136410.html
Some may find other women's wrestling sites erotic in nature. If you are offended by depictions of women wrestling in erotic situations, please exercise caution in visiting women's wrestling sites.
Femcompetitor.com subscribes to fciwomenswrestling.com news source, no affiliation.
Sources: brainyquote.com, Wikipedia, fciwomenswrestling.com, fciwomenswrestling2.com, FCI Elite Competitor, femcompetitor.com, photos thank you Wikimedia Commons.