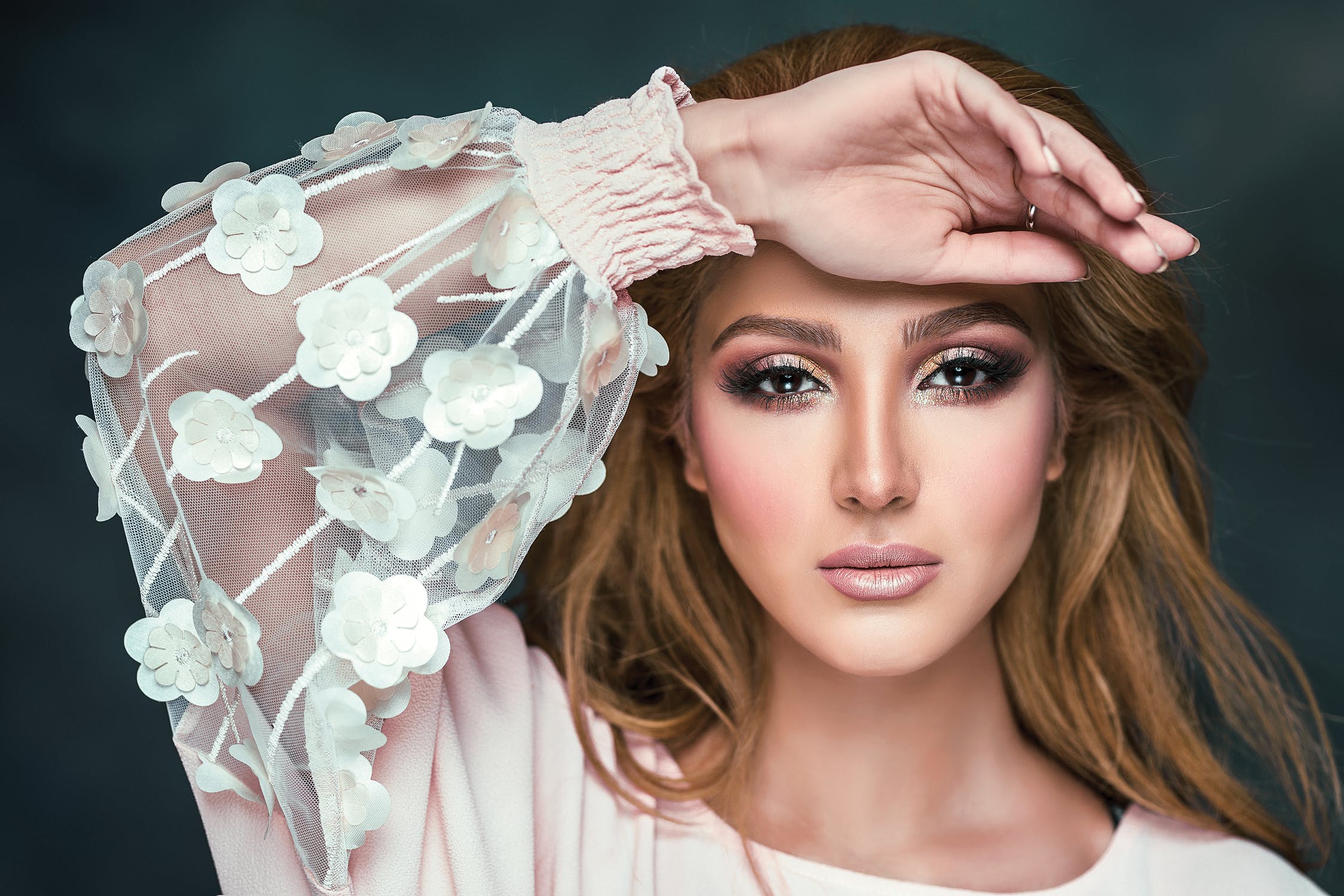 So much about how far and wide we go in life depends upon the mentor we had when we are young and inexperienced.
The magical golfer tiger Woods is quoted as saying, "My dad was my best friend and greatest role model. He was an amazing dad, coach, mentor, soldier, husband and friend.
DWW's Wendy had one of the best mentors and friend of influence in the global female submission wrestling world in the beautiful Czech Princess, Luzia the Great.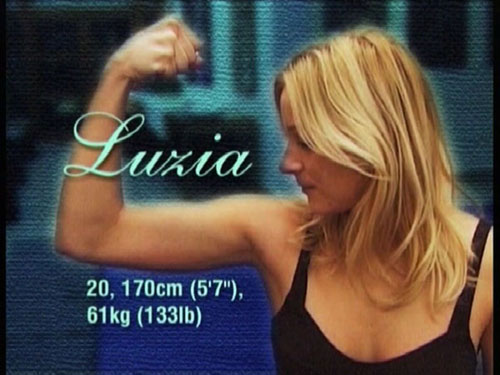 Her influence can be seen when Wendy faced a tough competitor in Antonia.
DWW's Antonia – A Beautiful Farm Girl In The Land Of Plenty ( femcompetitor.com/?p=1486)
Wendy's signature match was against Antonia outside on the grass wearing blouses and cutoffs, the two went at it like tigresses. I was impressed with Wendy's stature, fearlessness and aggression. Other reviewers are impressed as well.
Wendy – Euro Star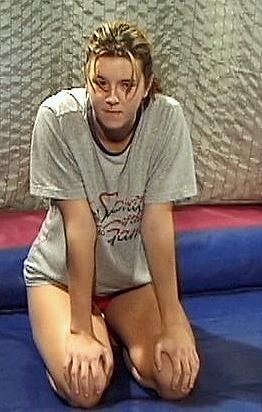 "This is a very intense wrestling match on the mat between Luzia's best friend Wendy and Antonia, both wrestling in front of their team mates. There are lots of cruel scissors and there is also very emotional and aggressive wrestling, all filmed at a private event in 1999. The emotions in this match are such high that one girl sheds some tears in the end. Much recommended for fans of submission wrestling!"
Here is Wendy's review against the long time DWW tall titan Barbara.
"This is a match from a year 2000 indoor event between Barbara and Luzia's best friend Wendy. The match is for sgpins to a count of 10 only. Both women are tall and strong and you'll see some quite long and enthusiastic SGPINs on both sides. If you love sgpins and tall and powerful women matching it out, then this match will is a collector's classic for you !
This is an impressive match between two very tall big strong girls. Physically both girls seem almost equal. But Barbara is significantly heavier and takes advantage of this. Without being better is more effective. She straddles Wendy and takes the point making it look very simple. Wendy is a very beautiful girl. She struggles under heavy Barbara but she can't escape."
The good news is that Wendy did not give up. She needed that fortitude especially when she faced one of my all-time DWW tanned shapely feminine gladiators in Ilona.
"This is some great powerful grass wrestling between two very strong women who were at their prime back in the year 2000 ! Ilona and Wendy! Wendy is a tall and strong woman who had learnt all her wrestling skills from Luzia as she was Luzia's best friend. Ilona is older than Wendy and she had started much earlier with wrestling and therefore she's got more experience than Wendy. This is some tough and hard wrestling and they both don't care about the natural surface and they are fighting as if they were both on a smooth mat. Fantastic power wrestling for those of you who love strong and fit women!"
I love a strong, fit woman. Don't you?
There is much more to love about the adventurous Wendy. It's in her name which means wanderer. The incisive naming site sheknows.com continues. "People with this name have a deep inner desire for travel and adventure, and want to set their own pace in life without being governed by tradition.
People with this name are competent, practical, and often obtain great power and wealth. They tend to be successful in business and commercial affairs, and are able to achieve great material dreams. Because they often focus so strongly on business and achievement, they may neglect their private lives and relationships."
Well, all of that sounds good and Wendy certainly did not neglect her friendship with the beautiful Luzia. There are a few other things Wendy did not neglect as well.
Her favorite food is a nicely cooked steak and her desired drink is the vitamin C filled orange juice. Along with competitive wrestling, she loves basketball, music and the theater.
Ah, my favorite time. It's time to travel once again.
What is theater life like in the Czech Republic?
The National Theatre (Czech: Národní divadlo) in Prague is known as the alma mater of Czech opera, and as the national monument of Czech history and art.
The National Theatre belongs to the most important Czech cultural institutions, with a rich artistic tradition which was created and maintained by the most distinguished personalities in Czech society. This tradition helped to preserve and develop the most important features of the nation–the Czech language and a sense for a Czech musical and dramatic way of thinking.
Today the National Theatre consists of three artistic ensembles–opera, ballet and drama–which alternate in their performances in the historic building of the National Theatre, in the Theatre of the Estates and in the Kolowrat Theatre. All three artistic ensembles select their repertoire not only from the rich classical heritage, but in addition to local authors they focus their attention on modern world output.
Thank you Wikipedia. You knew all of that already, right?
The enjoyable site prague-guide.co.uk is going to explain a few things to us about Czech theater life that we didn't know.
"There are more than 40 theatres in Prague. Apart from big theatres with a classical repertoire, there are smallish theatres – these came into existence mostly in the sixties of the last century to criticize the totalitarian regime, and they have been playing the role of critics and innovators ever since. There are also several new experimental theatres in Prague, such as the Black Theatre or the Pantomime Theatre.
One of the most popular theatres amongst visitors in Prague is the 'black light theatre' (visual trickery created by 'invisible' actors dressed in black). It is hybrid of mime, puppetry and drama. Another popular theatre is puppetry and marionette, suitable for both children and adult (Czech performances are some of the best in the world with legendary Spejbl & Hurvinek from Josef Skupa).
The most fabulous of all Czech theatres is The National Theatre in Prague that became the symbol of the Czech national revival period. Financial means for its construction had been raised through a nation-wide public collection. Building works began in 1868 according to the plans of architect J. Zitek. However, in 1881, just as its construction was finally nearing to its end, the theatre burnt out. The reconstruction took two years and on November 18, 1883 the National Theatre was inaugurated with the Czech opera Libuše composed by Bedřich Smetana. Decoration of both exterior and interior is a work of leading Czech artists M. Aleš, F. Ženišek, V. Hynais, J.V. Myslbek and others."
Let's all stand together and say "BRAVO".
We all can certainly applaud Wendy's energetic wrestling. It was also good to know that she has friends in high places. There is no better friend and trainer in the women's submission wrestling world than Luzia. A great mentor can bring out the best in us and in terms of Wendy's wrestling, Luzia's influence certainly showed.
~ ~ ~
Some may find other women's wrestling sites erotic in nature. If you are offended by depictions of women wrestling in erotic situations, please exercise caution in visiting women's wrestling sites.
Femcompetitor.com subscribes to fciwomenswrestling.com news source, no affiliation.
Sources: brainyquote.com, Wikipedia, fciwomenswrestling.com, fciwomenswrestling2.com, FCI Elite Competitor, femcompetitor.com, WB270.com, dwwgalaxy.com, photos thank you Wikimedia Commons.
http://www.sheknows.com/baby-names/name/wendy
http://www.prague-guide.co.uk/articles/theatres-in-prague.html