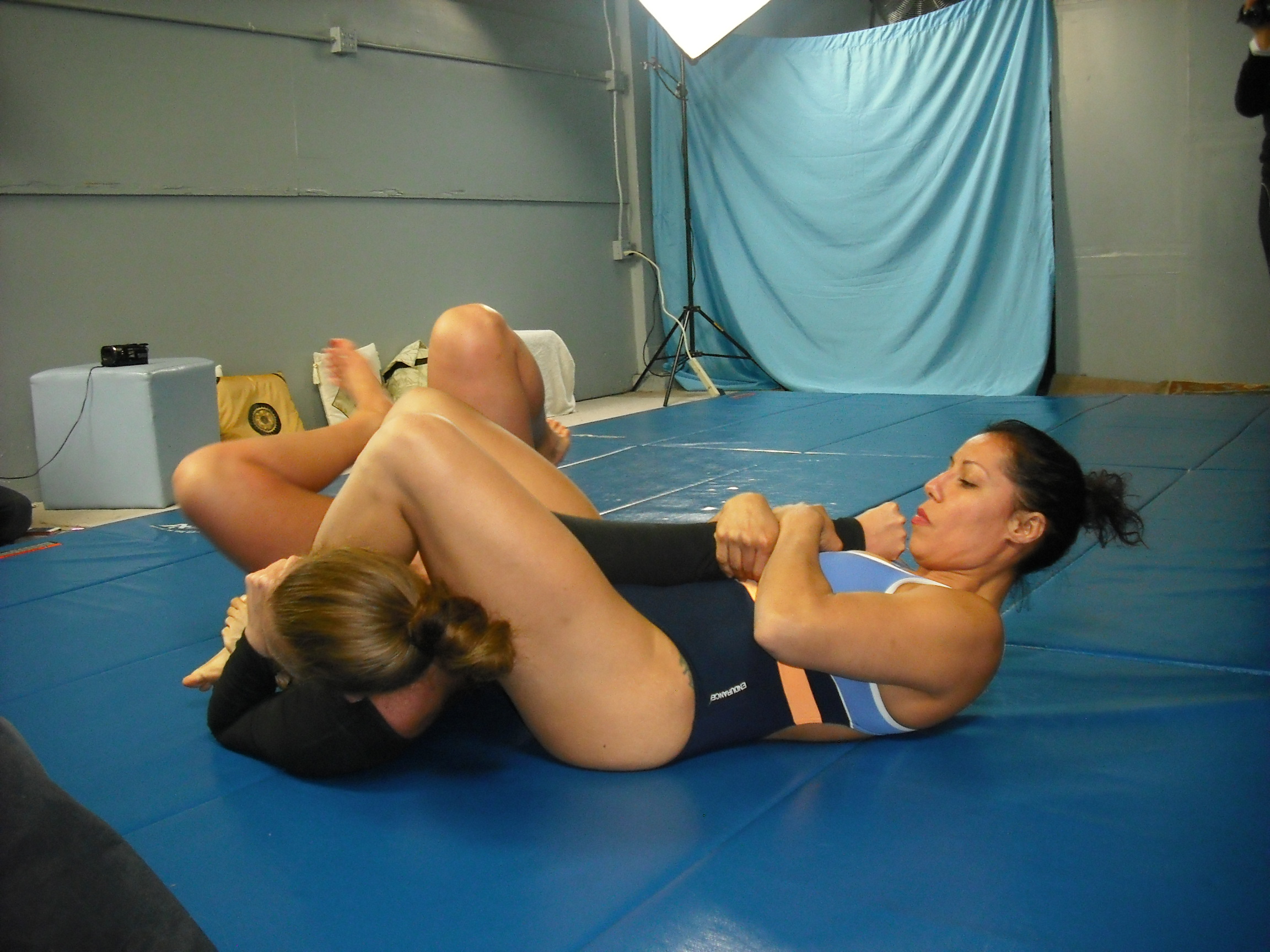 Watching two shapely gorgeous girls grapple furiously can work up an appetite for both you and them.
When the shapely FeFe and those sensational strong bike riding legs met Isamar in San Jose, it was such an erotic energetic match that confirmed female grappling is one of the best sports in the world.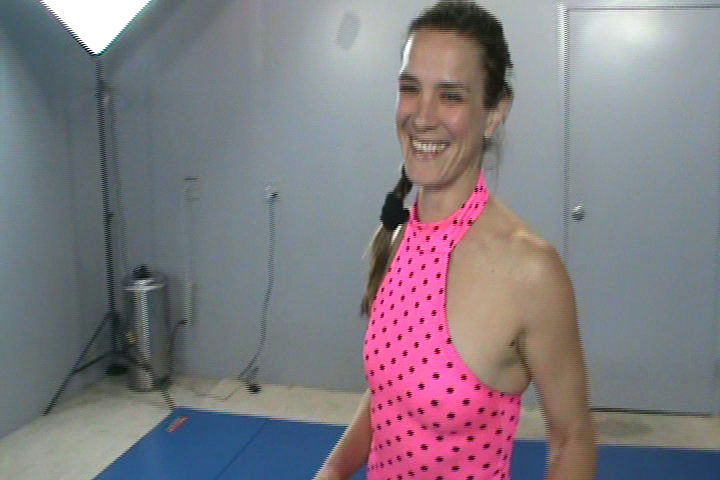 fciwomenswrestling.com article, femcompetitor.com photo credit
Here is the San Francisco Grappling Stars Producer's build up. "Isamar is the champion. We get that. But over time, even a champion can have a bad day. On this day, FeFe's confidence is rising after her matches with Daisy Ducati, Penny (Ms. Money Penny) Barber and her surprising domination of the feminine, curvy, beautiful Bella Rossi. Here she takes on the champion and both are ready for battle. Isamar is always sexy in a tight black bathing suit but FeFe in her pink body hugging bathing suit that shows off her powerful thighs in leg struggle is to for. This is one great match. Enjoy."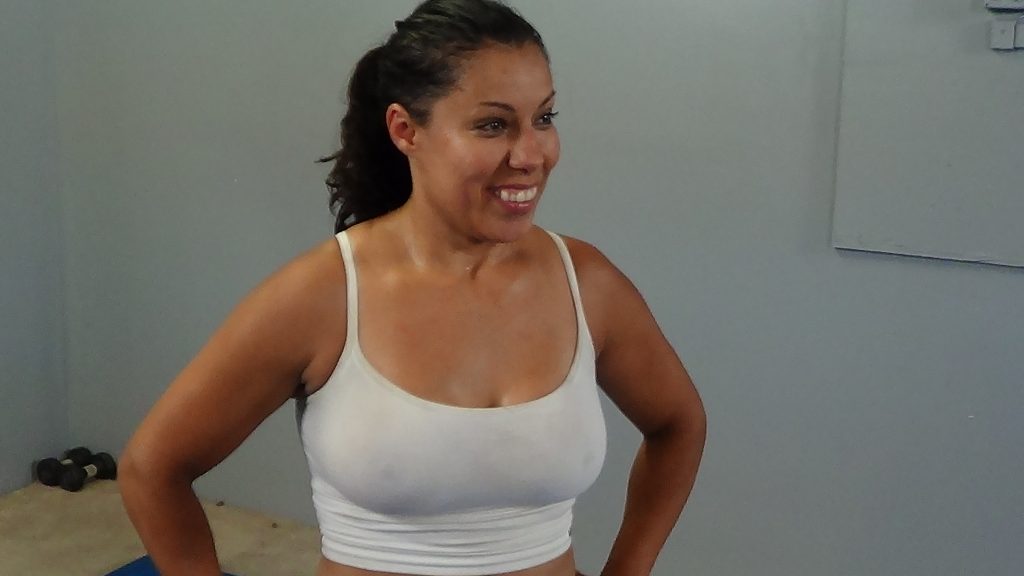 fciwomenswrestling.com article, femcompetitor.com photo credit
We did indeed enjoy it.
What we would have loved afterwards was some take out brought to us.
This brings to mind the benefits of those timely Food Trucks, otherwise known as restaurants on wheels.
San Francisco has a little bit of everything and great Food Trucks that aim to please are in abundance.
The makings of a perfect day are watching a female grappling match like FeFe vs Isamar and then stopping for a break to have lunch at a San Francisco Food Truck.
We have a guest female writer who agrees.
San Francisco Food Trucks and Food Carts: The Best of the Best
By Rebecca R 
As in most other big cities, the gourmet food truck and food cart trend is in full swing here in San Francisco. It's pretty surprising, too, considering the fact that San Francisco has yet to change it's legislation to better accommodate this rising food trend, like other cities have. But maybe all the struggle and determination required to open up a food truck in San Francisco makes the food that much better!
Here are some of the most popular gourmet SF food trucks and carts, along with their twitter names so you know where to find 'em:
* One of the most popular is the one-man-operation, the Crme Brle Cart. He serves warm and uniquely-flavored crme brles, such as Mexican Chocolate, Lavender and Honey Vanilla. Follow him at @cremebruleecart.
* Another staple is the Magic Curry Kart. You wouldn't expect such delicious chicken & vegetable curry to come from a little cart covered with neon lights, but it does! And, if you bring your own bowl, you get a discount. @magiccurrykart
* Probably the most gourmet food truck, Spencer on the Go!, is side project of the French restaurant Chez Spencer. They serve a twist traditional French fare like escargot "lollipops," grilled sweet breads and ratatouille. Follow them at @chezspencergo.
* The Chairman Bao Bun Truck serves gooey steamed (and interestingly, baked) Chinese buns and omelettes. Fan favorites include the Pork Belly with Pickled Daikon bun, and the Chinese Sausage and Egg Sandwich with Hoisin. @chairmantruck.
And if you can't decide which food cart to try out, try them all! A new foodie tradition recently started up called Off The Grid — a collection of Street Food markets around the Bay Area. Each market features at least five vendors and often some live music. They currently have three weekly locations: the Fort Mason Center, the Upper Haight and Civic Center. More info at http://www.sfcartproject.com/archives/824.
Rebecca R is the founder of Inhabit Vacations, a travel company that discovers hip, unique vacation rentals with local flavor — and collects them online.
They currently have vacation rentals in the Sonoma Wine Country and San Francisco. For more tips on either of these areas, check out Inhabit's blog at http://blog.inhabitvacations.com.
~ ~ ~
http://ezinearticles.com/?San-Francisco-Food-Trucks-and-Food-Carts:-The-Best-of-the-Best&id=5154936
Article Source: http://EzineArticles.com/expert/Rebecca_R/582484
Article Source: http://EzineArticles.com/5154936