[intro] Hana of DWW fame was one of the best wrestlers of her time period.[/intro]
It was an unusual story that grazed upon important life lessons which featured Sean Connery in an unconventional way as mentor monk and masterful detective who traveled to a monastery with his apprentice to investigate a series of grisly murders involving other monks during the dark ages.
While the film had its strengths, when first viewed, the scene that captivated me most, now three decades ago, was the final one where after the mysteries were solved and the master and apprentice were departing, the younger detective played adeptly by Christian Slater has a life altering decision to make.
There standing by the side of the road on the pathway out is a young beautiful girl trapped in unfortunate circumstances that as the young apprentice's possible first love and romantic experience, yearns to be whisked away by him to live a new life.
He hesitates but decides to follow his master and leave what may be his life's only true love behind. Though he says he has none, later with regret he sadly peers back into his past thinking about the road not taken.
When I first saw the film, I disagreed with him but after 30 years of sometimes harsh life experiences where false love sometimes dresses up in many illusionary costumes I now strongly feel he made the right decision.
People with different value systems should not be together.
The one with lower standards will only bring bad things into your life. You will not change them. They have to want to change themselves and they virtually never do; turning your once stable life into a lurid nightmare in the process. The 1930 German tragedy "The Blue Angel", speaks well to this where a professor meanders where he shouldn't, falls in love and begins to descend into madness.
Hana of DWW fame listed "The Name of The Rose" as her favorite film.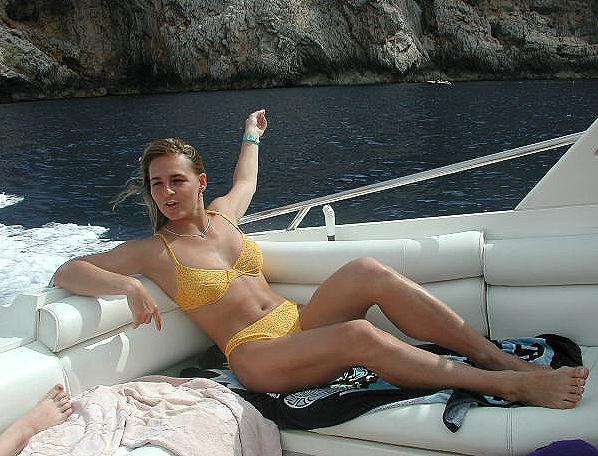 Hana is one of my favorite female submission wrestlers of all time.

When I watched the DWW female warriors of the 1990's, the word impressive was an understatement. They were the epitome of what good solid, competitive submission wrestler should be about. As a group they were arguably the best in the world sometimes inviting formidable guests to their camp to compete or they traveled across the ocean to meet the best in the United States as they did jousting with the girls from Catfighthaven and competing at Jackpin's earlier Convention in San Diego.
In my opinion, pound for pound Hana was the best DWW wrestler ever.
In those days there was a sizable talent list that included the blond princess Luzia, the policewoman Petra, Kriszta, Edita, Dagmar, Ingrid, Denise, Vera, Jana, Eva and many more.
Hana's matches can easily be viewed online but to save you time, by way of suggestion there were two that really stood out for me.
The first is Hana vs Momo at Jackpin's trophy convention. The tape release explains it well at the DWW site.
EU-59 … Women Wrestling Convention 1998 – DWW vs. USA
"DWW's matches, especially those between DWW girls and the USA girls from Virago became soon very famous amongst all fans in San Diego. We thought that we have to present you this tape ASAP. Ambition was great and the top US wrestlers wanted to proof that they were as good as the ones from DWW. Great action and great straight wrestling skill presented by some of the best wrestlers of the world. You will see plenty of fairness and sportswomanship plus very good wrestling action in this tape. Don't miss it if you like watching strong hard bodies from two continents taking on each other."
The other is a contortionist's delight where Hana meets the respected Dagmar and the two go at it in a private studio, bodies at times bent like pretzels, in sensuous fierce non-nude action.
[pullquoteright] "You're simply the best, better than all the rest. Better than anyone, anyone I've ever met"…Tina Turner[/pullquoteright]
Understandably Hana is enshrined in the DWW Hall of Fame. There they state, "When deciding who belongs in the DWW Hall of Fame you have to start with Hana and then go from there.
She was DWW's first "Superstar" and her natural, athletic, textbook style of wrestling set the standard for all the girls that followed.
Hana and Nadege are the two most natural female wrestlers I've ever seen.
Her last appearance on the wrestling mats was at the '99 Summer Event where she won a 4 girl round robin with Luzia, Dagmar and Kriszta where she won all 9 falls.
She then retired to allow the younger girls to take center stage and became a "mentor" to all the girls that followed.
To summarize DWW success over the years who could say that Hana opened the door and brought us in, then Luzia, Eva, Jana and other came in and locked us in.
But Hana set the standard and all new girls wanting to try their hand at wrestling should be given some Hana videos and be told to……."go study"
Thank you DWW.
[pullquoteleft] To create something exceptional, your mindset must be relentlessly focused on the smallest detail……..Giorgio Armani[/pullquoteleft]
According to their site the DWW group was primarily formed in the Vienna, Austria area.
The information foundation site Wikipedia informs, "Vienna is the capital and largest city of Austria, and one of the nine states of Austria. Vienna is Austria's primary city, with a population of about 1.757 million (2.4 million within the metropolitan area, more than 20% of Austria's population), and its cultural, economic, and political center.
It is the 7th-largest city by population within city limits in the European Union. Until the beginning of the 20th century it was the largest German-speaking city in the world, and before the splitting of the Austro-Hungarian Empire in World War I the city had 2 million inhabitants.
Today it is the second only to Berlin in German speakers.
Vienna is host to many major international organizations, including the United Nations and OPEC. The city lies in the east of Austria and is close to the borders of the Czech Republic, Slovakia, and Hungary. These regions work together in a European Centrope border region. Along with nearby Bratislava, Vienna forms a metropolitan region with 3 million inhabitants. In 2001, the city center was designated a UNESCO World Heritage Site.
Apart from being regarded as the City of Music because of its musical legacy, Vienna is also said to be "The City of Dreams" because it was home to the world's first psycho-analyst – Sigmund Freud.
The city's roots lie in early Celtic and Roman settlements that transformed into a Medieval and Baroque city, the capital of the Austro-Hungarian Empire.
In a 2005 study of 127 world cities, the Economist Intelligence Unit ranked the city first (in a tie with Vancouver, Canada) for the world's most livable cities (in the 2012 survey of 140 cities Vienna was ranked number two, behind Melbourne).
Each year since 2005, Vienna has been the world's number one destination for international congresses and conventions. It attracts about five million tourists a year."
The widely followed travel site, lonelyplanet.com summarizes, "Vienna is packed with imperial history; at the same time it has exciting contemporary museums, lively eating and nightlife scenes, and many quiet corners to explore."
What I loved as a customer about DWW in the 1990's during the excruciating days of video by snail mail as the only way to receive an order, was that they were very professional, provided exceptional customer service and responded quickly if you had concerns.
What this writer appreciated as well was the classy way the DWW competitors wrestled. For me there has been an evolvement from a quiet fan to a writer for fciwomenswrestling.com to a producer of matches as well.
One of the things that is a pet peeve for me when I wear my producer's hat is when two female competitors are fiercely going at it, one begins to lose and she invariably starts laughing and talking, complimenting and engaging in challenge chit chat.
It's a match killer.
The DWW warriors just wrestle. In all of the myriads of matches I watched where Hana competed, I never saw her do that. She displayed grace in victory or rare defeat.
Some competitors demonstrate the mastery of what female submission should be while others displayed the exceptional skillsets that envisioned what it could be. Clothed in the magic and aura of the elite DWW craftsmanship of her time period, Hana excelled at both.
~ ~ ~
[alert_blue] DWW's site may be described as erotic. If you find erotic women wrestling to be offensive, please do not visit the site.
Femcompetitor.com subscribes to fciwomenswrestling.com news source. No affiliation.
Sources: brainyquote.com, www.dww.at/movies, fciwomenswrestling.com, rottentomatoes.com, rogerebert.com/reviews, www.dww.at/dww/halloffame, Tina Turner – Simply The Best Lyrics | MetroLyrics, Wikipedia, lonelyplanet.com, photos thank you DWW and Wikimedia Commons.
[/alert_blue]