Halle Berry, Valentina Shevchenko Get Bruised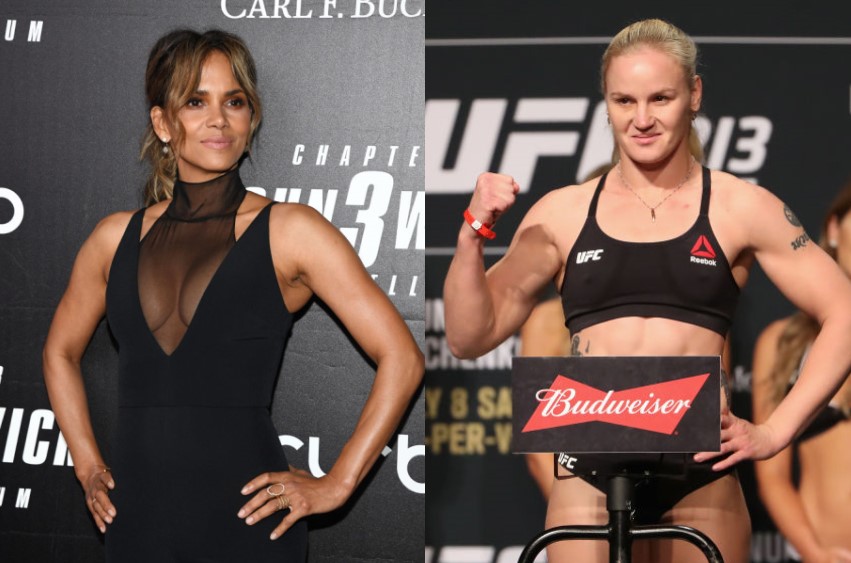 August 14, 2020,
Quiet on the set. Where is the stunt double? Did what we thought we saw happen, really happen?
Please say no.
Did someone at least shout that during the filming of "Bruised" where the A-List star Halle Berry got bruised up pretty bad herself?
No wonder.
She was going up against MMA-UFC super star Valentina Shevchenko.
Don't worry. They weren't going full speed but as many female MMA fighters know, even when Valentina isn't going full speed, it's like running into a Mack Truck, full on.
Already sounds like the makings for a credible fight film.
Here is the storyline for the film Bruised found at IMDb, "Jackie "Justice", a disgraced MMA fighter who has failed at the one thing she's ever been good at fighting. When 6-year-old Manny, the son she walked out on years ago, returns to her doorstep, Jackie has to conquer her own demons, face one of the fiercest rising stars of the MMA world, and ultimately fight to become the mother this kid deserves."
Sounds intriguing. Usually when there are movies featuring an MMA star like Valentina, they are of the B-Movie variety and receive little mainstream notoriety. That will change with Bruised.
Halle seems to be taking one for the team. The film is getting a lot of positive buzz.
The United Kingdom news and information source metro.co.uk shared, "The Oscar-winning actress emerged on the Bruised movie set in New Jersey on Tuesday and appeared to be in good spirits as she chatted with the production crew in the middle of a break from filming a scene. However, it was hard to miss the large dark coloured bruise under Halle's left eye, which appeared to be part of her character's make-up given she was in the midst of filming a scene. The actress wore a pair of boxing gloves and looked more than ready for action."
The global sports network espn.com added, "Berry, the Hollywood A-lister, said Tuesday on "The Tonight Show" that she "broke some bones" during a movie fight scene last year with Shevchenko, the UFC women's flyweight champion. Berry enlisted Shevchenko's help for the upcoming mixed martial arts movie "Bruised," which Berry also directed. Berry plays the lead role and Shevchenko helped train her, in addition to being in the film."
Understandably Halle was extremely impressed with her co-star.
All is good between the two stars as ESPN also shared Ms. Berry noted the referee for their fight scene was an actual MMA referee and he told her that at times it felt like she and Shevchenko were actually going at it.
Ms. Berry and Shevchenko have remained friends and Halle was in attendance to support Shevchenko at UFC 247 in February. On that card, Shevchenko defended her title by beating Katlyn Chookagian by TKO.
Halle is well-known for giving it her all on the set just like Valentina does in the ring.
Our gorgeous luminary won the Academy Award for Best Actress for her performance in the romantic drama film Monster's Ball (2001).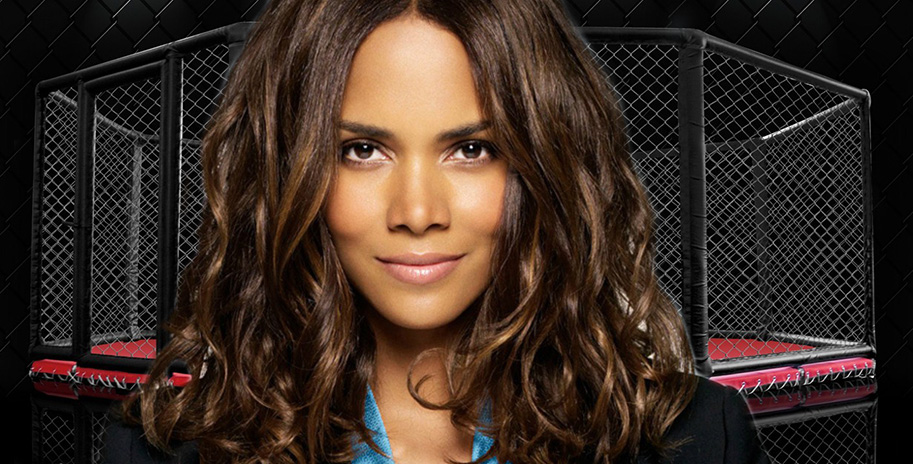 Before becoming an actress, Ms. Berry was a model and entered several beauty contests, finishing as the first runner-up in the Miss USA pageant and coming in sixth in the Miss World 1986.
Her breakthrough film role was in the romantic comedy Boomerang (1992), alongside Eddie Murphy, which led to roles in films, such as the family comedy The Flintstones (1994), the political comedy-drama Bulworth (1998) and the television film Introducing Dorothy Dandridge (1999), for which she won a Primetime Emmy Award and a Golden Globe Award.
In addition to her Academy Award, Halle garnered high-profile roles in the 2000s, such as Storm in X-Men (2000), the thrillers Swordfish (2001) and Gothika (2003), and the spy film Die Another Day (2002), where she played Bond girl Jinx.
She then appeared in the X-Men sequels, X2 (2003) and X-Men: The Last Stand (2006). In the 2010s, she has featured in the science-fiction film Cloud Atlas (2012), the crime thriller The Call (2013) and the action films X-Men: Days of Future Past (2014), Kingsman: The Golden Circle (2017) and John Wick: Chapter 3 – Parabellum (2019).
Our beautiful and tough thespian has been extremely busy.
Being busy in Hollywood has its rewards. Halle was one of the highest-paid actresses in Hollywood during the 2000s.
As for her co-star, Valentina Shevchenko is a Kyrgyzstani-born Peruvian professional mixed martial artist and former Muay Thai fighter.
She competes in the women's flyweight division of the Ultimate Fighting Championship (UFC), where she is the current Women's Flyweight champion.
Ms.  Shevchenko became champion at UFC 231 after defeating Joanna Jędrzejczyk, whom she also previously defeated three times in amateur Muay Thai bouts. Shevchenko is widely considered one of the best female fighters in the world. As of March 9, 2020, she is ranked #3 in UFC women's pound-for-pound rankings.
Ms. Shevchenko was born in Frunze, Kirghizia, USSR on March 7, 1988, into a Russian family with Soviet, and later Kyrgyzstani, citizenship.
After becoming interested in combat sports at an early age, she began Taekwondo at age 5, under the influence of her older sister Antonina and her mother, who had practiced the sport.
At age 12 she branched out into Muay Thai kickboxing and then freestyle Vale Tudo.
Her kickboxing career began in 2000 when, also at age 12.
Twelve? That seems a little young until you hear what she did.
Valentina knocked out a 22-year-old opponent, earning her the moniker "Bullet" from her trainer Pavel Fedotov because of her speed in the ring.
She and Halle have something else in common.
Ms. Shevchenko earned an undergraduate degree in Film Directing from the University of Arts Kyrgyzstan.
Very impressive resume.
In terms of her fighting style, a decorated kickboxer, Ms. Shevchenko is primarily known for precise counter-striking.
She is recognized for her exceptional ability to gauge the distance of an opponent's attack, then retaliate with a variety of counterattacks.
In a 2017 interview, Shevchenko noted the challenges of perfecting this technique in mixed martial arts: "It's different to fight a wrestler and stand-up fighter. To feel the distance of her punch, it's different."
Well, when a Hollywood movie star can feel the distance of her punch and live to walk and talk about it, that is one film that makes our must see list.
Halle Berry and Valentina Shevchenko. Sounds like a winning combination.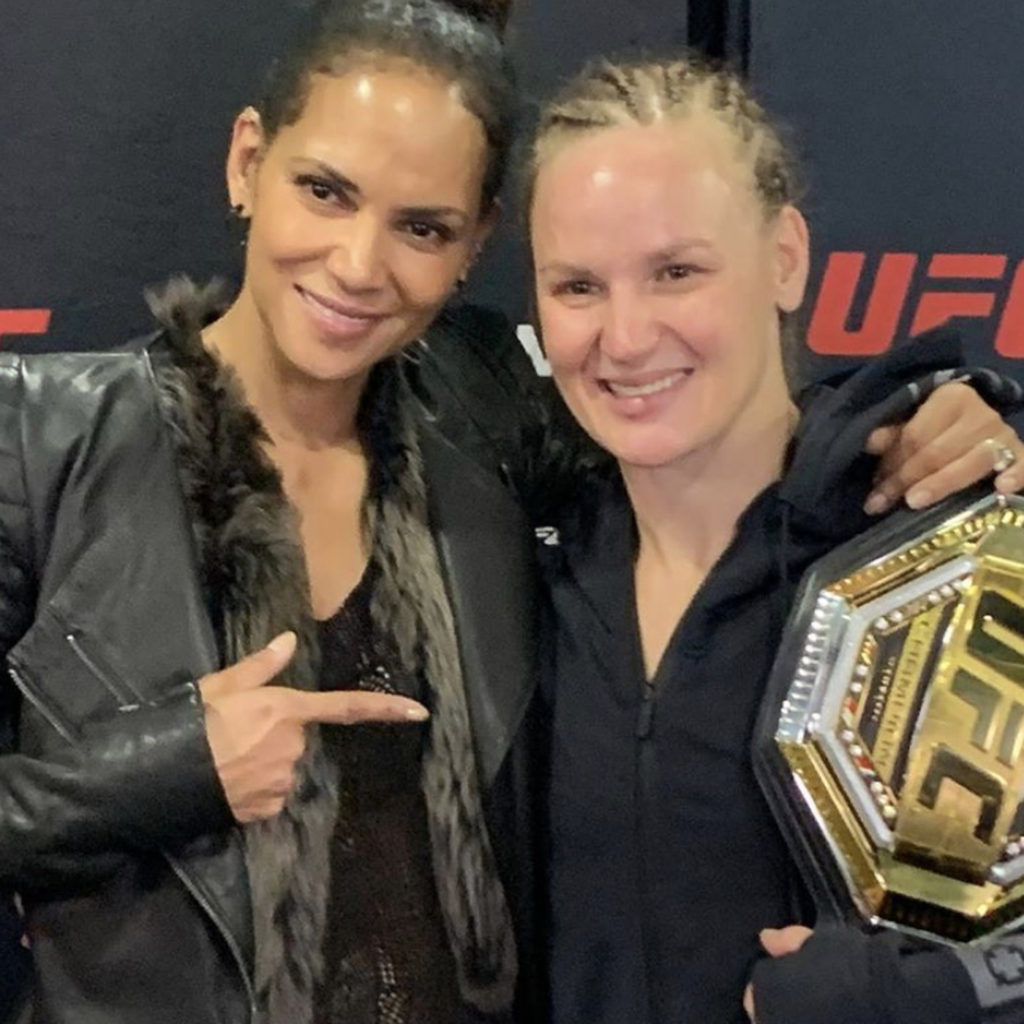 ~ ~ ~
OPENING PHOTO fciwomenswrestling.com, grapplingstars.com femcompetitor.com fci women sports, photo-via-Washington-Post.
https://en.wikipedia.org/wiki/Valentina_Shevchenko_(fighter)
https://www.imdb.com/title/tt8310474/plotsummary?ref_=tt_ov_pl
https://metro.co.uk/2019/11/26/halle-berry-emerges-swollen-bruised-eye-set-mma-movie-injury-fight-scene-11224297/
https://www.espn.com/mma/ufc/story/_/id/29084611/halle-berry-valentina-shevchenko-broke-some-bones-movie-fight-scene
https://en.wikipedia.org/wiki/Halle_Berry
https://fciwomenswrestling.com/
https://www.fcielitecompetitor.com/