Glory To Ancient Rome, Gladiatorial Femwrestle Classics, Kyra Vs Ola, Antscha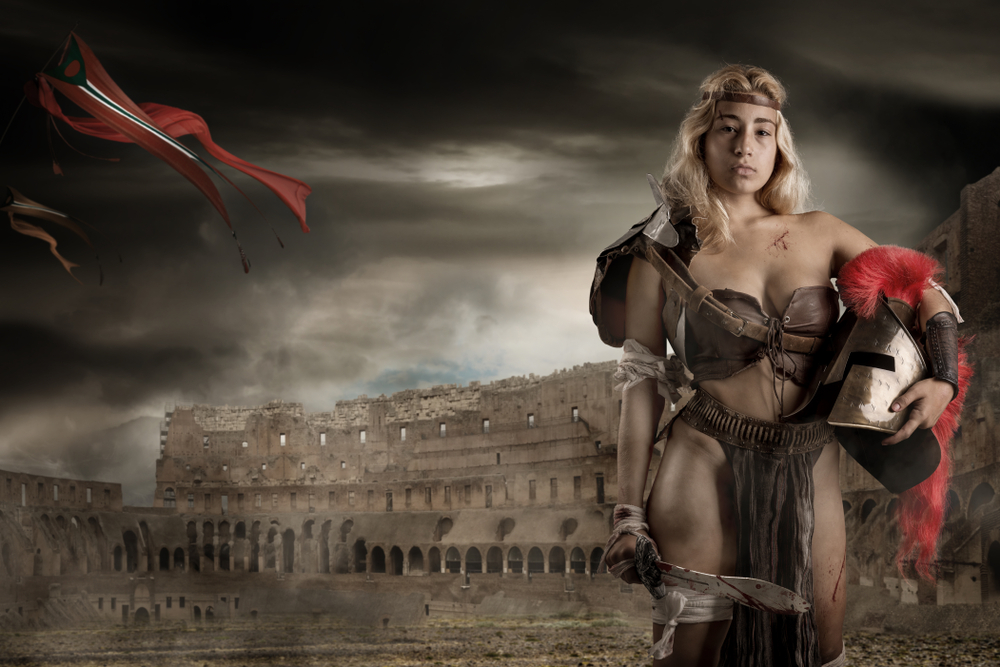 February 23, 2022,
Female warriors are trained to fight at events.
It brings the best out of them.
Battling in private matches with no audience present is not quite the same.
We've produced both and the contrast in intensity is massive.
That thinking goes all the way back to Ancient Rome. So often it has been depicted on film.
Beautifully so.
The Arena is a 1974 gladiator exploitation film, starring Margaret Markov and Pam Grier, and directed by Steve Carver. Grier and Markov portray female gladiators in ancient Rome, who have been enslaved and must fight for their freedom. This marks the second teaming of Grier and Markov.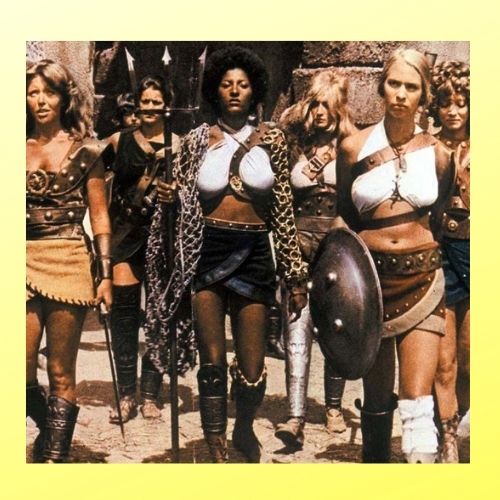 Pam Grier is a sexy American actress who became known in the early 1970s for starring in a string of women in prison and exploitation films like The Big Bird Cage (1972), Coffy (1973), Foxy Brown (1974) and Sheba, Baby (1975).
We have seen virtually all of them.
Pam is also known for her work on television; for six seasons she portrayed Kate 'Kit' Porter on the television series The L Word.
Now to her gladiatorial buddy.
Margaret Markov is an American film and television actress. She had a supporting role in the romantic drama The Sterile Cuckoo (1969) with Liza Minnelli and co-starred in There is No 13 (1974), as well as appearing in other films.
Ms. Markov also starred opposite Pam Grier in two films, the 1972 Black Mama, White Mama and the 1974 The Arena. During the making of the latter she started dating producer Mark Damon; the two later married and Markov retired.
We surely miss that statuesque strawberry blonde.
Any time that you can pair two gorgeous women like Pan Grier and Margaret Markov in an arena to compete, there are only winners. Including us as fans.
Speed dial up to our time period, that's the same way we feel about seeing tow gorgeous, tightly muscled feminine beauties in Antscha and Kyra getting ready to battle at the great Femwrestle Arena in Germany.
We have previously written about both sexy girls but this time we focus in on two of Kyra's gladiatorial matches.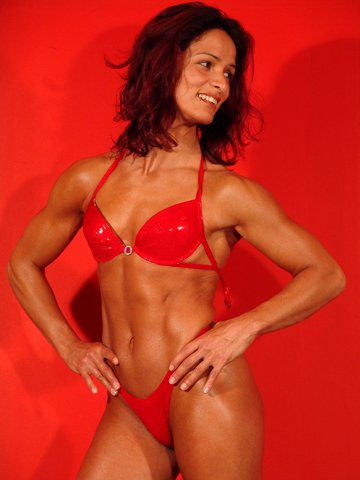 https://femcompetitor.com/antscha-a-wrestler-rarely-defeated-never-tamed/
https://femcompetitor.com/kyra-wrestler-hungary-strong-present-powerful-future/
The first warrior up for her is Ola.
Ola is one sensuous specimen loaded with feminine muscle.
We don't know much about her wrestling history but if looks are any indicator of talent, then Ola is an absolute winner. The producers do say that Ola from Poland has over 10 years of experience, our guess is with AS Films or Festelle, which means Kyra can be in for a tough time.
Femwrestle is ecstatic about Ola's abilities. They praise, "Ola from Femwrestle, the Polish power pack and unbeaten, she never lost a fight."
Let's sit down at ringside. The arena.
KYRA VS OLA FEBRUARY OF 2012
This will be the battle of the muscular girls.
Ola has a distinct weight and height advantage over Kyra but Kyra comes from a strong camp being trained by the legendary Tia from earlier DWW fame so who will win this match is a mystery.
They open with both warriors standing and relaxing while having a conversation with Tia the great Hungarian trainer.
Tia even walks over and gives Kyra some pointers on how to trip her opponent during the match. Good to know. Part of the logic behind Tia's great match total is height. Compared to both Ola and Kyra, Tia is a much taller and stronger woman.
This promises to be a competitive but friendly match of good sportsmanship. Most matches in our industry are.
Ola looks vibrant in a red skirt and sports bra. Kyra looks ready for battle in an army camouflage skirt and top. Tia takes a picture of both posing together on her selfie.
Click goes the dynamite.
Tips aside, it's Ola that immediately gains the advantage, grasping Kyra in a headlock and then for some unexplained reason, releases.
No matter. Once the two maidens engage again, Ola is instantly on the attack and encloses Kyra's upper torso in a scissors from which she tries to escape but can't and taps out.
Well as they say, the game is now afoot and if this were a 1940s tale set in a fog shrouded England, Ola is Sherlock Holmes closing in on her prey.
Once again she is in total control on top of Kyra who now is strictly on the defensive. Their sizes in stature become more evident as Kyra's beautiful tightly muscled legs are flailing away.
Eventually Ola seizes her in a perfect upper body restraint complete with strong legs around Kyra's waist. Kyra is game and tries to withstand the pain of the body scissors but sometimes when someone so perfectly applies a hold as Ola does here, it is probably better to just concede early on and spare yourself unneeded pain.
Kyra does her best to withstand but soon taps out.
At this point you sense this could turn into a rout. Hopefully not but unless Kyra is ready to brandish something that we haven't seen, she could be in for a long match.
As the two engage again, Kyra is putting up a good fight but Ola is clearly the aggressor and maintains control. Eventually they go down to the mats with Ola, bottom to the floor, is now controlling Kyra who is in her arms. A scissors submission is inevitable.
The expression on Kyra's face lends us to believe that she really doesn't have a plan and that coupled with the lack of size and, in all fairness in comparison to Ola, the lack of skills as well, is foreboding.
The next round sees them both on the ground facing each other fighting for position and as you might guess by now, once again Ola gains control. She soon is on top of Kyra and erotically goes for the school girl pin as the smaller tanned girl is kicking her muscled legs to get out of it but can't.
Instead she is counted out.
As the two stand and straighten their hair, Kyra indicates that she needs a break which at this point is probably a very good idea.
As lop sided as the bout has been so far it is still fought with energy by both girls.
KYRA VS ANTSCHA
After watching Kyra get completely dominated by Ola it is a slight curiosity to see what will occur here with a global champion like Antscha who looks gorgeous in a bright red bikini that accents her tanned tightly feminine muscled body to perfection.
It is widely known that Kyra is a fitness and body builder competitor and she looks absolutely stunning in her competitor thong bikini which is designed to show a Fem Competitor's body before the judges and boy does it.
Kyra looks perfect.
The two Hungarian beauties settle down to the mats and shake hands.
As Kyra tries to wrap her hand around Antscha neck and pull her forward, Antscha's just too lightening quick and is not going to let that happen. Instead she scampers around and positions herself on top of Kyra.
Something that is instantly noticeable in the difference between this match in contrast to Kyra's with Ola, is the pacing.
Ola's match with Kyra was methodical and slow moving where she leveraged her strength to control Kyra. This match is quick, rough and tumble with both girls fighting for position including Antscha executing a real monkey flip before she traps Kyra's left arm in a leg lock and cranks.
As a result Kyra taps out.
The intensity level is about to crank up as well.
As the two engage again Antscha soon gains control but she can't seem to close in on a submission. The girls roll around and scramble so much that they eventually fall off of the mats.
This is a little surprising in that we thought the highly skilled Antscha would have already tightened up one submission after another but this is not occurring. Give Kyra credit. She is staying in the fight and perhaps Antscha's style is more suited for her.
After more aggressive action, Antscha once again monkey flips her and swings her legs over for a head scissors in which Kyra cannot escape.
Here we may go again. Two submissions in, this could turn into a rout but surprisingly it doesn't.
The next round sees Antscha as usual gaining the upper hand and even has Kyra enclosed in a very tight head lock but allows her to escape. Kyra then turns the tables, bounces Antscha to the edge of the mats and seizes her own choke and headlock in which Antscha painfully gives.
Wow. Didn't see that coming.
Okay, let's sit back in earnest.
It appears we have a real competitive match on our hands.
Antscha appears to feel it too.
This time when the battle heats up she lurches Kyra's head forward and instantly traps her in a brutal choke. There is no way that Kyra is going to escape from this one and she immediately taps.
Antscha seemed to want to send a message as to who is still in control.
But is she?
If you purchase this match you will see there are more surprises in store.
All said and done, win or lose, this was one of Kyra's better matches on her event resume.
THE EVENTS (ARENA) BRINGS OUT THE BEST
Highlighting the historical profile of Kyra from Hungary was fun. Writing about her gladiatorial matches is much better.
We witnessed her battle Jenna and Suzie in private matches but as you know, when it comes to battling in the arena, whether on film or the fully competitive female submission wrestling mats……..
Swords raised in the air, glory to Rome.
The intensity is so much higher.
~ ~ ~
OPENING PHOTO fciwomenswrestling.com femcompetititor.com grapplingstars.com, fciwomenswrestling.com Shutterstock-Luis-Louro-photo-credit-Editorial-use.

NOTE: Kyra is still in beautiful shape and provides memorable sessions. Her Session profile is up at WB270. Her email is Kyrawrestling@gmail.com
If you want to make memories with an industry legion, Antscha still provides sessions and special custom request from her video store. Her email is zita6666@gmail.com
Femwrestle now appears to be Femcom Girls Wrestling and they do have a clips for sale store. https://twitter.com/femwrestle?lang=en
https://en.wikipedia.org/wiki/Pam_Grier
https://en.wikipedia.org/wiki/Margaret_Markov
https://en.wikipedia.org/wiki/The_Arena_(1974_film)
https://fciwomenswrestling.com/
https://fciwomenswrestling.com/
https://www.fcielitecompetitor.com/