Even Super Models Love To Wrestle, Super Model Hannah Ferguson Is Proof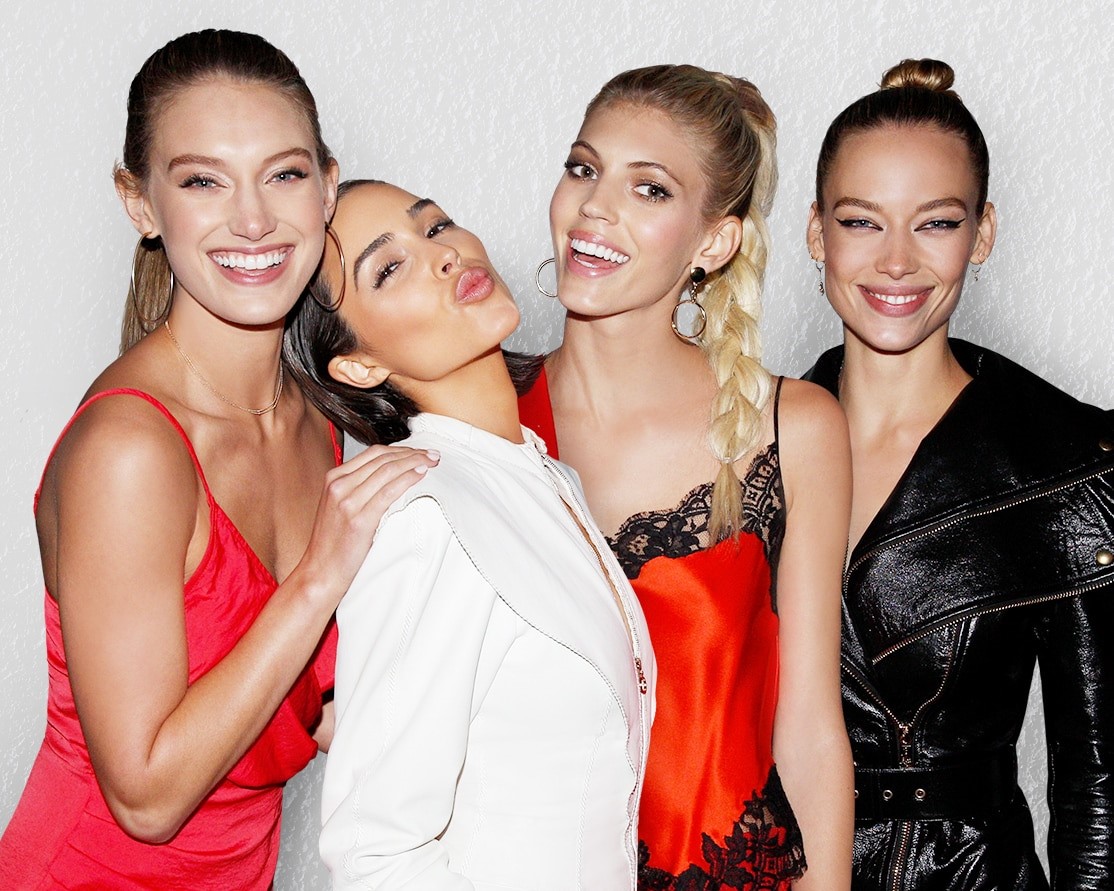 March 27, 2022,
Incredibly so, super model Hannah Ferguson has brought credibility to our female wrestling sport.
Even if she was behaving badly (wink) doing so.
Sexy too.
She wrestled a gorgeous red head for a calendar shoot.
How is her skill level? Who cares? As long as Hannah enjoys wrestling another beautiful woman, we're very happy.
Even with everyday women performing at a basic level. We've said that.
Over and over.
Yes, there will be championship level tough MMA Girls and in our competitive female submission world, top stars, but we always feel it is a plus when girl next door type amateurs who have never tried wrestling give it a go too.
Especially privately with friends.
Like Poppy of Gilroy. Our friends at Femcompetitor Magazine wrote about her.
Not necessarily in a thong or sheer underwear as Hannah did, but we are happy to take what we can get.
Tight blue jeans would be fine.
Poppy wore her stealth Life Guard outfit. Yummy.
Regarding gorgeous Hannah, as reported by The Daily Mail UK, "As a Sports Illustrated model she's used to flaunting her sensational figure. Yet Hannah Ferguson left virtually nothing to the imagination as she wrestled with a female friend for Friday's offering of the LOVE advent.
The 25-year-old blonde bombshell showcased every inch of her sizzling physique in sheer orange lingerie as she writhed around in the raunchy annual calendar."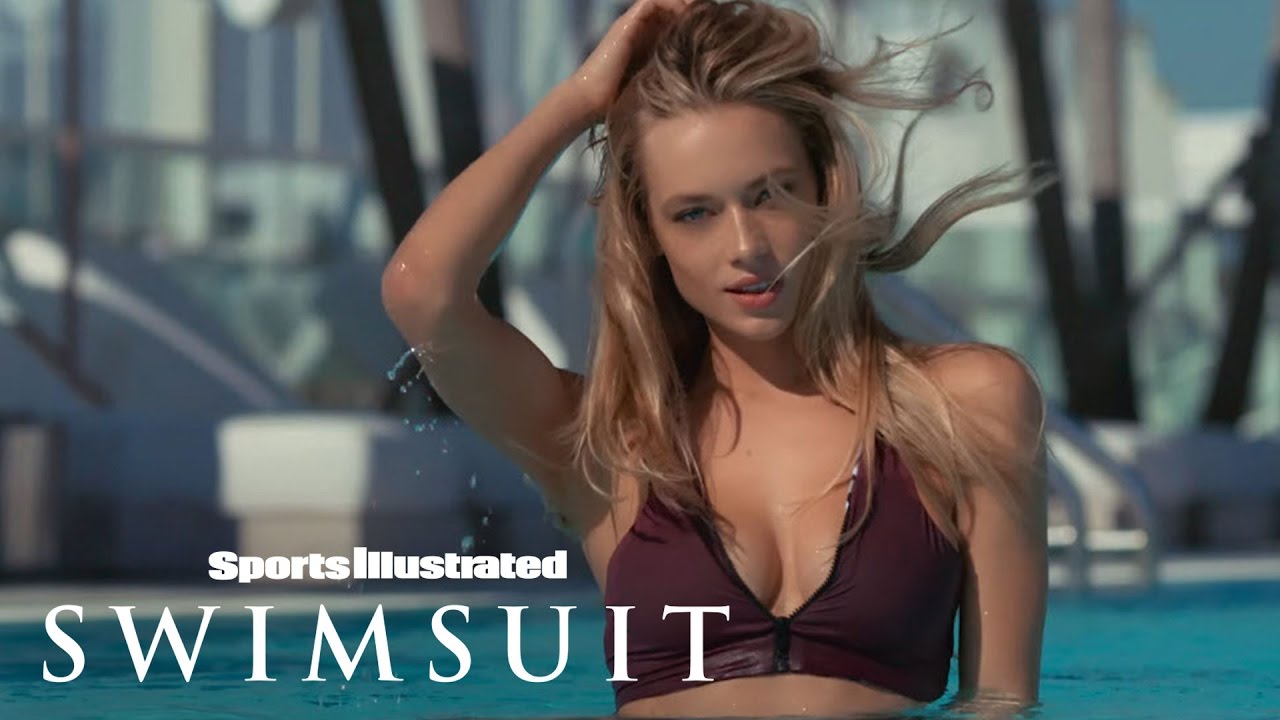 What a gorgeous feminine showcase indeed.
Looks stunning on the Fashion Channel https://www.youtube.com/watch?v=Auhd0rOXc_I
We love watching girls have fun with wrestling.
The always fun and informative legendary Sports Illustrated adds, "Leaving little to the imagination, Hannah showed fans exactly how strong she is, as she wrestled celebrity trainer Dara Hart in some barely-there lingerie. The two go back and forth, straddling and throwing each other around in the eye-popping clip."
Eye popping indeed.
Would you like to see the link? Of course you would. While it lasts on YouTube.
Age-restricted video (based on Community Guidelines)
https://www.youtube.com/watch?v=I0a0iXYdS7Q
Hannah is always pleasant to look at. She is scented eye candy with sparkle.
Great personality. Here is her story. https://www.youtube.com/watch?v=KVr_6GAuCqg
For many of us, we became enamored with this gorgeous babe due to her performances on the hit series Model Squad.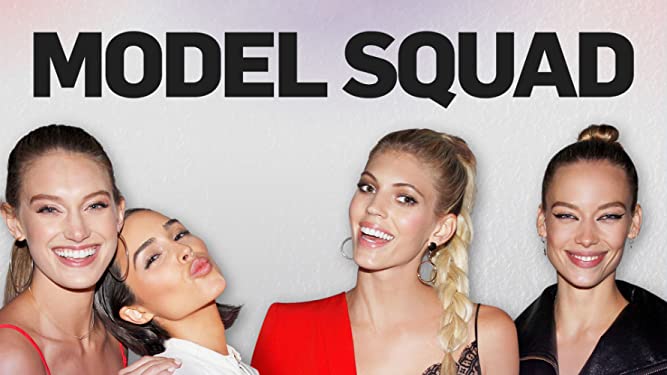 Model Squad is an American docu-series on E!. A New York Fashion Week-themed preview episode aired on February 12, 2018. It premiered on September 4, 2018.
More details please.
Hannah's parents met while serving in the U.S. Marine Corps. She stated on Model Squad that her family "had financial struggles". The family went through a phase "without running water for 5 years".
Few things make a person more empathetic to other people's situations than personal and family struggles.
Something that starts as a harsh reality can evolve into a positive inspiration to others.
NBC educates, "Supermodels nowadays don't just walk the catwalk; they're everywhere and, of course, they're staples of the New York nightlife and fashion scenes. When you're the hottest women in pop culture, you travel in packs.
This series follows a group of supermodel friends as they explore work, life and love in the Big Apple together. The cast features Olivia Culpo, Devon Windsor, Shanina Shaik, Hannah Ferguson, Nadine Leopold, Caroline Lowe, Daniela Braga, Ashley Moore and Ping Hue. "Model Squad" is produced by Trooper Entertainment."
It's a captivating show that you never get tired of watching. You should check it out. Hannah is such a down to earth Texas girl. Not a hint of arrogance.
Time to turn our attention to print.
Our amateur wrestling beauty has appeared in the 2014, 2015, 2016, and 2017 editions of the Sports Illustrated Swimsuit Issue.
In her first appearance, she also posed in body paint by Joanne Gair. She has also been featured in magazines such as GQ. Ferguson appeared in advertising for Carl's Jr. and Triumph International.
In 2017, Hannah walked for Max Mara, Alberta Ferretti and Moschino at Milan Fashion Week and opening the 2018 Philipp Plein Resort show.
In 2018, she walked for designers including Chloé, Dolce & Gabbana and Chanel. Ferguson also appeared in campaigns for Chanel Beauty and Jimmy Choo's Fever fragrance and was featured on the covers of Vogue Thailand, Elle (Brazil, Portugal), Harper's Bazaar Ukraine and Numéro Russia.
As you might guess, Hannah is highly coveted by modeling and talent agencies worldwide.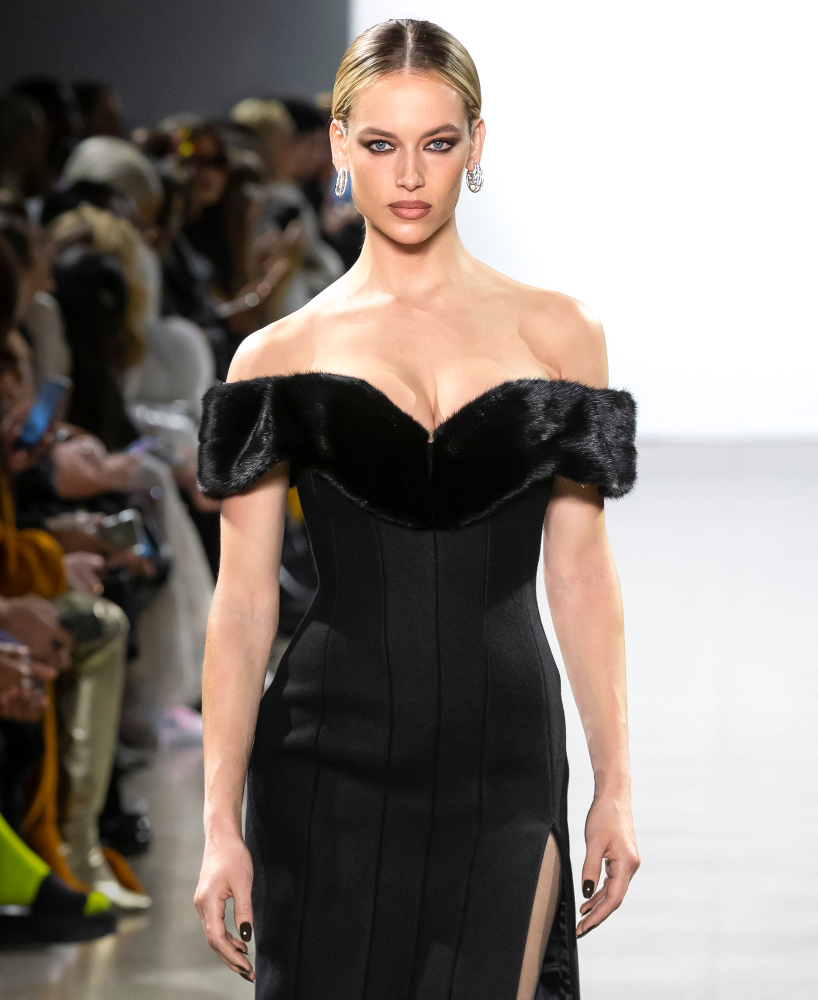 IMG Models is the international leader in talent discovery and model management, widely recognized for its diverse client roster. The agency's offices are located in six world capitals: New York, Los Angeles, Paris, London, Milan, and Sydney.
Here is what they had to say about our global princess, "Hannah Ferguson is no stranger to a swimsuit, so much so that one could successfully argue she lives the better part of her life in one.
Rightfully, the San Angelo, Texas native received her big break courtesy of the 2014 Sports Illustrated Swimsuit Issue. Hannah's lithe frame and angular features quickly caught the attention of Karl Lagerfeld and she went on to star in a Chanel commercial for the fragrance "Bleu de Chanel" the following year.
Since then, the blonde beauty has appeared in editorials for Harper's Bazaar, Carine Roitfeld's CR Fashion Book and LOVE Magazine including a feature spot in the publication's advent calendar directed by Hype Williams. Most recently, Hannah fronted a Mario Testino-lensed editorial for the September 2017 issue of V Magazine emphasizing female strength and empowerment."
That our friends is quite a resume.
Life for Hannah is not all work and no play. When she's not wrestling, away from work, Hannah enjoys fishing, snorkeling and baking homemade treats from scratch.
Delicious.
She is also very passionate about supporting military families through various philanthropic efforts.
Perhaps it is her San Angelo, Texas roots.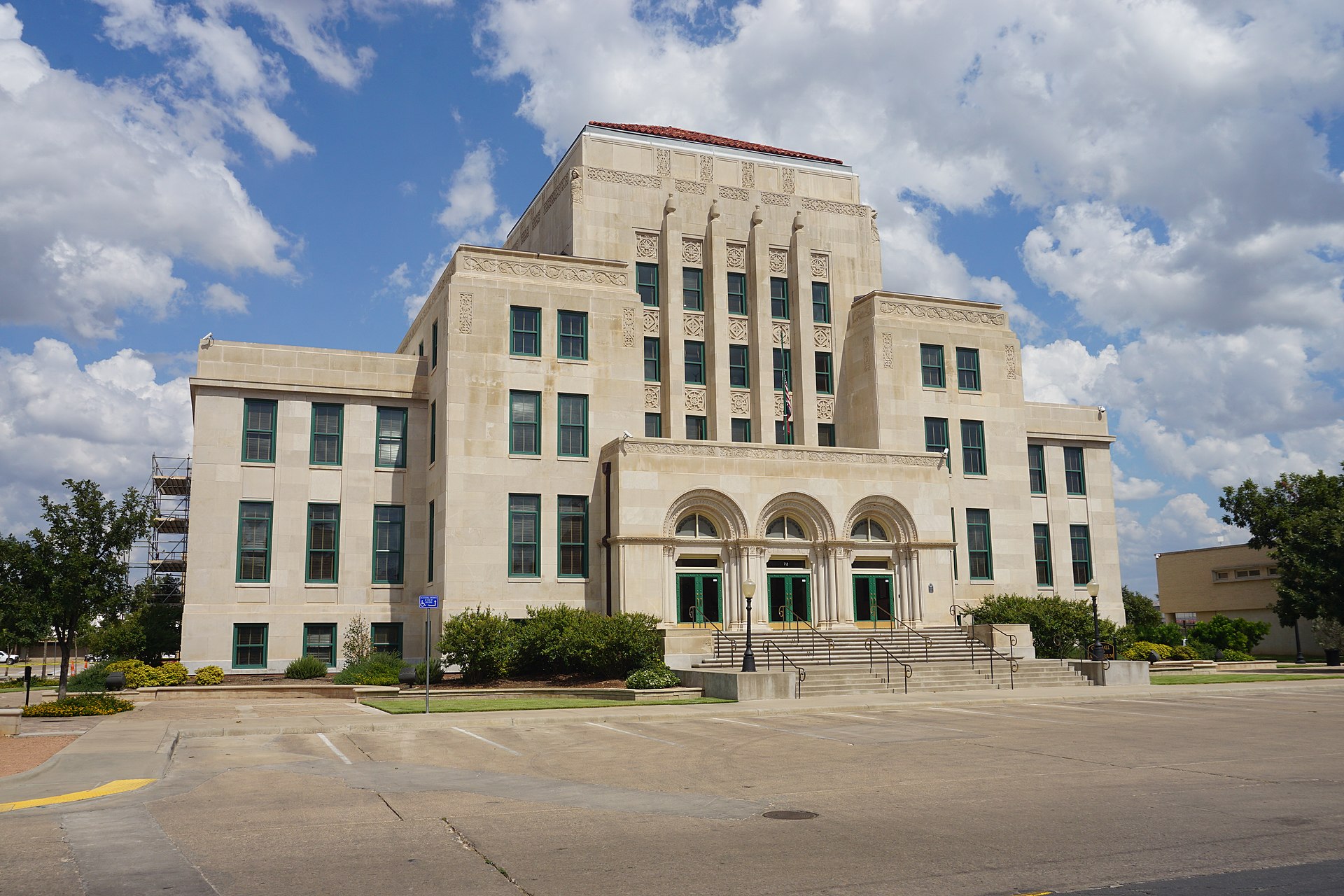 According to a 2018 Census estimate, San Angelo has a total population of 100,215.
San Angelo is home to Angelo State University, historic Fort Concho, and Goodfellow Air Force Base.
A virtual oasis, San Angelo is home to three scenic lakes, as well as the beautiful Concho River, which runs right through the heart of the city.
According to the city site cosatx.us, "Today's San Angelo offers a delightful mixture of arts and culture of West Texas, from a sophisticated symphony that showcases artists such as the Vienna Boys Choir to country and western music, from a civic ballet whose students regularly earn spots at top national dance academies to the folk dances of Mexico."
San Angelo has consistently been ranked by many publications and rankings as one of the best small cities for business and employment. In 2013, it ranked fourth in the nation in Forbes magazine's "Best Small Cities For Jobs" rankings.
In 2010, Kiplinger's Personal Finance named San Angelo as one of the "Best Cities of the Next Decade". In 2009, CNN Money ranked San Angelo as one of the best cities to launch a small business.
We are so glad this village launched Hannah our way.
One of the many powers of Super Models is that can serve as Global Ambassadors for corporate products and charitable causes.
Our female wrestling industry can always use a beautiful face with class, style, grace and dynamic energy to represent.
Amateur wrestling status more than acceptable.
Hannah fits that designation perfectly.
~ ~ ~
OPENING PHOTO fciwomenswrestling.com femcompetititor.com grapplingstars.com, NBC-Universal-photo-credit-Editorial-use.

https://www.dailymail.co.uk/tvshowbiz/article-5220523/Hannah-Ferguson-wrestles-female-friend-LOVE-Advent.html 
https://www.inquisitr.com/5334056/hannah-ferguson-leans-against-a-wall-topless-instagram/
https://www.si.com/swim-daily/2018/01/03/hannah-ferguson-lingerie-wrestling-love-magazine
https://en.wikipedia.org/wiki/Hannah_Ferguson
https://www.imgmodels.com/hannahferguson/los-angeles/women/portfolio
https://en.wikipedia.org/wiki/Model_Squad 
https://www.nbc.com/model-squad
https://www.cosatx.us/residents/about-san-angelo
https://www.fcielitecompetitor.com/
https://fciwomenswrestling.com/