Actress, Model Frida Gustavsson, Sweet Sensuous Swede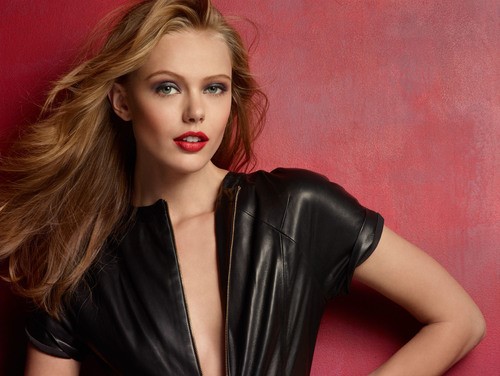 We hear music. Sweet, sweet music. Smells so good. Just like Maybelline or Nina Ricci.
Could someone with the perfect voice sing what we are thinking?
Super Star Becky G, take it away.
"When I wake up
You're the first thing that comes to mind
Wanna see you like all the time
Yeah we be loving so hard"
There are a number of guys and girls in the world when they wake up, the Swedish beauty Frida Gustavsson comes to their mind. That makes you want to wake up from even the most darling dream.
There certainly seems to be a long line of them and during the brand New Year it is time to celebrate another gorgeous Swedish model.
Ms. Gustavsson began modeling locally in 2008 and in the same year she moved to Japan to pursue modeling.
Sounds adventurous. She sounds like a risk taker. What an experience. We've been to Japan twice and loved it.
Experiencing the flavor of the travel taste bud, Frida also traveled to France.
She opened the Valentino Haute Couture fall 2013 show in Paris.
Drum roll please.
Since then, she has walked shows for Shiatzy Chen, Louis Vuitton, Chanel, Lanvin, Carolina Herrera, Fendi, Christian Dior, Jil Sander, Alexander McQueen, Anna Sui, Marc Jacobs, , Calvin Klein, Oscar de la Renta, Emilio Pucci, Celine, Hermès, Jean Paul Gaultier, Dolce & Gabbana, Givenchy, Yves Saint Laurent, Ralph Lauren, Blumarine, and Versace.
She also walked in the Victoria's Secret Fashion Show 2012.
Now that was the runway, what about magazines?
Our sensational Swedish darling has been in the magazines Elle, W, Numéro, American, Italian, French, British, German and Japanese Vogue, L'Officiel, Crash, and others. In March 2010, she appeared on the cover of the German Vogue. She has appeared in advertising campaigns for Marc Jacobs, Jill Stuart, Anna Sui, H&M, Max Mara, Tiger of Sweden and Prada.
One more. Frida won Elle Sweden's Model of the Year award in 2011.
She appears in advertisements for Nina Ricci. That's quite a marketing prize.
Nina Ricci is a fashion house founded by Maria "Nina" Ricci and her son Robert in Paris in 1932, and owned by the Spanish beauty and fashion group Puig since 1998. Nina Ricci's most famous perfume, L'Air du Temps, created in France in 1948, means "Air of Time", capturing the passion and elegance of an emerging generation.
How do you say Sweetly Swedish in French?
That is an incredible resume from someone so young. The tender age of 26 she is. She is also an actress, known for Dröm (2019), Swoon (2019) and Arne Dahl: Efterskalv (2015).
The legendary fashion Vogue praises, "Opening on Valentine's Day in Sweden is a new film, Eld & Lågor (Swoon), that will have resonance for fashion folk even beyond the title. For starters, the lead is played by Frida Gustavsson, who, in her life as a top model, racked up miles gracing catwalks in between creating unforgettable images for Vogue. A take on real-life events, Swoon is a Romeo and Juliet story peppered with subplots and set during World War II. Gustavsson plays Ninni Nilsson, the daughter of amusement park owners, and a creative, unstable young woman, "who struggles to find her place in the world," and falls for the son of her parents' rival, the playboy John Lindgren (Albin Grenholm)."
Frida? You go girl. Is there more on Frida's blonde plate made of gold and platinum.
Yes. Of course.
What do models model best? Maybe it's a tie. Makeup and clothing.
Frida has partnered with one of the global leaders in alluring makeup.
Ms. Gustavsson is also the new face of Maybelline, she initially worked for them in ads and commercials in the late 2013. She was the fourth most requested model of the spring 2010 season.
You see what we mean? When so many dreamers around the world wake up, Frida is the first girl that comes to mind.
We be lovin' so hard.
About that 2013 Maybelline connection. Smile. We wish we were there when the announcement was made.
Frida Gustavsson Is The New Face Of Maybelline New York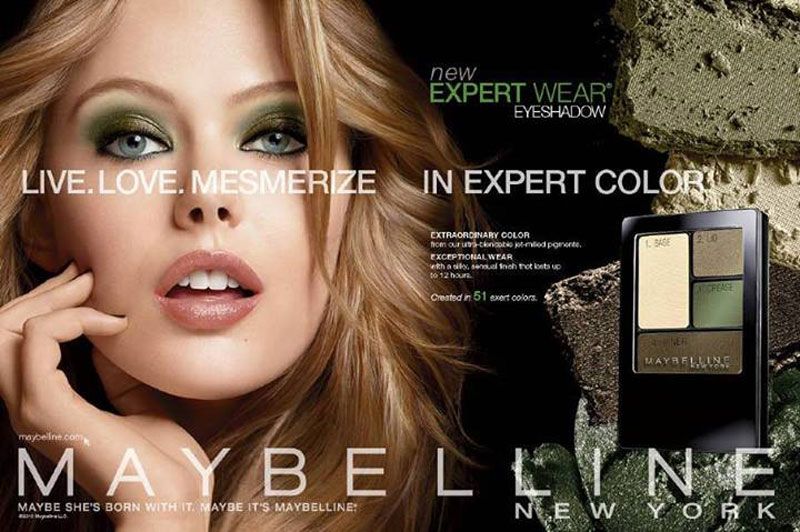 NEW YORK, June 4, 2013 /PRNewswire/ — Maybelline New York announced today that Swedish supermodel Frida Gustavsson was signed to the brand. She joins a distinguished roster of A-list spokeswomen that includes Christy Turlington, Julia Stegner, Erin Wasson, Kemp Muhl, Shu-Pei Qin, Emily DiDonato, Jessica White, and Charlotte Free.
(Photo: http://photos.prnewswire.com/prnh/20130604/NY26116 )
"In addition to her stunning career on the fashion runways, Frida's radiant beauty and positive energy are very inspirational. Her warm and optimistic personality perfectly embodies the Maybelline New York woman of today," says Maybelline New York global brand president Damien Bertrand. "A Maybelline New York woman is strong and confident—I love that attitude," says Frida. "I'm honored and thrilled to represent such an iconic brand and to be a part of the Maybelline New York family," she adds.  Maybelline New York U.S. president, David Greenberg says, "Frida will be a welcome addition; her energy, style and beauty are a perfect complement for the Maybelline New York brand."
A native of Stockholm, Sweden, Frida was scouted by a modeling agent while on a shopping trip in 2008. She signed with IMG in 2009, and opened the Valentino Haute Couture show in Paris for the fall season that same year. Her impressive runway debut proved to be a breakthrough moment for her career, as it lead the way to working with other major designers, including Marc Jacobs, Calvin Klein, Chanel, Prada, Fendi, Louis Vuitton, Christian Dior, Michael Kors, Oscar de la Renta, Carolina Herrera, Ralph Lauren, Viktor and Rolf, Alexander McQueen, and Giorgio Armani.
One of the most photographed models on and off the catwalk, Frida has worked with top photographers like Patrick Demarchelier, Annie Leibovitz, Camilla Akrans, and Norman Jean Roy. She regularly appears in the fashion and interview pages of magazines such as Vogue (American, Italian, Chinese, French, German, Russian, and British), Elle, W, Allure, Interview, Self Service, and Pop. She has also been featured in advertising campaigns for Prada, Jill Stuart, Anna Sui, Mulberry, Paul & Joe, Roberto Cavali, H&M, Max Mara, Valentino, among others.
Frida will make her debut in print and television advertising campaigns for Maybelline New York late 2013.
About Maybelline New York:
Maybelline New York is the number one cosmetics brand in the world and is available in over 129 countries worldwide. As the official makeup and nail sponsor of Mercedes Benz Fashion Week New York, Maybelline New York combines technologically advanced formulations with on-trend expertise to create accessible cosmetics with a spirited style. Further capturing the essence of New York City style, Maybelline New York's fashion and beauty blog CITY is the go-to destination for 'It' girls, offering exclusive, unique and behind-the-scenes beauty and fashion content. Log onto www.maybelline.com and Maybelline.com/CITY. Also available in Spanish.  Maybe she's born with it, maybe it's Maybelline.
SOURCE Maybelline New York
~ ~ ~
Opening photo fciwomenswrestling.com femcompetitor.com grapplingstars.com fciwomenswrestling.com femcompetitor.com grapplingstars.com photo PR News Wire
https://www.prnewswire.com/news-releases/frida-gustavsson-is-the-new-face-of-maybelline-new-york-210119031.html
https://en.wikipedia.org/wiki/Frida_Gustavsson
https://www.imdb.com/name/nm5435959/
https://www.vogue.com/article/frida-gustavsson-on-trading-modeling-for-acting-and-her-first-leading-role-in-swoon
https://thehhub.com/2018/08/20/swedish-models/