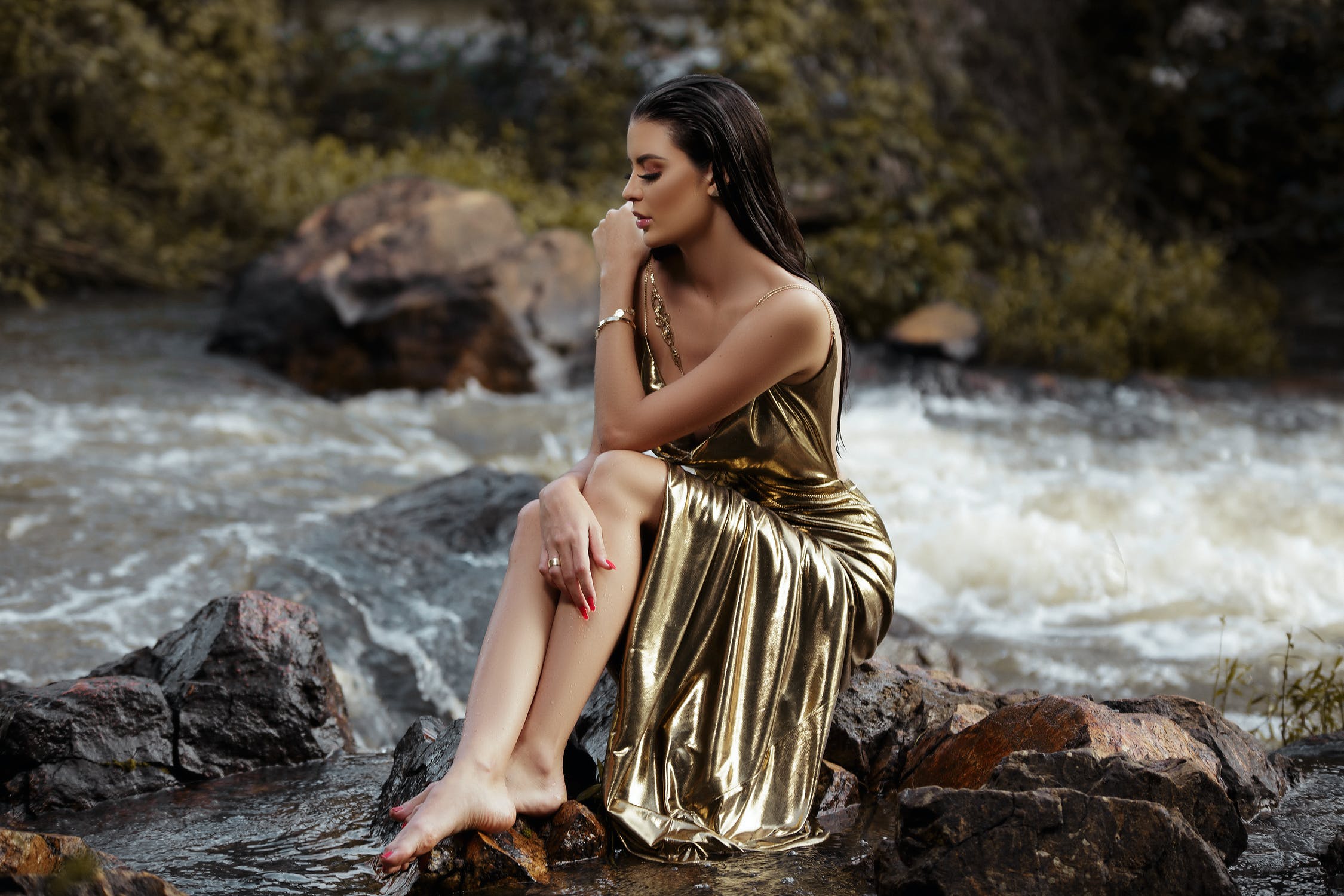 In the 1990's Europe arguably had the best female submission wrestlers in the world. Whenever there were women's wrestling events similar to Jackpin's 2008 convention masterpiece in San Diego, the girls from Europe would not only win, but dominate the majority of matches. They were beautiful, widely respected in the submission wrestling community, deeply experienced and had the ability to absorb a tremendous amount of pain.
In their camp, their names were Luzia, Hannah, Dagmar, Edita, Krista, Petra, Vera, Susanne and a host of other beautiful, talented, athletic and highly skilled Danube warriors. Some of their matches with each other were legend. Hannah had an extremely strenuous match indoors with a less experienced Dagmar where bodies were bending like pretzels. Luzia started inside as a beautiful older teen and eventually indoors or outside began to dominate virtually everyone. In some circles she earned the name, the Terminator.
When Cindy Huntress of Canada traveled to wrestle a troupe of other European female competitors, this writer thought she would struggle. Quite the opposite. At times Cindy was so dominate she appeared to be bored. That's when the thoughts and dreams began to flourish that someone of Cindy's caliber should eventually meet the stars of the collegiate programs trained in the freestyle women's wrestling world and the superior submission stars as well.
Cindy is a striking raven haired beauty who combines just the right combination of feminine beauty and athletic muscle. She hails from Vancouver, Canada. A beautiful woman from a very beautiful city.
The city of Vancouver website shares information about this northern paradise. Vancouver is one of the world's most beautiful and livable cities, diverse in nature, demographics, and potential. For good reason, more than 600,000 people call it home, and even more enjoy and rely on the services their City provides. But a great city doesn't happen by accident. It happens by design.
Greenest City 2020 is a bold initiative that will address Vancouver's environmental challenges. Through a set of measurable and attainable targets, the city will put Vancouver on the path to sustainability with the important goal of making them the greenest city in the world by 2020.
To become the greenest city in the world, the City's staff is working with Council, residents, businesses, other organizations, and all levels of government to implement the Greenest City 2020 Action Plan.
Shop.lonelyplanet.com adds Vancouver is nestled against soul-stirring mountains, mist-shrouded coastal forests and epic tooth-and-claw, wild life; this is Canada's outdoor wonderland.
Stanley Park's biggest draw, the aquarium is home to 9000 water-loving animals – including sharks, wolf eels, beluga whales and a somewhat shy octopus. There's also a small, walk-through rainforest area of birds, turtles and a statue-still sloth. Check out the mesmerizing iridescent jellyfish tanks as well as the schedule for feeding times the attraction's latest draw is its 4-D Experience: a 3-D movie theater with added wind, mist and aromas.
Having traveled to this western Canadian gem, this writer can vouch for its many natural and man made wonders.
When an Fciwomenswrestling associate was having lunch with a Canadian submission wrestling company after a shoot in Northern California, they gushed about how they knew Cindy very well since she has wrestled and participated in videos and photo shoots with them.
At amg-lite.net Ms. Huntress describes herself as figure competitor, model and wrestler. She enjoys singing, dancing, training in the gym and fine dining.
The female submission wrestling site Femwin states, "Cindy is one of the world's strongest and sexiest wrestlers and lives in Vancouver, Canada. She has one of the strongest pair of legs we've ever seen and uses her fearsome scissor holds every chance she gets! She squeezed an astounding 508 lbs on FEMWIN'S engineered device which is accurate within one pound – no other person (male or female) managed to get over 400 pounds!"
Another famous wrestler from Montreal, Canada is a beautiful competitor called Mutiny who has been around for some time. In terms of high level submission wrestling, she could claim the Canadian throne if she were more single minded and determined in her fully competitive submission wrestling career but much of her body of work is in the erotic and fetish area. Still to her credit, she has wrestled competitively in England and had some success.
Montreal was named a UNESCO City of Design. Historically the commercial capital of Canada, it was surpassed in population and economic strength by Toronto in the 1970s. Today it remains an important center of commerce, aerospace, finance, pharmaceuticals, technology, design, culture, tourism, film and world affairs. The variety of buildings included factories, elevators, warehouses, mills, and refineries which today provide a legacy of historic and architectural interest, especially in the downtown area and the Old Port area. There are 50 National Historic Sites of Canada in Montreal, more than any other city in Canada, shares Wikipedia.
Lonelyplanet.com expresses few cities can compete with Montréal's mouth-watering mix of food, festivals and fun-centric living. This bohemian, culture-loving city has many virtues, not least of which is its uncanny ability to astonish. Toronto may be Canada's economic capital, but Montréal remains the country's cultural juggernaut, with some 250 theater and dance companies, over 90 festivals and a fascinating medley of neighborhoods where artists, writers and musicians have helped cement the city's reputation as a great arts center. The Festival International de Jazz de Montréal is the headline event, followed by parties dedicated to world cinema, comedy and gay pride. There's truly something for everyone at all times of the year.
Cindy has earned her stripes primarily in the mixed wrestling world where she competes against males. FCI would love to see her compete more often against women but after searching high and low, we've found very few competitive matches where women are involved.
There are other widely respected Canadian female submission wrestlers but our research shows that many are heavily involved in the extremely erotic world and consistent fully competitive submission wrestling does not seem to be a primary focus.
Since we are eager for the lady ring pros to continue to venture into the submission and freestyle world, Canada does boast a legion of ring pro stars including Traci Brooks, Cherry Bomb, Jade Chung, Allison Danger, Angelina Love and more so says Wikipedia.
Make no mistake about it; Cindy Huntress is an extremely impressive submission wrestler. Our hope is that private wrestling companies will continue to take a look at this Canadian dynamo and book her to compete against other women. Imagine a match between her, Kara, Julie Ginther or another seasoned pro like Keri. Given the growing interests and professionalism of women's submission wrestling, one day those matches could become a reality.
~ ~ ~
Sources: http://www.squeezequeens.com, www.facebook.com/pages/Fans-of-Cindy, http://vancouver.ca, Images squeezequeens.comm http://amg-lite.net/cindy_huntress, lonelyplanet.com, Wikipedia. More photos courtesy Wikimedia Commons, Brainyquote.com