Movie, TV Female Cops You'd Love To Be Arrested By
January 20, 2021,
Getting arrested is something that most of us would want to avoid at all costs. Unless you are peacefully protesting something extremely important to you, then getting arrested could help you make your point. Many actors and peaceful social activists can attest to that.
Are there other ways to make your point besides getting arrested?
We would hope so.
But if you are going to get arrested, there have been a slew of female TV Detectives and Cops that you hope you find yourself hand cuffed to and riding in the front seat with.
It's okay darling. Please drive slow.
While we won't meet our first dream girl inside of a squad car, we will have to negotiate a deal with her if we are about to get hauled off to the slammer and we have something to offer. No you can't ask her to show you her bra, though Assistant DA Jamie did in one episode to get some important info from a prisoner. Certainly made his day.
Probably made his week.
There is another sexy blonde DA who made our year.
Serena Southerlyn is played by Elisabeth Röhm on the long-running NBC drama series Law & Order.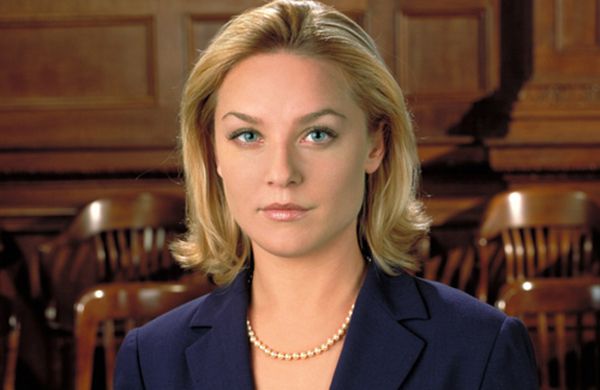 She appeared in 85 episodes. We loved every one of them.
Our dear Ms. Southerlyn joins the District Attorney's office in the 2001 episode "Who Let the Dogs Out?" as an assistant district attorney, replacing Abbie Carmichael (Angie Harmon).
Abbie was gorgeous too but really had a hard edge to her. No frat boy invitations there.
Serena is different. Liked her spirit.
She worked under District Attorneys Nora Lewin (Dianne Wiest) and Arthur Branch (Fred Thompson) and Executive Assistant District Attorney Jack McCoy (Sam Waterston). She was the second longest serving junior ADA in the history of the series, having served three complete seasons and half of a fourth.
In real life, Elisabeth Röhm is best known for playing Kate Lockley in the television series Angel from 1999 to 2001. She has also appeared in films such as American Hustle (2014), Joy (2015) and Bombshell (2019).
Well, we know who that last title was referring to. Or at least should.
We would be happy to negotiate with Serena anywhere and anytime.
Another gorgeous blonde who arrested plenty but was not up for negotiation is Samantha Spade. Probably a relative of the legendary Sam Spade.
Poppy Montgomery is an Australian-American actress. She played FBI agent Samantha Spade on the CBS mystery drama Without a Trace. The series revolved around a missing-persons unit of the FBI in New York City.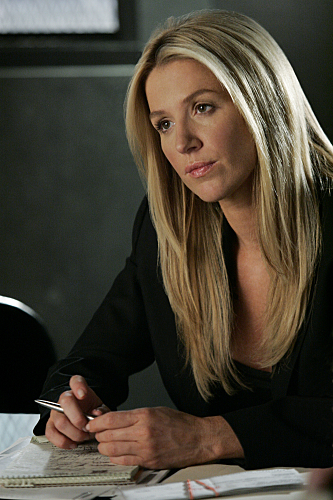 On being offered the part, she later said, "They (the producers) called me up and said, 'Will you do it?' I said, 'Um' and they said, 'Anthony LaPaglia is in it' and I said, 'sure'. It was that simple." Montgomery portrayed Samantha Spade for seven seasons, from when the show began on 26 September 2002 until it ended on 19 May 2009.
We sure missed it. We missed her even more.
She also played Detective Carrie Wells on the CBS/A&E police drama Unforgettable from 2011 to 2016.
With Poppy, you'll have the opportunity to get arrested twice.
Nice.
What we liked about her in Without A Trace was that she was so down to earth, classy, gorgeous and tough, yet very feminine.
She can arrest us anytime.
The next precious blonde that would not only slap the handcuffs on you but shoot you dead as well is A.J. Cook.
A.J. Cook, is a Canadian actress. She is best known for her role as Supervisory Special Agent Jennifer "JJ" Jareau on the CBS crime drama Criminal Minds (2005-2020).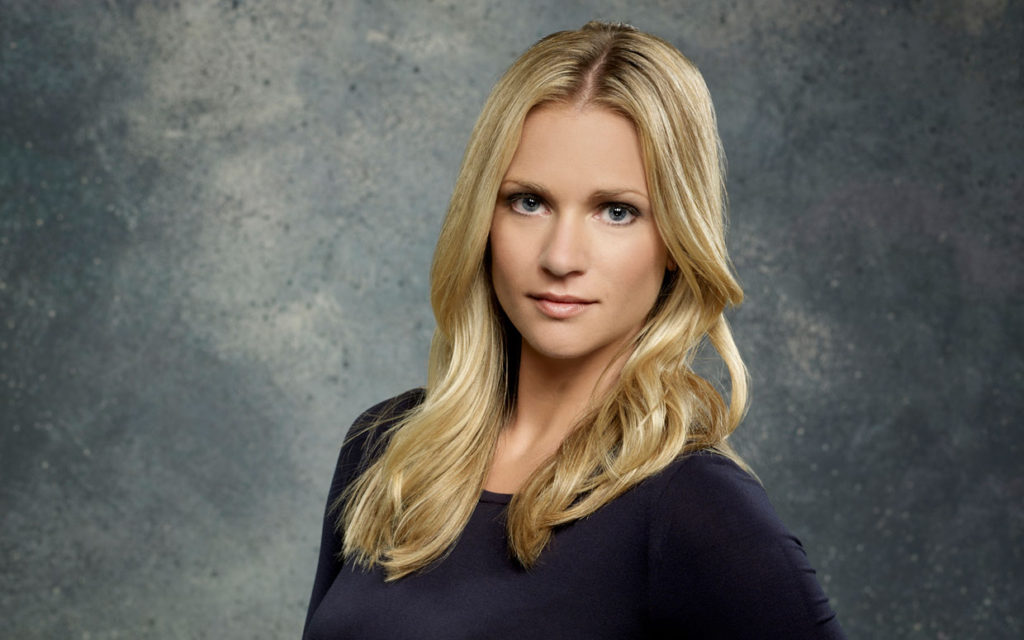 Fifteen years. What a run.
We would never run away from her. We would give up instantly.
Our shining star's first job was in a McDonald's commercial in 1997.
She graduated to series work with a guest role on the television series Goosebumps, and parts in two television movies, In His Father's Shoes and Elvis Meets Nixon.
She then launched her feature film career as one of five captivating suicidal sisters in 1999's The Virgin Suicides.
What we loved most about her during her tenure on Criminal Minds is that she was clearly a person of character and had a very empathetic side to her sometimes rough exterior.
As Jennifer, she could get inside of our criminal mind anytime that she wants.
We step in time to be pursued by our next beauty but it is well worth the trip.
Megan Gallagher is an American theater and television actor.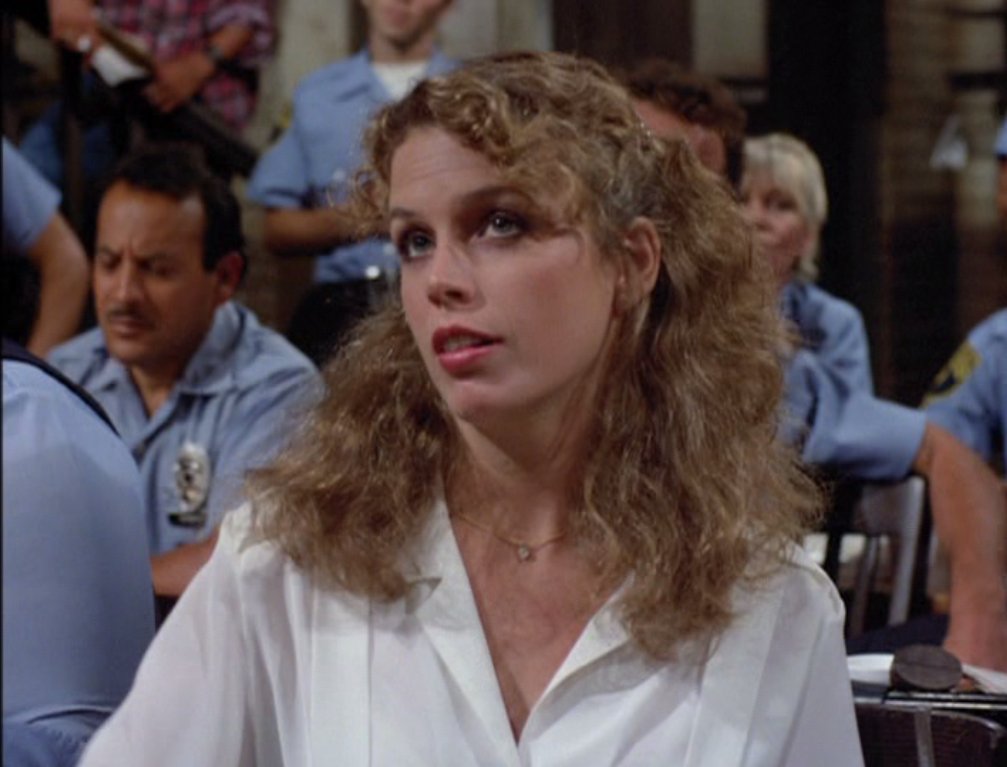 Having studied at the Juilliard School under the supervision of John Houseman, our gorgeous luminary began her career on stage, and has appeared in several Broadway theatre productions, winning a Theatre World Award for her role in A Few Good Men.
It was her role she won on Hill Street Blues (1981) which developed from a guest star to a regular role that mesmerized us.
Officer Tina Russo transfers to Hill Street in Season 7.
She is an able patrol officer, but Tina also works undercover from time to time, which is how she first comes into contact with J.D. (who is unaware that she is also a police officer). Russo gets into some trouble for sleeping with a criminal whom she is investigating, rather than merely "seducing" him at length.
As you might guess, the guys loved her.
She is later mentored by Belker, briefly linked romantically with Flaherty, though she is reluctant to make their affair public.
Having said all of that, we would love for her to go under cover with us.
As a team of course. Would certainly work well together. We're all professionals here.
In our symbolic role as a criminal, she could investigate all that she wants as long as she brings the handcuffs along with her. Not too tight please and yes we would like to sit in the front seat of the squad car. We have some very valuable intelligence for Tina if she plays along.
She should be good at that since she does go under cover quite often.
Our door is always open.
The list of memorable beautiful law enforcement officers on the silver screen and in television is quite long. We just thought we would mention a few that made our hearts go pitter patter.
On long days sheltering in, their series are absolutely worth binge watching.
Don't worry. It's not a crime.
~ ~ ~
OPENING PHOTO Serena-Southerlyn-Elisabeth-Rohm NBC-Universal-Television
https://en.wikipedia.org/wiki/Poppy_Montgomery
https://en.wikipedia.org/wiki/Elisabeth_R%C3%B6hm
https://en.wikipedia.org/wiki/Serena_Southerlyn
https://en.wikipedia.org/wiki/A._J._Cook
https://www.imdb.com/name/nm0302446/
https://en.wikipedia.org/wiki/Megan_Gallagher