She's Waiting For You At The Beach
October 14, 2020,
The deepest and most creative trip that you may ever take is inside of your own mind.
Some of us have experienced that.
Often through dreams.
Currently, as the world tries to navigate through a dangerous pandemic, there are new terms popping up, once rarely used that are now becoming "most often used" in our new normal vocabulary.
Sheltering in.
Social distancing.
Another term that appears to be gaining traction is Safe Socializing. Are handshakes a thing of the past?
Doctor Fauci seems to think so.
Anthony Stephen Fauci is an American physician and immunologist who has served as the director of the National Institute of Allergy and Infectious Diseases (NIAID) since 1984.
Since January 2020, he has been one of the lead members of the Trump Administration's White House Coronavirus Task Force addressing the 2019–20 coronavirus pandemic in the United States.
Mr. Fauci is widely recognized as one of the world's leading experts on infectious diseases.
As a physician with the National Institutes of Health (NIH), Mr. Fauci has served American public health in various capacities for over 50 years, and has been an advisor to every U.S. president since Ronald Reagan.
He has made contributions to HIV/AIDS research and other auto-immune deficiencies, both as a scientist and as the head of the NIAID at the NIH.
The intriguing news source Time Magazine shares, "When you gradually come back, you don't jump into it with both feet," Fauci told podcast host Kate Linebaugh on The Journal, talking about what life might look like when it eventually starts returning to normal. "You say, what are the things you could still do and still approach normal? One of them is absolute compulsive hand-washing. The other is you don't ever shake anybody's hands."
Get used to the new normal.
The Japanese, who have always politely asked that you take your shoes off before you enter their home, knew all along that it is better to bow than to shake.
We know of someone in our circle who still works for an organization where they mandated that their employees work from home.
How does our friend Melinda feel about it? She hates it.
She was used to going to lunch with co-workers and socializing even on the weekends at parties. Since the Coronavirus outbreak, that all went away.
Melinda expressed how lonely she has become, sheltering in, within the walls of her small studio in a large metropolis with virtually no view.
Why not talk by phone you ask?
Most of her friends are not interested in that. They have their own families and lives. Let's face it, if they got another job, they would probably never see most of their co-workers again. Human beings tend to be socializing for the present with people that they have things in common with.
Our suggestion?
Escape inside of your mind.
What do you love? Everyone loves something.
We love many things as long as it involves beautiful women.
Where are a lot of stunning women in bikinis, thongs and full bathing suits?
The beach of course.
If we can't go to the beach, we'll make the beach come to us.
Through our mind and through film.
10 is a 1979 American romantic comedy film written, produced, and directed by Blake Edwards and starring Dudley Moore, Julie Andrews, Robert Webber, and Bo Derek.
We loved it so.
It was considered a trend-setting film at the time and was one of the year's biggest box-office hits. It follows a man in middle age who becomes infatuated with a young woman whom he has never met, leading to a comic chase and an encounter in Mexico.
Bo Derek was so incredibly beautiful. Those running half-naked on the beach scenes were amazing.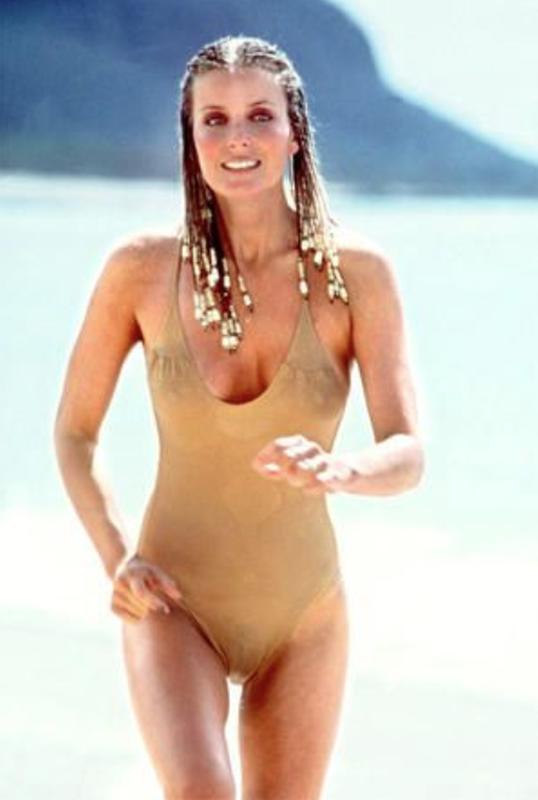 We could chase her all day.
"I'm the girl that's on the beach with a hat on, under an umbrella. Like, very shaded. But my weird thing is, I only tan my legs. My whole body's covered in the shade, and I tan my legs."… Dakota Fanning
This had to be one of the greatest and most alluring fantasy movies of all time.
Who could ever forget Ursula Andress in James Bond's Dr. No.
Yes, we remember her. Very well. Others did too since her bikini became so famous.
Ursula Andress is a Swiss film and television actress, former model and sex symbol, who has appeared in American, British and Italian films.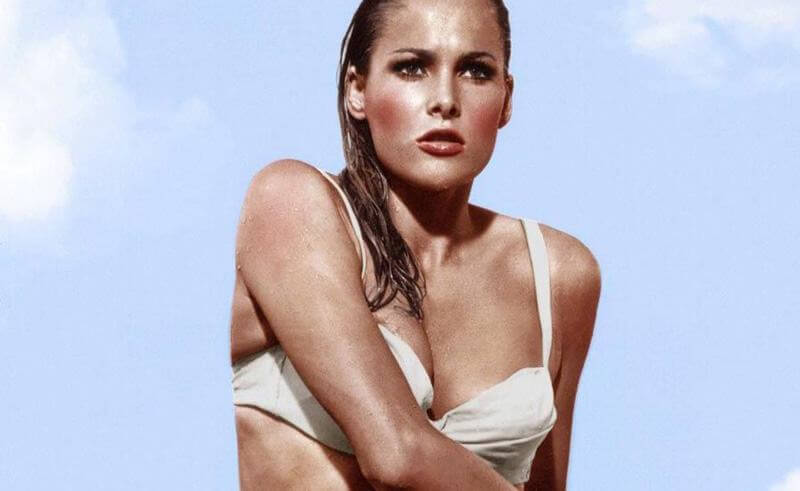 The white bikini of Ursula Andress, also known as the Dr. No bikini, was a white bikini worn by Ursula Andress as Honey Ryder in the 1962 James Bond film, Dr. No. It is cited as the most famous bikini of all time and an iconic moment in cinematic and fashion history.
Ms. Andress's white bikini is regarded as monumental in the history of the bikini, and sales of the two-piece bikini rocketed after the appearance of Andress in Dr. No.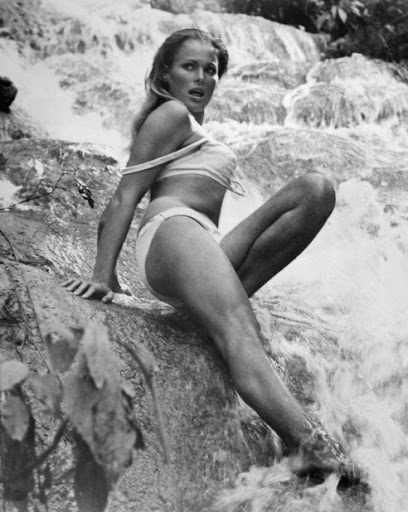 The lower part of the bikini features a wide white British Army belt with brass buckles and fittings, and a scabbard on the left side to hold a large knife.
Very iconic. Extremely sultry and sensuous.
Another Bond Girl who mesmerized us at the beach is Catarina Murino.
Caterina Murino is an Italian actress.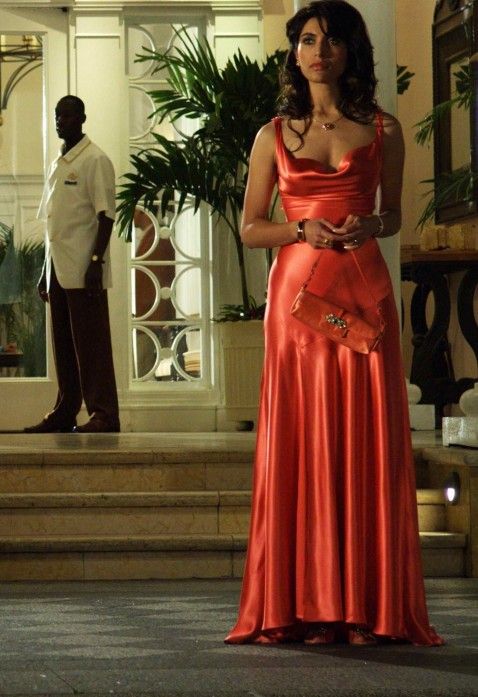 She began her acting career in the 1999 production of the play Richard III and later made her breakthrough with the 2004 film The Corsican File. She went on to appear in the 2006 film Casino Royale and received a European Golden Globe at the 2008 Italian Golden Globe Awards.
Our incredible beauty was born in Cagliari, Sardinia, and initially wanted to be a doctor.
She finished fifth in the 1997 Miss Italy contest. Having moved to London, she fell in love with theater and acting, saving up weekly to watch something in the West End Theater.
Ah, Casino Royal.
We envied James and his scenes with her. She is elegantly gorgeous.
Caterina riding on that white horse with the back drop of the azure beach is breathtaking.
That's why we dream.
That is why during these unprecedented times, we desire an escape.
To the beach.
And we know the perfect one with white sand, calm crystal blue waters, the sun shining bright above and gorgeous girls in bikinis all around, relaxing with nothing on their minds.
While they are completely on ours.
~ ~ ~
OPENING PHOTO fciwomenswrestling.com, grapplingstars.com femcompetitor.com fci women sports, Sony-Pictures-Releasing-photo-credit
https://en.wikipedia.org/wiki/Anthony_Fauci
https://time.com/5818134/anthony-fauci-never-shake-hands-coronavirus/
https://en.wikipedia.org/wiki/10_(film)
https://en.wikipedia.org/wiki/Ursula_Andress
https://en.wikipedia.org/wiki/White_bikini_of_Ursula_Andress
https://en.wikipedia.org/wiki/Caterina_Murino 
https://www.brainyquote.com/topics/beach-quotes