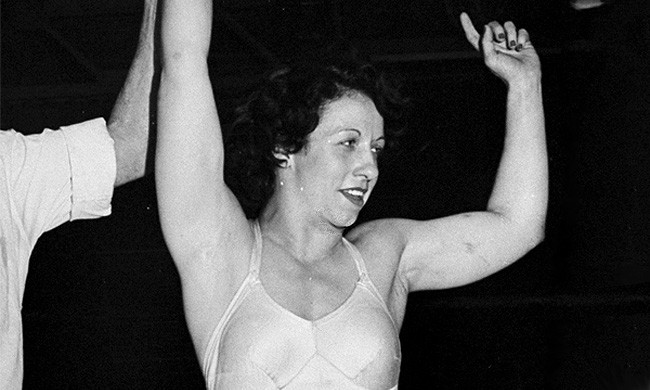 The opening atmosphere was reminiscence of a boxing title fight from times past. The crowd was nicely dressed in business suits and go to church on Sunday dresses.
The two women were brought to the middle of the ring and explained the rules.
The video has a news reel feel similar to an announcer suggesting what to do before the battle rages only here, this evening, no one would die though when you read the history of women's wrestling, many young women actually died in the ring due to injuries, unfortunately including Mildred Burke's daughter Violet.
Mae Weston is a taller shapely dark brunette who along with Mildred lend the impression that if they wanted to amp it up, they could truly bring severe violence to one another.
The violence begins complete with headlocks, windmill socks and punches that have to hurt just a little, body rolls, monkey flips, thudding kicks and hard knees to the body while one woman lays helpless.
Mildred Burke would win, again. She always does. The only question is how will she win? This one is accomplished with a sexy folding pin.
It's hard not to be in awe of Mildred's nicely muscled but very feminine body. During certain holds that present leg struggle, Mildred has some of the most beautiful and erotic powerful legs ever seen in the ring.
That match was another Mildred Burke classic.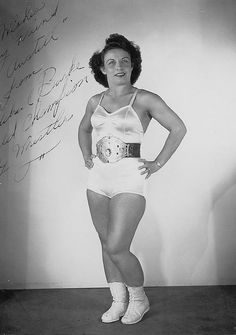 fciwomenswrestling.com article, pinterest.com photo credit
The unofficial record is that she won 150 matches against men and more than 5,000 against women without losing.
Mildred was born on August 5, 1915, in Coffeyville, Kansas.
Our star was the youngest of six children.
At 15, after constantly traveling between Kansas and California with her family, she started working as a waitress on the Zuni Indian reservation near Gallup, New Mexico.
In 1935 at age 19, Mildred started wrestling on the carnival circuit, offering $25 to any man of reasonably similar weight who could pin her within 10 minutes.
No one did.
Ms. Burke attributed her monumental winning record to utilizing the "alligator clutch," a Burke invention with which she speculated ended about 4,500 of her matches. The move is a unique pinning maneuver in which you make a pretzel of your opponent and then sit on her.
Under Burke's reign, which included being recognized as the world's women's wrestling champion from 1936 to 1956, she ruled the ring with a muscular, super hero iron fist.
For two decades, Mildred wrestled six days a week, 50 weeks a year.
According to onlineworldofwrestling.com, "On January 28, 1937: Mildred Burke defeated Clara Mortenson to become Women's World Champion ending a 5 year reign."
Possibly the greatest match ever was the little known bout between Mildred Burke and June Byers on August 25th, 1954 in Atlanta, Georgia as Mildred was nearing retirement.
As you can imagine, many wrestling aficionados have been attracted to Mildred Burke's story including the Pulitzer Prize-winning journalist Jeff Leen.
By some accounts, a polarizing figure, because it's reported he claimed he wanted to write stories on the CIA that would allow him to go to Hollywood and make a million dollars.
Still, his resume is unbelievably impressive. According to the educational site ccnmtl.columbia.edu, "Jeffrey Leen was assistant managing editor of the Washington Post's investigative unit. He joined the unit as a reporter in 1997 and was named its editor in 1999. He and three reporters won a Pulitzer Prize in 1999 for coverage of police shootings in Washington, DC—his first project with the unit. As of 2013, Leen had edited or reported on six Pulitzer-winning investigative projects. Before joining the Post, Leen spent 15 years at the Miami Herald, where he covered the Medellin cartel in Colombia."
The wrestling industry site thequeenofring.com allows that he was also attracted to the story of Mildred Burke and in speaking with them, had this to say about our beautiful industry legend. "After my last book, which was an investigation of the world's most dangerous criminals and required doing research in 50 federal court cases, I wanted to do something very different. I wanted to write a narrative with lots of dramatic twists and a single strong main character. I was also looking for a story that was very visual. I thought pro wrestling was a great subject because it resonates on so many levels and it has such a great, subterranean history.
I thought it was utterly amazing that a woman had come out of this milieu and been one of the top stars in the game. I had known about Mildred Burke's story dating back to when I was a kid in St. Louis reading the wrestling magazines in the 1960s. I thought she was a phenomenal character. So much about her seemed incongruous and otherworldly. The first female athlete to earn $1 million was a lady wrestler in the 1930s and 1940s? Who knew? She seemed like some kind of superhero, only 5-2 and 120 pounds, but a wrestling champion for nearly two decades. She was incredibly tough and gutsy."
There goes that million dollars thing again.
Mildred of course was worth every penny.
If you would like to read her story, Mr. Leen's work culminated in the publication of his second book, "The Queen of the Ring: Sex, Muscles, Diamonds, and the Making of an American Legend," released by Atlantic Monthly Press.
Mildred's story rings of a woman fighting for power, equality and survival in one of the toughest businesses in the country, during some of the toughest times in America's past, from the Great Depression to World War II, when even the male wrestlers often fought overseas for a pay day.
If you want to good a good look at Mildred and even by today's beauty standards she is great to look at with her muscular yet feminine thighs and shapely form, please go to YouTube and catch this video while it lasts in her previously described match against Mae Weston.
https://www.youtube.com/watch?v=Nd2WrTarnoQ
If you desire to enter into the subjective world of who was the greatest of all time and some would argue the Fabulous Moolah is, having said that, it's hard to argue against Mildred's substantial undefeated record.
As far as Mr. Leen is concerned, even comparing Mildred to our bountiful lady pro theatrical beauties of today he stated, "There's a few of them who are talented, but none of them are Mildred Burke."
~ ~ ~
Given the prolific history of one of the greatest women's wrestlers of all time, FCI Womens Wrestling has written two articles on Ms. Burke. The above is the second.
Sources: brainyquote.com, Wikipedia, fciwomenswrestling2.com, FCI Elite Competitor, photos thank you Wikimedia Commons.
http://articles.latimes.com/1989-02-21/sports/sp-187_1_mildred-burke
http://www.thequeenofthering.com/
http://ccnmtl.columbia.edu/projects/caseconsortium/casestudies/147/casestudy/www/layout/case_id_147_id_303_c_bio.html
http://www.onlineworldofwrestling.com/bios/c/clara-mortenson/
http://bleacherreport.com/articles/232863-queen-of-the-ring-new-book-tells-tale-of-womens-wrestling-pioneer
http://hubpages.com/sports/The-Greatest-Female-Wrestling-Match-Of-All-Time-Mildred-Burke-and-June-Byers