Mayra Aguiar, Brilliant Super Star Brazilian Judoka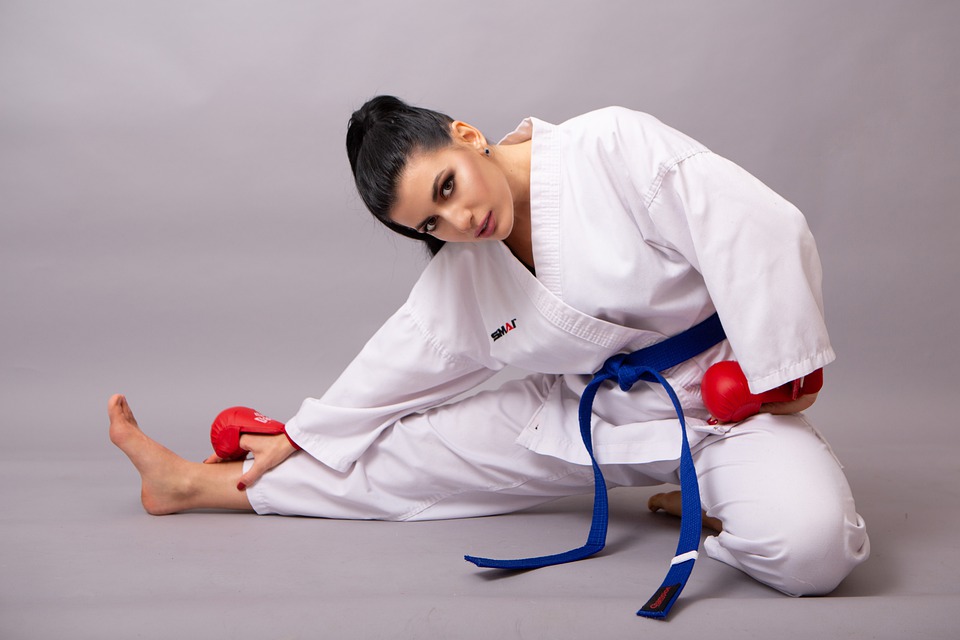 May 7, 2021
Love elicits emotions unparalleled. It can be music to our ears, heart and soul.
Brazil loves her sports passionate maximus.
Her citizens are heavily involved in their sports including volleyball, basketball, Formula One car racing and the most popular is football or, as most in Western Civilization know it by, soccer.
Having said all of that, if you are going to compile a list of the most favorite sports in Brazil it had better include Mixed Martial Arts.
Any list without that is woefully incomplete.
Just ask the eventual Gold Medal winner in Judo, American Kayla Harrison.
On June 22, 2016 judoinside.com shared, "Kayla Harrison would gladly be booed again at the Rio 2016 Olympic Games. The first time Harrison beat Aguiar, they went into a golden score, judo's version of sudden death, in a world cup final in Sao Paulo. Aguiar lost on a penalty. An Olympic Final between Harrison and Aguiar would be the max of all pleasure. "Brazil's going to be amazing. They love judo there."
Yes they love their Judo but not as much as they are madly with one of their biggest and brightest judoka, Mayra Aguiar.
Mayra Aguiar da Silva is a brilliant super star Brazilian judoka.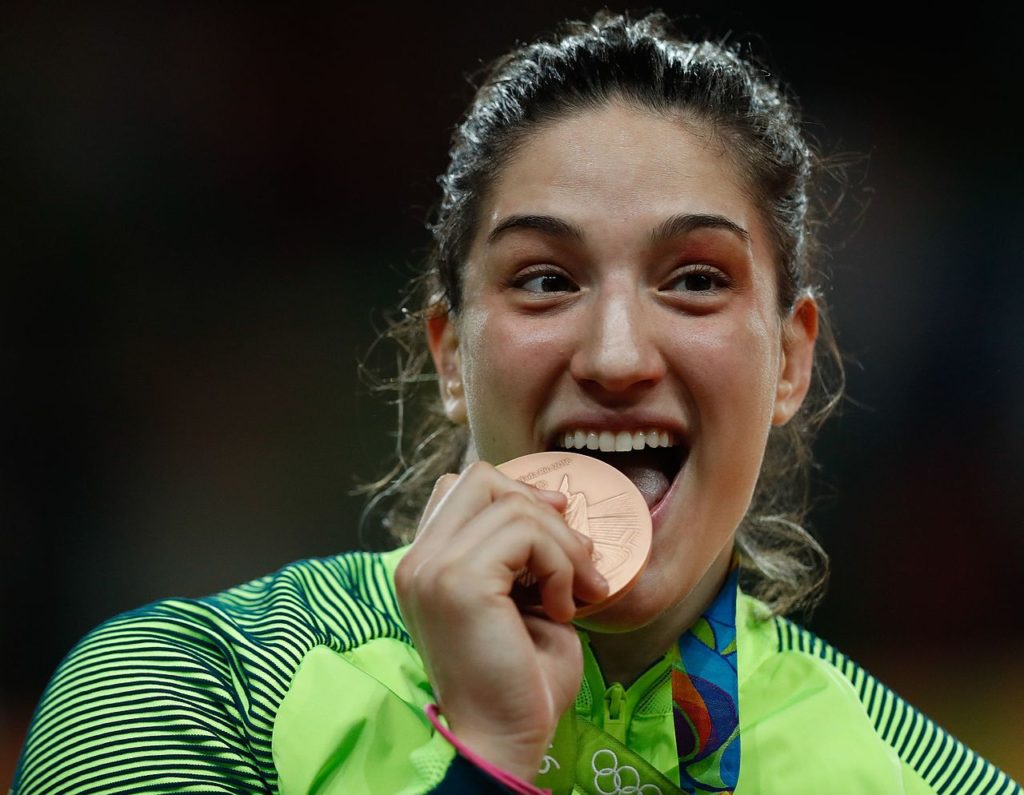 She trains under Kiko (Antônio Carlos Pereira) in a group with João Derly, Tiago Camilo and others in SOGIPA.
She is one of the most talented Brazilian judokas in history. When she was 16 years old she competed at 2007 Pan American Games and won a silver medal.
In 2008, she competed at Olympic Games in Beijing but lost her only match with Spanish judoka Leire Iglesias.
In 2010, after an injury, Mayra changed category from middleweight to half-heavyweight and won a gold medal at 2010 Pan American Judo Championships in El Salvador.
In September of that same year, she participated at the 2010 World Judo Championships and lost the final to Kayla Harrison, from the United States, receiving the silver medal.
In 2012, Aguiar won the bronze medal at the 2012 Summer Olympics.
Ms. Aguiar became world champion in 2014, defeating the French Audrey Tcheuméo in the final.
What an incredible resume.
It is a resume with a dance partner.
Do you realize since April of 2010 that Mayra and Kayla have met each other a mind boggling 17 times in battle?
Yes seventeen times.
Theirs is one of the most enduring rivalries in the grueling sport and the subject of numerous documentaries in Brazil, with a head-to-head record at 9-8 in Kayla Harrison's favor after she overtook the Brazilian at the World Judo Masters tournament in Guadalajara, Mexico.
With Brazil hosting the 2016 Summer Olympics and Aguiar's recent triumphs, she was the favorite to win the gold.
The respected group at ground zero nbcolympics.com acknowledged, "There is an expectation that Team USA's Kayla Harrison and Brazil's Mayra Aguiar will ultimately meet in the final round of the women's 78kg competition. So far, they've done nothing to sway that line of thinking."
As far as that fore ordained showdown at the Rio Olympics to fight it out for the Gold with Kayla, unfortunately Mayra could not make that appointment.
Kayla did keep her Gold medal appointment and won.
Let's face it. This would have been the perfect setting.
A fight out in Rio? Spectacular. Yet……..
With Brazil hosting the 2016 Summer Olympics and Aguiar's recent triumphs, she was the favorite to win the gold. A struggling semifinal with Audrey Tcheuméo, where Mayra was kept scoreless and wound up defeated on penalties, sent her again to the bronze match.
Mayra won the Bronze but her Hollywood ending with Kayla who would soon retire did not materialize.
That honor went to Audrey Tcheuméo of France.
Still, what Mayra has accomplished is outstanding especially since she has achieved much of her fame after coming off reconstructive knee surgery.
What an outer worldly journey of painful challenges and stellar triumphs.
Mayra was born in Porto Alegre and begun training for and practicing judo when she was just a little girl.
Let's visit Porto Alegre.
Porto Alegre, rich with history, means Joyful Harbor.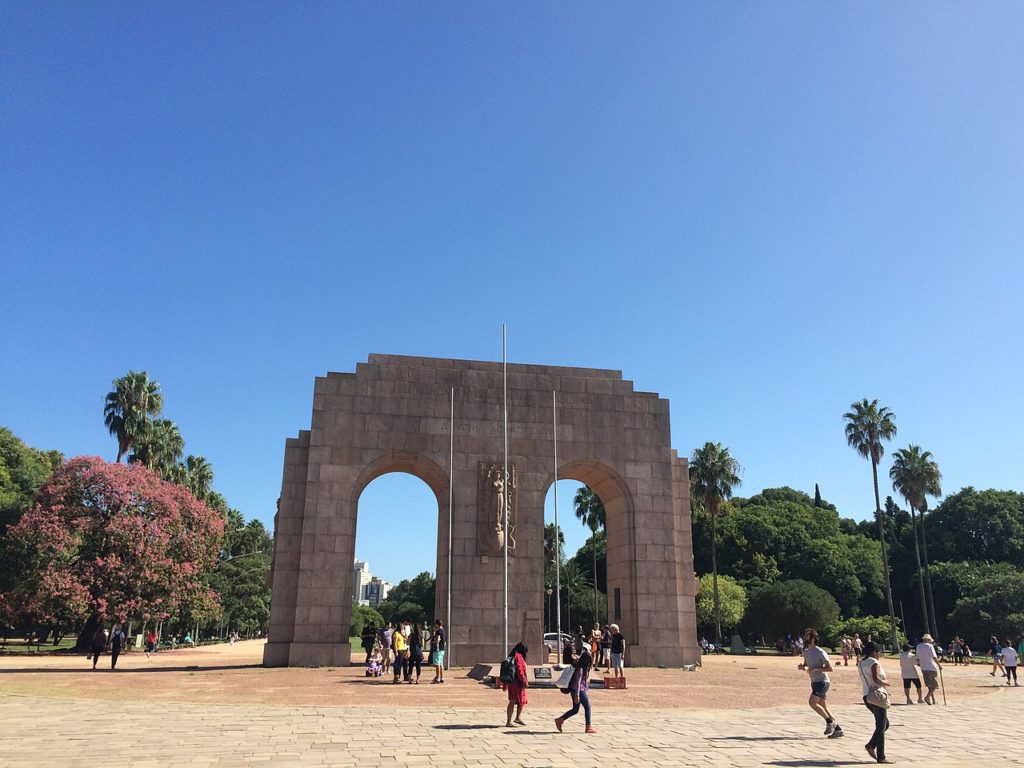 This magnificent city is the capital and largest city of the Brazilian state of Rio Grande do Sul.
Founded in 1769 by Manuel Sepúlveda, its population of 1,481,019 inhabitants (2016) makes it the tenth most populous city in the country and the center of Brazil's fifth largest metropolitan area, with 4,405,760 inhabitants (2010).
The city is the southernmost capital city of a Brazilian state.
The city lies on the eastern bank of the Guaíba River (also referred to as a lake), where five rivers converge to form the Lagoa dos Patos (Lagoon of the Ducks), a giant freshwater lagoon navigable by even the largest of ships.
This five-river junction has become an important port, the beneficiary of huge deposits of sand, mud, etc., formed by flowing water.
It is also the chief industrial and commercial center of Brazil.
The global travel group wikitravel.org adds, "Porto Alegre is the state capital of Rio Grande do Sul and the biggest urban agglomeration of southern Brazil. The perfect blend of Brazilian-Portuguese and River Plate-Spanish cultures, added to a strong European heritage gives the city a unique background within Brazil. The city is one of the richest metropolis in the country, the state capital with the highest life quality and literacy rate (97%), the book capital of Brazil."
The village that helped raise Mayra is an enriching metropolis.
The other leaders in travel at Lonely Planet have been there. Of course. They relate, "On the banks of the huge freshwater Lagoa dos Patos, Porto Alegre is southern Brazil's most important port city and a key player in Mercosul (the South American free-trade agreement).
The downtown area has benefited from a thoughtful approach to development, including the creation of transportation hubs and the preservation of much of its grand, neoclassical architecture. A long tradition of progressive politics has helped nurture vibrant arts and alternative music scenes."
Mayra's judo ascension is a musical masterpiece.
We have been fortunate to listen to the notes.
"Being deeply loved by someone gives you strength, while loving someone deeply gives you courage."… Lao Tzu
It's easy to understand why Brazil passionately loves her.
~ ~ ~
OPENING PHOTO femcompetitor.com, grapplingstars.com fciwomenswrestling.com article, mayra-innamikitas-pixabay.com-photo-credit.
https://en.wikipedia.org/wiki/Mayra_Aguiar
https://www.judoinside.com/judoka/43348/Mayra_Aguiar/judo-career
https://www.judoinside.com/news/2586/Ruika_Sato_finds_a_way_past_world_champion_Aguiar
https://www.judoinside.com/news/1434/Preview_Kayla_Harrison_vs_Mayra_Aguiar_the_ultimate_final_U78kg
http://www.nbcolympics.com/news/kayla-harrison-mayra-aguiar-advance-semifinals-womens-78kg-judo
https://www.travelchannel.com/destinations/brazil/articles/best-of-porto-alegre-brazil
https://en.wikipedia.org/wiki/Porto_Alegre
https://wikitravel.org/en/Porto_Alegre
https://www.lonelyplanet.com/brazil/the-south/porto-alegre
https://en.wikipedia.org/wiki/Sport_in_Brazil
http://www.dictionary.com/browse/alluvium
https://www.brainyquote.com/topics/love
https://www.ijf.org/judoka/1039
https://www.famousbirthdays.com/people/mayra-aguiar.html
https://www.fcielitecompetitor.com/
https://fciwomenswrestling.com/