Historic Tournament, Germany's Nadine Dazzled At Fighting Style, Berlin Expo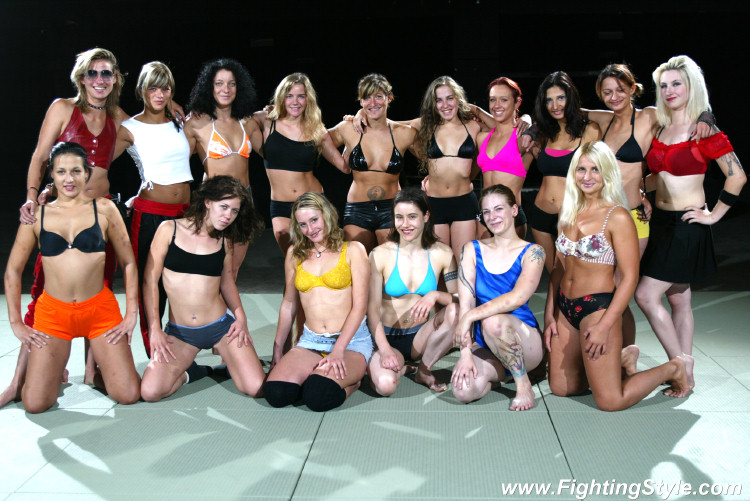 May 23, 2022,
There will most likely never be another series of tournaments like Fighting Style and the Berlin Expo which occurred during the 2003-2005 time period. It is by far one of the most exotic and substantial International events in female submission wrestling history.
And Berlin as a setting. Awe inspiring.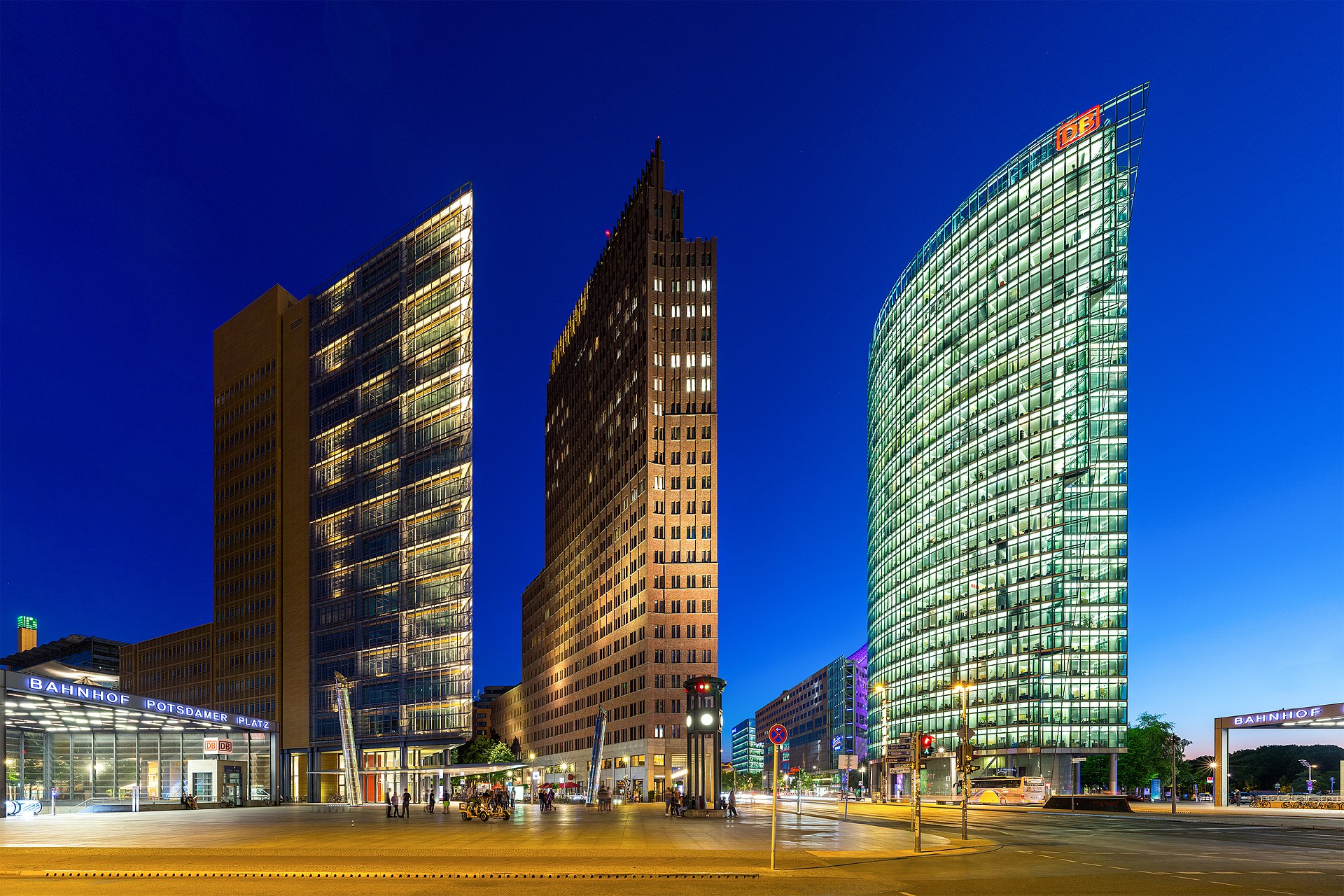 Its 3.7 million inhabitants make it the European Union's most populous city, according to population within city limits.
Berlin's urban area, which has a population of around 4.5 million, is the second most populous urban area in Germany after the Ruhr. The Berlin-Brandenburg capital region has around 6.2 million inhabitants and is Germany's third-largest metropolitan region after the Rhine-Ruhr and Rhine-Main regions
Very impressive. See what we mean by substantial?
The world travelers at Lonely Planet add, "Berlin's combo of glamour and grit is bound to mesmerize all those keen to explore its vibrant culture, cutting-edge architecture, fabulous food, intense parties and tangible history."
Part of that tangible history is the Berlin Fighting Style Expo.
One of the amazing strengths of the Fighting Style and Berlin Expo female submission wrestling matches of the 2003-2005 time period was the sheer number of them, making them perhaps one of the best recognized tournaments in our industry's history.
In terms of notoriety, the challenge for the Fem Competitors was, given the massive number of competitions, it was pretty hard for one grappler to really stand out.
Except for Nadine.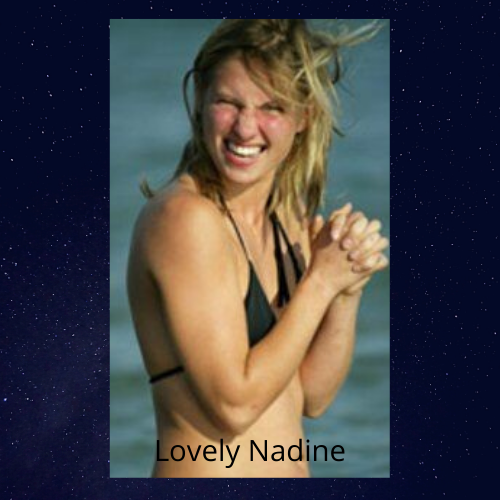 Her performances were very impressive.
The German Princess was new to wrestling, like so many of the other young Greek Goddesses but her iron will, civilized rage and Romanic aggression catapulted her to being one of the top performers.
She battled blonde Rebecca, the muscular Rebecca (a different sexy girl), feminine girl next door Liliana, the shapely German Maiden Aniela, over matched sleek and sensuous Jacqueline, formidable Kahti, the veteran Mary, Artemis the greatly admired German Policewoman and others.
Nadine is a feminine given name. It is the French form of the Ukrainian name Nadia. Research indicates that her name means "Hope" in Russian.
We love the creativity of naming interpretations found at sheknows.com. Regarding Nadine's name they infer, "People with this name have a deep inner desire for a stable, loving family or community, and a need to work with others and to be appreciated.
People with this name tend to be idealistic, highly imaginative, intuitive, and spiritual. They seek after spiritual truth and often find it. They tend to be visionary and may inspire others. If they fail to develop their potential, they may become dreamers, or misuse power."
Okay, we'll go with that.
Great occurrences in life should never be forgotten but passed down from generation to generation with the hope of inspiring high achievement, appreciation and imitation.
Through the eyes of Femcompetitor Magazine, from the archives, let's review with admiration some of Nadine's stellar Fighting Style matches.
FEMCOMPETITOR MAGAZINE ARCHIVE REVIEW
VS MARY
Nadine was dressed in light grayish blue that accented her nicely feminine and shapely form while Mary was dazzling in blue tights and a black top. Given Mary's experience, I would have picked Mary to win this easily but my respect and admiration for Nadine is obviously growing. This match goes back and forth but one of the more powerful submissions is when Nadine is on top of Mary from start to finish, completely controlling her, even backing Mary up against the wall, bringing her down and exacting a submission.
The German maiden fought Mary well, even from a ground position where she wrapped her legs tightly around the shapely Mary with the urging of the Dojo crowd to press the advantage but found it hard to do so.
Mary did exact a painful submission from Nadine who started out head hunting until Mary turned the tables on her, secured a top position and submitted her.
VS REBECCA
She takes on all comers including a body builder adorned with creative tattoos named Rebecca. Dressed in blue and Rebecca powerfully in red white and blue, Nadine uses her legs to begin to control the sexy body builder who is blessed with strength but a little short on skill.
Once Nadine clasps Rebecca's face to secure the hold, it's all but over. Almost. Rebecca escapes but Nadine's legs are like glue and at one point in the standing position, Rebecca could body slam her and the thought clearly crossed her mind and probably a slightly concerned Nadine too who then grabbed Rebecca's ankle, tripped her down and eventually submitted her.
The expansive Dojo with lime green mats provides an ideal setting for the sensuous battle.
VS LILIANA
It's a beautiful sunny day on the Greek coast. A perfect setting for two beauties to wrestle outdoors. Nadine dressed in an all-black bikini and knee pads is the favorite this time against a feminine, shapely Liliana who is sporting a sexy, everyday girl next door body, multi-colored bikini with the number 36 printed on her briefs.
Typically Nadine loves to use her legs but this time against a less experienced opponent, arms outstretched she chooses to head hunt. The girls circle around each other, mostly Liliana trying to stay at a distance from Nadine's potentially lethal reach. Nadine beckons her to come closer and unwisely Liliana does just that. Nadine grasps her blonde foe by the head, even covering her mouth making it difficult to breath, takes her down with a thud and submits her.
VS ARTEMIS
Sporting a blue sports top and yellow briefs, the German police woman Artemis is always ready to compete. Our hero Nadine is decked out with a leopard patterned top and black briefs. It's a dark night outdoors but the energy is bright on the mats.
It's easy to fall in love with the wrestling of Artemis who sports artful tattoos, a sleek and sexy athletic body packaged with a very feminine persona. It's the final trait that seems to work against Artemis in her matches as the more confident her opponent grows, the more submissive Artemis appears to become often completely yielding to the other beautiful woman's will.
That was certainly the case here under the stars against Nadine.
Nadine tends to head hunt first, get her opponent on the ground and then use painful scissors to finish her prey. This time she enclosed Artemis in a head lock, put her down and then put her out with a choke and smother. It would only get worse from there as she began to dominate the beautiful blonde Artemis who found herself trapped in a reverse head scissors and submissively submitted again.
Up for another round, legs apart, Nadine challenged Artemis to attack her but the German policewoman proceeded cautiously. Since Artemis would not take the fight to her, Nadine became the aggressor at one point using Artemis arms like Christmas ribbon and wrapping her head upwards with it, controlling her, on top of her, while Artemis was in anguish and finally submitted.
VS BLONDE REBECCA IN JEANS
Standing as though ready to model for a gorgeous girl's blue jean advertisement, Nadine and blonde Rebecca were ready to go at it cat fight style.
I have to admit, I've always wondered why beautiful girls agree to a catfight knowing they are going to get their hair pulled and their face slapped. The answer of course is money. Still, as soon as it starts, I sense as least one of them, the slappee, immediately regrets it.
This seemed to be the case here.
SLAP!
That's gotta hurt and I'm sure it did as Rebecca immediately became angry after receiving it. Nadine slapped her, pulled her hair and out wrestled her until Rebecca grimaced holding her arm and admitted she had enough.
VS ANIELA
When Nadine faced Aniela at the Dojo, it was one of the few times that Nadine stood toe to toe with her opponent and the other girl was slightly taller and heavier than her.
That was about the only advantage that Aniela possessed.
In the category that counts the most; skill, score one for Nadine.
It was an interesting and erotic match due to its slow movements. The tempo was almost like a slow roll with each girl taking turns being on top of one another but more often than not it was Nadine coming out ahead including using a painful foot hold to submit Aniela.
Simply put, Nadine was a joy to watch.
She could apply different styles with stellar results.
Her fighting style should always be in style.
Generation after generation.
~ ~ ~
OPENING PHOTO fciwomenswrestling.com femcompetititor.com grapplingstars.com FightingStyle-photo-credit

https://en.wikipedia.org/wiki/Nadine_(given_name) 
http://www.sheknows.com/baby-names/name/nadine
https://en.wikipedia.org/wiki/Berlin
https://www.lonelyplanet.com/germany/berlin
https://www.wrestlewiki.com/wiki/FightingStyle
https://www.fcielitecompetitor.com/
https://fciwomenswrestling.com/