Hawaii's Beautiful MMA Star Rachael Ostovich In Transition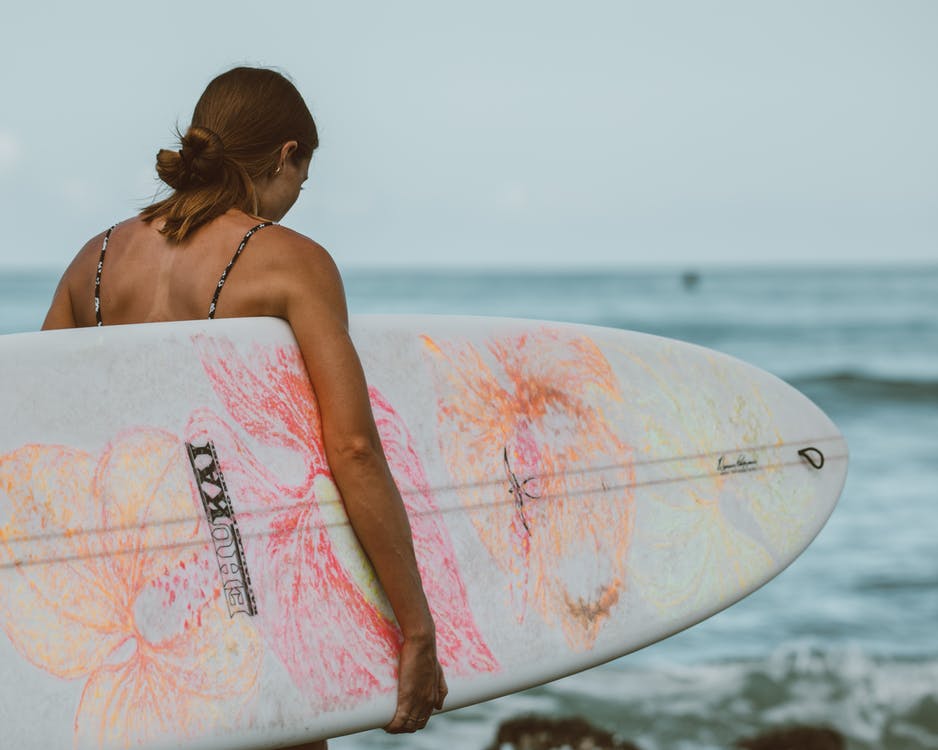 June 23, 2021,
Images of veteran female boxers and MMA fighters with swollen faces and a hardened facial exterior are not uncommon because the operative word here is veteran.
That means you have been in the cage quite a few times and win or lose your face will most likely take a beating.
When you weigh in, typically your looks will be in stark contrast to the sizzling hot MMA  Candy looking ring girls who stand behind you. They are so feminine and beautiful.
No punch drunk faces there. Just gorgeous sexy model like figurines.
Now it is weigh in time again.
Enter Hawaii's Rachael Ostovich.
At her weigh in, our mouths drop open. Why? This is a rare case where the MMA Fighter actually looks hotter and sexier than the Ring Girls behind her.
Hey, don't take our word for it. Google her.
Rachael Ostovich is one sensuous woman. If you view the online comments, plenty of viewers agree. The popular media outlets agree.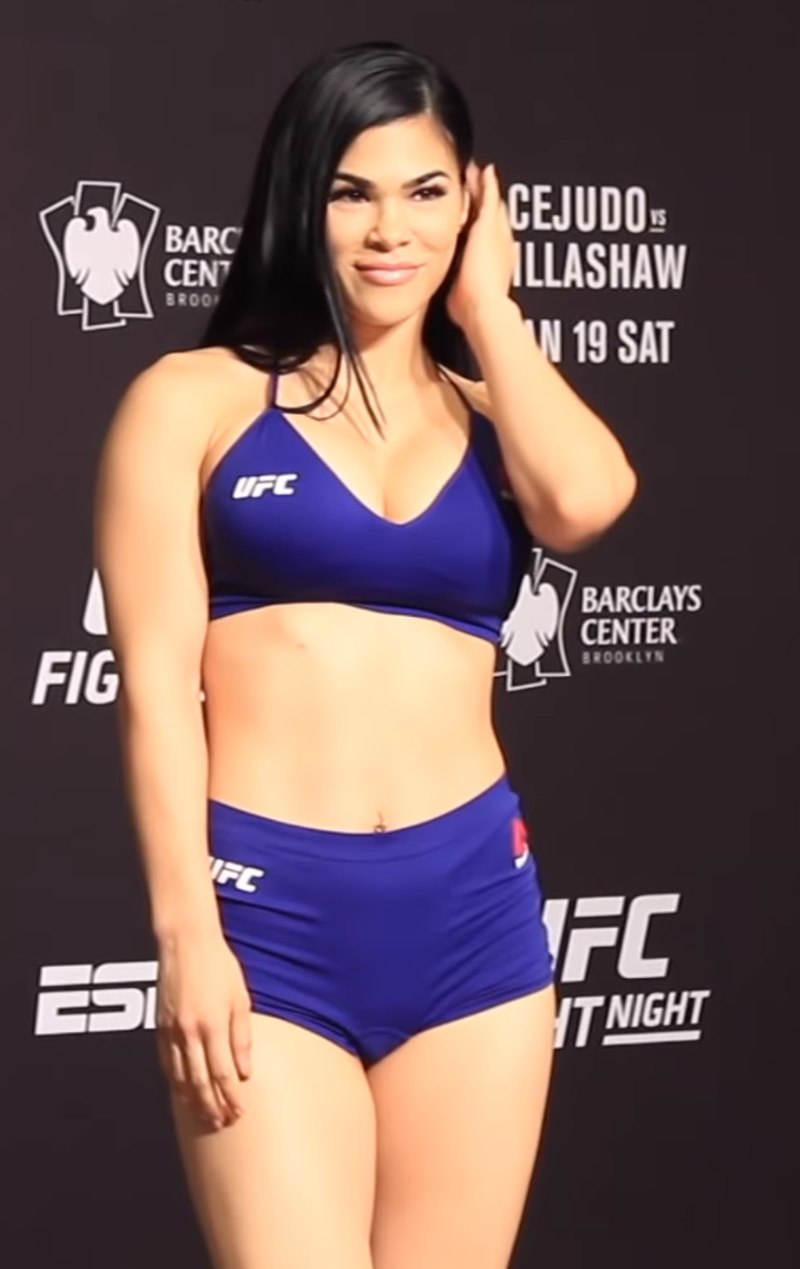 At tmz.com they smile, "The woman you're looking at above is not a professional swimsuit model — she's a badass MMA fighter, and she tells TMZ Sports she's out to prove she's more than a pretty face. If Rachael Ostovich looks familiar … it's 'cause she went viral on social media (for obvious reasons) after appearing on UFC's 'The Ultimate Fighter' in July."
See what we mean?
The Ultimate Fighter is an American reality television series and mixed martial arts (MMA) competition produced by Fox Sports 1 and the Ultimate Fighting Championship (UFC).
It previously aired for fourteen seasons on Spike TV. The show features professional MMA fighters living together in Las Vegas, Nevada, and follows them as they train and compete against each other for a prized contract with the UFC.
Rachael is in elite company.
Another popular media team loves her too. The Fumble is sports news for the super fan.
They cover everything from the NFL, NBA, MLB, MMA, NHL and every random sporting story in between. They tell you about the history-making plays, what your favorite athletes are up to after-hours.
They are going to show Rachael some added love. They share, "Today we're showing love to Rachel Ostovich, a 26 year old MMA fighter, and our Fumble Fox of the day. This beauty has a 3 and 3 pro record, and is a fighter that you'll want to keep an eyes on. Not only for her beauty but the skills that back it up. Is she the hottest lady in the sport right now?"
Okay, makes sense. We agree. We can understand why. Aren't cheerleaders some of the most gorgeous girls in high school and college?
Sure they are.
Rachael was a cheerleader in high school and even hoped to earn a full ride scholarship to college but unfortunately didn't.
Then she decided to turn to fighting. Why? Maybe it is not because of what you think. In an interview with ufc.com she explains, "All my years of sacrifice and hard work are coming to pass. I want to be a UFC champ and use that platform to reach the world and make it a better place. I want to be a role model for my daughter to show her anything is possible."
Okay, we see the look on your face.
Hey, we can be shallow too. What should we be talking about when featuring an MMA Fighter?
Their fighting, right?
Got the point. Will do.
Ms. Ostovich began her amateur MMA career in 2010. Over the next three years she amassed an undefeated amateur MMA record of 6-0. As you might guess, after that great start, many in your circle and outside as well urge you to take it to the next level.
Rachael apparently agreed.
Rachael made her professional MMA debut in January 2014 in her native Hawaii. She went 1-1 before joining Invicta Fighting Championships.
Our rising MMA star debuted for the all-female Invicta Fighting Championships in December 2014. She faced Evva Johnson at Invicta FC 10 and won the fight by split decision.
In August 2017, it was announced that Ostovich would be one of the fighters featured on The Ultimate Fighter 26, where the process to crown the UFC's inaugural 125-pound women's champion will take place. In the opening round, Ostovich defeated Melinda Fábián by rear-naked choke submission.
With that ascension it is understandable that this fierce beauty is ready for the big leagues.
She continues to move upward and onward. Rachael faced Karine Gevorgyan on December 1, 2017 at The Ultimate Fighter 26 Finale. She won the fight via arm bar submission in the first round.
Great work. Well done for the girl who describes herself as Wonder Woman. She certainly is becoming a super heroine in the female fight world.
Win or lose, one can analyze where Rachael is headed if she upholds her end of the bargain and continues to win.
Easier said than done.
Rachael was scheduled to face Paige VanZant on January 19, 2019, at UFC on ESPN+ 1.
It was reported on November 18, 2018, that Ostovich was violently assaulted, sustaining a broken orbital bone and other injuries, and due to the injuries she sustained, she pulled out from the fight against VanZant.
On November 27, the bout between Rachael and VanZant was confirmed to push through on January 19, 2019, after Ostovich was cleared to fight by her doctor.
Our MMA fighter with the model looks lost the fight by submission via arm bar in the second round.
Rachael faced Gina Mazany on November 28, 2020 at UFC on ESPN: Blaydes vs. Lewis. She lost the fight via third round TKO from body kicks.
In the highly competitive UFC, actions have consequences.
After 3 straight losses, Rachael was released by the UFC on December 7, 2020.
After personal tragedy what do most of us do? Return to your roots.
Where is she from?
At the informative site to-hawaii.com they educate, "Wai'anae is the main town on Oahu's leeward coast. That's why this side of the island is also often times referred to as the Wai'anae Coast. This is where leeward residents stock up on food and other necessities. Wai'anae Mall has a drugstore, a bank and a few fast food eateries, food and clothing stores. Wai'anae also has a post office, public library and high school.
At the Wai'anae Small Boat Harbor, tour operators launch their boats to take people out to snorkel with wild dolphins or to cruise along the coastline. It is a small working harbor where you can also see fishing boats and small yachts."
Good to know. A small town girl is making it really good and doing so in a beautiful way.
Viewing the fun travel site traveltips.usatoday.com they add, "Waianae, on Oahu's leeward, or west, coast, less than an hour from Honolulu, Hawaii has some excellent swimming and sunning beaches. The coast is separated from the rest of Oahu by the Waianae mountain range, where visitors can hike and enjoy the stunning views."
Fans around the world have a stunning view of Rachael.
It's understandable.
She's bright, family oriented, completely gorgeous, a show woman and an exceptional warrior.
Based upon that, her success in the sport that she loves in inevitable and our love and the affection of fans around the world is expected.
~ ~ ~
OPENING PHOTO femcompetitor.com, grapplingstars.com fciwomenswrestling.com Jess-Vide-pexels.com-photo-credit.
https://en.wikipedia.org/wiki/Waianae,_Hawaii
https://www.to-hawaii.com/oahu/cities/waianae.php
https://traveltips.usatoday.com/beaches-waianae-hawaii-55852.html
https://en.wikipedia.org/wiki/The_Ultimate_Fighter
http://www.tmz.com/2018/10/20/rachael-ostovich-mma-ufc-hot-chicks-kick-ass/
https://www.tapology.com/fightcenter/fighters/63874-rachael-ostovich
https://www.mma-core.com/photos/Rachael_Ostovich_vs_Paige_Vanzant/198471
https://en.wikipedia.org/wiki/Rachael_Ostovich
https://www.instagram.com/rachaelostovich/?hl=en
http://www.sherdog.com/fighter/Rachael-Ostovich-69142
http://www.ufc.com/fighter/Rachael-Ostovich
https://www.axs.com/mma-fighter-rachael-ostovich-nearly-breaks-the-web-with-stunning-body–113586