Grappling Stars Discounted Women's Wrestling Videos, Closeup And Exceptional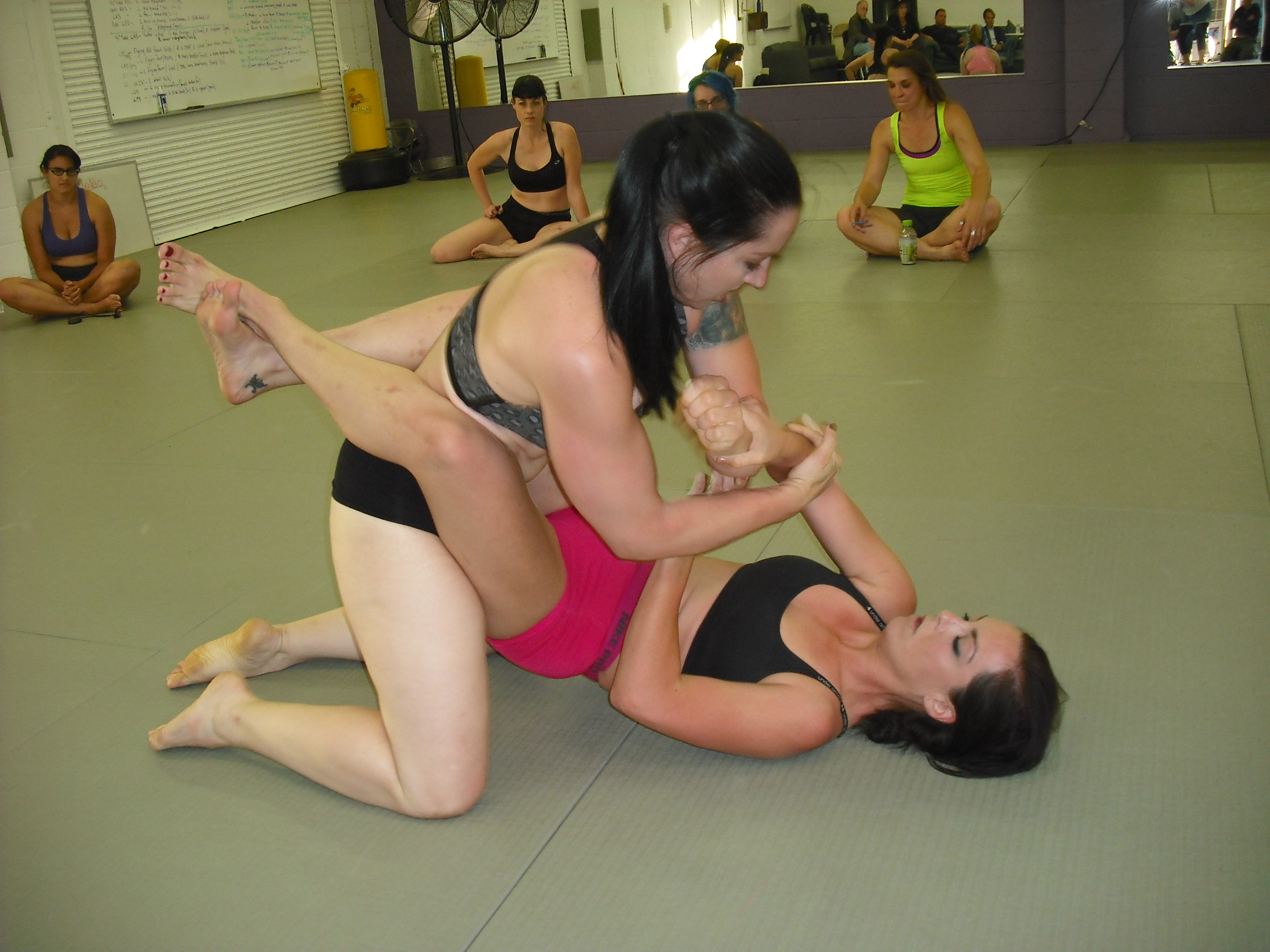 One is the loneliest number that you ever knew.
Didn't Three Dog Night explain that to us so clearly in song?
Time for a reminder. Here are the lyrics.
One is the loneliest number that you'll ever do
Two can be as bad as one
It's the loneliest number since the number one
Okay, so even two is just as bad as one? Who are we to question the legendary Three Dog Night?
So we now are becoming enamored with the number three.
Three must be better than one and where better to implement that than a video sales store?
So we are whistling and singing as we go and our friends at San Francisco Grappling stars have invented the Triple Play video.
What's the details? You essentially get three incredible sexy female submission wrestling matches almost the same price as one, featuring your dynamic stars.
We know you love watching Isamar Gutierrez dominating other women in battle so instead of just purchasing one of her videos, you can now get three of her videos for about the same price.
Here are a list of the Triple Play Videos at Grappling Stars as of December 23, 2019.
Please enjoy the following words from the producer.
https://grapplingstars.com/fvsf-wrestling-videos/
ISAMAR FIGHTS THE SHAPELY GIRLS TRIPLE PLAY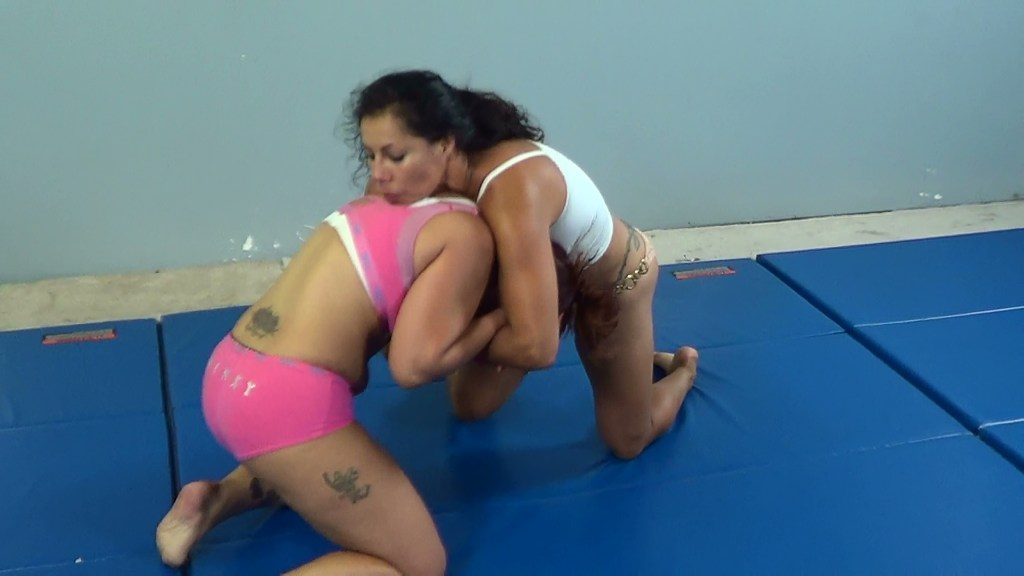 If you are an Isamar Gutierrez fan, and we all seem to be, you know that for over a decade she is one of the top competitive female submission wrestlers in the United States. She has dominated the San Francisco Bay area competitive female submission wrestling with an iron fist and is seen as one of the top recruiters in the area.
She knows who all the players are.
She should. She has defeated virtually all of them at least once.
This video is very different from Isamar The Dominator Triple Play already in our store.
Here the matches are a little more competitive but it is very hard to be competitive with Mighty Isamar.
They are also very sexy. The British wrestler and San Jose tough girl Olivia D'Angelo have something in common. Nice sexy thick legs struggling while getting dominated.
Here Isamar faces a top curvy British wrestler in a rare International match and demonstrates that she can compete with great results on an International level too. Next will be one of her toughest matches yet against Bay Area sensation Daisy Ducati who is known for her effective legs scissors. She then concludes in a rare match with San Jose tough girl Olivia D'Angelo where you'll see two shapely beauties with skill go for it.
You will absolutely love watching Isamar in action here.
Sexy, Erotic Lopsided Fully Competitive Fights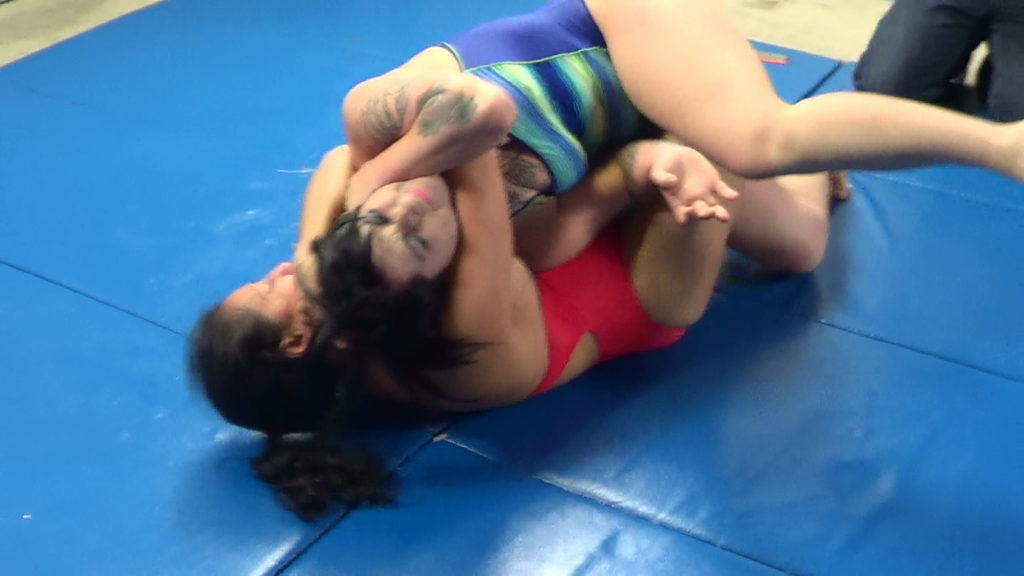 When two gorgeous shapely girls are matched up, you hope that you will view a very competitive match. This is why you play the games. They don't always turn out that way. These sure didn't. The wrestling is fully competitive but one shapely beauty completely dominated the other feminine one in erotic fashion.
First up is curvy mom Penny Barber vs FeFe with those thick feminine legs. If trash talking could win a match, Penny would be the champion of the female submission wrestling world. Here against FeFe, she does trash talking but more so lets her wrestling do the walking and it walks all over and completely dominates thick legged FeFe.
Next up is super star Mistress Kara against a curvy brand new Canadian mom in Katie. This match takes place at a Dojo and Kara surprised us all by defeating the great Isamar and then completely annihilating journey fighter Bryn Blane. Based upon that, how well do you think the shapely, porcelain Canadian mom with fare?
You're exactly right.
Finally we have a short match where San Francisco star Daisy Ducati attempts a smother on a thick, feminine British wrestler who uses her full feminine legs to try and struggle out to no avail. The camera loved it though.
AMATEUR GIRLS FIRST SEXY COMPETITIVE VIDEOS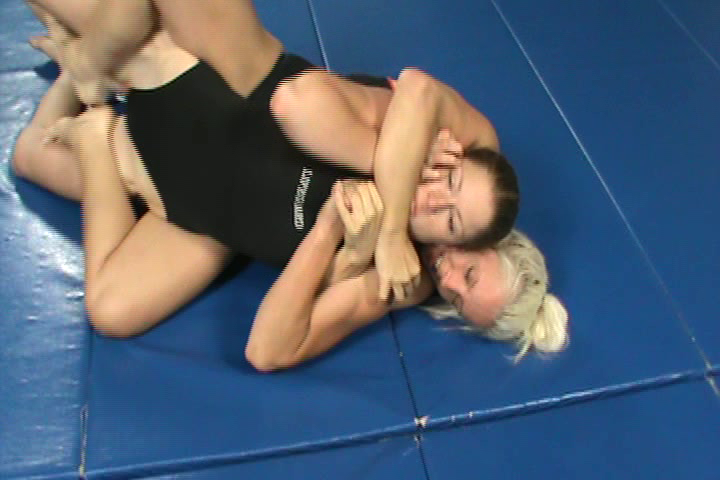 It seems like it was just yesterday but it wasn't. Here we have some of the first videos that our amateur girls wrestled in. They are the true definition of the girl next door who wanted to try wrestling. Fortunately for us, in a full swimming suit or bikini. Yummy.
Up first we have San Francisco's Ingrid Mouth when she was brand spanking new and we would have loved to spank her but we didn't. Instead we interviewed her, which you will see here then afterwards she wrestles Andre Shakti who as of this writing has moved to Baltimore. Very sexy, very fun girl next door wrestling. The gorgeous blonde Mona Wales is watching in the background in her bikini.
Next we re-visit sweet faced Poppy of Gilroy who knew Olivia D'Angelo and agreed to give wrestling a try and even brought her little doggie along to watch. Truly. Poppy is so sincerely sweet, fresh faced and sexy that we couldn't wait to watch her wrestle a veteran like the shapely blonde Kait Snow who we knew would dominate her in fully competitive action but that was part of the fun. Very erotic up close video. As a bonus you will see interviews with Poppy and a lot of what happens in-between the wrestling which we always like. Lots of up close shots of the girls walking around oblivious to us. We think you will like it too.
The final video features acrobatic Diana of Las Vegas who takes on industry cute girl Samantha Grace. First we have in-depth interviews with both girls as they relax and open up. Then there is the competitive wrestling and of special fun, our associate had a posing fetish where he had both girls pose in erotic wrestling holds like folding pins and leg curls while he had the perfect view. So will you. This one was special. On of Diana's first.
This will be a unique amateur girl blend for your collection. 51 minutes of video and three matches for the price of one. Enjoy.
SWEET NEW GIRL EDEN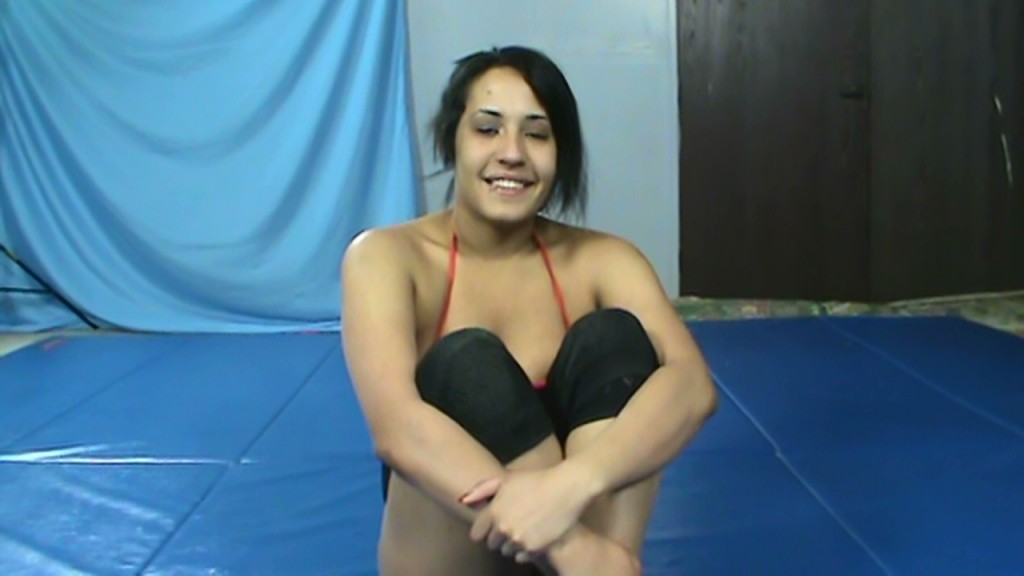 We all know a gorgeous Girl Next Door type when we see one.
Eden is that girl. Truly.
She is super sweet and very sexy. In this Triple Play video you will get three of her matches and as far as we know, 3 of the last matches she ever wrestled on video. She caught our attention when she previously wrestled Bryn Blane and was completely dominated. It was too erotic for words.
Here she is up against closer competition in new curvy girl Dylan and industry legend, feminine, shapely Southern Cal beauty Samantha Grace.
Her third match is against San Jose tough girl Olivia D'Angelo who was in a feisty mood that day and against our sweetie Eden, she whipped her so good we had to stop it early.
Anyway, the first part of the Triple Play video we loved Eden so much that we included her 3 minute interview and just sitting there in her bathing suit, you know she is a beauty.
Shot from our third camera person, there are small bits of blurring but not much. Hence the steep discount. The good news is that she shot the action close up. Very sexy.
You may never see young Eden again so please enjoy this collectible classic.
BLONDE INTENSITY KAIT SNOW
Where did the time go? It seemed like just yesterday we were talking with Kait but that was back in 2012. As far as we know, Kait doesn't wrestle anymore. Virtually all of the girls want to. The money just isn't there.
Very sad and frustrating.
Pound for pound, Kait was extremely good and intense. One producer told us she got so riled up at one girl that they had to stop the fight.
Here with us, some of her intensity bled through. If you like a blonde girl who truly gives it her all, you will love Kait Snow. No hype. In this Triple Play discounted video, she is in over her head with her rival Olivia D'Angelo but when it comes to newbie Poppy (in her sexy real life Life Guard bathing suit) and So. Cal pretty girl Samantha Grace, spell dominated with a capital D.
CURVY SHAPELY AMATEUR DANA VIXEN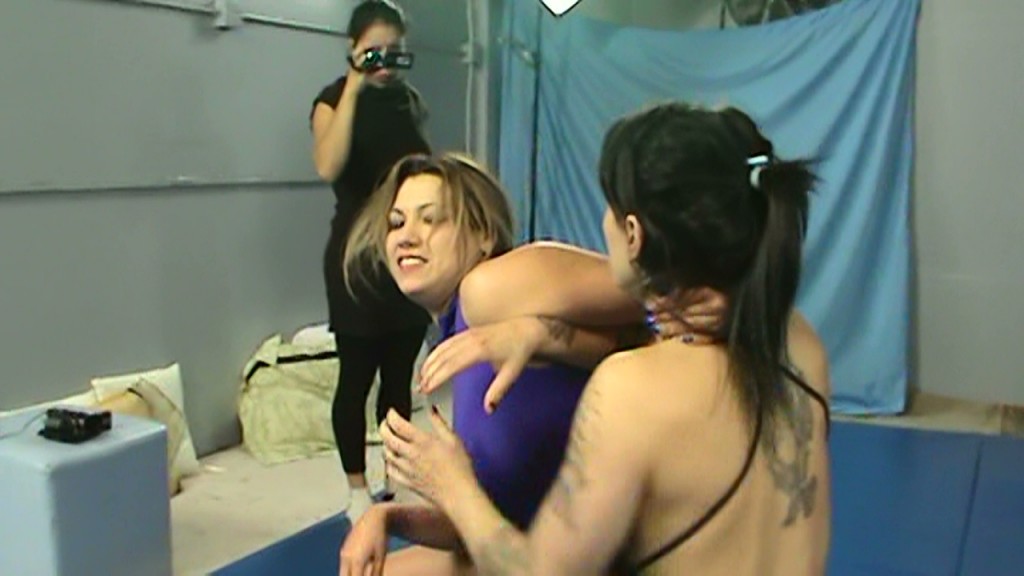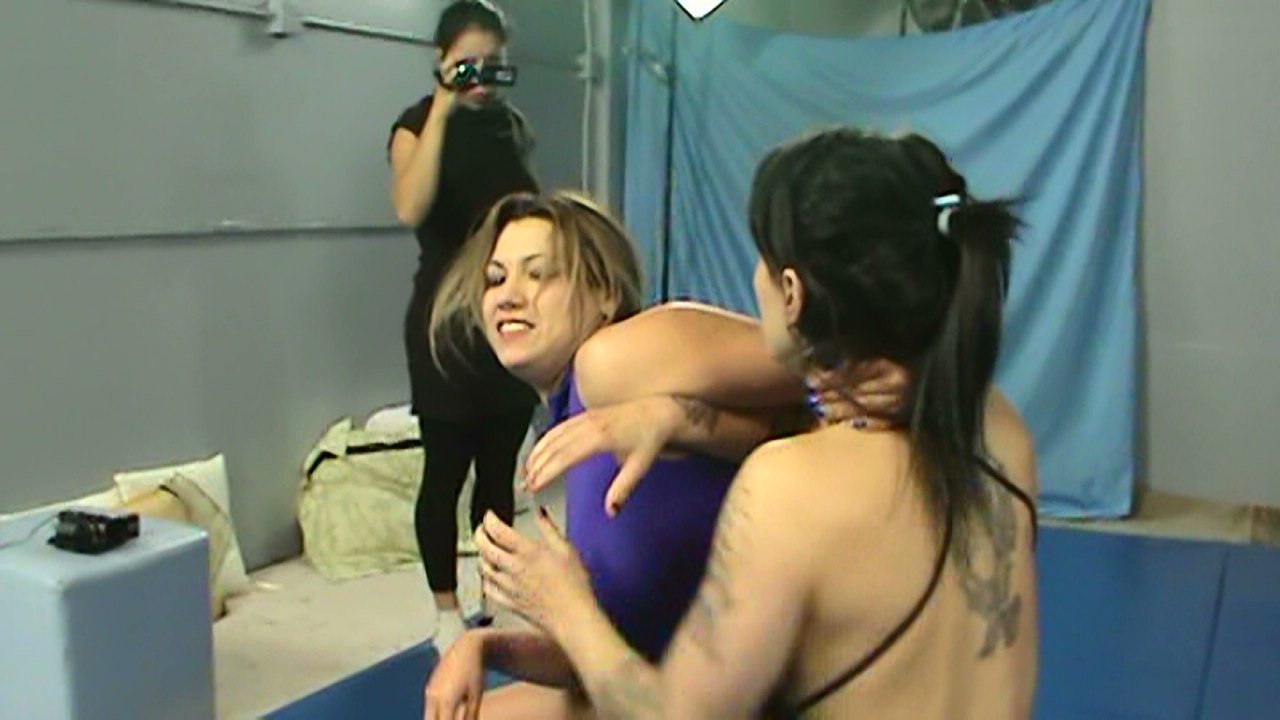 There is this age old question that we think we all know the answer to. Are shapely, curvy women considered more erotic doing the exact same thing as a thin woman?
Yes, yes, and absolutely yes.
Her curves are falling out everywhere, that's why.
Here, with then new girl Dana Vixen, she is a curvy, shapely, thick, feminine and gorgeous as they get. Not the greatest wrestler mind you, because she's new but she is scrappy and her curves in erotic struggle, fully competitive action, nothing faked, are a sight to see.
We've seen Dana before get completely dominated by the now retired Bryn Blane. She was so sensuous that we had to invite Dana to our shoot.
Here in her Triple Play video, she takes on three shapely girls. First another newbie in Dylan who no longer wrestles. Then Kait Snow, a rival of Olivia D'Angelo who is tough as nails. Finally Dana takes on San Jose Tough Girl Olivia herself. Ouch.
If you watched our previous videos, you will see that we have various people, mostly women, shooting the videos. This one is shot by a male and it was obvious that he loves curvy women.
What we also like are the candid discussions in between takes that are worth listening to, especially since some time has passed. It places many things in perspective. We really enjoyed the relaxed discussion that occurred on camera with Olivia and her views about the industry. We truly sense you will love this triple play tape of Dana's.
A classic, because as far as we know, she doesn't wrestle anymore either. Enjoy and collect.
FeFe THICK LEGS IN STRUGGLE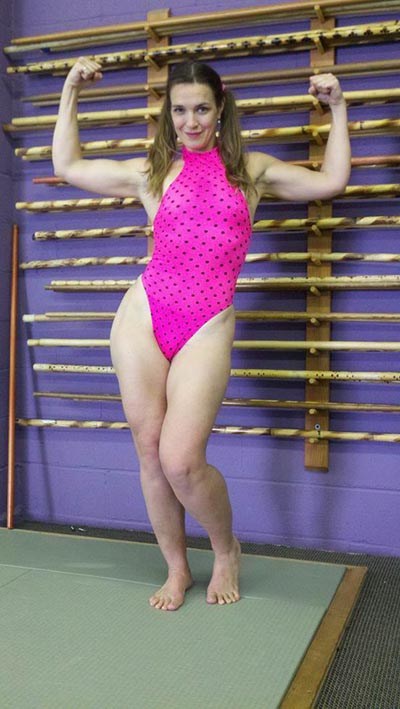 Some female submission wrestlers are not with us long, mostly because our industry just can't fund these great matches. For the time that they are here, like FeFe from the San Francisco East Bay area, their wrestling is priceless.
We've really enjoyed working with FeFe in part because she has some of the most gorgeous, thick and shapely legs that we've ever seen. One of our team members had a session with FeFe and loved wrestling her.
If you like FeFe's feminine shapely thick look, you will absolutely love this triple play video at a discounted price where she is dominated by established San Francisco stars Penny Barber, Daisy Ducati and Isamar the Great. The action is fully competitive and nothing is staged, just very sexy and erotic. A historic female submission wrestling classic.
BELLA ROSSI RUMBLES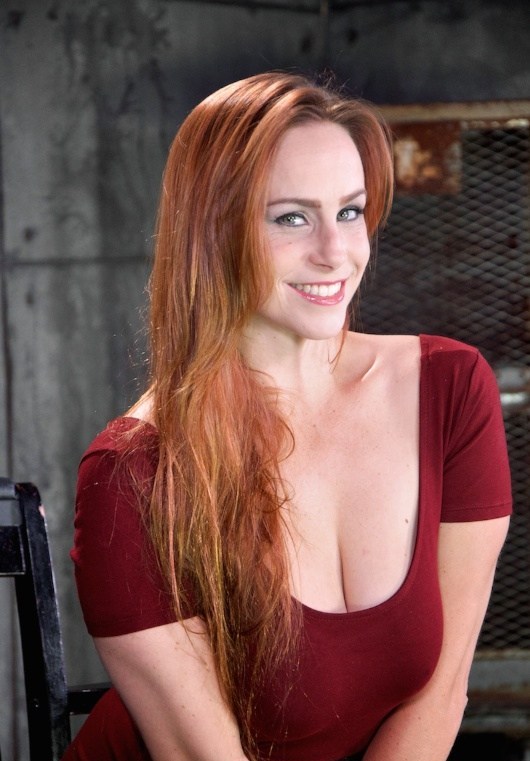 After a video shoot in San Jose, we were riding in the car at night with a group of the Fem Competitors including sweet, feminine sexy Bella Rossi. The conversation drifted towards beautiful girls who know don't stand a chance on the mats and are about to get dominated. We had a name for them but we didn't want to say because that night Bella had been dominated in real action. She sensed our hesitation and blurted it out for us.
"They're called Jobbers." She smiled.
Yes indeed.
That night, in real competitive action Bella was not at her best and struggled against Daisy Ducati, FeFe and Isamar. The action was shot close up and very, very erotic. Nothing staged. There is some nice behind the scenes footage too where the girls let their hair down and talk.
If you are a Bella Rossi fan and love watching a sweet, shapely, feminine girl try her best but still get dominated, you will absolutely love Bella's Triple Play.
ISAMAR GUTIEREZ THE DOMINATOR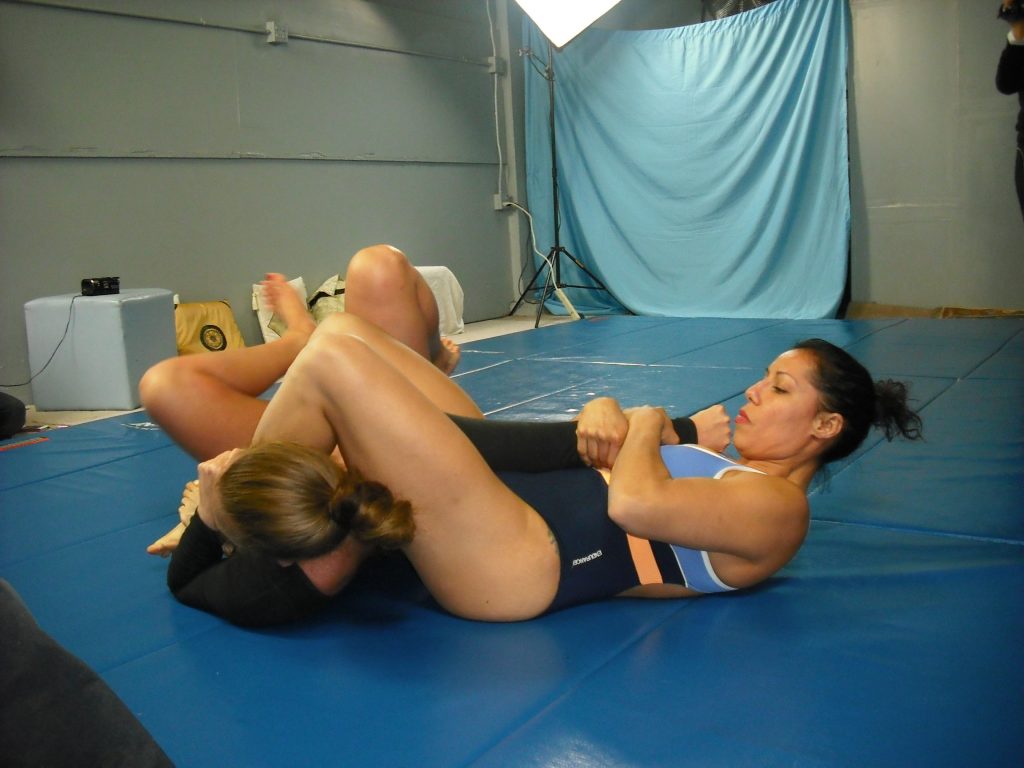 Isamar has been a super star wrestler in the San Francisco, San Jose area for over a decade. Few can match her on the mats. Unfortunately that holds true for pretty girls FeFe, Samantha Grace and gorgeous Penny Barber as they don't stand a chance. This is fully competitive action but it is hard for them to compete against Isamar the great. If you love Isamar, you will love this triple play video where you get three of her most dominant matches over thick, shapely and feminine experienced wrestlers up close and sexy. You get this 43 minute video at a bargain price.
PENNY BARBER
We love Penny Barber so much and we know that you do too that we decided to package three of her matches together at one discounted price. First she takes on Industry Legend Isamar in a ground war. Full of herself, she then takes on Daisy Ducati who typically gives her a good whipping. Finally she meets the shapely San Francisco Bay Area girl FeFe with her gorgeous strong thighs. You'll love Penny's wrestling as much as her sense of humor. Oh by the way, she is very curvy and sexy too.
DAISY DUCATI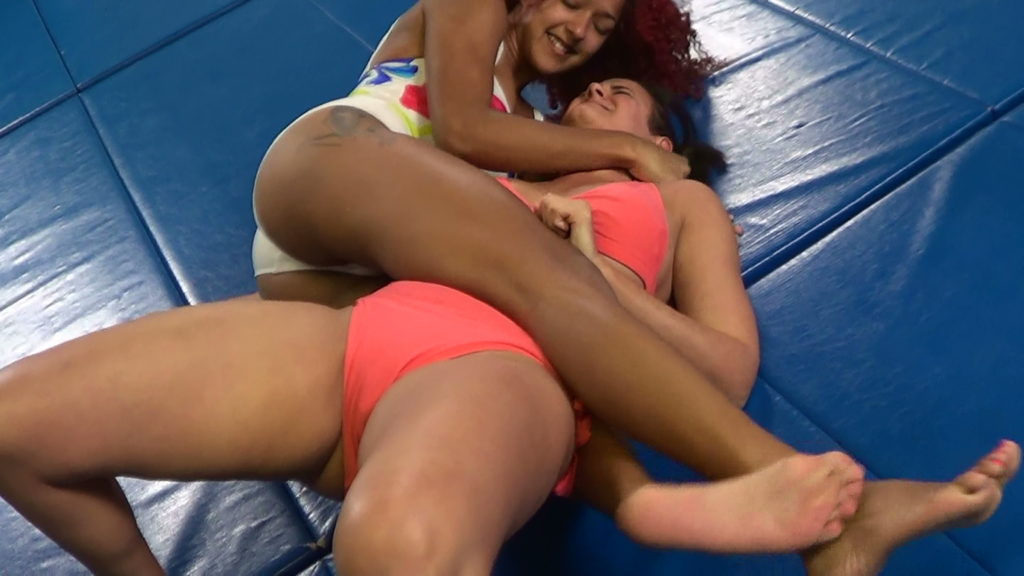 We all love Daisy Ducati so much and can't get enough of her so we combined three of her matches from our store into a special package at a discounted price. Now if you have already purchased Daisy vs Penny, Bella or FeFe from our store under the title produced Femcompetitormen, these will be duplicates. The idea here is to package Daisy vs Penny, Bell Rossi and FeFe with the big strong sexy legs in one video at a discounted price. Make sense? So here we have it, Daisy Triple Play, copyrighted by Grapplingstars. If you love watching San Francisco star Daisy Ducati dominant one beautiful feminine opponent after another, you will love this.
https://grapplingstars.com/fvsf-wrestling-videos/
SUMMARY
Well, there you have it.
Three Dog Night was right.
Three is absolutely better than one especially when you love the girl involved.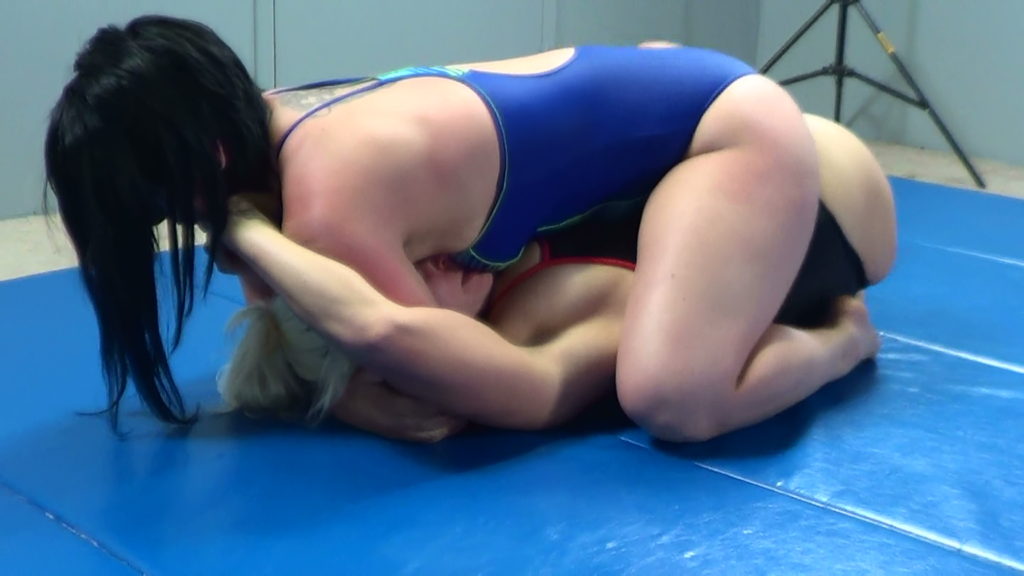 ~ ~ ~
Opening photo femcompetitor.com, grapplingstars.com, fciwomenswrestling.com
https://fciwomenswrestling.com/