FeFe, Submission Wrestler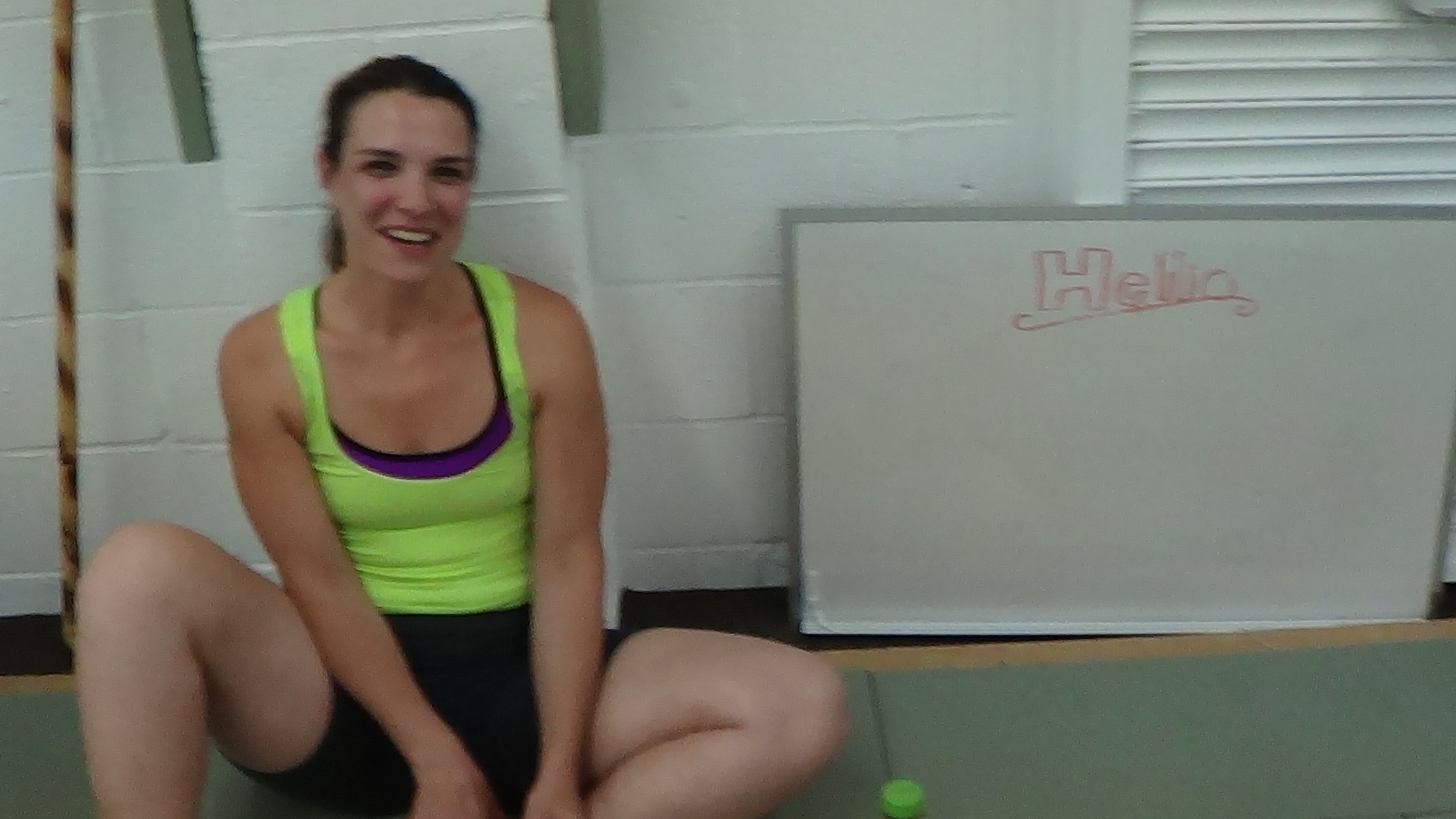 If you see a beautiful young woman with flowing hair riding on a bike around Berkeley it just might be FeFe.



 "Let me tell you what I think of bicycling. I think it has done more to emancipate women than anything else in the world."
…….Susan B. Anthony
The new world of women's submission wrestling is a very social one. After an Oakland video shoot, a group of us went to a Thai restaurant "again". Thai so often seems to be the eatery of choice with our group. Maybe it's the sweet milk like tea. This one was not far from the Cal Berkeley campus. We we're standing on the street knee deep in students and tourists when suddenly this beautiful young woman who looked very familiar glides our way on her bike. She parks her bike and begins to walk towards us. No wonder she's familiar. We shot video of her wrestling at a dojo.
You can never forget artistic FeFe.
My, what strong shapely legs you have.
The better to scissor you with my dear.
Our associate first filmed FeFe at an event for another company and decided when it was time for his sponsored event; FeFe was a must to have on the card. As you can see in the photos below, FeFe is a gamer and wrestles full speed.
[one_fourth_first]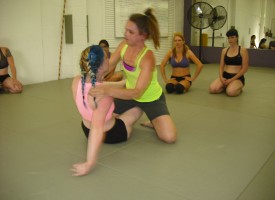 FCI now shares our exclusive interview with the artist presently known as FeFe.
FCI: Thanks for being here. We marvel at how much female wrestlers travel. We know you love the arts and we suspect you've traveled to see or participate in them. You're certainly not a life by stander. You have to be involved. So, what are your three favorite cities in this ever-changing world?
FeFe: San Francisco, San Juan and Miami.
FCI: Great choices for any list. Why those three?
FeFe: San Juan, it's in Puerto Rico. Nuff said. I love Puerto Rico. Miami has the jazz and the beaches.
FCI: What about the exciting San Fran?
FeFe: It's the city of freedom, artists and music.
Let's pause and focus on San Francisco. It's the one city that the inhabitants don't take for granted. Tokyo is a great city. When this writer was there, I didn't get the sense that many of the residents really appreciated what a great city they lived in.
Maybe.
Los Angeles is mesmerizing but I can't say enough how many complaints I've heard about it. I love it. I feel very alive when I'm there. There are so many creative juices flowing everywhere. Even sitting at a coffee shop you see the creative plying their movie business trade.
The point is, sometimes people live in a great city and don't realize it until they move away and can never come back and permanently live there again. With San Francisco, the mountains, the year round moderate weather, the incredible Pacific Ocean, the calming bay, the Golden Gate Bridge, Chinatown, the skyscrapers at night, the five star hotels, efficient public transportation, hills that you walk up for a panoramic view, great professional sports, when I was a teen fantastic dance clubs, open-minded intelligent people and more. FeFe reminded me of something I overlooked.
The San Francisco artistic community.
You know what?
I think I took that for granted. Let's briefly examine it.
Norcalhostels.org is a great guide that will get us started. "Hidden in the gritty streets of San Francisco's Tenderloin District is a burgeoning urban art scene. While it may be difficult to spot at first glance, if you look for it, you'll find creativity flourishing in the innovative galleries that dot the neighborhood. In these places, the Tenderloin reveals itself as a fantastic destination for people who are seeking to find what's at the fringes and the forefront of the art world.
The pieces that these galleries present range from inventive art displayed in traditional settings to provocative creations curated in a way that reflects both the art and the neighborhood. While gallery hopping in the Tenderloin, you'll find a rawness that's unique to the local art scene — a great (and free) alternative to the big museums nearby."
You should check out the site. We looked at so many of the galleries, virtually all projecting a different approach to the beautifully presented art that it would take hours to describe it. It is absolutely worth a look.
Artbusiness.com introduces us to a different aspect of the art community. We browsed endlessly again, inspired, mesmerized and in some cases moved by what we saw. Here are two galleries that really stood out for our tastes; Eleanor Harwood, The Dump and Stephen Wirtz, Dzine.
Okay, you've heard the best things in life are free, true? You've also probably heard you don't get something for nothing as well. Which one do you believe? It probably depends upon if you're a glass empty or glass half full kind of person.
Here is some great free stuff.
Holders of Bank of America or Merrill Lynch credit cards and debit cards get free admission to six Bay Area museums and two Sacramento museums for the first weekend each month.
Participating Museums include:
• Contemporary Jewish Museum (SF)
• Legion of Honor (SF)
• de Young Museum (SF)
• San Jose Museum of Art (SJ)
• The Tech Museum of Innovation (SJ)
• Chabot Space & Science Center (OAK)
• The California Museum (Sac)
• Crocker Art Museum (Sac)
Please contact individual museums for specific hours as some museums are not open both Saturdays and Sundays.
B of A "Museums on Us" Weekends for 2013
September 7-8
October 5-6
November 2-3
December 7-8
The Oakland Museum of California (OMCA) brings together collections of art, history and natural science under one roof to tell the extraordinary stories of California and its people. As the only museum to focus entirely on the art and history of California, the diverse collections on display in the 300,000 square foot building present the art and tell the history of California from many angles. The museum invites visitors to experience the history of California through interacting with art, becoming art, and rewriting history.
Normally $12, the museum offers free admission every first Sunday the month. Some exhibits may require a fee. and very important please contact the museum first before you decide to visit.
The Asian Art Museum of San Francisco is one of the largest museums in the Western world devoted exclusively to Asian Art, with a collection of over 17,000 artworks spanning 6,000 years of history. The museum is a public institution whose mission is to lead a diverse global audience in discovering the unique material, aesthetic, and intellectual achievements of Asian art and culture.
Normally $12, the museum offers free admission every first Sunday the month.
Yerba Buena Center for the Arts (YBCA) is one of the Bay Area's premier venues for adventurous art. A multidisciplinary art center, the YBCA features exhibitions, performance, film/video, and community engagement programs, along with rotating art exhibits with a focus on contemporary and emerging art from the Bay Area and beyond.
Normally admission is $10 for adults, but on the first Tuesday of each month admission is free.
The Contemporary Jewish Museum engages audiences of all backgrounds through dynamic exhibitions and programs that explore contemporary perspectives on Jewish culture, history, art, and ideas. And the architecture of the Museum itself is a work of art. Embracing a range of artistic disciplines and media, the museum's exhibition program includes contemporary art, historical objects, film, music, conversations, lectures, literary readings, and other live performances.
Normally admission is $12 for adults, but on the first Tuesday of each month, admission is free.
Finally and equally as important, we loved the idea of a cartoon museum. Who would have though? This one adds a special interesting service. The site is cartoonart.org. Here is the description. "Celebrate the summer with fun classes that will have adults and kids teaming up to create their own cartoons at the Cartoon Art Museum! The cost of materials and Cartoon Art Museum admission is included in the tuition fee."
The Cartoon Art Museum exhibits pieces that represent the history, contemporary development, creators, design, and processes underlying the art forms of cartoons, comics, digital animation, illustration, and video games.
From editorial cartoons to comic books, graphic novels to anime, Sunday funnies to Saturday morning cartoons, the Cartoon Art Museum has something for everyone. Located downtown in San Francisco's Yerba Buena cultural district, the museum is home to over 6,000 pieces of original and cartoon and animation art, a comprehensive research library, and five galleries of exhibition space. Join them for one of their many book signings, lectures, cartooning classes or workshops; mix and mingle with professional and aspiring cartoonists; or visit their bookstore. Whether it's nostalgic, educational, or just plain fun, a trip to the Cartoon Art Museum will be an experience you will never forget.
The Cartoon Art Museum is the only museum in the western United States dedicated to the preservation and exhibition of cartoon art in all its forms.
VERY IMPORTANT: Please contact all of the above museums BEFORE you decide to visit.
Whew! You see what FeFe inspired?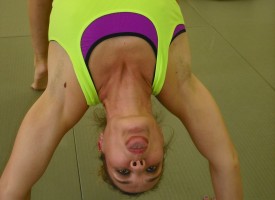 We now finish our exclusive interview with FeFe.
FCI: What foreign countries have you traveled to?
FeFe: Montreal and England.
FCI: Great choices. Why did you go to England in particular?
FeFe: I ran away when I was 19 years old, bought a one way ticket to London. I had a temporary passport and under $100 in my pocket.
FCI: Fascinating. So you are a risk taker. What a great adventure at nineteen. What are the most important qualities you like to see in people?
FeFe: Honesty and respect.
FCI: Any other?
FeFe: Yes, creativity and courage.
FCI: (in a singing voice), Okay paper back rider. What is your purpose in life?
FeFe: To be happy in love. To be an artist. To be my most authentic self. I am going to ride a bicycle through Europe. I am going to model all over the world for artists and photographers.
FCI: Thanks FeFe. Artists like you remind us of what life should and can be like, if we only find the courage to pursue what's important to us. Best wishes on your journey through Europe.
~ ~ ~
Sources: norcalhostels.org/news/guide-galleries-san-franciscos-tenderloin, artbusiness.com http://sf.funcheap.com/bank-america-free-museum-day, Oakland Museum of California, Contemporary Jewish Museum, cartoonart.org/2013/05/parent-and-child-cartooning-workshops, Bike Photo courtesy Wikimedia, Ms. FeFe's photos copyright Female Competition International, fciwomenswrestling.