DWW's Legendary Renate K, Former Elite Gymnast, Top Brand Wrestler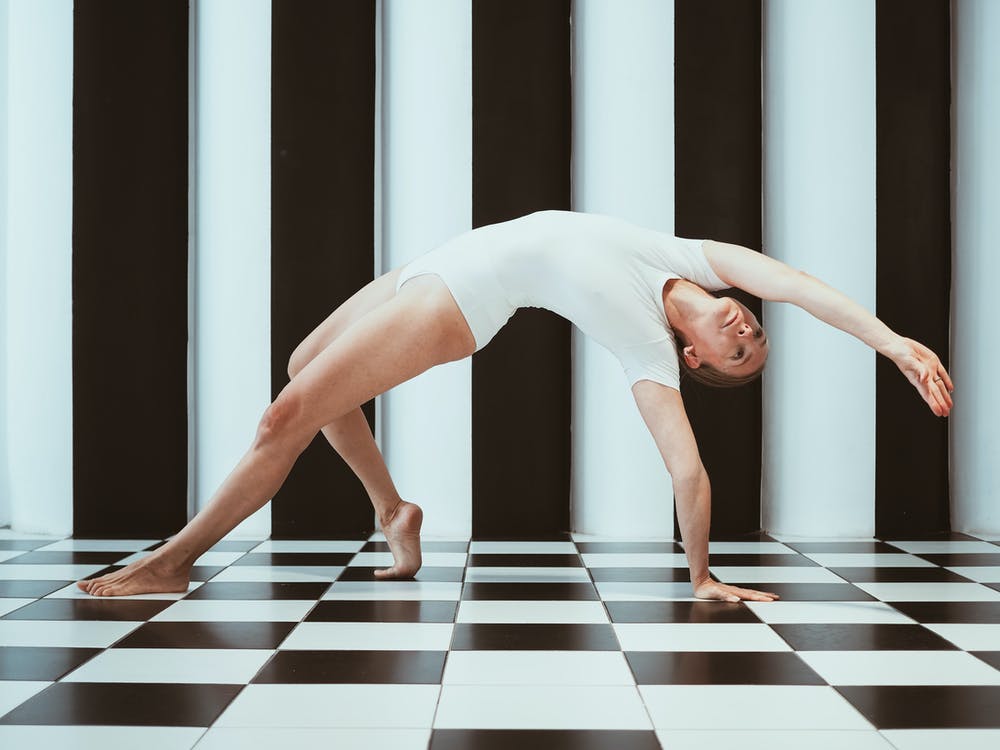 May 12, 2022,
Joy abounds when you walk out of a super market and saved quite a bit of money because you purchased many products with the generic label as opposed to the name brand.
Sometimes the name brand does make a difference in terms of quality.
But then again, sometimes it doesn't.
We've experienced that certain types of juices, say like cranberry as an example, absolutely taste better from the name brand manufacturer as opposed to the generic brand.
But when it comes to peanuts or butter or other items, for us, really the label doesn't make a difference.
Interestingly when it came to DWW's Renate K. and her wrestling, labels didn't mean a darn thing.
Renata was also an accomplished gymnast.
It reminds us of a very accomplished Czech gymnast, Aneta Holasova, who as of this original December 12, 2019 writing, which has been updated, was only 18 years old but in terms of branding, she is way better than advertised.
How many of you have heard of her brand? She is outstanding. See what we mean?
Her challenging history relates that she fell and damaged knee ligaments while warming up to compete at the 2016 European Junior Championships in Bern, Switzerland.
Aneta then had surgery and needed two months of complete rest.
She returned to competition in March 2017.
It wasn't the first time that she had to overcome injuries.
In 2011 she suffered fractures in both forearms. The injuries required more than six months to heal.
Despite all of that she is the 2019 European Games silver medalist on the floor exercise and a three-time FIG World Cup bronze medalist. At the 2019 World Championships, she qualified an individual spot for the 2020 Olympic Games.
She represented the Czech Republic at the 2020 Summer Olympics.
We are always rooting for her.
We are always rooting for Renate K.
Our Renate K. had a challenging assignment crossing over from the world of orchestrated gymnastics to one of fiercely competitive female grappling. She would face some of DWW's finest and is even listed at a DWW One level herself.
One of her challenges would be DWW's short haired beauty in Simona.
In our classic match here, when Simona met Renate K, Simona was clearly the name brand with the reputation and would go on to have a solid career with DWW.
Renate, on the other hand, had a similiar name as the famous sensuous Czech blonde Renata B. and in some ways got hidden in the Danube shadows while others received the brand name designation.
Our friends at Femcompetitor Magazine are always looking for hidden DWW gems and unearthed Renate K. and wrote about her: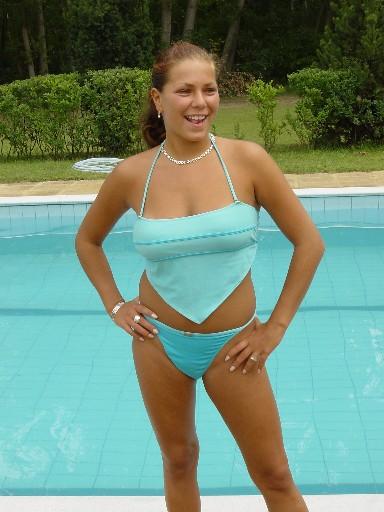 Here is what Femcompetitor Magazine had to say about her, "Renate's wrestling resume features matches against Timea, Petulla, Dana, Iva, Lenka, and Simona to name a few. Any time you make the DWW Division One team, which she did, you're simply one of the best."
As we watched her take on and slowly dismantle Simona, we would have to agree.
RENATE K. VS SIMONA
Simona is 24 wearing a magenta maroon top and Renate is 21, adorned in a white top.
Jeff the Ref introduces them inside of the famous DWW indoor upper studio with the white walls.
Their match starts with the usual hand fighting and if we were going with branding, we would pick Simona as the front runner yet it is not turning out that way.
Renate takes Simona down and is positioning herself from the top for a submission. To prevent Renate from fully straddling her, Simona keeps Renata's right leg trapped between hers.
Renate remains determined and undaunted.
This struggle goes on past the 5 minute mark and the two warrior's fight spills off of the mats so Jeff stands them up and asks them to start again.
Standing, the two beauties engage again and circle around with their arms clasped around one another's necks until Renate takes Simona down.
They struggle some more and at one point Simona actually turns the tables on her and is on top but it is short lived.
Renate removes her and places Simona in a side body scissors. Could this be the first submission?
Not yet.
Our dark haired brunette then spins Simona underneath and begins to ready her for a school girl pin.
She is very successful.
At the 14 minute mark (whew) after much screaming in anguish from Simona, she is counted out by Jeff with a pin count of five.
The two princesses take a break and we can feel the calm and relaxation in the room as the two ready themselves for round two.
Renate is gaining in confidence and round two is all hers.
She keeps Simona trapped underneath and begins to angle for another school girl pin while Simona continues to struggle. Simona's feminine legs are incredibly sensuous.
The engagement forces Renate to turn to a reverse school girl pin and bottom face sit.
That does the trick as, underneath Renate's bottom, Simona is counted out to five once again.
We must admit, we are a little surprised at this point. Simona was the front runner and at least should have secured one submission as opposed to none.
As we gaze around the audience we see the lovely Germanic Goddess in Suzanne. Would love to see her on the mats anytime.
Now that Renate has established her dominance and the third fall might be another perfunctory struggle, we knew Renate would forcefully take the third fall and she does.
Her name may not be as well-known but her wrestling today was top brand.
Here is what the DWW reviewers had to briefly say about this outstanding sexy struggle, "Finally, strong newcomer Renate K., a gymnast like Lenka, shows you that even newcomers love it when they can make their opponent cry out in despair as they try to sit on her face. Simona tries to show Renate that she's strong too, but Renate enjoys applying any kind of schoolgirl pin and is perfectly merciless. She obviously just likes looking down into the face or even sitting on the face of a desperate loser and humiliating her."
Okay, good to know.
We would also find out that Renate K., would rather die than give up since she is one of those tough girl fighters who never wants to be seen as the loser.
Sometimes that is displayed in a match filled with a bad tempers and tears. Fortunately not today.
We did learn a lesson though.
"Your premium brand had better be delivering something special, or it's not going to get the business."…Warren Buffett
Even though a girl may be a newcomer and her brand is not as well-known as others, it certainly doesn't mean her wrestling skills shouldn't be on the top shelf.
Just ask DWW's legendary Renate K.
~ ~ ~
OPENING PHOTO fciwomenswrestling.com femcompetititor.com grapplingstars.com Viktorya-Sergeeva-pexels.com-photo-credit

https://eng.gymnovosti.com/aneta-holasova-this-medal-will-give-me-more-confidence/
https://www.gymnastics.sport/site/athletes/bio_detail.php?id=48759
https://fciwomenswrestling.com/
https://www.brainyquote.com/topics/premium-quotes 
DWW is a historic company that laid the foundation for modern fully competitive female submission wrestling and should be chronicled. Caution, many of their videos are adult in nature.