2021, Hungary's Antscha, Super Session Girl, Wrestler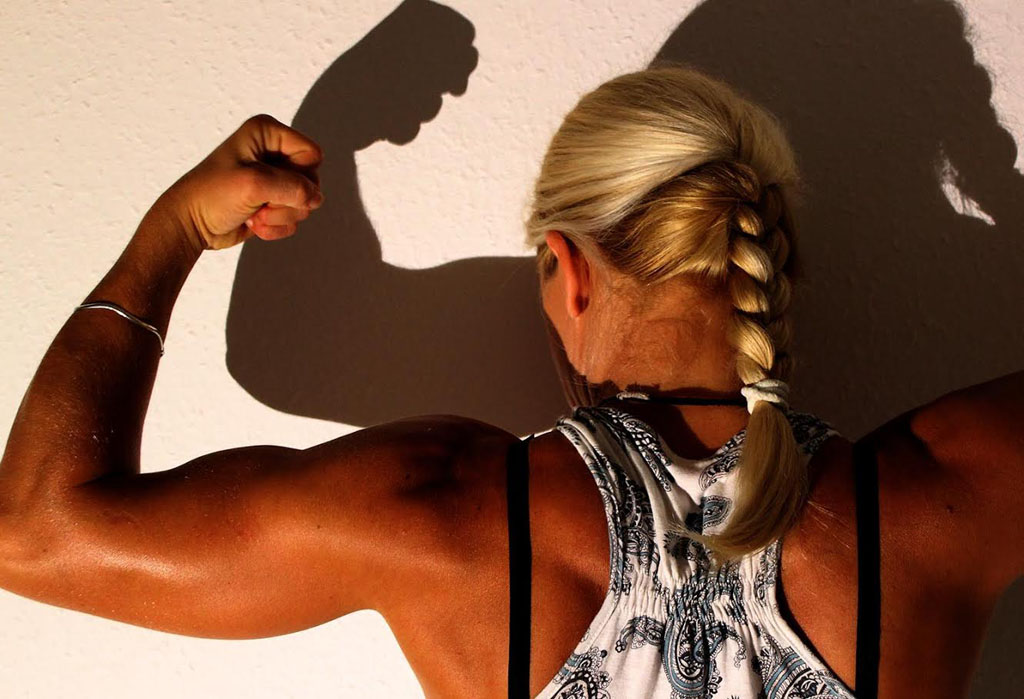 May 22, 201,
Quality and consistency in product and customer service has been a desirable trademark of successful businesses run by teams or individuals.
With the Session Girl and Wrestler Extraordinaire Antscha of Hungary, we get more.
She is incredibly sexy as well.
When you have an opportunity to session with a talent like Antscha, it is a once in a lifetime opportunity and, as soon as you can, we recommend having a session with her.
Welcome to her profile.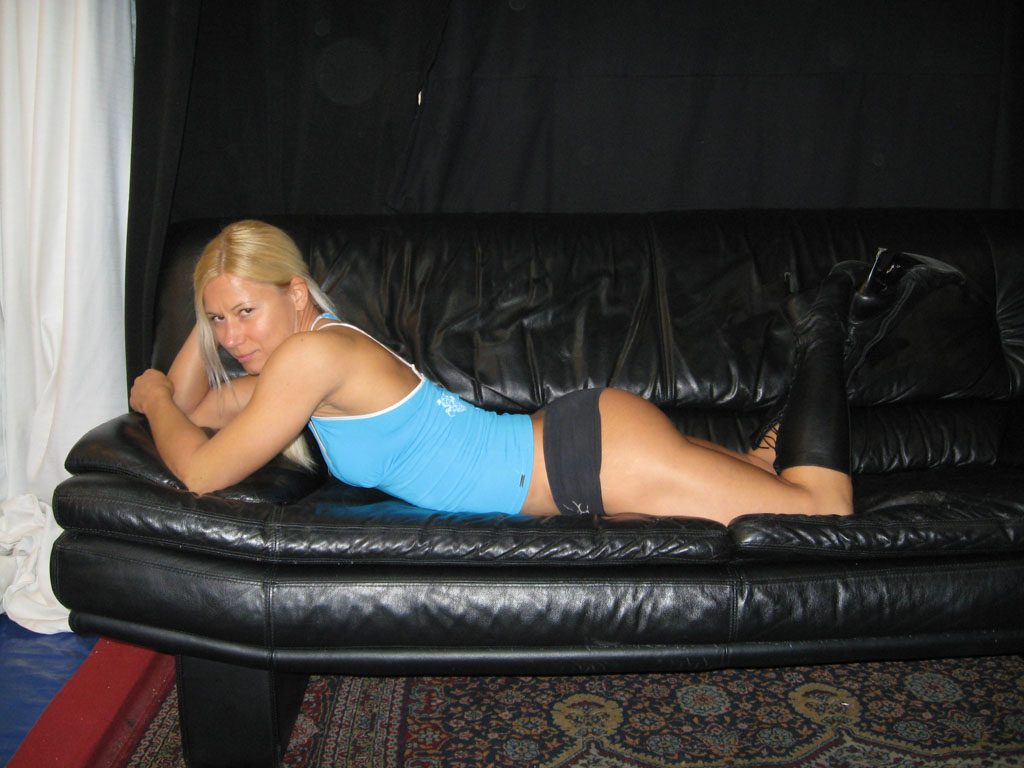 At the WB270 she smiles, "I enjoy the wrestling a lot and I am doing it for 15 years so I have a lot of experience and now in BJJ too.  I have an open mind, and ready to improve myself and learn new things. I like to do domination too."
Sounds like a wonderful menu.
FCI has known of and watched Antscha wrestle at the highest level for years including some knock down drag out matches with the legendary DWW group on the Danube.
Let's walk down memory lane with some of her matches.
ANTSCHA – NADIA
Matches between contemporaries engaging in front of a crowd of fellow company members and peers take on a different tone than one in front of a live audience of strangers.
Different as they are, with a higher competitive level than when no one is around and they compete alone in front of a producer, they are still………..different.
This occurs when Antscha takes on the compact Greek body builder in Nadia who is a very formidable fighter. The two engage inside of the famous DWW room with the gray padded walls, dark blue mats with the audience of contemporaries in the background.
Antscha, as always, looks perfectly fit, stealth and stunning in her white bikini. Nadia looks female muscular sensuous in white shorts, a black top and pink socks.
Nice touch.
At first they vie for positioning with upper body strength and based upon that you would think Nadia should have the advantage.
She doesn't.
Antscha lands on top. Can she maintain the hold?
She does, sort of.
While she is fighting from the top, Antscha tries to smother Nada but arms tightly clasped refuses to yield. Now the DWW girls sitting in the background are starting to vocalize and get involved.
This position stalemate goes on for quite some time.
At 4:28 into the match, Antscha's back is glistening in sweat and she is trying to open up Nadia's arms but still can't.
Though flat on her back, Nadia is determined not to yield.
Nadia decides to make a tactical change and stands. Initially it appears to be a mistake as Antscha, riding her back, tries to choke her out but Nadia is too strong so that decision turns the tide and now Nadia is on top of Antscha, trying to pin the blonde's arms down while fighting off Antscha's body scissors.
We can hear Gunther's voice in the background expressing that Nadia needs to get out of the scissors for it to be a pin.
Nadia breaks the scissors.
At this point the young Greek Warrior is starting to take control. Gunther is voicing a pin count over and over. One, two….and Antscha break the hold but clearly is in a position of weakness.
At this point the two beauties have rolled off of the mats and on to the carpet.
With the upper hand, now it is Nadia who has Antscha's head trapped in a sitting headlock.
As Nadia stretches out and tightens the noose, Antscha desperately tries to escape but can't.
Nadia squeezes like a python and Antscha finally taps out.
It's a fantastic match. A female warrior trapped in difficult tight spaces.
"You become a champion by fighting one more round. When things are tough, you fight one more round."…James J. Corbett
ANTSCHA VS VIKTORIA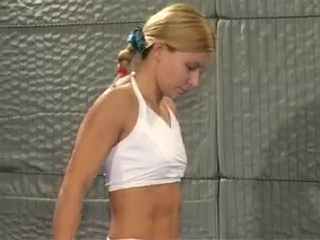 Antscha finds herself back in the same padded room with her familiar audience only this time her opponent is Viktoria of Hungary.
As always with Viktoria, you never know what to expect.
She is super talented and highly skilled but is not always motivated to give her best performance. We've seen her lose to far lesser skilled Fem Competitors because she decides to play possum and she loves to engage in the fantasy matches, which is fair, because there is not enough money in fully competitive bouts.
We know how gifted she can be because when she wrestles at the great Femwrestle Events in Germany in front of a live audience, she brings her A game.
So based upon that theory, here in front of a live audience that she is familiar with and the fact that she is going up against a fellow Hungarian warrior, Viktoria has come to wrestle.
Antscha once against finds herself in a tough and tight space.
Adorned in white, Antscha gets off to a good start, even trapping Viktoria in a brutal headlock but fantasy match this is not and Viktoria is determined to break free and does.
Now she becomes the aggressor.
She traps Antscha in a hold but there is a break in the action and she lets go.
As the girls resume, bumping into the padded wall and grappling on the floor, Viktoria has captured Antscha from behind and then attempts a smother on the mats. Antscha breaks the hold and as Viktoria stands, Antscha performs a leaping body scissors and clasps Viktoria. While holding Antscha in mid-air, serious match though it may be, she can't resist and slaps Antscha on her bottom.
Old habits die hard.
Once again the two Hungarian Princesses circle each other for the best strategic position.
Viktoria goes for Antscha neck who goes for Viktoria's as well.
Viktoria gets the better of her.
Soon she has Antscha down on the mats in deep struggle but eventually gains the stronger position trapping Antscha in a school girl pin while she claps her hands.
The count is slowly to ten and Antscha is submitted.
As they begin again, a very confident Viktoria begins to seize control of this match, holding Antscha from behind, bringing to the mats and maneuvering her way towards a deciding flatten out grapevine.
Antscha is counted out.
Brilliant fight. A Hungarian classic.
IT'S MAY 2021, HUNGARY IS OPENING UP
The global pandemic has changed the social landscape of virtually every country on earth.
Once you make the decision to visit Antscha, you'll be happy to hear that Hungary is opening up again.
On April 24, 2021, abcnews.go.com reported, "People in Hungary got a taste Saturday of what life was like before the coronavirus pandemic as restaurants and bars served in-person customers for the first time in nearly six months, the latest round of openings in a country hit hard by COVID-19."
Applause all-around please.
We are so happy to hear that and we are certain you will be so happy to visit Budapest.
In Budapest there are forty theater, seven concert halls and an opera house.
Outdoor festivals, concerts and lectures enrich the cultural offer of summer, which are often held in historical buildings.
The Budapest Opera Ball is an annual Hungarian society event taking place in the building of the Budapest Opera (Operaház) on the last Saturday of the carnival season, usually late February.
Budapest is the capital and the most populous city of Hungary, and the ninth-largest city in the European Union by population within city limits.
The city has an estimated population of 1,752,286.
With a population like that, as you might guess, the restaurants available are incredible.
The food is absolutely delicious.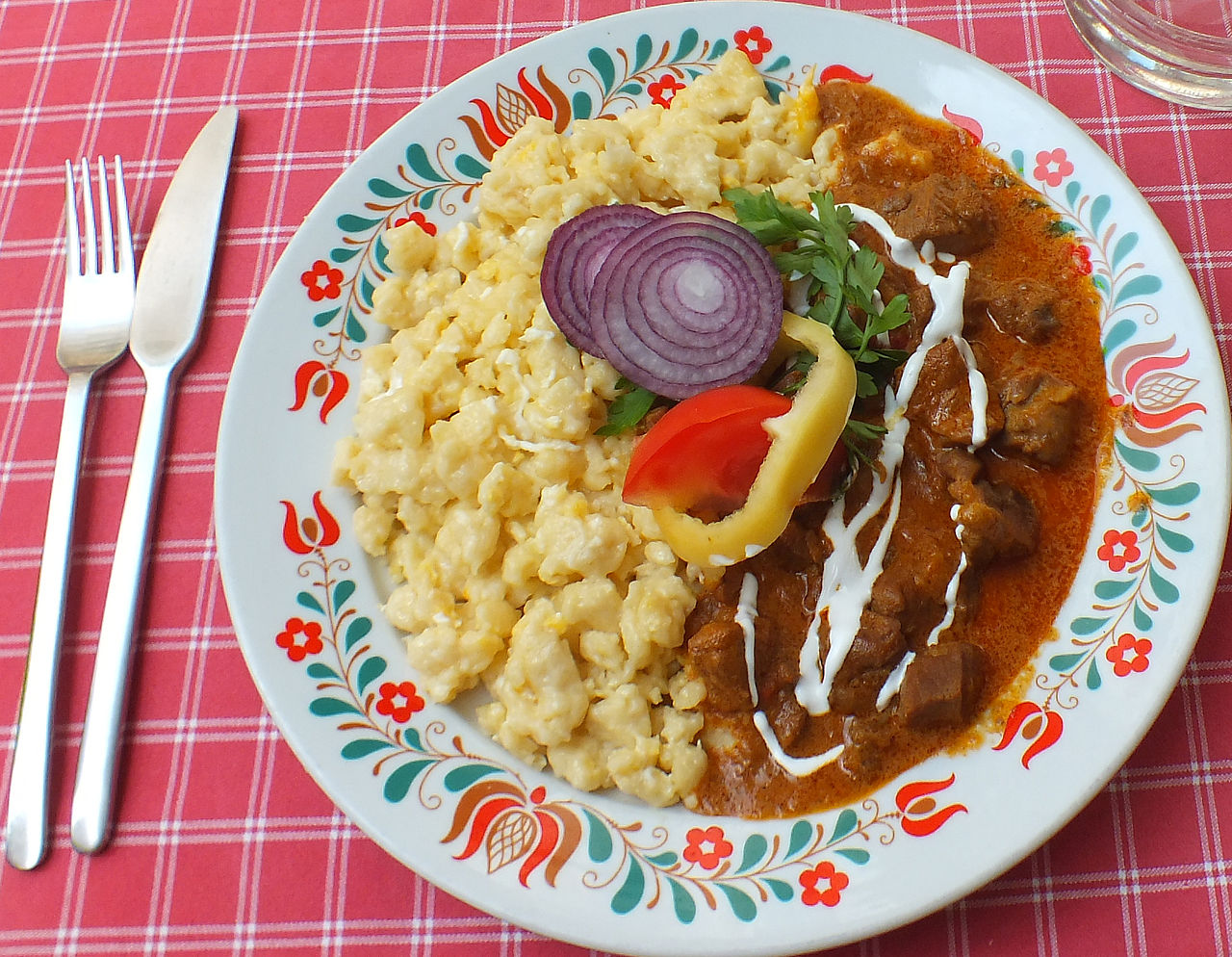 We can stare at it and eat it all day.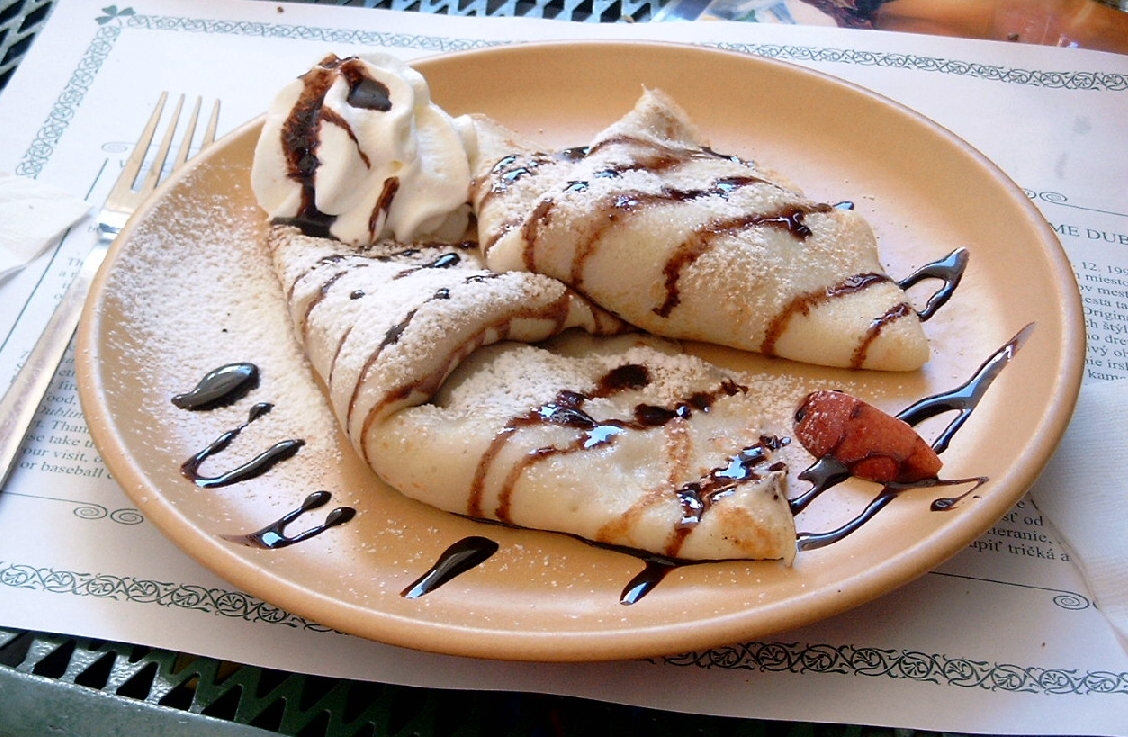 You will find so much to do and so much to see to make your session experience with Antscha a full and pleasurable one.
Here are what two happy customers expressed about her:
"I was lucky enough to have a semi competitive session with Antscha recently. I have probably had about fifty sessions over the years but I can honestly say that Antscha was the best…and by some distance. She is easy company, relaxed and friendly from the start and she has the most beautiful smile, I know because I looked up at it many times! She also has a body to die for and is completely focused on making sure you have the best session possible. I am fit and 170lbs but although I did win a few falls the outcome was never in doubt, she is skilled, strong and drop dead gorgeous."
Yes she is absolutely gorgeous.
Here is another review.
"Do yourself a favor and meet this girl, she is one in a million…you will be smiling and aching for days afterwards. Dave from Manchester."
Thanks for the recommendation Dave.
Antscha adds, "I have a complete freshly renovated studio with a 25sqm professional mat, shower with mirrors & towels, massage bed and also a domination room.
So if you come to Hungary you have got a discrete and safe place which you can use not only with me but with other girls as well. Why suffer in small hotel rooms. Why risk being heard by hotel staff?
Just drop me email and you can use my comfortable studio. You can reach it easily by car (free parking) or by public transportation as well."
Sounds wonderful.
Here is Antscha's contact email: zita6666@gmail.com
We love Antscha's high level of wrestling skills and consistency in having great relationships with the other Hungarian wrestling girls, as a leader.
When you have a wonderful mixed wrestling session with her, we're extremely confident she will build a great professional relationship with you as well.
With Antscha, customer service is supreme.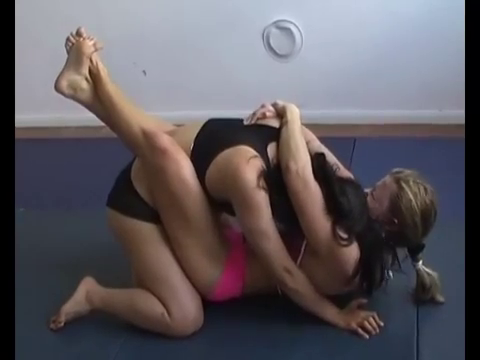 ~ ~ ~
OPENING PHOTO femcompetitor.com, grapplingstars.com fciwomenswrestling.com Antscha's wb270-press-photo.
https://en.wikipedia.org/wiki/Budapest
https://abcnews.go.com/Health/wireStory/vaccines-hungarys-restaurants-open-outdoor-service-77287484
https://www.fcielitecompetitor.com/
https://fciwomenswrestling.com/
https://www.wb270.com/eur/antscha.htm