Women's Beach Wrestling, Moving Closer Towards An Olympic Sport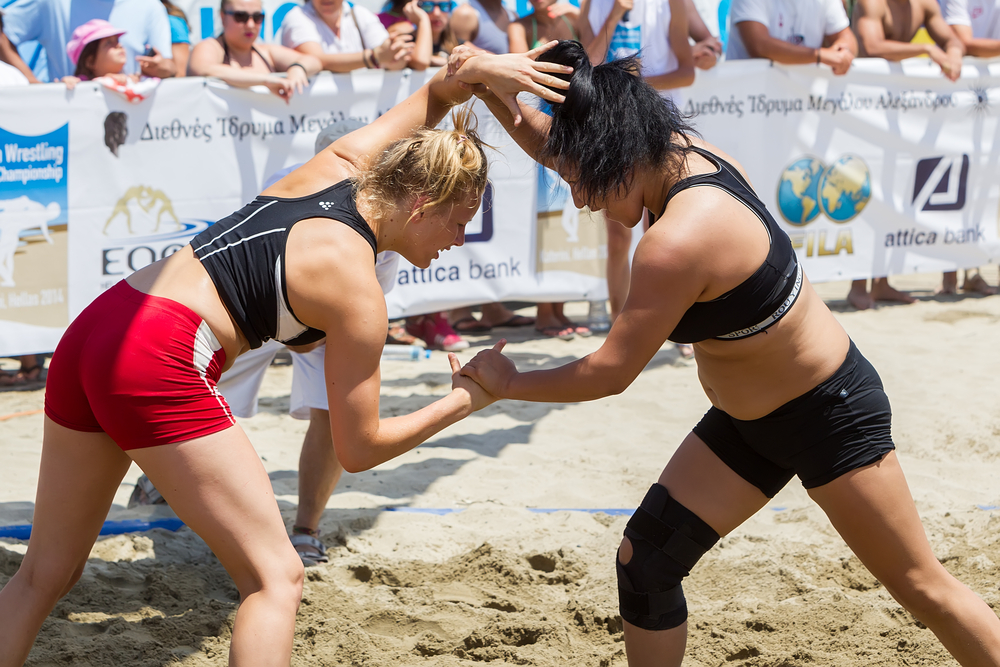 January 4, 2022,
Fully competitive women's wrestling is spilling over on to the beach.
It's a good thing there is plenty of sand.
There certainly are plenty of girls wanting to participate.
The surge in girls participating in competitive wrestling at the high school and collegiate level is well-chronicled.
The two major decimal points in that storyline is that the NCAA has designated Women's Wrestling as an Emerging Sport.
On June 18, 2020 the team at ctwrestling.com reported, "Women's wrestling has been added to the NCAA's Emerging Sports for Women program in Division I, the NCAA announced Wednesday. It was approved at the Division II and Division III level earlier this year."
In terms of scholarship opportunities for young girls, that is massive news.
The second decimal point is that the Iowa Hawkeyes, a Division One, Power Five School now has a women's wrestling program with the former Olympic star Clarissa Chun as their coach.
The significance of the above is that we are just in the very early stages of a new era.
With that opening of opportunity, in as little as five years you may not recognize the fully competitive women's wrestling landscape due to how their numbers have and are exploding.
This is in part why women's beach wrestling, once primarily an erotic amateur sport, has moved into possible contention as an Olympic Sport.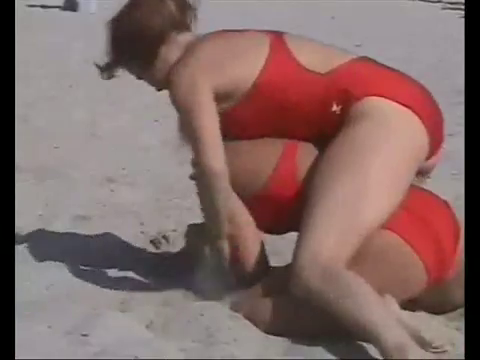 The respected group at flowrestling.org who are leaders at reporting on competitive female freestyle wrestling floated this thought, "Women's beach wrestling is on the table for the 2028 Olympics in Los Angeles. Men and women would each have two disciplines if this becomes a reality."
In terms of rules and structure they add that Beach wrestling consists of one three-minute period and the first wrestler to three points wins the match.
Time for a little bit of history.
One of the major authorities in Beach Wrestling is the United World Wrestling organization.
You can meet them at uww.org.
Who are they?
They educate, "The first International Federation for the development of wrestling and weight lifting was created in Duisburg in 1905 by the Deutsche Athleten-Verband (DAV). A committee was then created."
UWW, then known as FILA, codified the form of beach wrestling in 2004.
Beach wrestling is standing wrestling done by wrestlers, male or female, inside a sand-filled circle measuring 23 feet in diameter.
The style originally mirrored the rules used before the use of wrestling mats, and beach wrestling has been regarded as the oldest version of international competitive wrestling.
The wrestlers wear swimsuits rather than special wrestling uniforms. Wrestlers may also wear spandex or athletic shorts.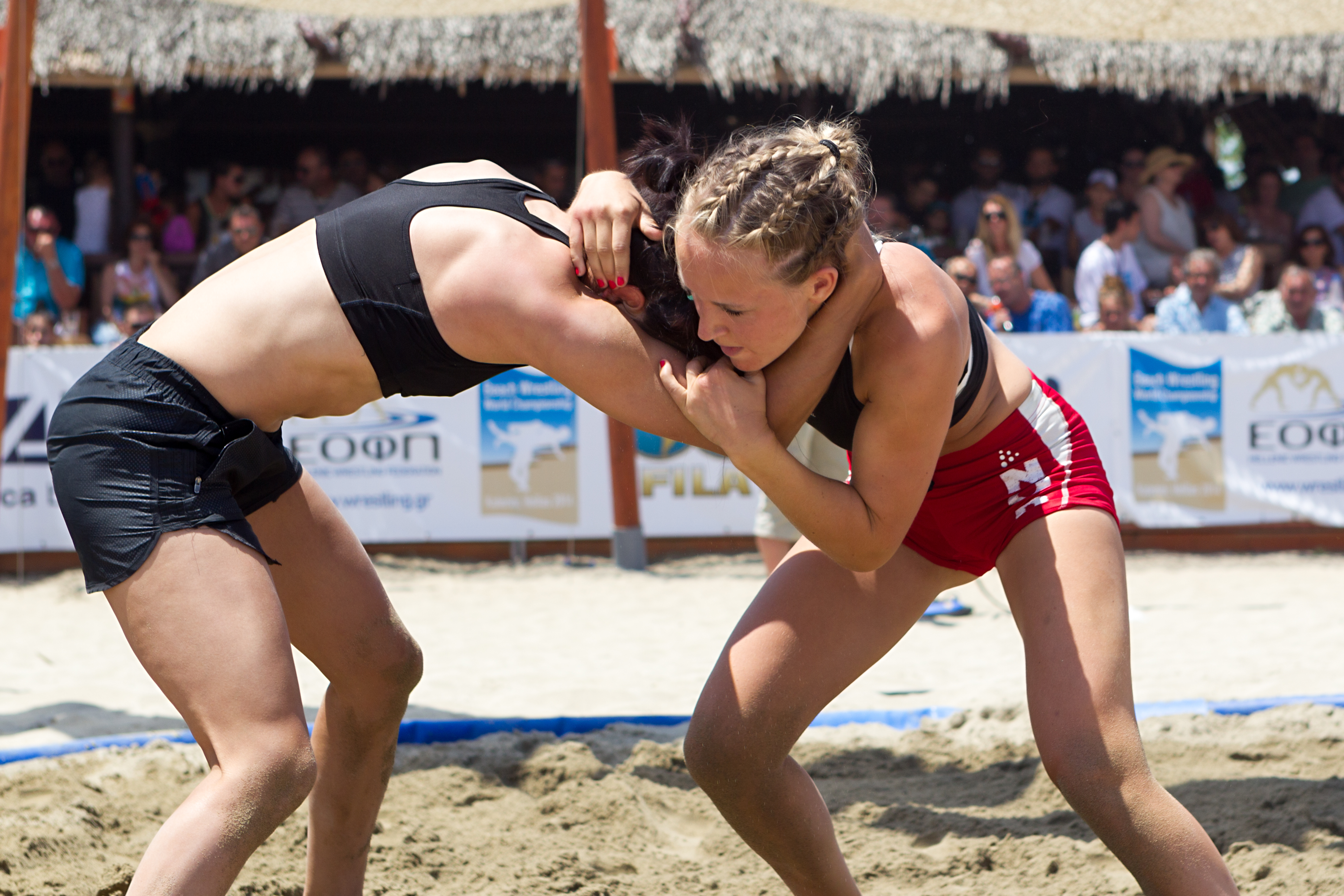 The international rules have been modified in 2015 by UWW, with the current rules allowing wrestlers to score points via takedowns, pushing their opponent out of bounds, or bringing the opponent down to their back.
In addition to the annual World Beach Wrestling Championships, beach wrestling has been contested at Youth Olympic Games, Asian Games, Down Under Games, Mediterranean Games and at the 2019 World Beach Games.
The annual World Beach Wrestling Championships is the most important international competition conducted for this growing sport which features matches for several weight classes for both women and men.
Time to look at some local tournaments. Meet some of the players.
The leadership at moreysmaniabeachwrestling.com share, "Morey's Piers is the premiere outdoor sporting venue in South Jersey. No matter what your sport…you've never played it like this before.  Morey's Piers was also the recipient of the 2017 Champion of Economic Impact on Sports Tourism Award by Sports Destination Management.
For the 2021 season we welcome the inaugural Morey's Mania Beach Wrestling Tournament. Wrestlers from all over the East Coast and beyond compete on the beaches of Wildwood, NJ as well as enjoy the water parks and beach during the day and the famous Wildwood boardwalk and amusements in the evening."
Sounds exciting. Here is more exciting recent news.
On August 20, 2021 the UWW chronicles, "The Association of National Olympic Committees (ANOC) has named wrestling, with the specific discipline of Beach Wrestling, as one of nine sports to its core program for both the 2023 and 2025 ANOC World Beach Games."
You can follow them on their Social Media:
Follow us on social media
IG @uwwbeachwrestling
FB @ Beachwrestlingworldseries
YT @ https://www.youtube.com/c/BeachWrestlingWorldSeries
Time for a personal experience from a visiting Female Writer.
A New Niche in Summer Fun – Beach Wrestling
There are tons of small business ideas out there, online and offline. It can be difficult at times to find an idea that can be successful and that you will love doing at the same time. If you love the summer sun, the beach and wrestling however, there is actually the perfect career out there that is making its way up in the business world. This new type of business is called beach wrestling and there is plenty of room for new organizers.
The first thing that should be noted about beach wrestling is that you need to live in an area that has beaches of course. At the current time, beach wrestling is popular on the east coast, the west coast and even in countries such as Albania, but those who live near large lakes with a well- manicured beach could probably see some success as well.
Beach wrestling has become a popular wrestling tournament style for the following reasons:
The rules of the sport are very simple. In tournaments, the first person who gets three points wins the match.
After high school and college, there are few choices for those who were involved in school wrestling programs. Beach wrestling gives people the opportunity to continue participating in a sport that they love.
Beach wrestling is fun for the whole family. Some events hire a DJ and have activities that the rest of the family can enjoy aside from the matches that are going on.
Many tournaments have both adult and child age groups so that school aged children who are involved in their school's wrestling program have an activity to do over the summer.
The UFC and other wrestling organizations have made mixed martial arts and other wrestling styles popular with the general public, which means an increase of demand from people who want to see or participate in such events.
Starting a beach wrestling program can be an excellent way to make some summer cash or start a small business. Money is made by entrance fees, which can range anywhere from completely free to $25 or more dollars. Those who enjoy the sport would also like to see a similar event introduced into the summer Olympics, but that could be years off if it happens at all. If it does however, the business would explode even further.
Beach wrestling is a market niche in the sports field that intertwines summer and fun. If you live near a beach, it is something to watch out for as it might be coming to your town.
For more information, visit [http://www.TheInternetTimeMachine.com].
Article Source: https://EzineArticles.com/expert/Vanessa_Sweeney/581025
Article Source: http://EzineArticles.com/4008345
~ ~ ~
OPENING PHOTO femcompetitor.com, fciwomenswrestling.com grapplingstars.com article Ververidis-Vasilis-Shuterstock-photo-credit-Editorial-use-

https://uww.org/article/beach-wrestling-named-core-discipline-2023-2025-anoc-world-beach-games?page=1
https://ctwrestling.com/2020/06/ncaa-names-womens-wrestling-as-an-emerging-sport/3412/
https://www.flowrestling.org/articles/7233910-womens-weekly-will-beach-wrestling-be-an-olympic-sport
https://en.wikipedia.org/wiki/Wrestling#Beach_wrestling
https://uww.org/about-uww/articles
https://www.topendsports.com/sport/list/wrestling-beach.htm
https://www.moreysmaniabeachwrestling.com/
https://www.fcielitecompetitor.com/