There's A Buzz About Hungary's Zara's Competitive Wrestling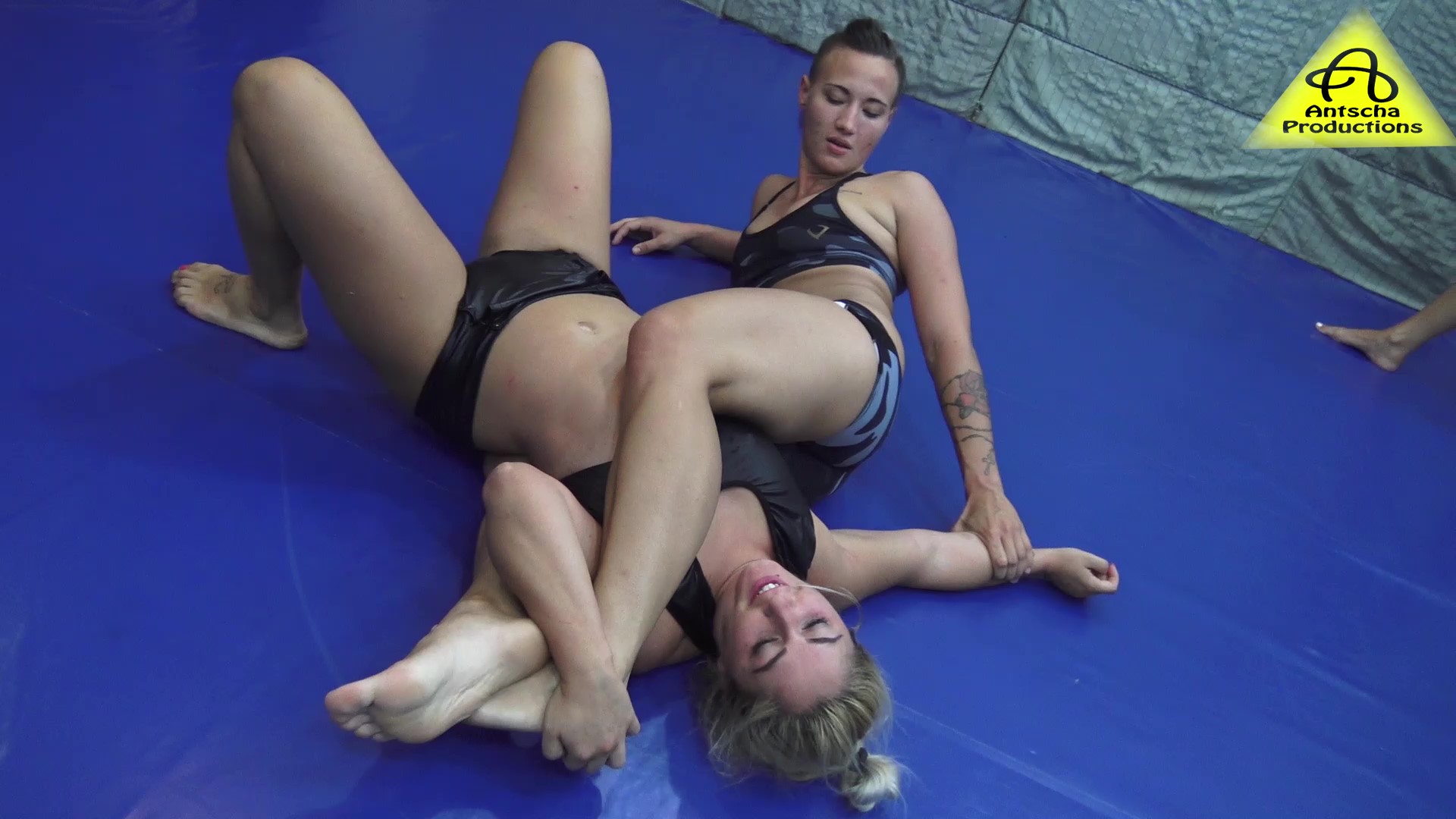 April 19, 2022,
If a girl wears the Buzz Cut style, she is in good company. Hollywood territory.
It is a style that has been graced by Demi Moore, Kristen Stewart, Natalie Portman and Charlize Theron, to name a few.
When we first saw Hungary's Zara, a stealth feminine warrior with a semi-buzz cut, we asked ourselves, is Zara trying to make a statement?
Sometimes the world's female luminaries are indeed trying to make a statement.
As shared by nylon.com, "This year, the buzz cut is being reclaimed by fashion's it-girls, making it the official cool-girl hairstyle of summer 2021. One such celebrity is Gen Z model Iris Law, who told British Vogue shaving her hair off "changed her life."
Interesting. Life changing.
Seems a little over the top but we will admit, with Zara, it did get our attention and make her stand out.
Not a lot of Buzz Cuts in the female submission wrestling industry.
The operative word here is wrestling and we wondered how Zara was performing in that regard.
She joined her Twitter account in December of 2019, so it appears she is newer to the wrestling scene.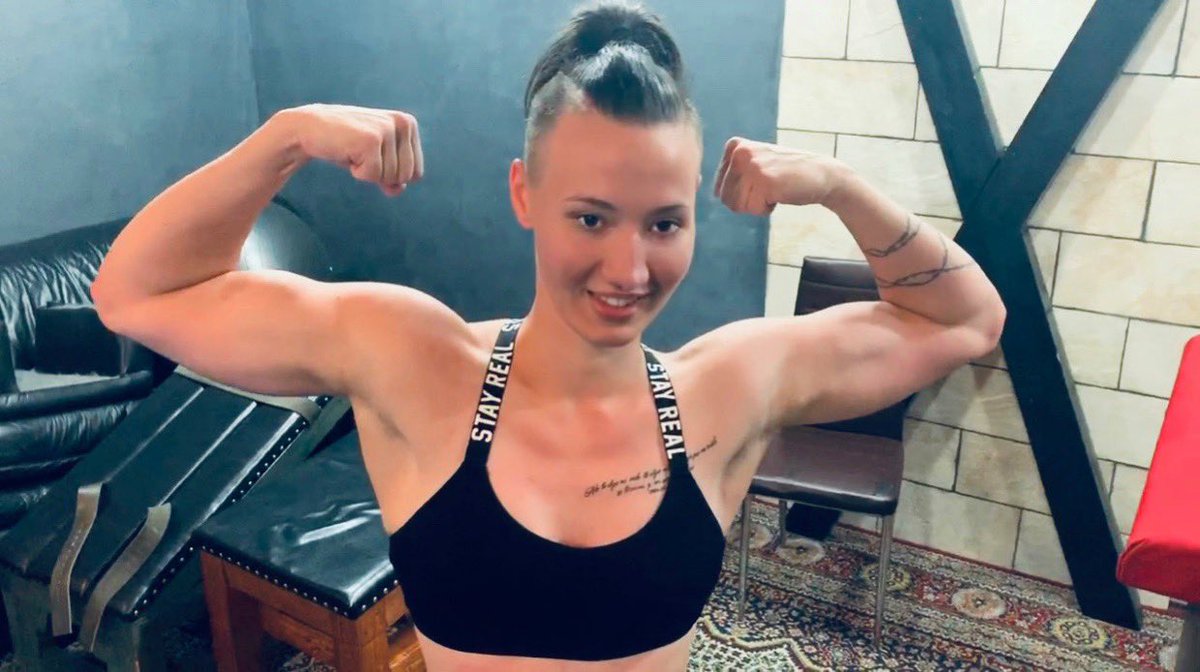 FEMALE WRESTLING ZONE
We sensed the competition would be stiff for Zara at the Zone due to the large number of highly skilled girls that wrestle there.
VS DOLLY
Dolly outweighs Zara by about 15 pounds and has a solid, thick, feminine body. The key though, is not the weight, it is the skill level.
This is a very quiet match between the two Hungarian girls and starts on the ground and stays there.
We have seen Zara's matches before and she does have a tendency to get trapped on the mat in the weaker position and here Dolly does the same.
To add to her challenge, Dolly actually does appear to have a higher skill level and though it takes about 6 minutes for Dolly to score the first submission in this quiet indoor studio match, the stronger girl is never threatened.
VS BARBIE
Don't let Barbie's name fool you. She is feminine sexy but her pastime is being a power lifter which is heavier in volume than a standard weight lifter.
Powerlifting is a strength sport that consists of three attempts at maximal weight on three lifts: squat, bench press, and deadlift.
As in the sport of Olympic weightlifting, it involves the athlete attempting a maximal weight single-lift effort of a barbell loaded with weight plates. Powerlifting evolved from a sport known as "odd lifts", which followed the same three-attempt format but used a wider variety of events, akin to strongman competition. Eventually odd lifts became standardized to the current three.
Good to know.
Having said that, the key here is skill level. Sometimes if an opponent is too large and there is a vast difference in size, that could be a factor. We don't sense that here.
As usual, Zara is comfortable in a ground war. The two start off evenly contested and the advantages in position go back and forth.
Zara finally secures the most basic hold, the headlock, and at about the 4 minute mark submits Barbie.
This is a closely contested technical match right up until the end.
VS ORSI B.
As many of us know, who have been around the industry for decades, DWW alum Orsi B. has developed into an extremely good technical wrestler. What makes her efforts even more valiant is that she competes with an injured knee, the type of injury that drove many from our industry.
In her match against Zara, we knew she was going to win, we just wondered if she would dominate her compatriot or even if Zara would get a submission.
They start out on their knees, jockeying for position and this goes on for quite some time.
Orsi does something that we find a little odd is that she is trying to submit Zara with a sitting and roll around head scissor. Using her legs as her primary weapon, when in reality, Orsi is a fairly slender girl and Zara, who is a soccer player, is on the stronger side.
This goes on for some time until Orsi figures out that it is better to use the technical approach and about the eight minute mark, she scores a submission with a full body smother.
Then gives Zara a gentle kiss on the cheek.
The second round sees more of the same as the two engage again, mostly from their knees. Orsi is in the position of control but as long as she keeps using her legs, she is not going to submit Zara.
Finally Orsi is sitting on top of Zara with a form of a bending arm joint lock that looked very painful. We thought Zara would submit, but she escaped.
Intriguing.
Orsi, now the master of their fate begins to try and submit Zara from different positions, to no avail. It is finally when she traps her with a head scissor and simultaneous arm twist Zara taps out.
2-0 Orsi.
Though Orsi is having a little more trouble than we thought, she still is winning.
In the third round, to our surprise, Zara is very resilient and clearly has not given up.
The two girls grapple for some time and Zara starts beating her to the punch. She tries several submission tactics and Orsi, with so much experience escapes. It is when Zara finally traps Orsi in a sitting head scissors and uses those soccer trained strong thighs for compression that Oris, fully bent over, submits.
Bravo Zara. We weren't sure you had that in you.
Now at 2-1, Zara is back in the hunt. Will she score another submission or will the pecking order stay in place with Orsi scoring a deciding capture.
It is worth becoming a member at Female Wrestling Zone to find out.
Well, we are buzzed about Zara. Even jazzed.
We look forward to fully reviewing her matches at Antscha's events where she wrestles a little more erotically. Here she is attired in compression like long black fitness shorts but at Antscha's domain, she wrestles in bikinis and thongs.
Yummy.
She's young, sexy, cute and sweet with a sense of humor.
Childlike too, until she gets you in a headlock.
Enjoy her matches at Female Wrestling Zone and Antscha's Productions.
Zsuzsa left, Zara Right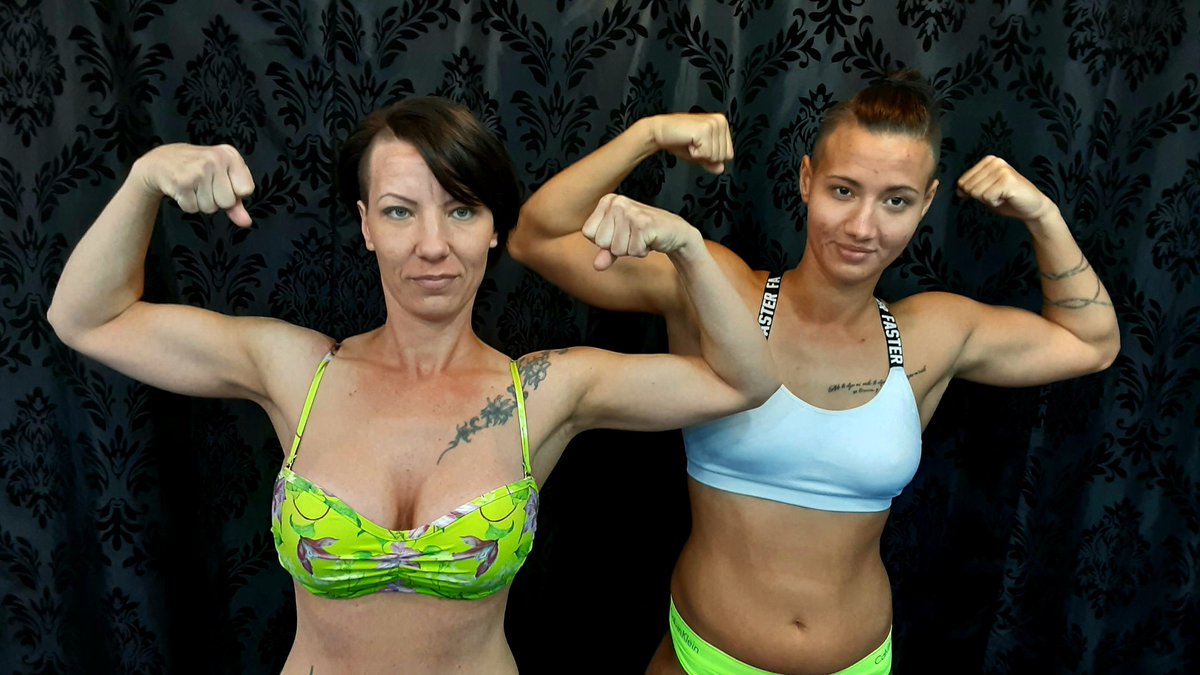 We sense you will be buzzed about her too.
~ ~ ~
OPENING PHOTO fciwomenswrestling.com femcompetititor.com grapplingstars.com, fciwomenswrestling.com femcompetititor.com grapplingstars.com, Screenshot Antscha Productions photo credit Editorial use

https://twitter.com/wrestlerorsib/status/1298397962154934273
https://www.nylon.com/beauty/shaved-head-buzz-cut-trend-for-women-summer-2021
https://en.wikipedia.org/wiki/Powerlifting 
https://www.fcielitecompetitor.com/
https://fciwomenswrestling.com/