Pittsburg's Britt Baker, There's A Doctor, Super Star And Legend In The House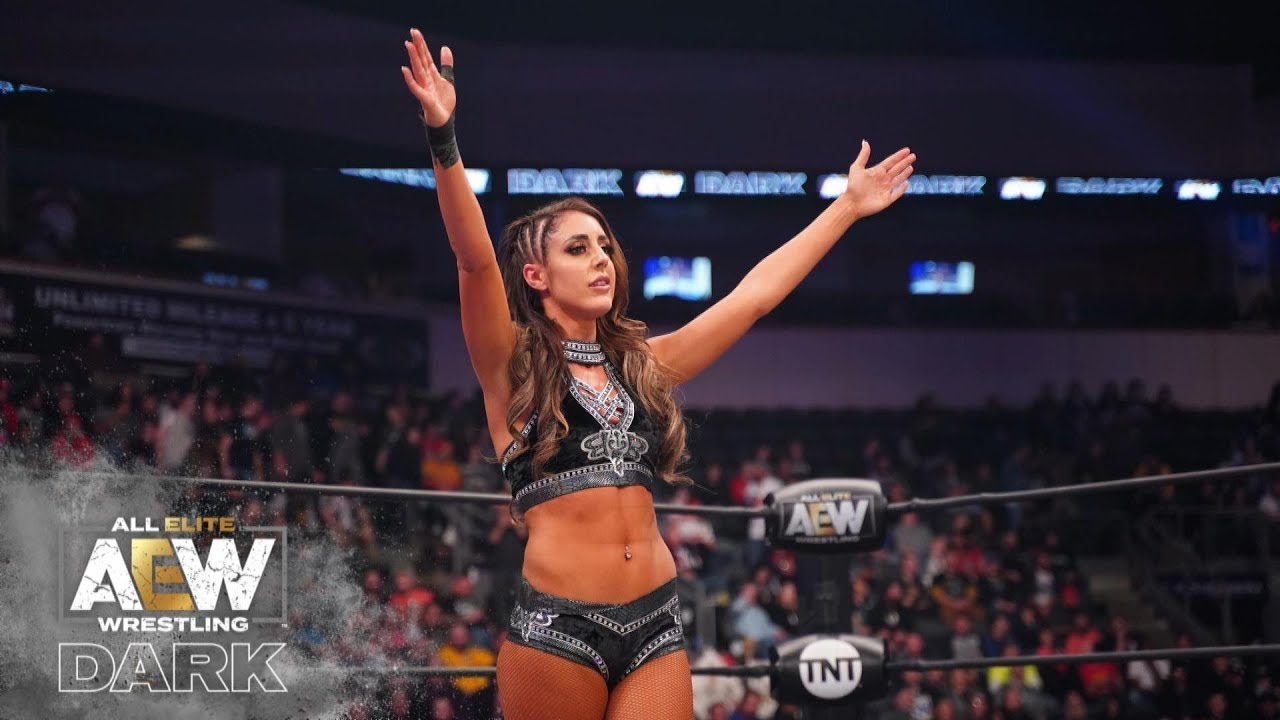 April 2, 2022,
Research indicates that Britt Baker is a Dentist.
She is a person who has created options and choices. Other times, choices and options.
Crown or filling?
She could have been a writer. Why?
Because in some ways she is an open book.
Even from thousands of miles away, you can read it on her face.
She's strong.
Determined.
Focused.
Down to earth. https://www.youtube.com/watch?v=6E0QMZ7G_6c
Family oriented.
Reads people well.
Plays out her script and brand very well in the squared circle.
You should watch her wrestle. Truly.
In our time period she is one of the important ones.
We liked this resume https://www.youtube.com/watch?v=PLh9jW1y7wQ
Love this video https://www.youtube.com/watch?v=x5YlnWiERNo
This one too. https://www.youtube.com/watch?v=YzCz2I6QRxM
Resume time.
Brittany Baker is an American professional wrestler and dentist. She is signed to All Elite Wrestling (AEW), where she is the current AEW Women's World Champion in her first reign.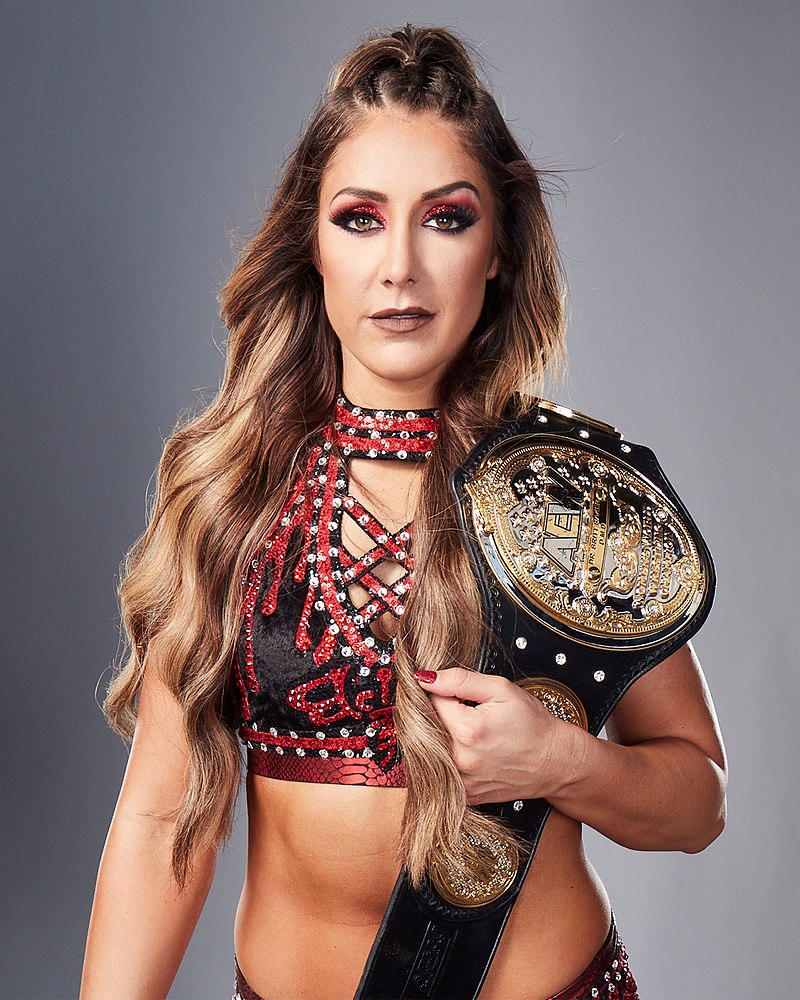 Very impressive. Why?
Because AEW is extremely impressive and continues to invest in their women's wrestling.
All Elite Wrestling, commonly shortened to AEW, is an American professional wrestling promotion based in Jacksonville, Florida.
It is considered the second largest wrestling promotion in the United States behind WWE.
Did you know that? There are a lot of wrestling promotions out there.
AEW is owned by Shahid Khan and his son Tony, who founded the company in 2019.
Its headquarters are located at TIAA Bank Field, the home stadium of the NFL's Jacksonville Jaguars, a team also owned by Shahid Khan.
Since October 2, 2019, AEW has produced a two-hour weekly television show, AEW Dynamite, airing live on TBS in the United States. The show originally aired on TBS's sister channel, TNT, from October 2019 to December 2021. It also airs another weekly television program on TNT, AEW Rampage, since August 10, 2021, along with two YouTube-exclusive shows: AEW Dark and AEW Dark: Elevation.
CBS Sports described AEW as "the first company with major financial backing to take a swing at beginning to compete with WWE on a major level in nearly two decades".
Her first reign. Imagine that.
Born in Punxsutawney, Pennsylvania, Britt made her debut as a professional wrestler in 2015 and attended dental school from 2014 to 2018.
The following year, she became the first woman signed to AEW.
Britt studied behavioral medicine with a minor in human development and family studies at Pennsylvania State University.
She began her professional wrestling training in June 2014, when she enrolled in the International Wrestling Cartel training academy in South Hills, Pennsylvania, training under the tutelage of Super Hentai and Marshall Gambino.
Creating life choices and options.
That same year, Baker enrolled in the University of Pittsburgh School of Dental Medicine, graduating in May 2018. While studying dentistry, she trained in Absolute Intense Wrestling in Cleveland under Johnny Gargano and Candice LeRae.
Research indicates that our luminary is a member of the American Dental Association.
In addition to working as a professional wrestler, she is employed as a dentist at a private practice in Winter Park, Florida.
She said in 2018 that dentistry was her "forever dream job", adding that she intended to continue practicing alongside her wrestling career and afterwards.
Sounds nice.
In life it is always wonderful to live out your dreams.
It is not business as usual. Much better than that.
Let's look at Britt's early days.
At thesportster.com they describe Britt's infancy. "A newcomer on the women's wrestling scene, Britt Baker may temporarily be known for being one of the "jobbers" who got demolished by Nia Jax on Monday Night Raw this summer. Baker has only been wrestling for a year and was trained by the likes of Johnny Gargano and Candice LeRae. The 25 year old studied at Penn State University and is now a dental student at the University of Pittsburgh."
Yes she got shaked and baked but there was something special about her.
Time for a resume scan.
She has squared off against Jordynne Grace, Sonya Strong, Kiera Hogan, Chelsea Green, Tessa Blanchard, Ray Lyn, Candice LaRae, Crazy Mary Dobson, Deonna Purrazzo and others.
Our associates at Femcompetitor Magazine had their opinion too. Oh well, an opinion is like a nose, everyone's got one. You knew that. Here is theirs back in 2014.
"Love Britt Baker's look. She's another young gorgeous brunette Indie girl with a perfect tanned fitness body. She looks fantastic in red but can she wrestle?
The answer to that depends upon your competition.
Here she wrestles Ray Lyn and they both are competent and effective but not super stars.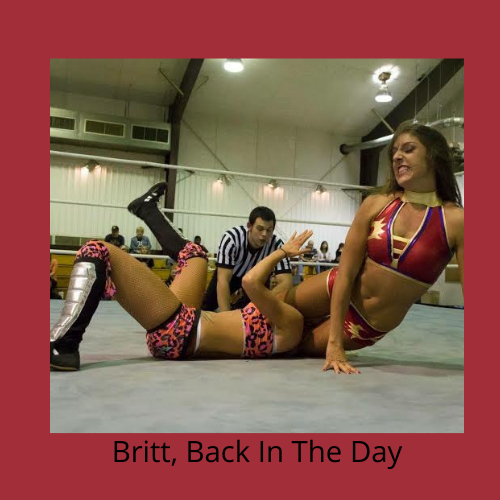 The match goes back and forth and beautiful Britt holds her own but in terms of being a top wrestler, she has a little ways to go.
She's so sensuous, we will be happy to follow her along the journey."
The inmates at cagematch.net can really be tough in their comments of wrestlers. But over the years in using them for research, then studying the female wrestler's film, they tend to be right on the mark.
Some of them really liked Britt, others not so much, but here is what one observer said that stood out to us, ""She's the face of the women's division because she's easily one of the most charismatic women on the roster. Her lights out match with Thunder Rosa is outstanding and one of the most important matches in AEW history."
Yes indeed. We absolutely love following Britt's journey and her ascension to greatness from her erotic jobber beginnings.
Our beauty has previously worked as a fitness instructor and she absolutely sports the fitness girl look perfectly.
Let's visit the village that raised her.
Punxsutawney, Pennsylvania is a borough in Jefferson County, Pennsylvania, 84 miles northeast of Pittsburgh.
The area was originally settled by the Lenape (Delaware Indians), and the name "Punxsutawney" derives from a Native name in Unami (a Lenape language): Punkwsutènay, which translates to "town of the sandflies" or "town of the mosquitoes".
Punxsutawney's most famous resident is Punxsutawney Phil, a groundhog said to predict the weather annually on Groundhog Day (February 2). Phil and the town were the basis for the 1993 film Groundhog Day (although nearly all of the film was shot in Woodstock, Illinois). The film actually made the name "Punxsutawney Phil" a national cultural reference in the US.
The town of Punxsutawney was portrayed in the 1993 philosophical comedy film Groundhog Day.
Fun town. Fun girl.
Historic village. A beautiful girl making wrestling history.
We loved watching her interviews.
She loved wrestling as early as six years old. She also loves ice cream and nachos and understandably the Penn State Nittany Lions and the mighty Pittsburg Steelers.
Now for the scary part.
Since Britt is a Penn beauty creating options and choices, enjoy her while she is right in front of you right now.
Life is about the moments.
Life is about right now.
She's special.
~ ~ ~
OPENING PHOTO fciwomenswrestling.com femcompetititor.com grapplingstars.com, fciwomenswrestling.com femcompetititor.com grapplingstars.com, All-Elite-Wrestling-photo-credit-Editorial-use-YouTube-Screen-shot.

https://en.wikipedia.org/wiki/All_Elite_Wrestling
http://www.groundhog.org/about/about-groundhog-day/
http://www.rogerebert.com/reviews/triple-9-2016
http://www.thesportster.com/wrestling/top-20-hottest-independent-female-wrestlers-of-2016/
http://www.onlineworldofwrestling.com/bios/b/britt-baker/
https://twitter.com/realbrittbaker?lang=en
https://www.cagematch.net/?id=2&nr=17188
prowrestlingtees.com/brittbaker
https://www.cagematch.net/?id=2&nr=17188&page=4
http://www.wwe.com/shows/raw/july-25-2016/article/nia-jax-def-britt-baker
http://www.wrestlezone.com/news/785867-independent-wrestler-britt-baker-talks-having-a-match-on-raw-first-iwc-womens-champion-does-qa