MMA Arms Race, Incentives Surge For Top Female Fighters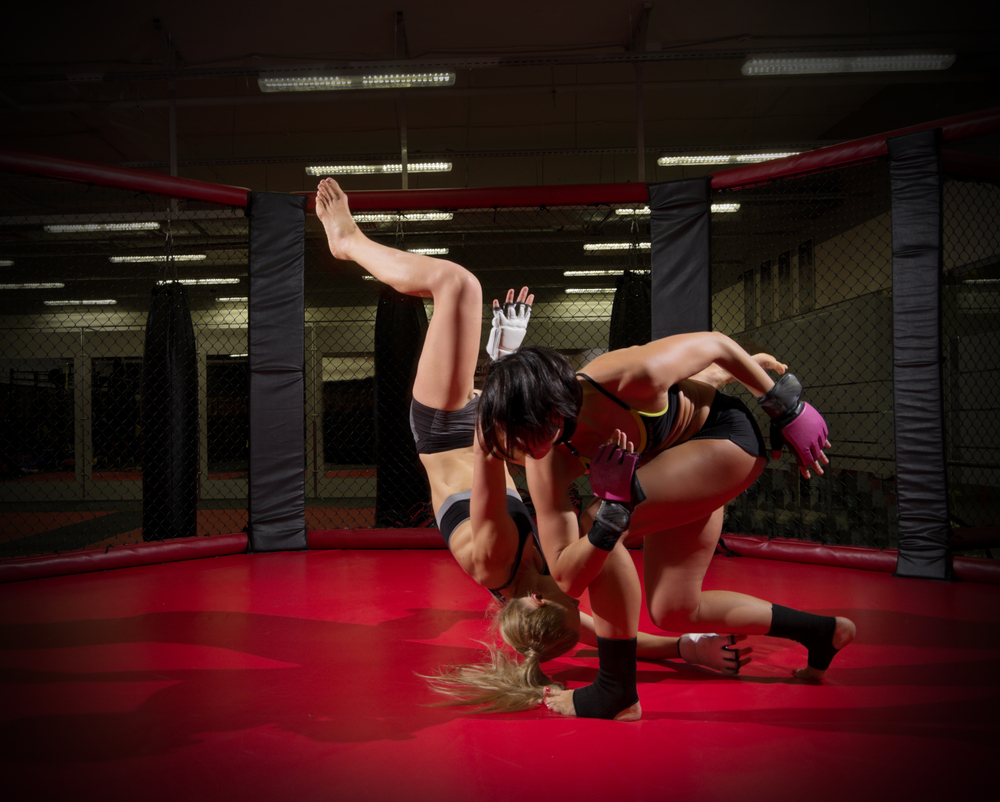 May 19, 2022,
The top female MMA fighters are few or plenty?
Well, it's the old class half empty, half full theory.
It depends upon how thirsty you are and how much water is available.
Are you in the middle of the desert or at a Seattle hipster poolside party?
As we examine the current Female MMA scene, we say more top fighters are needed.
More patience to bring them along slowly, is desirable.
There appears to be an arm race going on in Female MMA and as the promotions increase, the ranks of the top fighters begin to thin out.
As an example, when we look at the recent PFL fight night, 22 year old sensation Abigail Montes earned a big fight against Olena Kolesnyk with a previously 3-0 record and lost.
After the victory, Ms. Olena Kolesnyk's record lodged in at 6-4.
Was Abigail brought along too swiftly? Should she have contracted more fights which her camp was certain she could win to build her record up?
Now retired, Agnieszka Niedźwiedź appears to have done it right.
Agnieszka Niedźwiedź is a Polish former mixed martial artist who last competed in the Flyweight division in Invicta FC.
She fought for organizations like MMA Attack, Cage Warriors and Fighters Arena.
In 2017, the year of her last recorded fight to date, she was ranked #2 in the world in the women's flyweight category.
On December 8, 2017, she faced Jennifer Maia for the Invicta FC flyweight title. She lost the fight via unanimous decision.
Ms. Niedźwiedź was offered a place on The Ultimate Fighter (TUF), but declined, citing her appreciation of the high skill level in Invicta FC and her reluctance to be apart from her young son.
Her professional record ended at 10-1.
That was 5 years ago.
Today she could earn a massive pay day with that record.
Look at the MMA organizations now vying for top fighters.
The Professional Fighters League (PFL) is an American mixed martial arts league founded in 2018, following the acquisition and restructuring of the former World Series of Fighting (WSOF) promotion in 2017 by MMAX Investment Partners.
It is the first major MMA organization in which individual athletes compete in a regular season, post-season, and championship, rather than on a year-round basis.
Pallas Athena Women's Fighting Championship (PAWFC) is the first professional all-women Mixed Martial Arts Corporation in Western Canada.
As reported by mmasucka.com on January 19, 2022, "Unique platforms for women in MMA continue to grow and now Canadian athletes have their own space to battle for exposure and glory. Pallas Athena Women's Fighting Championship- known as PAWFC- promoted their first event last Saturday on tribal land outside Calgary, Alberta, Canada, electing their first strawweight champion in the process."
Now for another.
Invicta Fighting Championships, also known as Invicta FC, is an American professional mixed martial arts (MMA) promotion dedicated to Women's mixed martial arts that was founded in 2012 by Janet Martin and Shannon Knapp.
The promotion is currently owned by the Canadian-based Anthem Sports & Entertainment.
The company's name comes from the Latin word for "invincible and incomparable", which appears in the feminine form.
Then of course there is the leader of them all in the UFC.
As the arms race continues, look at what they are doing to motivate more top female MMA fighters to join their exclusive ranks and stay.
UFC® AND CRYPTO.COM TEAM UP TO CREATE NEW FIGHT NIGHT BONUSES FOR UFC ATHLETES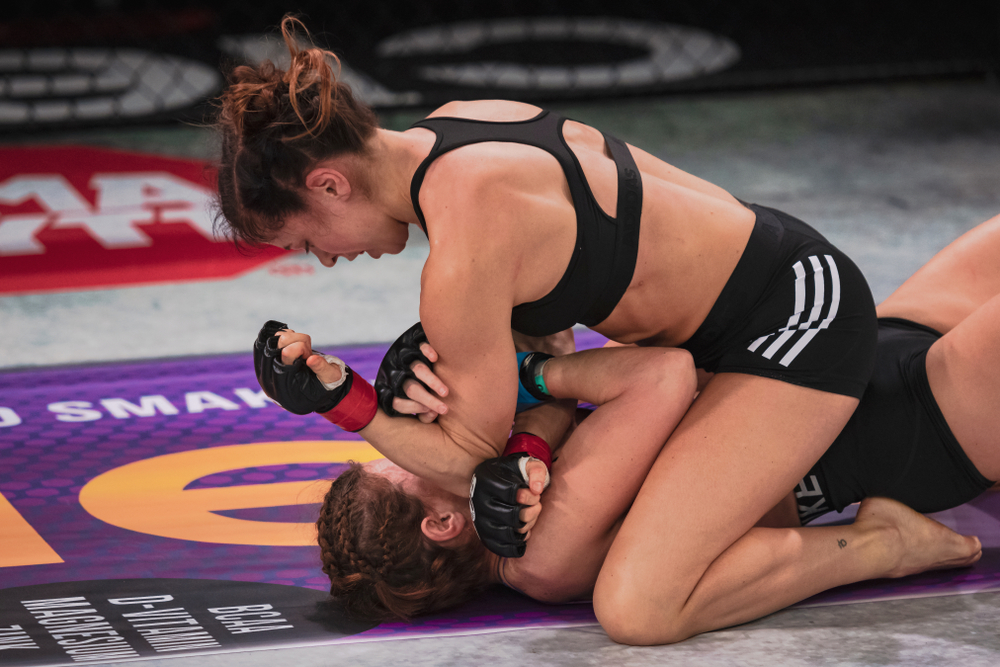 News provided by
Apr 07, 2022, 08:30 ET
FIGHTERS TO RECEIVE BITCOIN FOR NEW "FAN BONUS OF THE NIGHT"
Fan Voting will Decide Top Three Best Fighters from Each UFC Pay-Per-View
Bitcoin Bonuses Include US$30,000 for First Place, US$20,000 for Second Place, and US$10,000 for Third Place
SINGAPORE and LAS VEGAS, April 7, 2022 /PRNewswire/ — UFC®, the world's premier mixed martial arts organization, and Crypto.com, the world's fastest growing cryptocurrency platform, and the Official Cryptocurrency Platform Partner of UFC, today announced the creation of new Fight Night bonuses for UFC athletes that will be paid in bitcoin (BTC).
The new Fan Bonus of the Night will feature three bitcoin bonuses that will be awarded to the top three fighters appearing on each UFC Pay-Per-View as decided by fans voting from all over the world. The bitcoin payouts will range from US$30,000 for first place, US$20,000 for second place, and US$10,000 for third place.  The bonuses will be paid in bitcoin (BTC) based on the exchange rate in U.S. dollars.
The Fan Bonus of the Night will be in addition to the traditional Fight of the Night and Performance bonuses awarded to UFC athletes by UFC President Dana White following each UFC event.
The Fan Bonus of the Night will be introduced at UFC® 273: VOLKANOVSKI vs THE KOREAN ZOMBIE, which will take place this Saturday, April 9 at VyStar Veterans Memorial Arena in Jacksonville, Fla.
"Crypto.com has been an official UFC partner for less than a year, and I'm telling you they are already one of the best partners we've ever had," said UFC President Dana White. "They're constantly coming up with new ideas about how we can work together to connect with the fans.  This new Fan Bonus of the Night is an awesome way to get fans more engaged in our events while rewarding the fighters for bad-ass performances."
"Central to our partnership with UFC is creating the most unique and compelling ways for fans to connect with the sport and their favorite athletes," said Steven Kalifowitz, Chief Marketing Officer of Crypto.com. "We are thrilled for this next step in our partnership with UFC and excited to build even more innovative and engaging experiences as our partnership continues."
During each UFC Pay-Per-View, voting for the Fan Bonus of the Night will take place on Crypto.com/FanBonus and will be open to all users globally.  Each fan will get three votes per Pay-Per-View and can vote for two fighters within each bout. Voting will open at the start of the Pay-Per-View prelims and will end one hour after the conclusion of the event.
The Fan Bonus of the Night is yet another innovative collaboration in the groundbreaking partnership between UFC and Crypto.com.  Last July, Crypto.com was named UFC's first-ever global Official Fight Kit Partner.  Last November, UFC and Crypto.com further expanded the partnership to include a multi-year licensing agreement for an exclusive series of UFC NFTs in which UFC athletes will receive fifty percent of UFC's revenue from the NFT sales.
This initiative is the most recent campaign across Crypto.com's world-class partnership portfolio, including the recently announced Formula 1® Crypto.com Miami Grand Prix, in addition to partnerships with the Australian Football League, Philadelphia 76ers, European football powerhouse Paris Saint-Germain, and the historic Crypto.com Arena in Los Angeles.
About UFC®
UFC® is the world's premier mixed martial arts organization (MMA), with more than 625 million fans and 187 million social media followers. The organization produces more than 40 live events annually in some of the most prestigious arenas around the world, while broadcasting to nearly 900 million TV households across more than 170 countries. UFC's athlete roster features the world's best MMA athletes representing more than 75 countries. The organization's digital offerings include UFC FIGHT PASS®, one of the world's leading streaming services for combat sports. UFC is owned by global sports and entertainment company Endeavor, and is headquartered in Las Vegas, Nevada. For more information, visit UFC.com and follow UFC at Facebook.com/UFC, Twitter, Snapchat, Instagram and TikTok: @UFC.
About Crypto.com
Founded in 2016, Crypto.com serves over 10 million customers with the world's fastest growing cryptocurrency platform. Crypto.com is built on a foundation of security, privacy and compliance and is the first cryptocurrency company in the world to have ISO/IEC 27701:2019, ISO22301:2019, ISO27001:2013 and PCI:DSS 3.2.1, Level 1 compliance, and independently assessed at Tier 4, the highest level for both NIST Cybersecurity and Privacy Frameworks, as well as Service Organization Control (SOC) 2 compliance.
With over 4,000 people in offices across the Americas, Europe and Asia, Crypto.com is accelerating the world's transition to cryptocurrency. Find out more: https://crypto.com
For further inquiries please contact press@crypto.com.
SOURCE Crypto.com
~ ~ ~
OPENING PHOTO fciwomenswrestling.com femcompetititor.com grapplingstars.com By-Boris-Ryaposov-Sutterstock-photo-credit-editorial-use

https://en.wikipedia.org/wiki/Agnieszka_Nied%C5%BAwied%C5%BA
https://en.wikipedia.org/wiki/Professional_Fighters_League
https://mmasucka.com/2022/01/19/paw-fc-crowns-strawweight-champion-in-debut-event/
https://www.fcielitecompetitor.com/
https://fciwomenswrestling.com/