Columbia's Sonia Isaza, Curvy, Shapely Glutes Inspire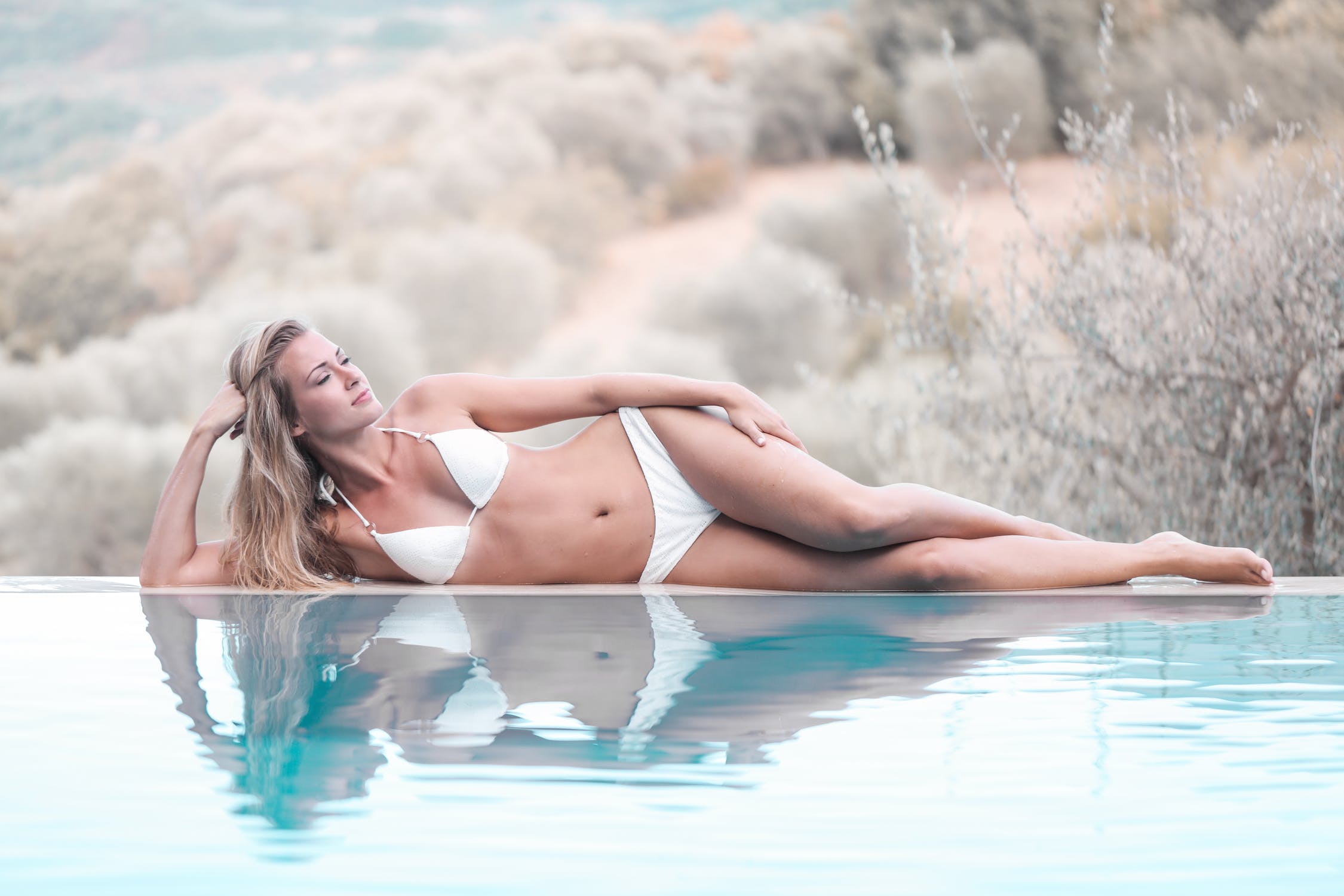 Go to your local gym where you are a member for some time and you get to know all of the faces.
Body attributes too.
Especially the girls with nice butts. It is an artistic exploration.
They know you're watching and they don't seem to mind.
These beauties are possibly gaining inspiration from the fitness stars that they see online who are beautifully sculpting their bodies and have legions of followers who praise them for doing so.
If there was ever a sensuous fitness beauty deserving or praise it is Sonia Isaza.
Ring the bells. The kettle bells that is because when you look at her perfectly designed behind, you know she is ahead of the curve in terms of popularity.
Let's meet her.
At the sexy and informative site greatestphysiques.com they share, "Originally from the city of Pereira, Colombia. Sonia became involved with fitness in her early 20's after becoming inspired by bikini models she saw in magazines. She decided to dedicate herself to exercising, and within a few years she transformed her figure into one worthy of competing."
Our beauty's progress in the gym and achievements on the stage allowed her to qualify for more prestigious competitions, the most notable being the Arnold Classic in Australia.
Let the games begin and we can't wait to watch.
Our gorgeous beauty moved to California in 2006 to pursue her dream of becoming a body builder and soon became recognized as a fitness babe to watch. The Golden State is a long ways from her hometown of Pereira, Columbia.
Pereira is the capital city of the Colombian department of Risaralda.
It is located in the foothills of the Andes in a coffee-producing area of Colombia officially known as the "Coffee Axis".
The Colombian coffee Region, also known as the Coffee Triangle is a part of the Colombian Paisa region in the rural area of Colombia. It is famous for growing and producing majority of Colombian coffee, considered by many to be the best coffee in the world.
Pereira, alongside the rest of the Coffee Axis, form part of UNESCO World Heritage Site known as the "Coffee Cultural Landscape of Colombia". It is the most populated city in the Coffee Axis and the second-most populated city in the Paisa region, after Medellín. Pereira is also part of the Central West Metropolitan Area, which has 709,322 residents and is composed of Pereira and the neighboring cities of Dosquebradas and La Virginia.
The region has developed major theme parks such as the Colombian National Coffee Park located in the town of Montenegro in Quindio.
As usual the world travelers at Lonely Planet adds some flavor, "Colombia is famous for its coffee, but nowhere is the prized bean more important than in the departments of Caldas, Risaralda and Quindío, which together make up the heart of the Zona Cafetera, also called the Eje Cafetero (Coffee Axis). Here you'll find jeeps packed with mustachioed coffee pickers, poncho-wearing senior citizens gossiping in cafes, and, of course, endless cups of piping-hot Arabica."
Sounds unique.
Sounds memorable.
Uniquely memorable with a rich coffee aroma.
Sonia is from a culturally and globally rich place.
Through her fitness, she has taken us as fans to a very healthy and sexy place.
Sonia's favorite body part are her glutes, and one of her favorite exercises for building strong and curvy legs are Smith Machine squats.
So we might follow her lead, what is a Smith Machine?
The Smith Machine consists of a barbell that is fixed within steel rails allowing only vertical or near-vertical movement. Some Smith machines have the barbell counterbalanced. The machine can be used for a wide variety of exercises though it is most commonly used to perform "Smith machine squats.
See? Sonia already knew that.
We have a visiting writing that would love to add her thoughts to this whole beautiful butt discussion and we hope you enjoy what she has to say. We did.
Getting a Bigger Butt With Kettlebell Workouts
It goes without saying that the majority of fitness professionals discourage you from spot-training any one particular area for exercise or weight loss. However, bestselling author Tim Ferriss makes a strong case in favor of kettlebell exercises for women who want to get a bigger butt.
Having previous experience (and little interest) of kettlebell training, Ferriss was reintroduced to the power of the workouts over a meal in Buenos Aires, Argentina with someone he dubs "The Kiwi." Holding a BSE in exercise physiology, The Kiwi saw a professional Brazilian samba dancer balance tequila shots on top of each butt cheek.
Inspired, the Kiwi performed an experiment in kettlebell training on his then-Chinese girlfriend on the art of "perfecting the female posterior." Within 4 weeks, the girlfriend, a woman with a "surfboard" body, became one of the top ten sexiest girls at her school at the University of Auckland. She was literally bombarded by fellow students who wanted to know what she did to pull her butt so high on her hamstrings. The answer was kettlebell training, specifically swings.
Kettlebell Swings for a Sexier, Higher Butt
Whether or not you plan on balancing tequila shots on your butt, it'd be nice to, wouldn't it? Today's most popular fitness programs feature intense workouts that provide maximum results in record time. For women, especially women who want to get an hourglass figure, kettlebell exercises happen to be one of the most popular trends right now.
"By swapping ineffective cardio for shorter, more intense bursts of kettlebell activity, you rev the metabolism like crazy," says Caroline Radway, kettlebell fitness expert. "You preserve lean muscle, blast fat, and keep your body burning calories for hours after you've finished."
Here are directions for performing kettlebell swings that will help you get a bigger butt:
Stand with your feet between 6 to 12 inches apart on either side.
Place the kettlebell six inches in front of you on the floor.
Use both your hands to get a good grip on the handle. Without standing up, hike the kettlebell back and up behind you between your legs. You should feel as if you're about to sit back on a chair.
Come to a complete stand, popping your hips forward with the assistance of the kettlebell's momentum. Allow the momentum to guide your body to swing back into a hinge position as you repeat the movement.
Tips for Effective Kettlebell Swings
Avoid rounding your back. Keep your shoulders retracted (pulled back).
Do not squat. The movement is not supposed to be a squat. It's supposed to feel more like you're about to sit down on the edge of a seat.
Imagine that you're pinching a penny between your butt cheeks when popping your hips. This creates a forceful pop that engages your gluteal (butt) muscles even more. "If your dog's head gets in the way, it should be lights out for Fido," says Ferriss.
As you can see, you can get a bigger butt using kettlebell exercises for women, but you can't expect an immediate overnight transformation, especially if you're not using proper form. Consider investing in a few kettlebell training sessions to learn proper form so that you execute moves flawlessly to maximize your results and minimize your chances of injury.
Ok – so you're body isn't as bootylicious and curvaceous as you want it to be – but I'm going to help you fix that! From exercise techniques to body enhancements like padded panties, waist cinchers and more – you'll look like a modern day pin-up girl with the perfect hourglass figure to match! Come check me out today!
>> Kettlebell Bigger Butt Workout [http://www.getanhourglassfigure.com/] http://www.GetAnHourglassFigure.com
Thanks for visiting me!
~ ~ ~
Opening photo fciwomenswrestling.com, grapplingstars.com femcompertitor.com, photo by: @ohrangutang makeup by @cristinapilo FELIZ NOCHE??
https://www.greatestphysiques.com/female-physiques/sonia-isaza/
https://en.wikipedia.org/wiki/Pereira,_Colombia
https://en.wikipedia.org/wiki/Colombian_coffee_growing_axis
https://www.lonelyplanet.com/colombia/northwest-colombia/zona-cafetera
https://en.wikipedia.org/wiki/Smith_machine
https://EzineArticles.com/expert/Gabriella_Ramirez/636839