Wrestling: It's A Way Of Life For Pippa L'Vinn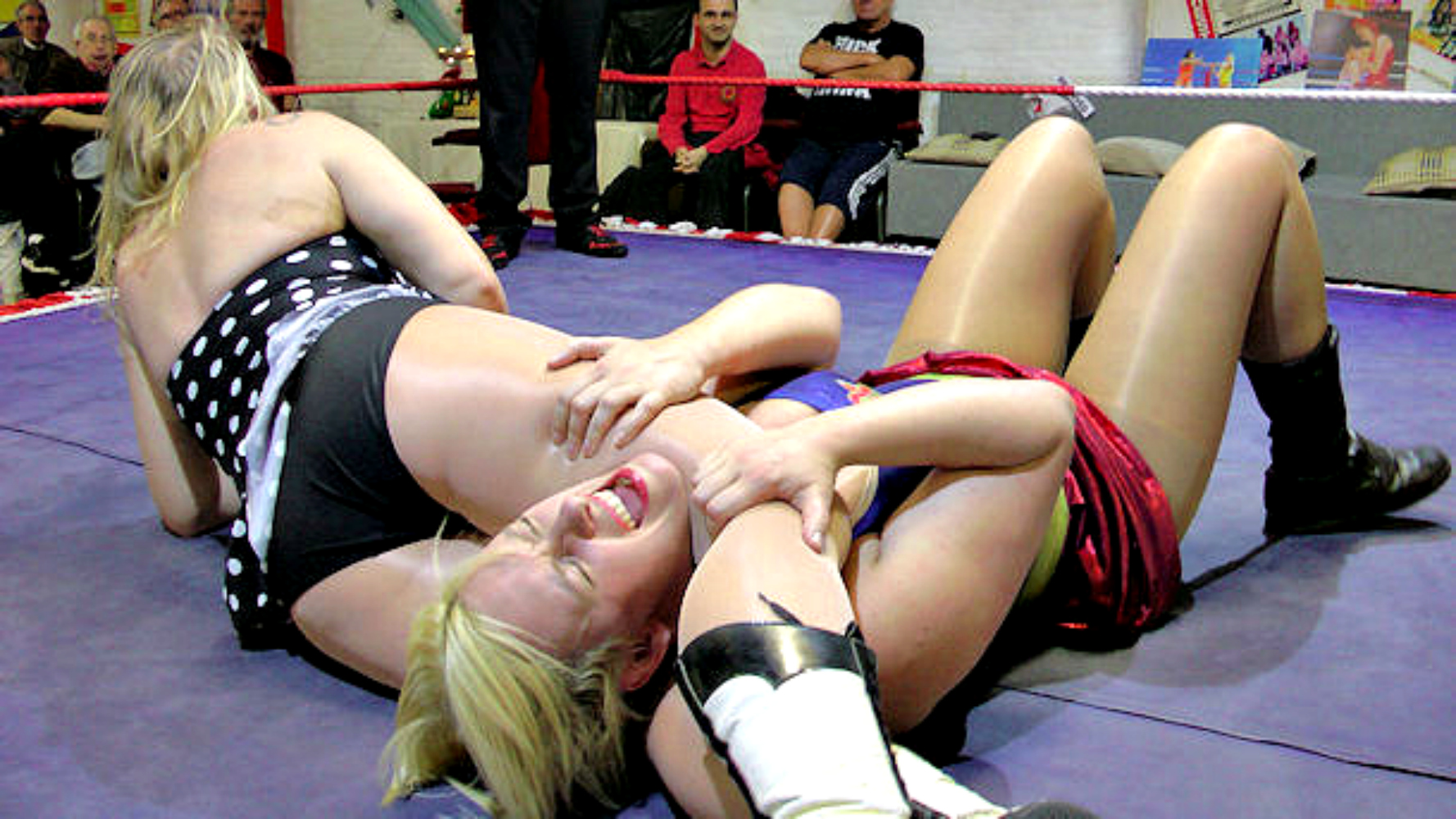 Pippa L'Vinn, a resident of Manchester UK,  has been wrestling for twenty plus years as an amateur, a pro wrestler, free style grappler and a judo competitor. Her success has not been overnight nor has it been easy.
L'Vinn has had her share of bumps and bruises, but thankfully no broken bones or noses.
"Wrestling is fun, but takes lots of work to learn and perfect any technique at all," says Pippa.  Pippa has always been an adventurer at heart, but when she started it was really a shock to her body to step through the ropes and give it a try.
Asking Pippa what has been her secret to being in wrestling for so long?  "At first, I was only wanting to wrestle. Then as time went on, I wanted my own gym with a ring.  That happened in 2005.  Since that time I saw the need to help other people who were interested in the sport, so I became a trainer because of my experience."
"I became more aware of the interest, not only from those who wanted to learn to wrestle, but from fans as well. So, I guess I became a promoter of events here in Manchester. It's a lot of responsibility but my reward is the fun I see the fans having, and the wrestlers who come to compete."
Pippa has wrestled in many parts of the world, and back in 1999, she caught the attention of an American promoter who owned the Professional Girl Wrestling Association (PGWA) and LadySports promotions.
"We saw the potential of Ms L'Vinn and her associate, Shelby Beach who just put their hearts into what they did at our event in the US.  It's been a long lasting relationship of both parties and it's been successful for both." says Randy Powell, owner of the promotion.  It's hard to believe that we have worked and promoted our two companies for 20 years this November"
Pippa has to say she owes her success to the hard work she has put into it.  She trains a lot, keeps her gym tidy, and her trainees keep coming back for more.   She explained that wrestling is not for everyone, but for those who like it, they soon grow to love it and have this desire to be involved with the business in some way.  If desire, dedication, toughness, and self starting is not in their DNA, Pippa doesn't think they would last in the ring or on a mat very long.
Pippa's gym is called The Wrestling Factory and besides being a well-known name on the indy circuit she has to be an accountant, project coordinator, scheduler for her trainees, custodian, shuttle service driver and many other things. Our hat is off to this dedicated wrestler who keeps pushing herself to be the BEST.
##########
For more info contact Pippa directly at 07 887 837 146.  Her email:  pippa@pippalvinn.com  
She's more than happy to share her story and give her insights to being a successful businesswoman as well as a championship caliber lady wrestler.
Opening photo courtesy of LadySports.com and special events.
press release prepared by  Special Events / Durham, NC
skype 1 336 566 2255
Facebook  Randy PGWA Booker
Manchester: The Free Spirit City in Northwest England
Of all the cities of Europe, Manchester is the most progressive, and after London the most important city in England. Socially, there is an motivational energy in Manchester that is a driving force socially and culturally. Manchester has embraced the realities of the social changes of the 21st century in an open manner. This is so for two reasons. There are five universities and five colleges in Manchester, and the resulting youthful dynamic this provides has considerable influence. Yet this influence is in complete harmony with and magnifies the long tradition of the Mancunian propensity to challenge the status quo, to be the vanguard of social change, and in being pro-active in civil liberties and civil rights. This has created a very different English city in tone, demeanor, and appearance than what Americans may expect.
The Rebuilding
Because of extensive bombing during World War II, there was a considerable amount of rebuilding, and with the Mancunian penchant for innovation, instead of rebuilding the old they constructed buildings of contemporary design. So the look and feel of Manchester is that of a dynamic city that is definitely quirky, but also modern and impressive.
Madchester
This dynamicism has been a magnet for creative young artists and musicians from across Britain, and this has created a very active cultural climate in the fine arts and in the performing arts. Manchester is home of the 'musical revolution' that brought about the Hallé symphony orchestra and progressive music groups such as The Stone Roses, Oasis, Happy Mondays, the Inspiral Carpets, James, and hundreds more. Manchester's music revolution was even dramatised in the 2002 film, "24 Hour Party People", a 3½ star digital-video depicting the punk era through the late-'80s "Madchester" era. The music scene in Manchester is a source of local pride and is representative of the spirit of this great city.
Youthful Adventures
With such a large and vibrant uni student population in Manchester, that means a lot of uni student life, and nightlife. If you want a night out on any night of the week, that's no problem. There is always a cheap club to get in with no dress code, packed pubs with happy hours, lots of cheap food including 'takeaway' (takeout food), and places to meet girls, places to meet guys, places to meet girls and guys, whatever you want.
First, head on down to the section of the city called Studentville. It's the Oxford Road area and it is packed with pubs, bars less picky about dress style, and it's active most of the time.
The Northern Quarter is in Manchester City Centre between Shudehill and Victoria Station. This is a bohemian and offbeat alternative lifestyle area with a lot of cafés, pubs, bars, music shops, art galleries, clothes boutiques, and emporiums. In the Northern Quarter you can find all sorts of weird, delightful, and wonderful stuff. The pubs and bars are located mostly on High Street and Oldham Street. There is also a bazaar in Affleck's Palace, which use to be a department store. Some cafés morph into nightlife with various music venues.
The Gay Village is a unique centre for the large and flourishing gay community. The Gay Village is in the Canal Street and Chorlton Street area and includes Sackville, Whitworth, and Princess Streets. Across the canal is Sackville Gardens and Manchester College. Canal street is a pedestrian street lined with is lined with gay bars and restaurants.
Manchester Pride is a yearly ten-day LGBT event that takes place in mid-to-late August. It includes a Pride Fringe festival, film showings, a colorful parade that makes their way across the city and ending in the Gay Village, and a weekend celebration called 'The Big Weekend'. This is a ticketed three-day program of outdoor entertainment in the Gay Village during the August bank holiday weekend. It all ends with a Candlelit Vigil in Sackville Gardens.
Free Things to Do
Here is a partial list of free things to do around Manchester.
The John Rylands Library at the University of Manchester at 150 Deansgate, south of Bridge Street, is unusual and beautiful on the inside. It is a masterwork of Victorian Gothic (or Neo-Gothic) architecture. There is a collection in the library of magnificent medieval manuscripts.
Museum of Science and Industry or MOSI, on Liverpool Road aims to make science and industry inspirational and enjoyable. Well, that depends what part of this huge museum you are in. However, there are trains you can actually ride, a Planetarium, and a 4D cinema (you do pay for a fairly old short film, about £5.50, which is generally rated as fair). The airplane display is near the end of the entire exhibit area and since the place is really big, don't wear out too early because the planes are rather cool. Just quickly walk pass the boring story-board exhibits. Some people be delirious about this place. I don't know why, but the planes, planetarium, and trains are def. There is a decent restaurant and coffee shop in the museum.
Heaton Park, four miles north of the city centre in Prestwich, offers huge green lawns with good views of Manchester, row boats on the lake, footpaths to walk through the woods, cycle paths as well, a beautiful and quirky 18th century mansion, Smithy Lodge, open to the public with period furniture, and a farm with farm animals and beekeeping to see.
Whitworth Art Gallery on Oxford Road next to Whitworth Park at Manchester University is especially known for their collection of British watercolours and modern and historic prints. Of course there are also drawings, paintings and sculptures. There is a summer program of events to check out.
City Airport & Heliport's Art Deco control tower is open to the public, free, and you can observe the planes and helicopters landing and taking off. City Airport is on Liverpool Road in Eccles and is not to be confused with the Manchester International Airport on the other side of town.
Other places to visit include the Manchester Art Gallery, The Lowry, National Football Museum, Peoples History Museum, Manchester Museum, and Manchester Cathedral.
Like the rest of England, there are a list of festivals as well as local events in Manchester that occur during the warm months. These include such things as the Manchester Picnic, various displays and "thought provoking experiences" at Tatton Park, the Float-In Movie, Harry Potter Day, and Canal Festival. Check the local tourist office for details on festivals the occur during your visit.
Allen Routledge is a backpacking travel veteran with extensive experience 'on the road' in Europe, Australasia, and the Americas. Read other articles about his personal experiences and practical travel information at http://omnitraveller.com.
Article Source: https://EzineArticles.com/expert/Allen_Routledge/1400664
Article Source: http://EzineArticles.com/7250142
https://ezinearticles.com/?Manchester:-The-Free-Spirit-City-in-Northwest-England&id=7250142 
https://ezinearticles.com/?Manchester:-The-Free-Spirit-City-in-Northwest-England&id=7250142