Women's Submission Wrestling History, Hungary's Szamanta, Sweet And Special
November 15, 2021,
Striking is the girl that makes you feel like you've been struck by electricity from head to toe the very first time that you've seen her.
Szamanta of Hungary is such a girl.
Published in 2014, Szamanta appears to have wrestled the legendary Pippa L'Vinn where she laughed much and learned even more from one of our industry's best.
From the moment that we saw her profile at the WB270, we fell in love with her. She's young, gorgeous, fresh faced and athletic.
As of this August 10, 2021 writing, as far as we can tell, her profile is no longer there.
But can she wrestle?
Well, in her previous sessions she loves to wrestle and dominate men. Sounds like fun.
What about competitively though against women?
We had that question answered very quickly and very publicly when Szamanta took on another beauty named Mary at the great Femwrestle Events in Germany.
Let's peek in on the Femcompetitor Magazine review.
VS MARY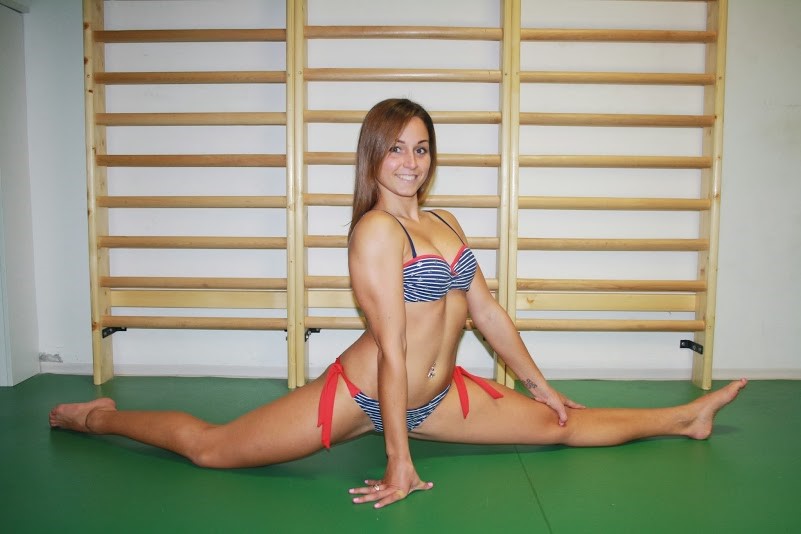 At the great Femwrestle events in Troisdorf Germany, she was match number thirteen during the March 2014 promotion.
Her opponent is Mary, a statuesque princess who was adorned in vibrant pink and black bikini and was eager to fight.
We love the Femwrestle Events because like going to a Las Vegas sporting event, sometimes the largest stars are not in the ring but instead at ringside.
Here in the background we see Viktoria, Zsusza and Lina standing in wait. Sitting is British stars Mystique and Axa Jay while standing behind them is Hungarian champion Antscha.
Are there more stars ringside?
Of course.
We scan the standing crowd and there is Orsi and Xena. And sitting on the other side of the room is the great American luminary and global super star Ariel.
What a crowd.
Szamanta is a newer girl but she seems up for the challenge.
Time to engage.
Szamanta initiates the action with a head lock but can't hold it. Mary immediate sizes control of the round. She soon brings Szamanta down to the mats, traps her in a rear choke and the Hungarian beauty taps out.
The crowd applauds.
What the girls lack in experience, they more than make up for in enthusiasm and energy.
Confident, Mary begins to seize control of the match and tries several times to school girl pin the Hungarian beauty who refuses to be counted out and eventually throws Mary sideways and back from the corner of the mat to safer ground.
Mary is relentless and contains Szamanta in a headlock which once again presents a pinning option and this time Mary makes good on it.
Szamanta is counted out.
2-0.
The caution here is that Mary can now begin to run away with thing. We know Szamanta is inexperienced. Does she have enough resolve to stop this from turning into a rout?
We loved that very sexy battle and though Szamanta was new, we felt that she would improve and improve she did. We travel to another part of Europe and view two of her matches at Female Wrestling Zone.
SZAMANTA VS AISA
Some girls look great in just about anything.
Szamanta is not just some girl or just any girl for that matter. She is really specially and especially good looking.
Here she takes on Aisa. We are aware of Aisa as a beautiful Session Girl but admittedly have not seen her wrestler much.
Here is what her profile says at kofilmproductions.com. "Aisa has a very good genetic: she is muscular and nicely toned, even when she is not doing any sports. However, she did athletics before, she is doing running now and started wrestling not so long ago… It looks like that we have a new talent."
We agree. And a beautiful one at that.
The two girls begin on their knees with some hand fighting to jockey for position. The battle takes place in the famous DWW room with the blue mats and gray padded walls. With similar body styles this fight doesn't appear it will be about power but more about skill.
Szamanta does start from the upper position but makes the mistake of allowing Aisa to use her legs to trap her in a head scissors, tighten the grip and make Szamanta submit.
In the second round Aisa's skill level is starting to become more evident as she tactically begins to control Szamanta and eventually positions her for a shortened arm bar that makes Szamanta tap out once more.
Typically at this juncture in the match, the girl falling behind needs to make her move here or it can turn into a blowout.
Will Szamanta be able to do that in the third fall?
She gets off to a good start taking the lead and controlling Aisa from the top. The challenge is in situations like this, you need to close with a submission fairly quickly. If you let your opponent hang around there is a tendency for them to seize an opportunity to turn the tables.
Szamanta allows Aisa, who is defending from the bottom, to hand around.
Aisa once again uses her strong legs to flip the positioning. She is now on top and she will waist little time in shutting down Szamanta with a smother.
If this were a television show, the temptation would be to flip the channel for a more competitive game of your choice. In this case you shouldn't.
Szamanta has not given up.
Once the battle heats up again, Szamanta has a frontal lock on Aisa and this time seems determined to make it stick. As usual, Aisa is going to make Szamanta earn it. All of it. She tries to break the hold again but this time Szamanta is more effective and resolved to keep the edge.
She traps Aisa in a body scissors.
Struggle as she might, Aisa can't break the hold. She submits.
Don't flip the channel on this one. Szamanta gains confidence and this one goes back and forth until the end.
Vs Natasha – Sexy Hungarian Clash
What could be more natural than two young gorgeous girls wrestling outdoors on the mats surrounded by trees and grass?
We certainly can't think of anything else.
Especially when it involves Szamanta and the shapely Natasha.
We sense this could be a great opportunity for Szamanta to gain a victory in combat against a girl who appears to new to the game.
Natasha is a Personal Trainer and Gym Stick Instructor. She also does Spartan Races more than once a year. What is a Spartan Race anyway?
A Spartan Race is a series of obstacle races of varying distance and difficulty ranging from 3 miles to marathon distances. They are held in US and have been franchised to 30 countries including Canada, South Korea, Australia and several European countries.
The series include the Spartan Sprint, the Super Spartan, the Spartan Beast, and the Ultra Beast. Spartan Race also has a military series, hosted on military bases. There are also winter and team events.
Interesting.
The two beauties began their battle. Szamanta takes the initial advantage then Natasha. It's when Szamanta captures a frontal choke that she begins to seize the momentum and forces Natasha to tap out.
If it works once, why not try it twice? Szamanta decides to do just that. After some hand fighting from the knees, Szamanta envelopes Natasha from the top again and chokes relentlessly forces Natasha to tap the mats.
Okay, if this strategy works for Szamanta, can it work for Natasha?
Natasha is determined to find out. After more hand fighting and erotic rolling around, Natasha is finally on top and now she has Szamanta trapped in a choke. Can she hold it? She does and forces Szamanta to tap out.
What we love about this match is the creative setting complete with birds chirping in the background. The two girls are very spirited because their skills are comparable. Szamanta always looks so girl next door and sexy but we really love Natasha's full hips in her tight gray shorts.
This is a good fight right down to the end.
Time changes everything.
We don't see much of Szamanta anymore.
There is a very powerful life lesson in that.
Life is about right now. As far as later, most times there is no later.
If you are crazy about a Session Girl or competitive female submission wrestler, now is the time to contact them and make memories. Later may be too late.
We're really glad we took the time to focus on Szamanta while she was active.
This gorgeous girl created a powerful and sexy wrestling memory. 
~ ~ ~
OPENING PHOTO femcompetitor.com, grapplingstars.com fciwomenswrestling.com By-muroPhotographer-Shutterstock-photo-credit-Editorial-use-
https://fciwomenswrestling.com/
https://www.femalewrestlingzone.com/
http://kofilmproductions.com/index.php/girls/all-girls/european-fight-club-girls
https://en.wikipedia.org/wiki/Spartan_Race
https://www.wb270.com/eur/natasha.htm