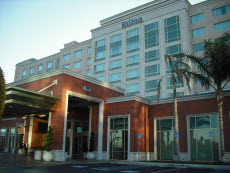 THE SANTA CLARA HILTON
One of the many perks of being involved in the modern, competitive female wrestling world is traveling to network with others in the industry and have the opportunity to unwind at beautiful hotels. Recently FCI Staff had the opportunity to meet with a potential coalition website manager who would like to develop a non-nude site with sex appeal to attract a more conservative male audience. After careful research, we made a decision to stay at The Hilton in San Jose.
Here are some of the reasons why.
Stylish and sophisticated, this Hilton boasted an ideal location adjacent to California's Great America theme park and directly across from the Santa Clara Convention Center. Our view from an upper floor room was breathtaking. This 4-diamond hotel is set in an attractive resort-style building, just 20 minutes from the San Jose International Airport (SJC), in the heart of Silicon Valley. We were also within a five-minute walk of the Santa Clara Stadium – home of the San Francisco 49ers.
Our room was spacious and decorated in soft, calm tones and featured high-speed internet access. The bed was very comfortable with a nice view, especially at night watching the planes with flashing lights glide by. As expected, it was private and quiet.
After dinner it was time to relax so the destination of choice was the outdoor swimming pool with an adjacent fitness center where you can exercise and then sooth yourself poolside. The fitness facility is equipped with ellipticals, bikes, treadmills and weights. As we relaxed in the Jacuzzi, we met a nice lady from Vallejo accompanied by her two children, visiting The Hilton with her husband who was at a business meeting.
One of the many impressive qualities of Hilton Hotels is its advancements in quality assurance and sustainability standards. Hilton Worldwide and its portfolio of 10 hotel brands has earned ISO 9001 certification for Quality Management Systems and ISO 14001 certification for Environmental Management Systems. With these certifications, Hilton Worldwide becomes one of the first multi-national organizations to certify its entire system globally – more than 3,750 properties in 85 countries – achieving one of the largest ever volume certifications of commercial buildings.
According to International Authority Standards Inc, (ISA), a certification body headquartered in America, ISO 14001 Environmental Management System (EMS) is an internationally recognized standard that has been developed for managing environmental responsibility. In addition to helping gain access to the global marketplace, ISO 14001 certification is a sure way for an organization to demonstrate commitment to improving its environmental performance.
ISO 14001 addresses the impact of an organization's processes, products, and services on the environment. The EMS provides a formalized structure for ensuring that environmental concerns are addressed and complied with to control an organization's significant environmental effects and achieve regulatory compliance.
Since 1998, Hilton Worldwide has partnered with the U.S. Olympic and Paralympics Teams. They continued this sponsorship in 2011 to reinforce an over-arching strategy of aligning with organizations that foster the highest levels of personal achievement across a range of areas, including athletic, artistic, and professional performance. FCI feels any organization that is primarily comprised of National Association of Intercollegiate Athletics (NAIA) female graduates and their families from the respected freestyle wrestling world would fit that description as well.
Hilton Worldwide is one of the largest hospitality companies in the world, and they're growing faster than ever. Their 93-year history as pioneers in the industry makes them the preferred venue for travelers, developers, partners, and team members alike. After our stay at The Santa Clara Hilton, FCI wholeheartedly agrees.
~ ~ ~
Sources: Hilton Worldwide website, International Standards Authorities Inc., Santa Clara Hilton