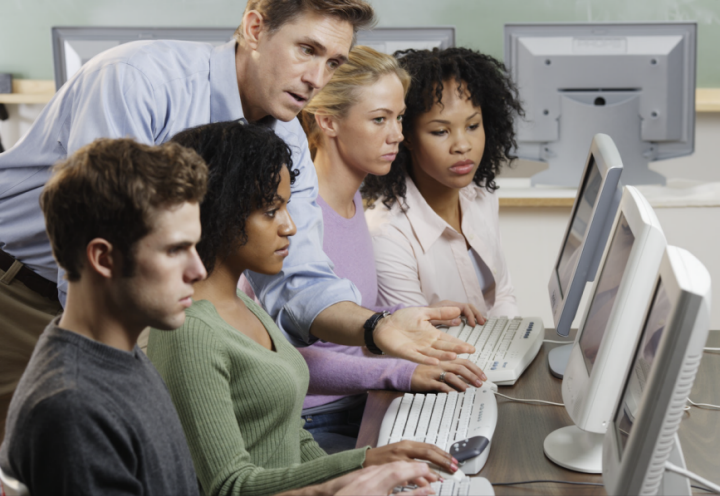 [pullquoteright] "We believe the best dreams happen when your eyes are open. We've been dreaming big for over a century, and have done so as a family."
Wayland Baptist University[/pullquoteright]
WAYLAND BAPTIST PIONEERS ARE NEW AND IMPROVED!
In 1906 the Staked Plains Baptists Association received and acted upon a proposal to establish a school on 25 acres of land in Plainview, Texas. After a financial and land donation from Dr. and Mrs. James Henry Wayland, and additional money given by the citizens of Plainview, Wayland Baptist University was born.
The city of Plainview was founded in 1886, when Z.T. Maxwell moved his family and 2,000 sheep from Floyd County and established a farm in what is now northeast Hale County. About the same time, Edwin Lowden Lowe from Tennessee took up residence north of the Maxwell homestead. Enticed by the possibility of founding a town, Maxwell and Lowe secured a post office on March 18, 1887. The names Runningwater and Hackberry Grove were rejected in favor of Plainview – Lowe's choice – since a vast, treeless plain surrounded the post office.
Choosing the university you will attend is one of the most important decisions a young college bound female wrestler will ever make. Many have considered Wayland Baptist University, located in Plainview Texas for some of the following reasons. When you enter their campus community, you will be guided by an outstanding faculty who know you by name and will try and understand where you've come from and where you want to go. You will encounter an administration that makes an effort to value your voice and will listen to your thoughts about providing the best possible college experience for students.
Wayland is a place of academic excellence and faith-based priorities and values. Their home campus in Plainview is described as a family environment. Wayland Baptist has a total of fourteen campuses in five Texas cities, six states, and in Kenya.
Music at Wayland has achieved international acclaim. In 2011, 94 members of the WBU School of Music and others performed seven concerts in seven days at concert halls and cathedrals during a tour of Germany, the Czech Republic and Austria. In 2006 the Wayland Band was the only U.S. college band invited to Russia for the Victory Day celebration of the end of WW II. And in 2003 the entire music department performed at Spanish Baptist missionary churches in Valencia and Madrid, Spain.
Apparently members of the women's wrestling team agreed with the above sentiments. Wayland recently secured four major signings who should have an immediate impact on the 2013-2014 campaign. Vanessa Smith signed a letter of intent to wrestle for the Pioneers. A senior at Allen High School, Smith is one of the top female wrestlers in the country. Due to several moves with her family, Ms. Smith has captured state titles in four different states in the past three years. In early 2012, she was crowned the Minnesota girls folkstyle state champion, placed first at the ASICS USAW Folkstyle National Tournament in Oklahoma City and was third at the ASICS/Vaughan Junior & Cadet National Championships in Fargo, N.D.
Another major signing is Kierra Boyce who will wrestle for Wayland in the 191-pound weight class. Ms. Boyce is an accomplished athlete at the state and national levels. She earned a national championship title at the 2012 ASICS/Vaughan Junior & Cadet National Championships in Fargo, N.D., took fourth at the 2012 ASICS USAW Folkstyle National Tournament in Oklahoma City and was fourth at the 2012 Girls UIL State Championships. Boyce finished second at the ASICS/Vaughan Junior & Cadet National Championships in 2011. Ms. Boyce went 35-3 during her two years at Hendrickson High School. She reached the state tournament twice in the 215-pound division. The senior was 20-0 before falling in the state championship at the UIL tournament this year.
Just one month after the Wayland Baptist women's wrestling team wrapped up its season at the WCWA national championships, Palo Duro High School senior Kelsey Baker took third in the 128-lb. weight class at the Texas Girls State Wrestling Tournament in Austin.
Now the Amarillo native has decided to take her wrestling career to the next level, signing a letter of intent to join the Pioneers' 2013-14 women's team. Baker is a two-time all-state wrestler and finished eighth at the high school national tournament in 2012.
The most recent signing is Allison Alvarez, a senior from El Paso Hanks High School, to the 2013-14 roster. Ms. Alvarez was the Class 4A high school girl's state champion in 2013 after finishing fourth as a junior. She took fourth place at the 2012 ASICS/Vaughan Junior & Cadet National Championships in Fargo, N.D., and holds a career record of 107-11.
The  Pioneers are led by Coach Johnny Cobb. Mr. Cobb became the first-ever coach of the new men's and women's wrestling program at Wayland Baptist on January 20, 2010. A two-time Texas High School Coach of the Year while at Amarillo's Tascosa High School, Mr. Cobb is a member of the Texas Wrestling Ring of Honor and the Texas chapter of the National Wrestling Hall of Fame in Stillwater, Oklahoma.
A native of Amarillo, Mr. Cobb was a three-time District Champion at Tascosa High School in the mid-1960s, losing only one high school match in three years of competition. He went on to wrestle at Oklahoma State University. At a press conference announcing his hiring, Coach Cobb stressed that he wanted to make the Wayland wrestling program a community effort and that he would not settle for mediocrity.
One of the founding members of the Panhandle Amateur Wrestling Association, he also founded the first kid's wrestling program in the Panhandle of Texas at the Maverick Boys Club in 1971. His teams won both elementary and junior high team state championships titles and over 50 elementary and junior high individual state titles.
The Wayland women's wrestling team competed at the WCWA National Tournament in Bristol, Tennessee, on Jan. 27 and 28, 2013. Two of the Pioneers, Angela Vyborny and Tamyra Mensah placed third while Valerie Rosales finished eighth. According to the WCWA rankings dated January 26, 2013, Wayland finished tied for eighth place at the national tournament this year, with three athletes Angela Vyborny, Tamyra Mensah and Valeries Rosales achieving all-American honors. With the determination of Coach Cobb, the addition of four great freshmen along with a strong supporting cast, as it applies to their future results, for The Pioneers, mediocrity will be a word only found in the dictionary.
~ ~ ~ ~
Sources: Photo courtesy Microsoft, Wayland Baptist University website, Austin Community Newspapers-The Statesman.com, Wikipedia, Victory Sports Network, Amarillo Globe-News, wbuathletics.com, Plainview Texas Official website.