Upscale, Elegant, Gorgeous, Hungarian Wrestler Amanda Dominates Mary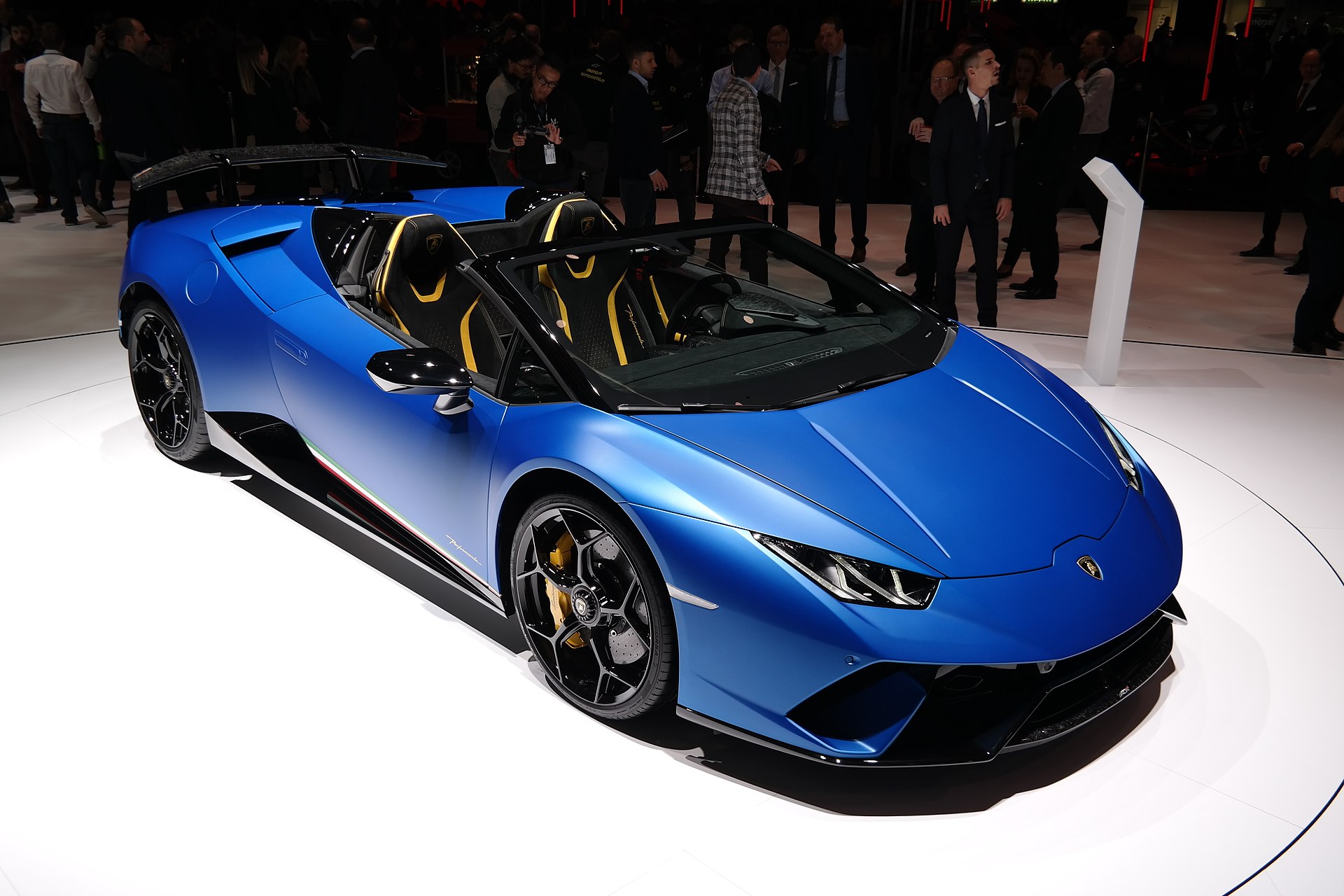 January 23 2022,
You've been invited to a high end party in District One or if you prefer, the Castle District in Budapest.
One of the requirements of entry is that you bring a drop dead gorgeous young woman on your arms.
Not too much to ask. Wouldn't you agree?
All around you are amazing architecture under a spectacular Budapest night sky, filled with stars across the heavens.
Where you are going, there will be plenty of stars on the ground.
Get your best tuxedo ready. You had better dress perfectly to the nines to fit in.
Who shall you go with?
You could turn to Antscha and Viktoria for answers. They certainly would be helpful.
Or you could ask us and we will say it in a whisper.
Pick Amanda.
She is a feminine voluptuous brunette with long flowing hair, right out of an ancient castle fairytale.
And the girl can wrestle. She can be very determined.
Treat her nice and she just might wrestle you too.
Look, if you don't, we will.
You decide to. Great choice.
What will Amanda wear? Take her shopping. Let her decide. Make her look like a million dollars.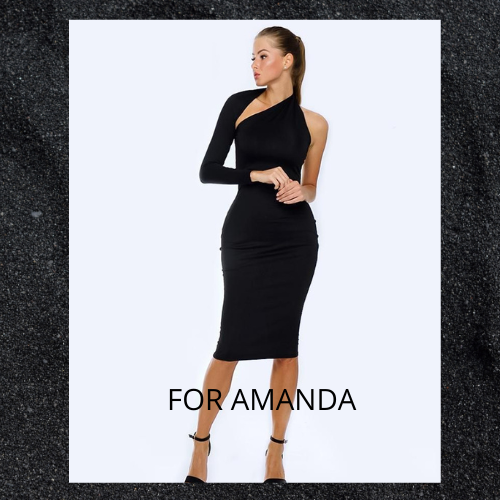 Where should you take her? Many places. In or around Budapest, the region is loaded with shopping malls.
Our mall of choice will be Arena Mall or Plaza if you prefer.
Arena Mall is the largest shopping plaza in Budapest at a size of 2,200,000 square feet. On November 15, 2007, Arena Plaza opened at the site of an old horse racing track.
The executive of Plaza Centers says during the opening in 2007, "Arena Plaza is one of the largest and most prestigious shopping and entertainment centers in Central and Eastern Europe, the design and ambition of which has set new standards for the region".
Well said. We believe you.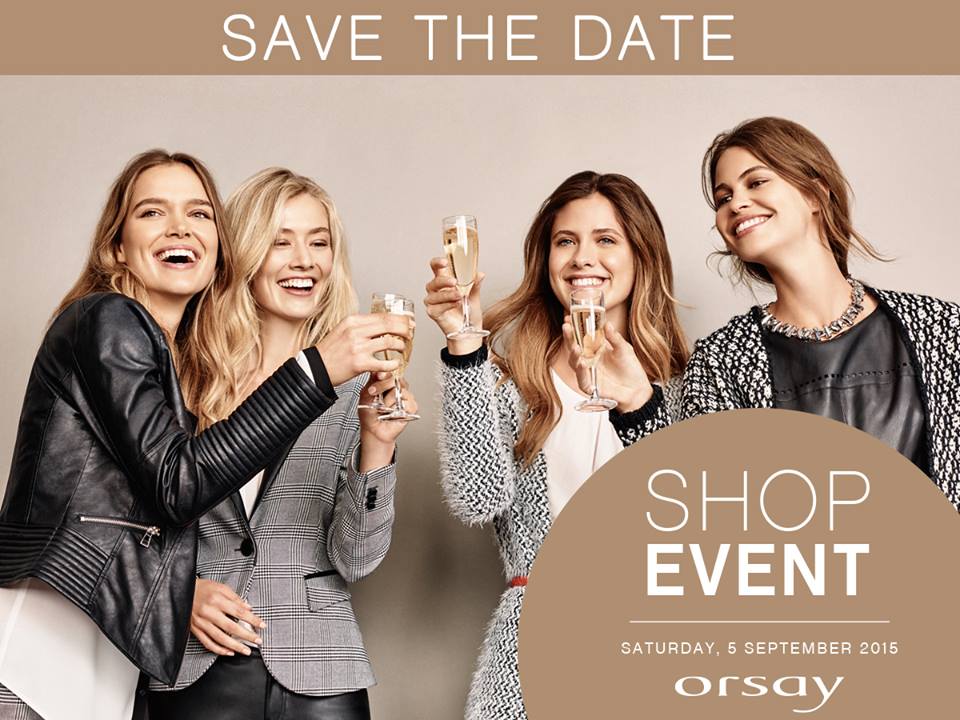 It includes many stores for shopping, dining, and entertainment.
Dining?
Don't be concerned about that. Where you and Amanda are going tonight, there will be an incredibly delicious cuisine. Nicely dressed staff to cater to your every desire.
Life is after all about your memories.
As you drive along Budapest streets, you glance across at Amanda.
She is quietly breathtaking.
What is the password to get inside of the gate?
Gorgeous.
Automobile of choice?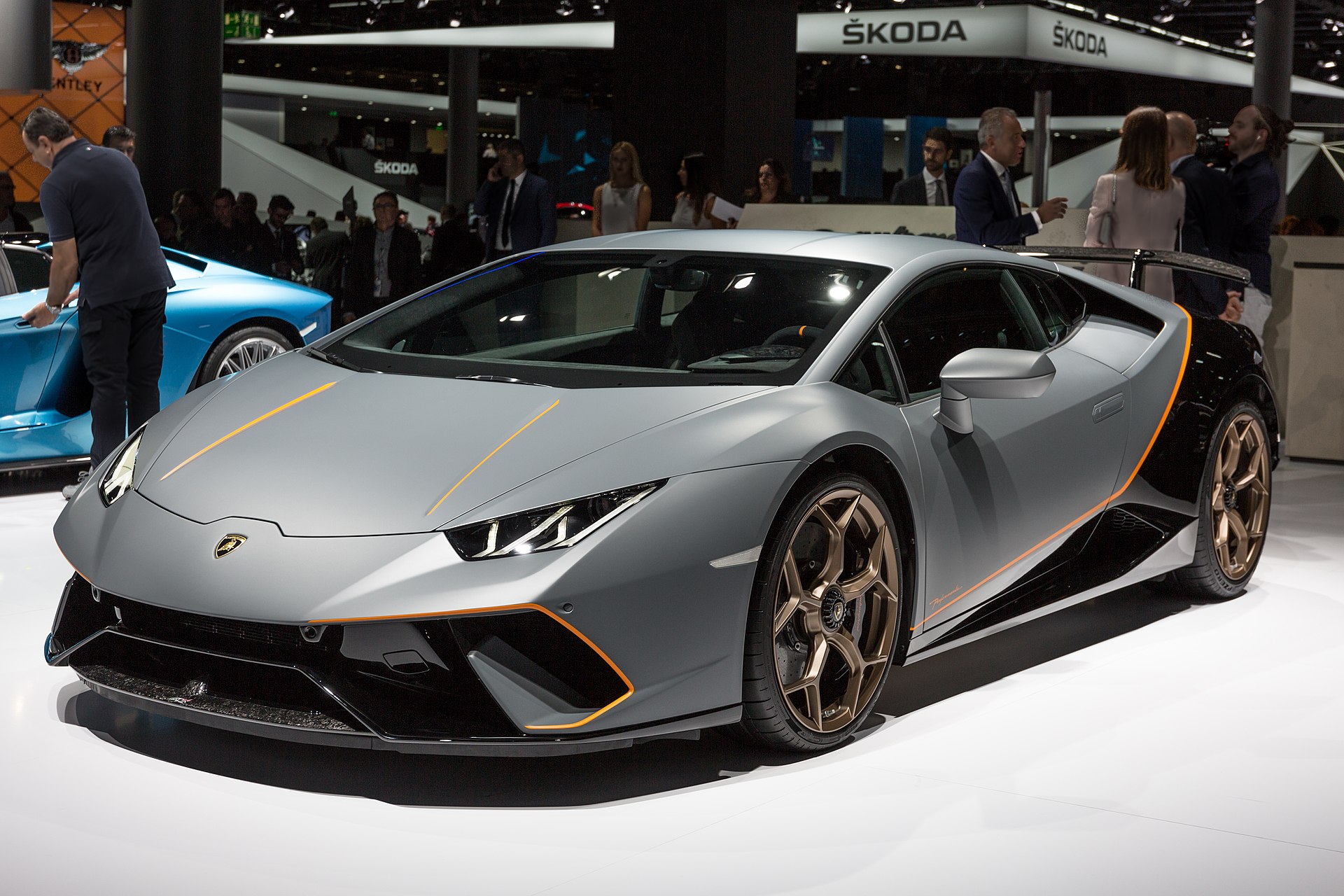 Lamborghini currently produces the V12-powered Aventador and the V10-powered Huracán, along with the Urus SUV powered by a twin-turbo V8 engine.
So far, so good. In your rented luxury Lamborghini, we think Amanda will be pleased.
Your host and their guests? Astonished. Even among the upper echelon, Lamborghini continues to impress.
It promises to be a wonderful night that you will cherish for the rest of your life.
Amanda has that effect on people.
Watching Amanda wrestle at Antscha Productions? These are memories we will cherish for the rest of our lives.
Shall we share one of her matches with you?
AMANDA VS MARY
Amanda – Left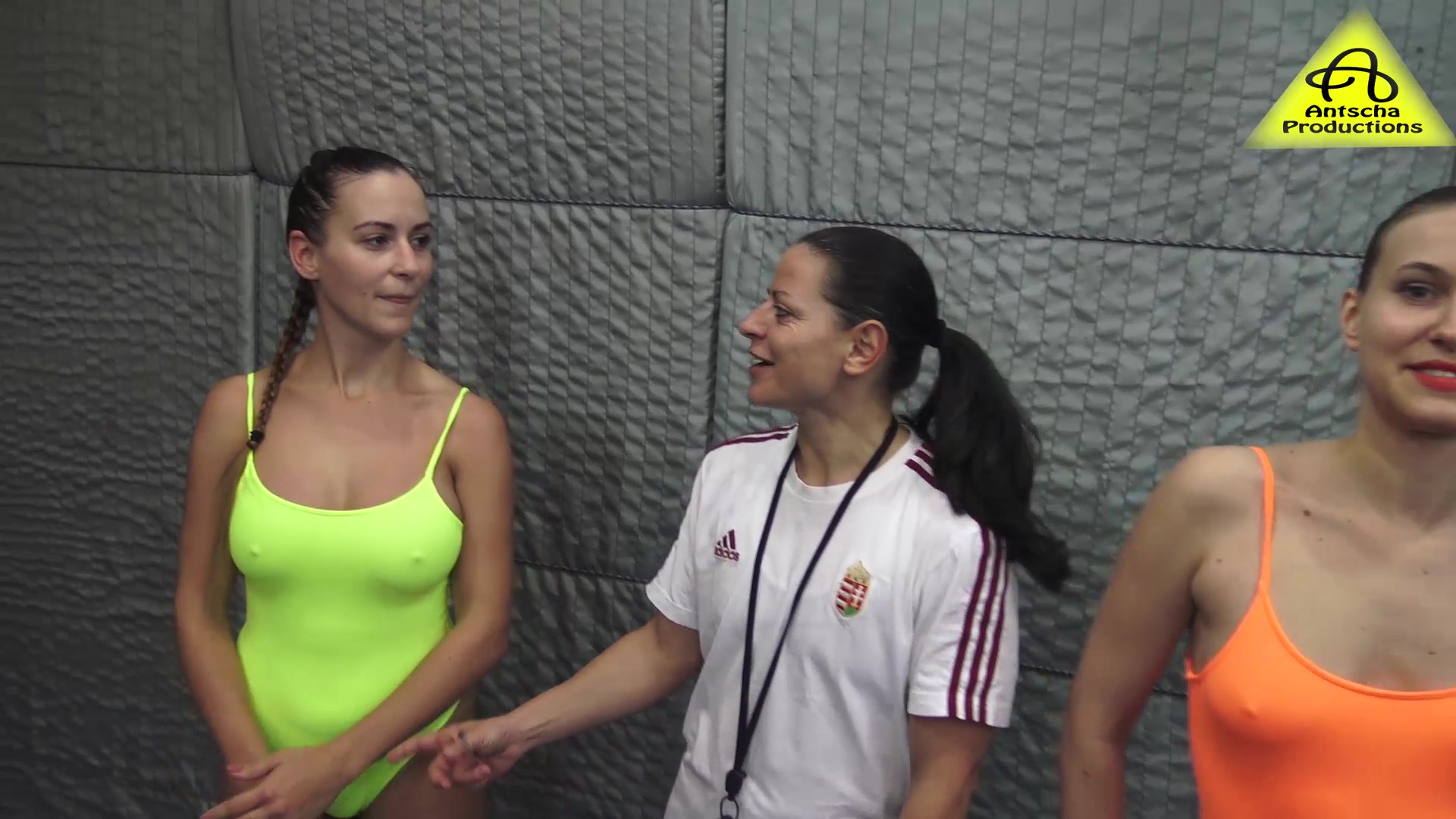 As usual, Amanda looks sensuous in her printed bikini. Cute Mary is sporting an olive green bikini to match.
Amanda is noticeably taller so Mary could be in for a challenge.
As round one begins, Amanda is the aggressor and immediately goes for the headlock. Nice move, it is our favorite hold.
Make sure that you secure it.
Amanda does and takes Mary down. The petite girls continues to struggle to escape Amanda's embrace but Amanda is determined. It is too much for Mary and at slightly over the one minute mark she taps out.
The good news is that Mary is smiling.
We're beginning to wonder for how long.
A very confident Amanda has decided to open up her playbook and try another approach.
She is the aggressor again and takes Mary down, elongates her and is going for a grapevine smother. Poor Mary appears to be powerless and we can actually hear someone, most likely the referee, laughing in the background.
As most of us know, fully competitive women's wrestling can be so much fun.
The referee begins to count to ten and Mary is submitted once again.
Amanda can't wait to go again.
No wonder.
She immediately rolls Mary into a side body scissors and then flattens her out preparing for a grapevine again. Having Mary pressed up against those famous light gray padded walls, Amanda takes her right hand and clasps it behind Mary's neck and we can see the submission coming.
The referee counts to ten, submission by grapevine.
Mary? You need to come up with a plan. Too bad there is no personal coach on the sidelines.
Amanda's plan sure is working. And it continues to.
Next Amanda encases Mary in a side body scissors while she clasps Mary's neck.
As Mary struggles, we can't help but notice how erotic her strong feminine legs are, aggressively trying to kick out and break the hold. To no avail.
Mary taps out again.
In the next round, Amanda attempts another approach. They all seem to be working so why not?
The girls engage again and this time Amanda jumps Mary from behind and applies the rear naked choke. Mary is struggling as much as she can so Amanda once again slides her into a side body scissors while continuing to apply the choke.
Mary once again taps out.
Can Mary keep going? She smiles and does.
The two beauties grapple once more and immediately Amanda is on top.
It appears to be domination as usual but Amanda makes the mistake of being a little too casual and though Mary is on the bottom, she secures Amanda's right leg and locks it in. Then she swings her left arm around Amanda's neck and tightens her up in a reverse choke as Amanda is bent over, pulls the Hungarian Princess forward and cranks.
Imagine that.
To everyone's surprise, including ours, Amanda taps out.
Wow. Wonderful. Just as we thought Amanda was going to toy around with Mary and open up her entire playbook with one submission after another, Mary demonstrates that she is still in the game.
Interesting.
Now while we won't say that the game is afoot, we are a little intrigued as to where it goes from here.
The two begin to wrestle once more.
This time Amanda goes back to the tried and true and traps Mary underneath her. They seem to struggle for an eternity. Mary traps Amanda's left leg and won't let go. Amanda tries to lurch her leg free and in the process begins to hump Mary. It is very erotic.
This goes on for some time and eventually Amanda frees up her leg and smothers Mary in a grapevine who grudgingly is counted out to ten.
We don't know what is yet to happen but if Mary wanted to get back into the match, that was her chance and we sense she will not get another one.
Time to find out.
The girls begin with a hand struggle, fighting for position and energetically keep breaking each other's holds.
Finally Amanda pulls Mary forward with an under arm choke, secures it with vice like precision and Mary taps out.
The beautiful women are full of energy and waste no time in wrestling again.
Amanda takes the lead and locks Mary into an upper head lock. The weakness in the hold it that Amanda has left too much of Mary's body unattended and while her legs are pointed one direction, Mary's are pointed another.
The whole point of the headlock is to position your opponent where you can lie your body on top of their head and use your weight to your advantage.
Amanda does neither here and now has opened the door for Mary to swing her legs upward and secure Amanda's head in a floor to head scissors. As we stated earlier, Mary has very strong legs and once she secures Amanda's head in place, she draws her down to the mats and secures the submission.
That was an avoidable submission if you are Amanda.
In the next round, it is almost as though Amanda heard us and learned from her mistake.
This time she traps Mary in a side headlock, only now, she uses her body as leverage and falls upon Mary, head lock secured. She then uses her body weight even more, slides forward and now has Mary underneath as she performs an erotic cross body pin in her sensuous bikini.
Poor Mary is trapped underneath and tries to no avail to kick out with her thick legs.
One, two, three and before you know it, Mary is counted out at ten.
After all of that, there is still four minutes left in the match.
Amanda makes the next one easier and Mary appears to be tiring. Amanda quickly traps her in a simple side body scissors while she cranks on the neck. That one was too quick and too easy.
Mary taps out.
It is all Amanda at this point and in the next round, it will continue to be.
Before you know it, Amanda is on top, this time attempting a school girl pin. As expected, while underneath, Mary tries to swing her beautiful legs upward to slide under Amanda's shoulder blades and forcefully pull her backwards.
Amanda fights that off by sliding her body forward, palms spread out in pancake form.
Flattened out and on top, Mary will not escape as Amanda is heavier than her and Mary is erotically counted out once more.
Now for the last round.
Does Mary still have any fight left?
Yes she does.
This time she is the aggressor and pulls Amanda forward and while underneath secures her in a headlock while she traps Amanda's right leg.
She cranks and cranks on that headlock and Amanda submits.
Impressive match. Full of energy from beginning to end.
Amanda is the clear winner here, but then again, the statuesque brunette always is.
Everywhere. Especially in a Lamborghini.
Whether it is at a dinner party among Budapest's finest in an elegant black gown or wrestling her heart out at the world's elite wrestling event company, Amanda is the right choice.
Everywhere. Every time.
Mary – left, Amanda – right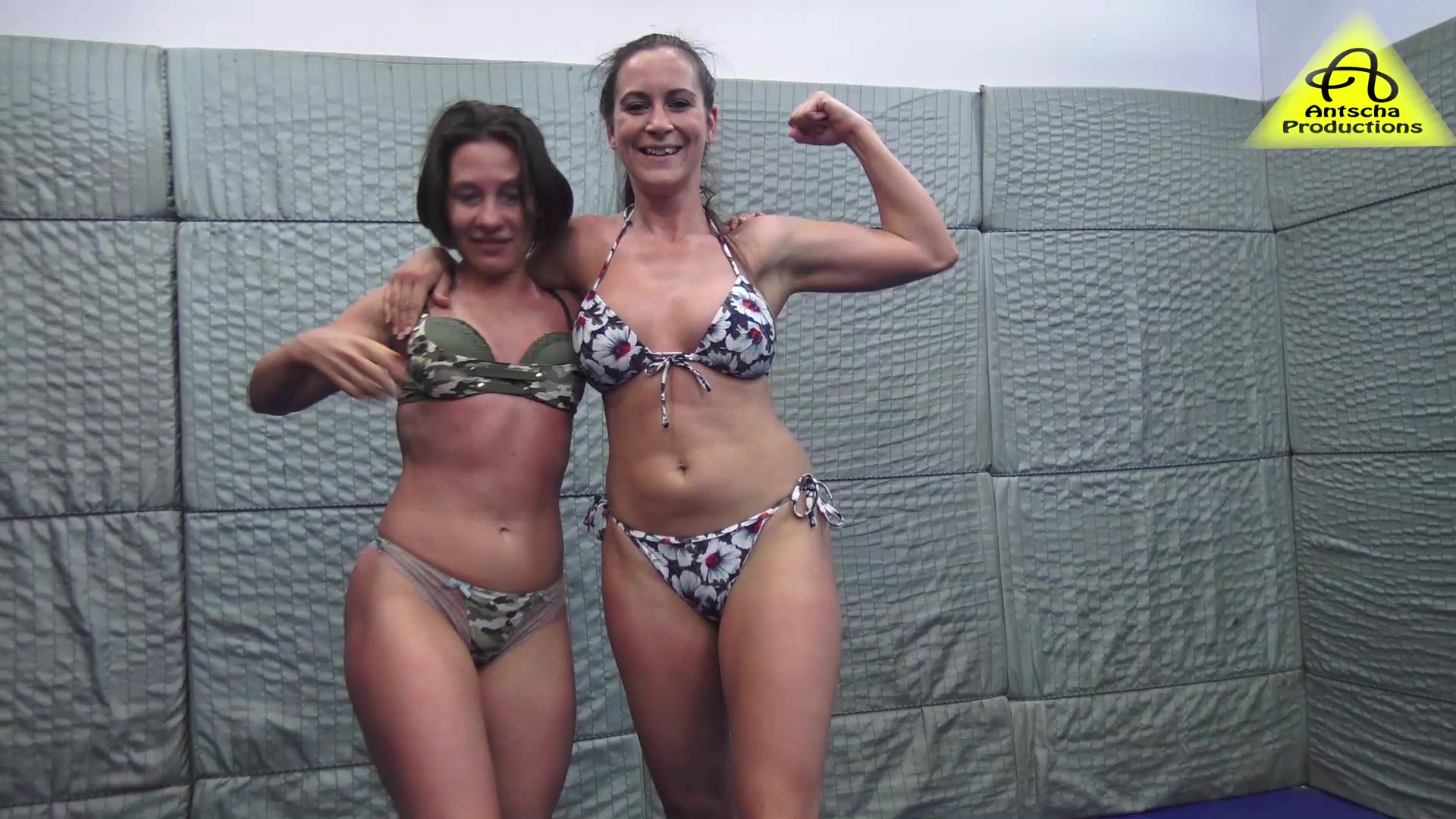 ~ ~ ~
OPENING PHOTO fciwomenswrestling.com femcompetititor.com grapplingstars.com Femcompetitor.com Norbert-Aepli-Switzerland-Wikipedia-photo-credit.

https://en.wikipedia.org/wiki/Arena_Plaza
https://en.wikipedia.org/wiki/Lamborghini
https://www.fcielitecompetitor.com/
https://fciwomenswrestling.com/